Amy's Cake Connection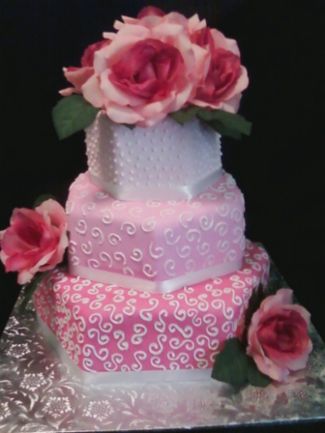 North Branch, MN

Areas of service:
Anoka, Andover, Stillwater, Circle Pines, Champlin and North Branch
Credentials
Email verified
Fixr reviewed
Contact Amy's Cake Connection
Quality Cakes at an AWESOME price!!
Request an estimate
Amy's Cake Connection - North Branch, MN
You'll be asked to describe what you need.
You'll be asked to provide your details so that Amy Neman may contact you.
You'll get estimates from other qualified service professionals.
About Amy's Cake Connection
My name is Amy Neman. I am an at-home cake decorator located in North Branch, MN. I have been decorating cakes since August 2009. I put 100% of my heart into each and every cake individually.
I create quality cakes with only the best tasting ingredients, giving my products that extra gourmet experience in every bite. I take my time creating every detail. I am a perfectionist and strive to provide only the very best cakes possible for my clients.
I work a minimum of 4 total hours for a simple unadorned cake, to my longest hours logged yet - on a cake to be 46 total hours. I work hard and never give up on making your cake the best I can! Seeing the smiles at the first glance of your cake creation makes all the hard work worth it!
My cakes are charged by the slice, and run from $2.50 (and up) for buttercream cakes, to $3.50 (and up) for the ever fancy-fondant cakes. I have a variation of flavors of cakes, fillings & icing to choose from. If you have any special requests, feel free to ask, and I'll do my best to make it happen.
I look forward to hearing from you concerning your next cake order. No order is confirmed until a deposit is made and a contract is signed.
Contact me today to reserve your spot on my calendar.
Thanks for reading!
~Amy
Questions and answers
Tell us about the project or job that you are most proud of (in the last 12 months).

This cake was for a graduation party for a friends' husband. The cake took over 45 hours total to complete, was enough to feed about 120 people & looked amazing! I had never made a book cake or a fondant laptop before, so it presented me with quite a few challenges! I was so proud of this cake (pic's are in my photo's... it's the laptop/book cake). nnMany of my cakes are my favorite though, so it's hard to really narrow it down to less than a couple. But the laptop/book cake is up there because of how real it looked & the fact that I hadn't done one before. All three layers of cake (each cake book) was a different flavor...vanilla with vanilla buttercream filling & icing, vanilla with strawberry filling & vanilla buttercream icing & finally double chocolate cake with chocolate filling & buttercream. This cake was HUGE & weighed about 45lbs, was about 2ft high & 1.5ft wide... a big girl!! LOL

What brands or products do you work with?

The type of fondant I use is Satin Ice. It's the same brand that many professionals use... including Buddy from Cake Boss. It's a great tasting and high quality product! This fondant has a wonderful sweet vanilla flavor to it. They have a brown colored fondant that has a flavor like tootsie-roll/chocolate fudge. I also use organic eggs, flour, sugar, milk & all natural extracts whenever possible as I believe it makes for a much better product!! I have a special extracts that make for wonderful flavor in my icings & cake batter. I only have rave reviews from my clients who have ordered cakes from me.

What questions should a customer ask before hiring a professional in your trade?

1) What types of product do they use? Where do you get your fondant from? Do they buy it or make it themselves? n**I order mine... it's called 'Satin Ice' and it's a very high quality of fondant! Same brand as Buddy on Cake Boss uses! nn2) How soon do I need to place my order? (Most likely they need at least 1 month, though at-home bakers like 2-4 weeks, unless they are booked.) The sooner you place your order - the better! =)nn3) If you are wanting a fondant covered cake, then be sure that you check out if the baker you are looking at IS ABLE to do a fondant cake for you. nn4) Look at the types of cakes they have made... do you like their work or do you feel that they might not be experienced enough for what you are looking for in a cake.nn5) Do you require a deposit?.. if you do, how much do you require as a down payment?... 50%?? nn6) Do you/can you deliver your cakes or can I pick my cake up? Also, how far will you travel to deliver my cake? Some places will drive approximately 30 miles then charge a fee-for each mile after that.nn7) What is the largest cake you have made?... this is a great question for someone wanting a large wedding cake. If the cake decorator has not made a cake large enough for what you are looking for then I would go elsewhere. This means more searching, but in the long-run, it'll save you money & time because you want the best cake decorator for your cake (especially for wedding cakes!!)! The cake you order isn't always the cake you get delivered.... just look at cakewrecks.com ... love that blog!! nn8) Do you freeze your cakes or are they baked fresh to order? **I NEVER freeze my cakes & bake them as close to the due date as possible-pending how long of decorating time I'll need on each cake. Normally the cakes are baked within 2 days of the due date, iced & kept in the fridge... but they are never frozen.nn9) What size cakes do you make? Some new bakers have only round & square... others have hexagon, octagon, oval, heart or pillow pans.nn** Any question you have, just ask it!**

What are the most frequent questions you get from customers? What are the answers?

Q: How much are your cakes? A: As little as $40... or as much as $600. How much do you want to spend?? lol

Q: How soon do I need to place an order? A: ASAP... as soon as you know when you need a cake, as I might be booked up for when you need your cake. I would say at least a month or more in advance!

Q: How many cakes have you done? A: I have made about 170 cakes so far.

Q: What are your cake & icing flavors? A: I have he classic vanilla to the tangy lemon & the ever amazing red velvet! For icing, I have the standard vanilla buttercream, double chocolate icing & also the vanilla-cream cheese icing (which is wonderful with the red velvet!)

What would you recommend customers looking to save money?

If you are looking to save money, then you should always order a buttercream cake--NOT FONDANT. Fondant is always more expensive. Even where cupcakes are concerned. You can order a smaller cake for your party & cut it into smaller pieces or to order cupcakes... though don't get too 'happy' with the designs... as it ALL adds up in the end.

What services do you provide your customers after the work has finished?

I love to hear from my customers on how the cake was, see pictures.nI have stayed at the venue/party many times to disassemble the cake, cut & serve it to the guests, when my client asks. I want to help out wherever I am needed! =) I am also able to leave business cards for the client to hand out at their party if they so choose... though my business cards are not given unless the client asks for them. I strive for professionalism, and don't want to assume they want my business cards. If you'd like some to hand out, then feel free to ask & I'll be more than happy to oblige. =)nnThough I have yet to have any upset customers, things happen and if there was anything wrong with the cake, or anything else, contact me & I'll do my best to make it right.

Tell us something customers may not know about you.

I love horseback riding, book reading & watching my favorite TV shows.

My family & I love to hang out as a family, go fishing, camping & walk around the block & to the local park for exercise! We also have 2 dogs that I groom myself... a female Standard Poodle named Jazz & a female Weimaraner named Stella. These 2 get groomed about once a month... or more if they decided that digging holes in the backyard is fun!! Crazy dogs! LOL

How did you get started?

My husband & I have been blessed with 4 children. This can get quite expensive in ordering cakes for birthdays in the months of August-September-October & November! Each kid wants their own cake, of the design they choose, flavors they want, ect!! So instead of buying the cakes for our kids, I thought I'd make them myself. I purchased items, watched youtube videos, watched tv shows (like Cake Boss, ect), and learned from there. My family is full of cooks & bakers, so it's kinda just "in my blood" to make & decorate cakes.

How many projects do you average in a year?

(We are a Military family, so we move around a lot.) While we were in 29 Palms, California, I would have between 2-5 cake orders a week. Some weekends were more busy than others, but it was a blast! This would average to about 4 cakes a month. nnHere in North Branch, I have only done a couple of cakes, as we have just moved here in May of 2012. So far, I have done a total of 170 cakes in going on 3 years. Along with cakes, I have made cupcakes, cookies, brownies, lemon bars (yum!), banana bread, cheesecakes & muffins.

What information do you recommend to have readily available before looking for a professional in your trade?

Look online as to the design you are wanting, find pictures of the type of cake you are looking for, know how many servings of cake you'll need for your cake, figure out what flavor(s) of cake, filling & icing you are wanting.

When will you need the cake for?... the specific time & day is needed. Think about how you want the cake set up... maybe you'll want a round cake on top of a square cake... then write your ideas down.

If the cake will be for a wedding, then bring color swatches for the cake artist to match the color as close as possible. The more info you have, the better the consultation will go.

When searching for pictures, if you like one thing from 1 cake & something from another cake, then save both pictures as it'll help the cake artist better know what you are looking for.

What do you wish customers knew about your profession or trade?

That cake is a medium that we can't always control. We do our utmost BEST to make each cake a work of art, though sometimes the cake had other plans. Cake & hot/humid weather don't go together!! LOL

Mixing, baking, cooling, stirring, coloring, rolling.... it's A LOT OF WORK!! Cakes take hours to complete... sometimes DAYS! I have lost a lot of sleep over cake decorating. Though it's a lot of fun, it's also very hard work! When I drop off the cake & your jaw drops, it's ALL worth it though! =)

What certifications or professional affiliations do you have?

Being that I am self taught, not much. lol I have however, taken the Michael's Craft Store-Wilton Cake Decorating Classes & have completed all 3 courses. Through the years of cake baking & decorating, I have watched videos, read books, magazines & attended cake classes. I am very artistic & I believe that it's the little details that 'make' the cake! n I do my utmost best to make each cake 'pop' and make your cake better than you ever could have imagined!! Give me a call before your next party & see for yourself. =)

What areas of your trade do you specialize in?

I specialize in both fondant and buttercream cakes. My products are the freshest available and the best I can find. I am a self taught decorator/baker & making cakes since summer of 2009. I love a challenge, so bring me your wonderful cake ideas! I can make a simple beautiful cake or a large outstanding cake. I enjoy it all! No cake is too small of an order for me. I strive to have awesome customer service and my cakes to be as fresh & have the best flavor possible!