CZK Renovations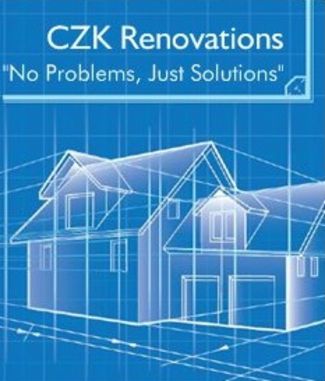 South Windsor, CT

Areas of service:
Springfield, Hartford, New Britain, West Hartford, Bristol, Manchester, East Hartford, Enfield, Middletown, Newington
and more.
, Windsor, Vernon Rockville, West Springfield, Glastonbury, Wethersfield and South Windsor.
Credentials
Email verified
Fixr reviewed
Fixr Silver Member
Your Full-service Contractor
Request an estimate
CZK Renovations - South Windsor, CT
You'll be asked to describe what you need.
You'll be asked to provide your details so that Colin King may contact you.
You'll get estimates from other qualified service professionals.
About CZK Renovations
CZK Renovations is a full-service residential building and remodeling company based in northeast Connecticut. We specialize in upscale interior and exterior remodeling as well as new construction, refinishing, additions, kitchen and bath, flooring, windows and doors, and energy efficient building solutions.
Our goal is to set the bar higher for residential contracting and customer expectations by offering cutting-edge and high-end products and services at reasonable prices and with excellent service. We strive to be the best and have diversified in many areas to further assist our customers with the added convenience of having fewer overall subcontractors on any one job.
In addition to our previously offered services, we have acquired a polyurethane foam insulation business and intend to offer this service as an affordable and green friendly home energy conservation method to our clients.
When you hire CZK Renovations, you have no problems, just solutions.
Questions and answers
How many projects do you average in a year?

It depends. We do many small projects averaging up to $2,000, but some larger projects may take several months by themselves and may be several tens of thousands of dollars in cost. Insurance repairs seem to average around $20k per claim, and since I prefer to be on my jobs most of the time, I may not take another client until the prior job is complete.

Most renovations take place in stages as well. Clients sometimes prefer to participate in some of the design or repairs, which is sometimes encouraged and sometimes not, but we are pretty flexible and always ready to dispense the appropriate advice to those people.

When this happens, one project may actually be broken down into several smaller ones. This also helps many people better afford a quality repair.

What certifications or professional affiliations do you have?

I am licensed as a home improvement contractor as well as lead-based paint removal and handling certified by the state of Connecticut.

We are also attending training for the latest products available for spray foam insulation in the next couple of months.

I attend industry trade shows and product education seminars several times a year in order to stay current with the industry.

What would you recommend customers looking to save money?

Energy efficiency. The bottom line is that oil and gas prices are not going down any time soon, and the general state of the economy is going to be severely affected by it.

Too many huge homes have been constructed in the last twenty years that are not properly insulated and have poorly made windows and doors. If you have money to spend on improving your home but aren't willing to cash out your life savings to do it, fix those things first and save the fancy shower or synthetic decks for a couple of years after you've experienced the savings.

I have had clients who have told me that they saved over 50 percent on oil from one year to the next after insulating their attic and replacing their windows and doors. One client even realized that after we installed ridged foam insulation under his new siding, that his aging vinyl windows had been installed improperly and were leaking air as if they had been left open.

Garage doors are another good way to save. Many homes have living space above the garage that can have very cold floors if the garage is not airtight and insulated.

New insulation in the ceiling as well as new doors can save thousands over the years of home ownership, in addition to providing a more comfortable living space above.

What are the most frequent questions you get from customers? What are the answers?

"When can you start?" Just kidding. We're good, but no contractor, no matter how well recommended has that as the most commonly asked question. Clients mostly want to know on the status of jobs, why certain things are done in the order that they are, and how different products perform under the applicable situation. Homeowners are getting more saavy with access to all kinds of information on the internet, and their questions are usually pretty educated. I often encourage clients to research some of the products that they intend to purchase prior to putting in a costly order for items such as lighting, fans and fixtures. Many costs can be lowered through wholesalers, and inferior or poor performing items can be eliminated from the job. The better you educate yourself, the better control you have over the situation in your own home. The contractor does the job, but the client is always boss.

How did you get started?

I started the business after being in the automotive trades for several years and getting to work on many building repairs around the shop. The two trades seem to have a lot in common, (including many ex-automotive technicians who are now contractors and carpenters).

I purchased a large two-family house right out of college with aspirations of making it into a palace. When I realized that I couldn't afford to hire the people I needed to perform the repairs, I decided to invest my money in tools and equipment so I could do it myself.

I hired a couple of carpenters for a few days at a time to teach me, and pretty soon, friends and neighbors were all calling me for advice or help repairing their homes. I have since moved on to hands-on performance of almost every aspect of home building and remodeling.

What I am not prepared to do myself, I have found responsible and professional contractors in those trades to help me and my clients get the best service possible.

What do you wish customers knew about your profession or trade?

We are not all a bunch of crooked cons who just want your money. The stereotype has made places like Angie's list very popular recently, but an educated client should realize that even the best recommendations mean nothing without the proper checks and balances in place between them and their contractor. That's what contracts are for.

Any individual can write something on paper and take a check, but a client who does not do their homework only has themselves to blame when the wrong man (or woman) gets the job and takes off with the loot. I have often said that the best two days for many clients with their poorly chosen contractors is the first and last days of the job. That should not ever be the case.

We do not take any more money up front on a project than what is fair and equitable to get the ball rolling. No 50 percent down tactic should ever be discussed unless it represents a deposit on materials only!

Guys with their hands in clients' wallets make me sick. I don't even want the last check until the client is 100 percent satisfied.

Tell us about the project or job that you are most proud of (in the last 12 months).

Building a new house for my parents from scratch. What a year that was! My father has some trouble getting around due to an old back problem from twenty-plus years ago. It was pretty obvious that the stairs at the old house were getting to him, and they really needed some type of single-story home.

Not having had a good experience in the past with condominiums or attached housing (and valuing their privacy), it was an obvious solution to the dilemma. We found the land, which happened to be right near the other house and which had previously contained a house that had burned down.

After acquiring the property and designing the home (with lots of input from the family and tons of help from my friend Dan who did the blueprints), we broke ground and had a structure within two months.

Some things in the decorative and creative process with the family slowed things down a bit more than the average build (too many cooks in the kitchen), but the end results are not only stunning but functional and will make a great home for my mother and father to retire in.

Tell us something customers may not know about you.

I attended the University of Connecticut from 1997 until 2002, studying Economics, Business and Engineering. Since then, my career has transcended a broad spectrum of mechanical abilities ranging from cars and motorcycles to heavy trucks and equipment. I also taught Diesel electronics and fuel systems at a technical college for over a year before deciding that for-profit education is kind of a rip off for the students. When I'm not working on clients' homes, I can usually be found working on a project at my own home. I can't even imagine what life would be like without some type of improvement occurring!

What information do you recommend to have readily available before looking for a professional in your trade?

Don't be afraid to ask questions. A good contractor will spend the time to answer and explain to you in detail the entirety of the project. A poor contractor will probably rush you to sign the contract and the check. Don't ever tell a contractor that you are in a rush to do a project, and never have your check book out before agreeing on a price. Also, if a contractor is in the middle of explaining a contract, let them finish before going back and asking questions. One dishonest contractor I met bragged that a client had interrupted him in the middle of a signing by saying, "Is that all it costs? I assume that price doesn't include the cabinets." Of course, you can tell where this is going. The price DID include the cabinets, but upon seeing the ignorance of the client, the contractor stated, "Of course not. That wouldn't be possible". He essentially was able to legally steal over $12,000 from the client all because of a silly question asked at the wrong time.

Always find out what type of equipment the contractor has as well as how long they've been in business. There tends to be a big difference between someone just starting out who has few resources and someone experienced who looks suspiciously ill equipped. Ask them how they handle a situation where they lack a certain tool. An ambitious contractor will correctly reply that they purchase new tools and equipment as they're needed. Some other incorrect answers may include: "If we need it, I'll bill you", "Any specialty tools cost extra", or, "My buddy probably has one, but we can make do without it". These guys most likely are struggling, and not because times are tough. Many people in this trade have personal problems and addictions. Not all are bad contractors, but don't take pity on someone with whom you are about to do business. It's still your money, and the best thing for you is to keep it that way as much as possible.

What questions should a customer ask before hiring a professional in your trade?

Can I see your portfolio?

Are you insured and licensed in the state of Connecticut?

What will you do if any unforeseen problems arise during this project?

How will I be billed for your services?

What happens if my insurance company won't pay for the total damages?

What are my rights as a consumer in the state of Connecticut?

Am I obligated to pay for uncompleted work?

How do your warranties get applied to different areas of a project?

What will happen if there are delays in the project?

If I run out of money or have a financial hardship, can I stop the job at a certain point?

What types of jobs are the most common?

The Northeast has been hit pretty hard over the last year or so, and insurance repairs have been pretty prevelant. I would say in a normal year though, that most homeowners have stayed in their current houses because of the market, and have invested on basic improvements such as new floors, kitchens, baths and energy saving changes like windows, doors, insulation and heating systems. I had one consult where a client wanted pricing on several cosmetic items, then asked how much new windows could save on the heating bill. I stated that I did not know exactly, but depending on the heating system it could be quite significant. When I asked how much the bills were, I was told that they were over $1000 per month in a 2000 square foot home! I quickly advised the client to use the money to get rid of the 40 year old inefficient electric heat and save the money on the unnecessary cosmetics for the time being.

What areas of your trade do you specialize in?

All areas of residential building and remodeling, high end kitchens and baths, premium floors and refinishing, decks, additions, new construction, design, windows, doors and including energy efficient building products and spray foam insulation.

What brands or products do you work with?

We sell only products that I would use on my own home. All of our windows and doors come from Harvey Building Products and feature familiar household names like Andersen, ThermaTru, and others.

We only associate with service and product suppliers that are customer oriented and can give us the high level of service that our clients expect from us.

We use locally sourced products and materials made in the USA and Canada as often as they are available. Some of the hardwood lumber that we have used in some recent projects actually come from trees cut down and milled literally in my backyard!

What services do you provide your customers after the work has finished?

We provide follow-up inspections and visits whether at our discretion, in the case of an emergency or weather-related repair, or at the discretion of the client to ensure that all work has been done to the highest standards. All clients are encouraged to contact me, Colin King, if, at any time, they are dissatisfied or concerned about any aspect of the work taking place. Communication is the number 1 problem between most homeowners and their contractors. We strive to eliminate confusion and are readily available tio answer any questions our clients may have.

We also offer a five-year limited warranty on the majority of our labor (excluding demolition, painting, and several types of emergency or temporary repairs), as well as follow-up with clients to assist in warranty recovery from the manufacturers of the products that we sell, in case of product failure. Also, should our clients experience failure of one of the products that we sell, even if we did not install it, we will assist in recovering any warranty monies or products that may be offered as compensation for the failure.
Testimonials
March 18, 2012

CZK Renovations has done home repairs and remodeling for me. The quality of the work was excellent. They kept to their schedule and estimates. If there were problems, they were clearly communicated and a plan of action developed as well as associated estimates. Kolin and his crew are very knowledgeable and dependable.

- Mottani

February 6, 2012

Colin King, dba CZK renovations, has done several jobs for me during the past couple of years. He's as honest as daylight, always on time, and priced right. I've never had to worry about anything. He has multiple resources and a good crew to get any job done, but most of all, Colin has an abundance and wealth of common sense and has the ability to understand and figure out a complicated, multi-faceted job, like the one he just completed for me.

I would recommend CZK Renovation without hesitation. In today's complicated world, he makes it easy from start to finish and on time. Being trustworthy and honest in today's complicated world of contractors is rare; CZK is worth the call.

- Massa

February 6, 2012

I just want to say that Colin King was very professional, reasonable, and knowledgeable. He did the work in a timely fashion and was helpful in picking out materials for the job when I was unsure of what to use.

- Weaver
Related services