Mike Terranova Fitness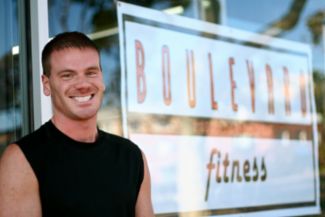 San Diego, CA

Areas of service:
San Diego
Credentials
Email verified
Fixr reviewed
Fixr Bronze Member
Contact Mike Terranova Fitness
Personal Trainer
Request an estimate
Mike Terranova Fitness - San Diego, CA
You'll be asked to describe what you need.
You'll be asked to provide your details so that Mike Terranova may contact you.
You'll get estimates from other qualified service professionals.
About Mike Terranova Fitness
Hi, my name is Mike, and I'm a professional personal fitness trainer for more than 4 years.
I live in San Diego and I train at Boulevard Fitness.
My certifications include:
CPR/AED
ACE (American Council on Exercise)Personal Trainer
ACE-LWMC (Lifestyle and Weight Management Consultant)
For information on rates, please contact mp_terranova@hotmail.com
Questions and answers
What information do you recommend to have readily available before looking for a professional in your trade?

I always ask potential clients to make sure that they are ready and willing to make a change in their life, and that they show an active interest and commitment to their health and fitness. They can do this by visiting local fitness facilities to see where they would like to train and workout out, as well as by making contact with potential trainers to see if a possible match can be made. Also, some potential clients may need to to be medically cleared by their physician prior to beginning an exercise regimen, especially if working closely with a trainer. This clearance/health history would also inform the trainer of any prior injuries or potential risks to avoid while exercising. These documents would be ideal to have upon the initial consultation.

What questions should a customer ask before hiring a professional in your trade?

What services are included with the personal training package?nnWhat outcomes should be expected from the program over time? nnWhat are some realistic goals for that specific client, both short and long term?nnWhat should the client be doing on his/her own to be held accountable for proper progress?nnWhat is appropriate attire for a workout in the gym, as well as some appropriate snacks to have beforehand and after?nn

What are the most frequent questions you get from customers? What are the answers?

One of the most common questions I get from clients is how long will it take to lose all the weight. I try to steer my clients away from setting unrealistic, long term goals. These types of goals can get the client discouraged if he or she isn't seeing results quick enough. Instead, I help my clients come up with short term goals that are realistic and attainable, and we set check point dates to reassess and track progress. I do educate my client by informing them that it is safe to lose anywhere from 1 to 2 pounds per week, given that they are exercise frequently and eating right. From there, we set our goals and begin the work.

What types of jobs are the most common?

I sell training packages in groups of 5, and actual workout sessions last between 50-55 minutes. I train a diverse group of client, with goals ranging from weight loss and increased strength, to improved flexibility and performance of everyday life activities. I work with clients who either just want a quick jump start to their fitness program, or who prefer to work with a trainer all time in order to help motivate, educate, and progress the services for them. I am open to help everyone!

What services do you provide your customers after the work has finished?

Periodic weight and body mass assessments are conducted with the client after the exercise program has begun. Food log guidance and nutritional coaching is included, as well. Follow-up consultations and assessments are also included to determine whether or not further assistance is needed.

What would you recommend customers looking to save money?

I charge less for training packages that include at least 10 or more sessions, versus smaller packages that are a little more expensive. Also, I always offer a client a free training session any time he/she recommends a friend to test me out on the workout floor. If that friend ends up purchasing training, the original client gets another free session. 2 free sessions for recommending and signing up a friend...not bad!

Tell us about the project or job that you are most proud of (in the last 12 months).

One of my clients that I have been working with for close to 2 years, recently started a new diet program with her dietitian. I was to act as both her personal trainer and her diet coach. In 6 months time, she had lost a total of fifty pounds of body fat, and gained 6 pounds of muscle. In addition to these wonderful milestones, she has also had wonderful gains and improvements in strength, balance and coordination, and functional activities of everyday living. Her overall sense of happiness and confidence has greatly improved due to everything that she's accomplished.

What brands or products do you work with?

At the gym I train at, we have all types of cardio equipment, such as treadmills, stair climbers, stationary bikes, and elliptical trainers. As far as resistance training equipment, we have standard machines, cable decks, barbells, dumb bells, medicine balls, resistance bands, and more. Throughout the course of any given exercise program, I will gradually progress my clients through all of these modes of exercise so that they have a chance to experience everything. From there, we decide what works best for that client.

What do you wish customers knew about your profession or trade?

I would like people to know that being a healthy and fit person is a way of life that takes time and commitment. Like anything that is worth having in this world, one needs to do the work that is necessary to make it happen and be successful at it. Being a trainer, I try my hardest to encourage and motivate others to work hard at making health and fitness a lifestyle habit. As time progresses and the client starts seeing results and feeling good about themselves, exercising seems to magically transform from being a hassle, to being enjoyable, rewarding, and something he/she looks forward to doing every day. This is what makes being a personal trainer the most fulfilling.

Tell us something customers may not know about you.

Besides being a personal trainer, I've been an elementary school teacher for about 8 years now. I studied education and sociology at Keene State College in Keene, NH before relocating to sunny San Diego in 2004. I primarily teach Physical Education at the elementary level, but I've also taught art, music, special education, and computer science classes. I really enjoy teaching 4th and 5th grade math. In addition to training and teaching, I truly love exercising and being physically active outdoors. I feel that educating and motivating others is my calling in life, and I hope to continue this passion for a long, long time.

What certifications or professional affiliations do you have?

I am currently certified through ACE (American Council on Exercise) where I hold a certification in personal training, along with a specialization in lifestyle and weight management coaching. I am also adult and infant CPR/AED certified.

What areas of your trade do you specialize in?

Personal training services, which includes individualized workout plans and nutritional and weight management coaching. Initial and periodic weight and body mass assessments are conducted to monitor/track progress and make adjustments accordingly. Workouts are comprised of cardiovascular and resistance training, along with functional and core training. General nutrition coaching is provided with the client's food log.

How many projects do you average in a year?

I usually work with anywhere from 9 to 12 clients at any given time throughout the year. Having this amount of clients really allows me to get to know each client well. This, in turn, helps me to properly develop the appropriate exercise program for that specific client's individual needs and desires.

How did you get started?

I started studying to become a personal trainer about 5 years ago. I earned my first certification through AFAA (Aerobics and Fitness Association of America), and then proceeded to become certified through ACE (American Council on Exercise), which I currently hold two certifications with: personal training and lifestyle and weight management coaching. In 2008 I started working for 24-Hour Fitness here in San Diego, and then decided to branch out on my own. I began Mike Terranova Fitness in 2010 and became an independent contractor at Boulevard Fitness in North Park.