Xclusive Technologies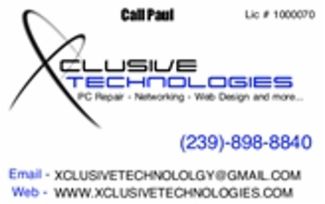 17116 Phlox dr, Home
Fort Myers, FL

Areas of service:
Fort Myers, Cape Coral and Bonita Springs
Credentials
Email verified
Fixr reviewed
Fixr Gold Member
Contact Xclusive Technologies
Great service pricing & Certified technicians
Request an estimate
Xclusive Technologies - Fort Myers, FL
You'll be asked to describe what you need.
You'll be asked to provide your details so that Paul de Laporte may contact you.
You'll get estimates from other qualified service professionals.
About Xclusive Technologies
Computer repair and custom computer built towers is our specialty. We repair residential or commercial onsite, drop-off & remote computer repair services in Fort Myers and the greater SW Florida. If you run into virus or spyware concerns, windows errors, network or wireless connection issues, printer setup concerns, faulty hard drives or data recovery computer issues we have expertise in all areas of the computer repair industry to addess the problem. Customer satisfaction is at the core of our business values. PC support that is affordable and professional is how we have serviced over 3000 customers since 2004.
Questions and answers
What are the most frequent questions you get from customers? What are the answers?

Where do viruses come from? - From email, ads on webpage, also not cleaning out your temp files will leave you more prone to viruses.

What is the best way to extend battery life on my laptop? - If you are going to leave your battery plugged into the wall at home for an extended period of time de-charge the battery to 0% then remove it from the laptop and put it aside until the next time you go mobile.

What brands or products do you work with?

ABS Computer Technologies (Parent: Newegg)

Acer

eMachines

Gateway

Packard Bell

aigo

AIRIS

Aleutia[1]

ALUSA[2]

AMAX Information Technologies

Apple Inc.

Ascendant Computers

Asus

AVADirect

AXIOO International

Axiomtek

Beetel India

Belinea

BenQ

Bluechip Computer

Cerise Computers

Certified Data[3]

Chip PC

Chirag Computers

Clevo

Commodore Gaming

TIME Computers INC.

Cray

CyberPower PC

Cybernet Manufacturing

Digital Storm[4]

Dell

Alienware

Dera

Dino PC

Doghouse systems

Doxx Computer

Elitegroup Computer Systems[5]

Falcon Northwest

Fujitsu

GAME-ON[6]

Gericom

Gigabyte

Groupe Bull

HLBS Tech (P) Limited

Halogen Forge

Hardcore Computer

Hasee

Hewlett-Packard

Compaq

HCL

Hitachi

Howard Computers

IBM

Intex

Ibuypower

Integrated Intellect Corporation

Itautec[7]

IGEL

Jetta International

Kupa Kreative Tech

Kohjinsha

Kontron AG

Lanix

Lanner Inc

LanSlide Gaming PCs

Lenovo

LG

Maingear

MDG Computers

Mecer

Medion

Meebox

Mesh Computers

Micro-Star International

Micro Center

MiTAC

Motion computing

Murderbox[8]

NEC Corp

NEO

Neos Computers

Novatech

Nut Inc.

Octagon Systems Corp.

Ohava

Olidata

Olivetti

Oracle Corporation

Origin PC

Panasonic

Performance PC

Polywell

Positivo Informatica[9]

Prolink

Psychsoftpc

Puget Systems

Radioactive PC

Rain Computers[10]

Red Wing Computer & I.T. Services

RP Infosystems Pvt Ltd

Ramos I.T. Consulting,Inc.

Sager Notebook Computers

Samsung Electronics

Shuttle Inc.

SGI

Siragon

Simmtronics[11]

Socket Mobile Inc.

Sonica

Sony

Stealth Computer[12]

Stone Computers

Stream Server Laboratories

Systemax

Circuit City

CompUSA

TigerDirect

System76

Tangerine Inc.

Tadpole Computer

The PC Heaven

ThinkPenguin.com

Toshiba

TriGem Computer, Inc

Averatec

Tyan

Unisys

V3 Gaming PC

Velocity Micro

ViewSonic

Viglen

WidowPC

Wipro

Wortmann

Wyse Technology Inc.

Xitrix Computer Corporation

Zenith Computers

Zinox Computers

Zoostorm

Zotac

What do you wish customers knew about your profession or trade?

I wish they knew that they should only let certified professionals licensed within that state to work on their equipment. I have heard and seen the chop job that so called craigslist tech's can do.

What information do you recommend to have readily available before looking for a professional in your trade?

You should have ready your computer model number and serial number. And a brief history of the recent problems you have had with your PC.

How many projects do you average in a year?

I averaged 130 projects last year. Mostly were residential computer service client jobs. We hope to bring that number up over 200 this year with referrals.

What questions should a customer ask before hiring a professional in your trade?

A customer who is looking to get their laptop or desktop fixed by a technician should first ask whether that individual is licensed to work on their piece of equipment. A professional website of the computer technician should be online with a license number clearly stated. In Florida it is against the law to provide computer service without a proper license. This protects the consumer as we all know there is a lot of sensitive data on your hard drive not short of credit card and bank account information. Do not put your computer in the hands of an amateur.

What services do you provide your customers after the work has finished?

All of our PC repairs at Xclusive Technologies come with 30-day warranties. We understand that customer satisfaction has to be at the core of our business values. Computer support that is affordable and professional is how we have serviced over 3000 customers since 2004.

What certifications or professional affiliations do you have?

A+ certification

MCSE certification

Dell

783 Foundation 2011-12 Desktop (All Dell Desktops for 2011-12) 3/1/2011-12

781 Foundation 2011-12 Portables (All Dell Notebooks for 2011-12) 2/29/2011-12

724 DSP - Mini-Tower V.3 Chassis Certification 2/27/2011-12

523 Dell ESD - Certification 2/27/2011-12

720 Portables - Inspiron 2011-12 8/24/2011-12

716 Portables - Inspiron 2011-12 Certification 8/24/2011-12

709 DSP Client – On-Site Troubleshooting w/Power Tester Certification 8/24/2011-12

721 Portables - Inspiron 2011-12 Certification 8/24/2011-12

718 DSP - Slim-Tower Chassis Certification 8/23/2011-12

723 Portables - XPS M1330 - Certification 8/23/2011-12

722 Trusted Advisor for Field Service 8/23/2011-12

640 DSP - Customer Experience V.2.5 Certification 4/13/2011-12

695 Foundation 2011-12 Desktops (All Dell Desktops for 2011-12) 3/10/2011-12

698 Foundation 2011-12 Portables (All Dell Notebooks for 2011-12) 3/6/2011-12

What would you recommend customers looking to save money?

Spending too much money on computer repair can be a real drag. Some shops charge as much as $200 for an hour of service that includes relatively simple processes such as upgrading the RAM and performing system restores. In many cases, these high charges can be avoided by following a few simple tips. The solution to your problem can very well be right in front of you, and taking a moment to seek out a solution to the problem can save you hundreds. Use Xclusive Technologies to save money. We keep you bill low.

How did you get started?

After 8 years of servicing Dell, IBM and Gateway computers. I had a good feel of the IT industry and what it took to diagnose a potential computer, networking or web design issue. I have always considered myself someone who can easily translate the computer world to the average user. My company Xclusive Technology might be just a name to others. But to me and to my current customers it means dedication, reliability and professionalism.

Tell us something customers may not know about you.

Xclusive Technologies computer repair and maintenience service is based out of Fort Myers FL on Daniels parkway. There are 3 ways we can service your computer: Onsite service, drop off service and remote repair services. With Xclusive Technologies onsite service we cover northern territories up to Sarasota, southern territories down to Naples, east to Fort Myers beach and west to Hendry county. The cities we provide service for are Fort Myers, Cape Coral, North Fort Myers, Estero, Bonita Springs, Lehigh Acres, Port Charlotte, Naples, Sarasota, Punta Gorda and South Fort Myers.

Our onsite support service is affordable and the technician that comes to your location will be the owner and operator of Xclusive Technologies. We use Remote repair for those situations where the customer has high speed internet access and the issue can be fully solved right over the internet. Ask which you would benefit from most.

What types of jobs are the most common?

The most common computer repair jobs in South West Florida are memory and hard drive replacements. I also replace a lot of LCD screens and motherboards.

Tell us about the project or job that you are most proud of (in the last 12 months).

I had a computer repair job in La belle at the Family Dollar stores upgrading their network printers\copiers. Their was a mess with the previous wiring to the Cisco switches and routers. Not only did I upgrade the copiers but I also saved the cash register employees 15 seconds each transaction by switching some cables and preventing network bottlenecks

What areas of your trade do you specialize in?

Virus or spyware concerns
Windows errors
Network or wireless connection issues
Printer setup
Data recovery or data backup
Computer problems

We have expertise in all areas of the computer repair industry. We also provide website design service for many small customers throughout SW FL and all websites come with your very own domain, hosting and professional SEO services so your customers can find you first on Google and Yahoo.
Testimonials
May 31, 2012

I hired Paul from Xclusive Technologies to help me set up a new HP computer and transfer data from my old one. He came to my house to set it up and also did some work through remote access. Excellent job – professional and very helpful to me because I am a very basic computer user. I would recommend him and will keep his card by my computer for quick access if I have any other problems.

- Maguire

June 15, 2012

I brought my laptop to Paul at Xclusive Technologies for computer repair in Fort Myers. My keyboard was missing keys. The technician got the part off eBay for $25 dollars and only charged me 20 dollars to put the keyboard in. It was fast affordable and worked perfect.

Thanks Xclusive

- Smith

May 30, 2012

Xclusive Technologies has years of technological service background, is knowledgeable and very precise in providing the needed help to get your computer running in top condition. He is thorough, efficient, and has helped me on a variety of occasions, and I happen to live in Pennsylvania, not in Florida where he is located. You'll be so very pleased that you have selected him to help you and you'll be amazed at how reasonable his costs are. It's so good to find quality help in this important area of need.

- Pizullo
Related services