Tile is often considered an integral part of most bathrooms. As the bathroom is a place that sees a lot of moisture, the surfaces of the room need to be moisture resistant, as well as easy to clean. Tile fits the needs of the space, while also providing the opportunity for color, style, and design to be used within the area. Moreover, tile accounts for around 8% of the cost of a bathroom remodel ($1,500 for wall and shower tiles in a master bathroom), which is relatively a small percentage for the high visual impact tile can have.
And whether you're creating a powder room floor or you're tiling the walls, floors, and ceiling of a wet room, there are a lot of choices out there for the tile you can use. This includes not only the material, but also the shape, size, color, finish, and pattern of the tiles themselves.
To find out what the latest in bathroom trends would be for 2022, we reached out to numerous experts in the design field for their input and opinion. In this article we explore experts' thoughts and opinions on the top tile trends for 2022. Each trend mentioned below is accompanied by the percentage of those experts who chose the trend as one that they believe will be popular in 2022.
1. Large-Format Wall Tile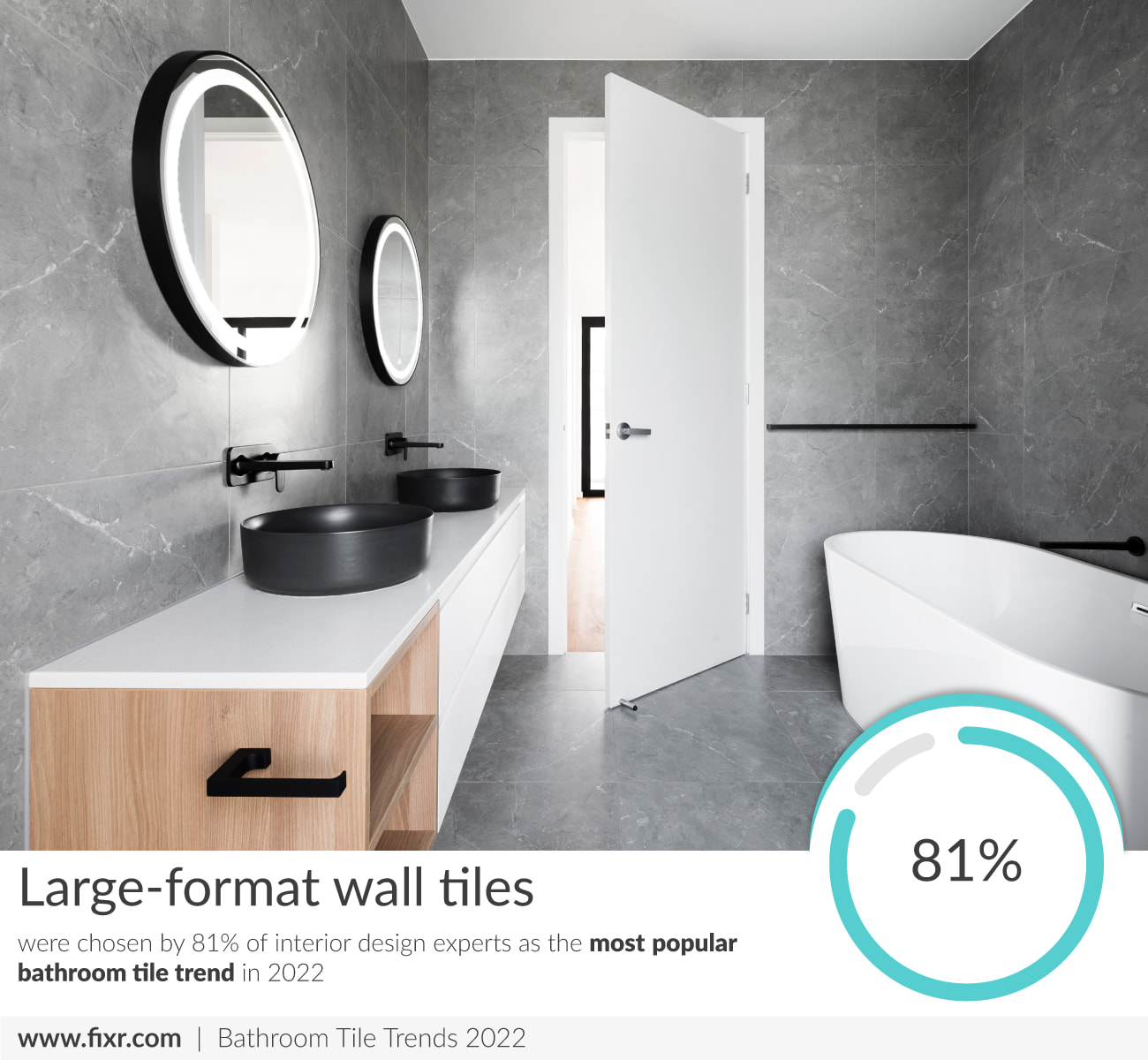 The most popular bathroom tile trend for 2022 according to 81% of experts is large-format wall tile in the bathroom. Large format tile is defined as any tile that measures 12-inches or more in size. It's not uncommon for many tile brands to produce tiles up to 36-inches in size, with 16-inch, 18-inch, and 24-inch tiles being very common too.
Large format tile has long been popular on the floor, particularly in small spaces like bathrooms. Large tiles have fewer grout lines than smaller tiles, which creates a cleaner look that can help visually open up spaces. Large format tiles on the walls as well can help further create that sense of openness in design.
Most tiles today are available in large-format sizes, although porcelain is the most common. You can find large format glass as well as some natural stones and ceramic tiles. They can be used alone or paired with smaller tiles to create designs, and you can pair them with both mosaic or large format floor tiles to create a range of different looks for the room.
Large format tiles can cost more to install than smaller tiles. Their size means that they must be back-buttered to prevent lippage - a condition where a corner of one tile sticks up higher than those around it. Large format porcelain tile costs around $10 to $40 a square foot installed, depending on the material you choose
2. Black and White Bathroom Floor Tiles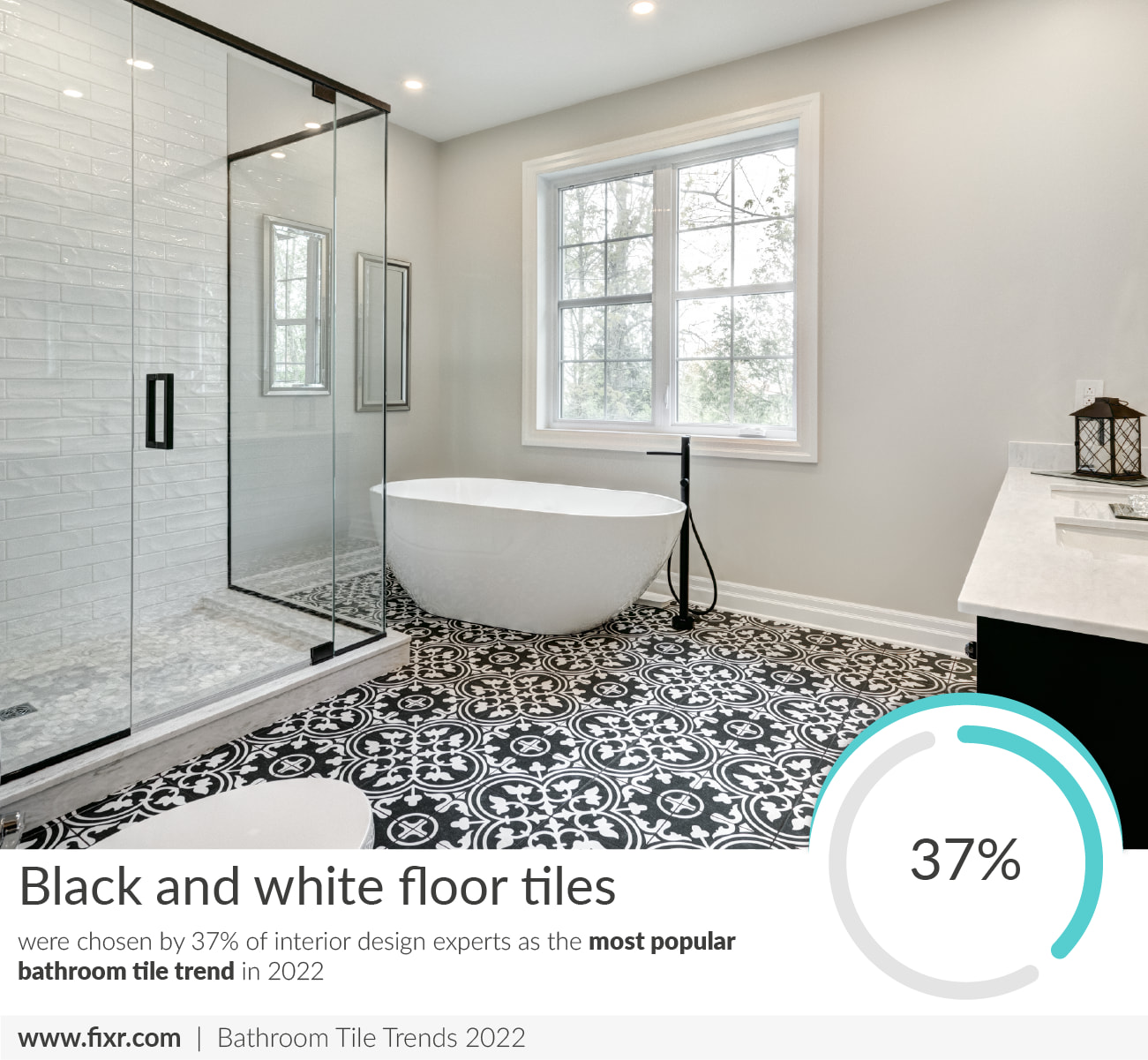 Another popular bathroom tile trend this year according to 37% of experts is black and white bathroom floor tiles. Black and white floor tiles have long been a popular style for many types of bathrooms. This is actually a subset of retro-bathroom styles. Many mosaic patterns such as hexagons, octagon-and-dots, and basketweaves come in black and white. It's also possible to find larger tiles in solid black and solid white, which can be installed in several different patterns from checkerboards to off-set rows.
It's also possible to find tiles that are printed with a black and white pattern. This is another option if you're creating any type of retro-bathroom, and you don't want to use mosaics, but you do want something a little more formal on the floor.
Black and white tiles can have a wide range of costs depending on what they're made from. Black and white retro mosaics are sold in sheets for $3 a square foot, and you can also purchase pure black and white marbles for $20 to $30 a square foot.
3. Retro-style Bathrooms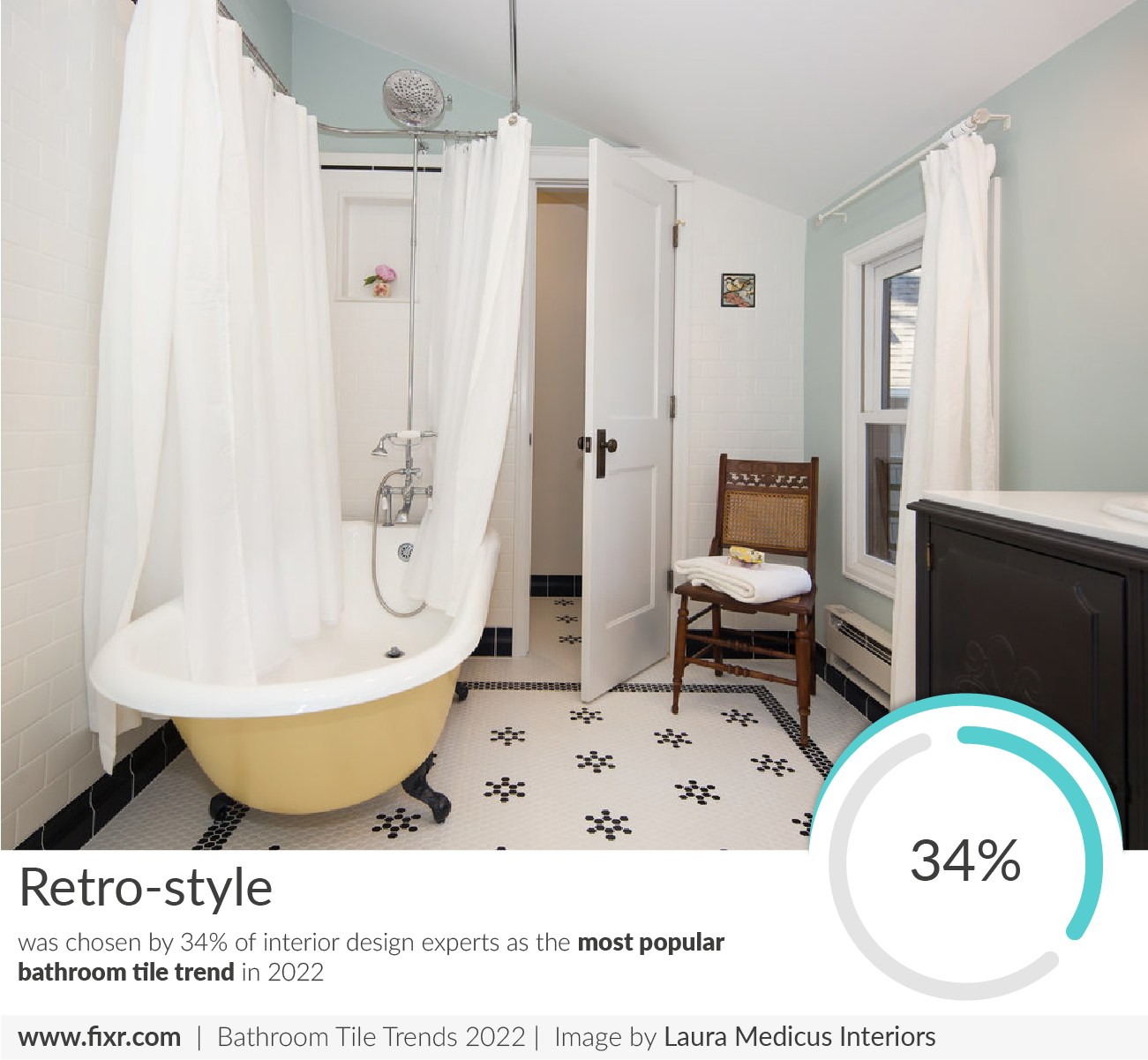 Retro-style bathrooms will also be popular according to 34% of experts. This ties in well with the black and white bathroom floor trend, as black and white floor patterns are very common in retro-styles. There are many different retro-bathroom styles to consider, but the combination of mosaic floor patterns with an off-set wall tile up to wainscot height are a classic look that is getting a lot of attention. This particular style first became popular in the 1920s, and with many other things coming out of the 1920s - art deco patterns and colors for example - it's been making a big comeback in the 2020s. The wall tiles may be 4-inch squares or true subway tile, while the floors are any retro style including penny tiles, hexagons, octagon-and-dot, or basketweave.
This style works well if you also opt for a retro-style for the sink, such as a porcelain sink on legs or a pedestal with a matching toilet.
This can be an inexpensive style or a more expensive one, depending on the materials. Using ceramic "retro" tiles is the least expensive, at roughly $3 to $5 a square foot, while using marble or other high end materials could cost as much as $20 to $30 a square foot.
4. Bold Colors and Patterns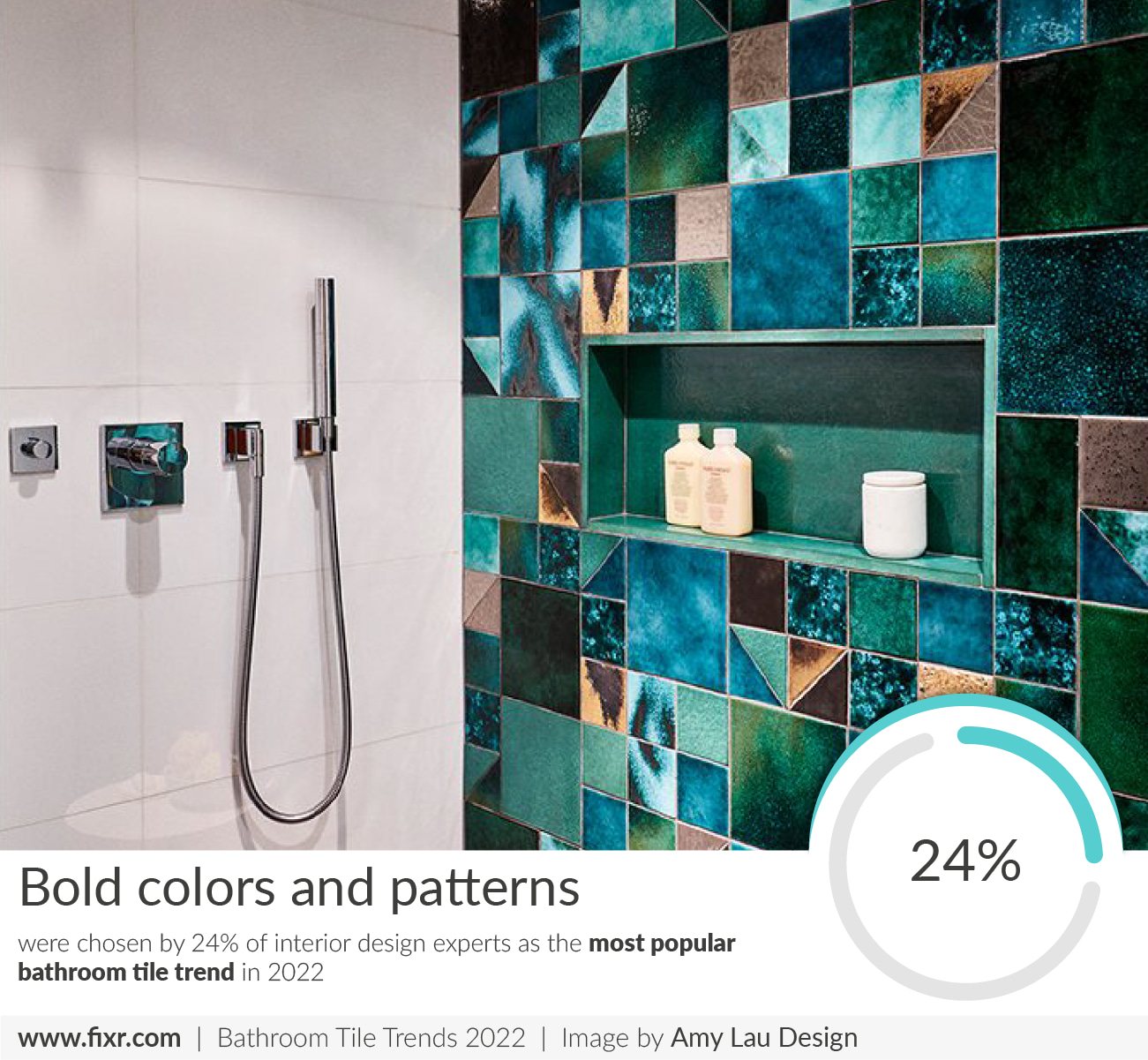 Bold colors and patterns will also be a popular bathroom tile trend this year according to 24% of experts. Bold colors and patterns can come in many different forms and styles, as well as materials. For example, it's possible to create a retro-style bathroom using cobalt blue penny tiles on the floor with a white and cobalt blue glass on the walls. Or, you can create something more modern using geometric tiles in a range of brilliant colors on the walls and floors.
Bold colors and patterns in the bathroom have long been a somewhat popular trend. Bathrooms have become more of a place of refuge for people in recent years; they want to feel relaxed, invigorated, or otherwise healthier mentally and physically when using them. For some people, particularly in urban areas, this means using bold colors in materials like iridescent glass that can really catch the eye and raise energy levels within the room. This can be particularly popular amongst people who are tired of seeing the same things everyday. As expert Kristie Barnet says, "Homeowners are tired of cookie-cutter interiors and want to create spaces that are unique expressions of themselves. They are more open to an eclectic mix of high and low, found treasures, and artful collections." Bold colors and patterns certainly fit in with this idea.
Just be sure that you pay attention to the market in your area if you go this route; bold colors for tile don't always translate well at time of resale.
Bold colors and patterns can have a very wide range of costs, depending on the material you choose. Expect to pay anywhere from $3 to $30 a square foot.
5. Terracotta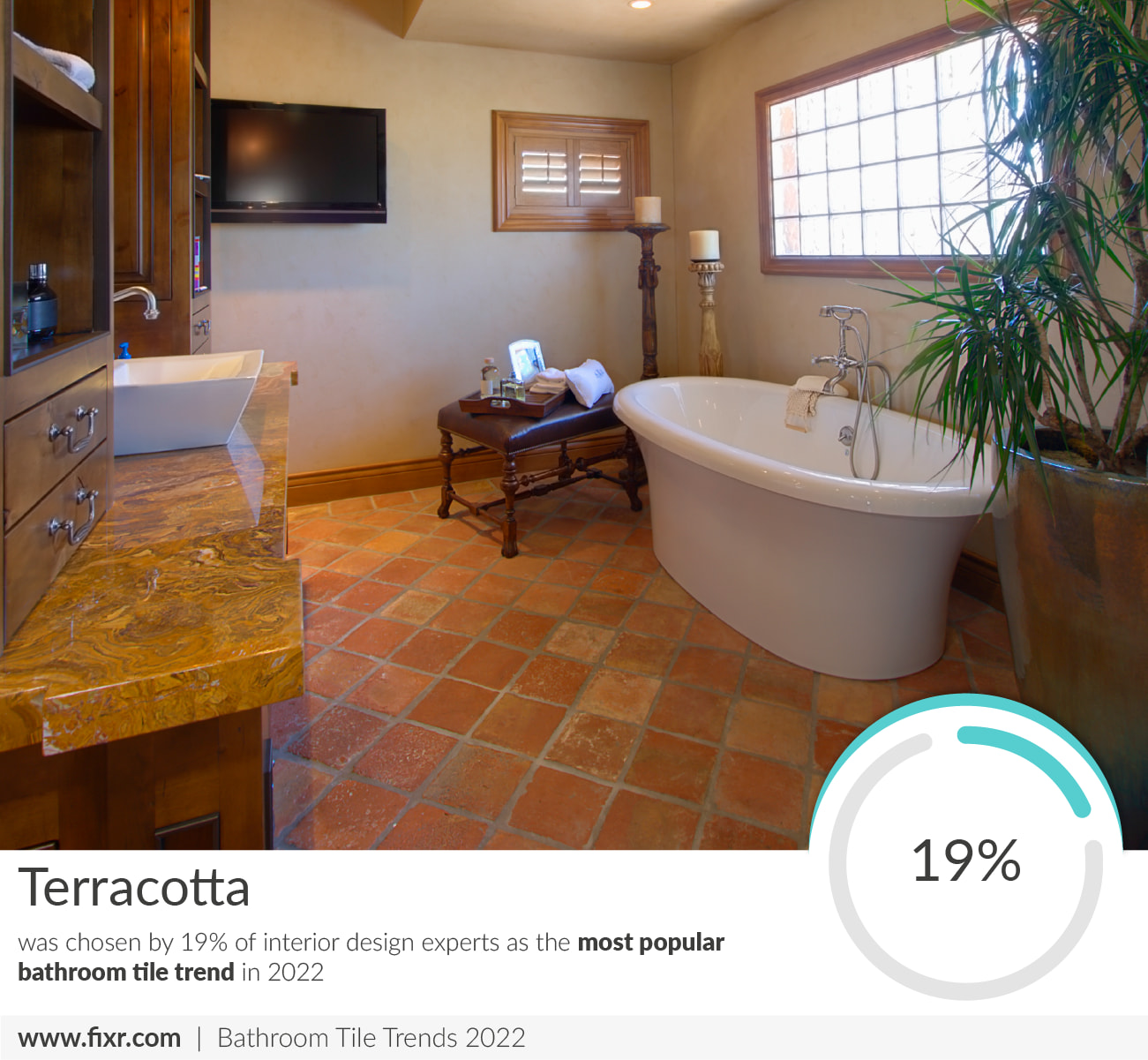 Terracotta is also becoming popular this year according to 19% of experts. Terracotta is a unique type of tile, differing from other ceramics in that it does not normally have a glaze. Instead, the tile is what is known as a monocottura - it's only been fired once, rather than twice. This can make it more absorbent than other tiles as well as a little more fragile. To compensate, many terracotta manufacturers make their tiles very thick. Terracotta has a lot of natural appeal; without a glaze it can feel earthier, and its rich red and brown colors can fit in well with some other popular trends right now.
Terracotta is often a handmade tile as well, which can give it a lot of variation in color, thickness, and regularity between tile sizes. This can give you a beautiful rustic or Southwestern look for your bathroom, but keep in mind that this material does need to be sealed if you use it in a wet area like the bathroom to help prevent it from staining. It can also cost more to install, both because it should be sealed prior to grouting, and because its uneven nature can require backbuttering and other techniques to ensure it's level.
Terracotta can have a range of costs depending on size and manufacturer. Expect to pay roughly $10 to $30 a square foot, installed.
6. Rustic Stone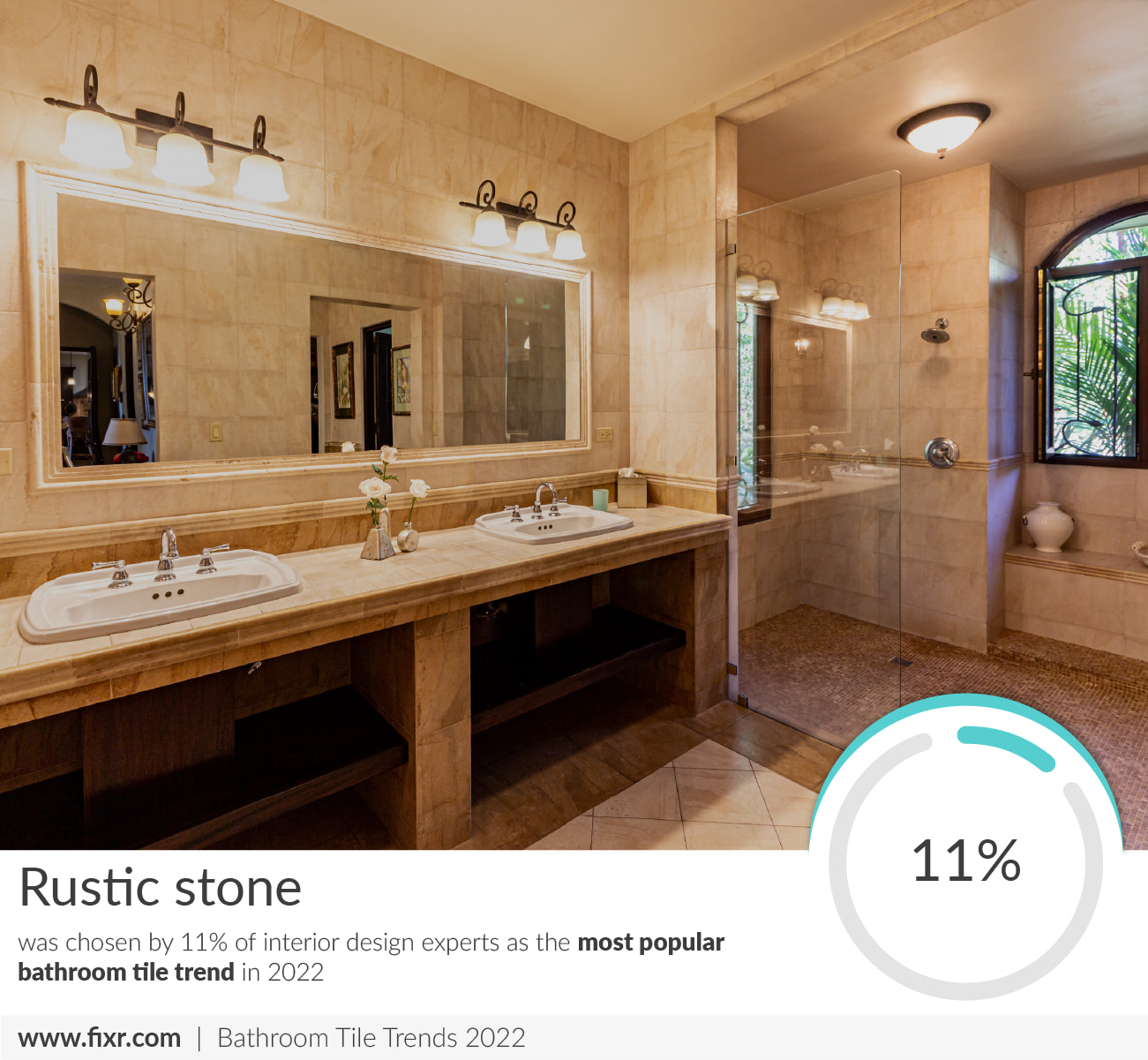 Rustic stone is another trend that will be popular this year according to 11% of experts. Rustic stone is another natural material that can fit in with other interior design trends this year, such as bringing nature indoors. There are several different stones that can fit this trend as well, so you have a lot of options to choose from for overall style.
Travertine is one option. This is a type of limestone formed inside of hot springs. Escaping water vapor forced holes and tunnels through the stone that are visible in the tiles. These holes must be filled - either with epoxy or grout - to help the tile hold its integrity. The overall look is soft, earthy, and beautiful.
Ungauged slate is another option. This material has a natural cleft to its surface, and can range in colors from blue gray and green to wild tones or red, purple, and gold. Slate can come in several sizes and finishes, but it can be very hard to install if your contractor isn't experienced. It can also be a little dusty for the first few months after its installation as it settles into its new home.
Natural stone tiles can have a wide range of costs depending on how they are finished. Expect costs from $5 to $30 a square foot.
7. Metallic tiles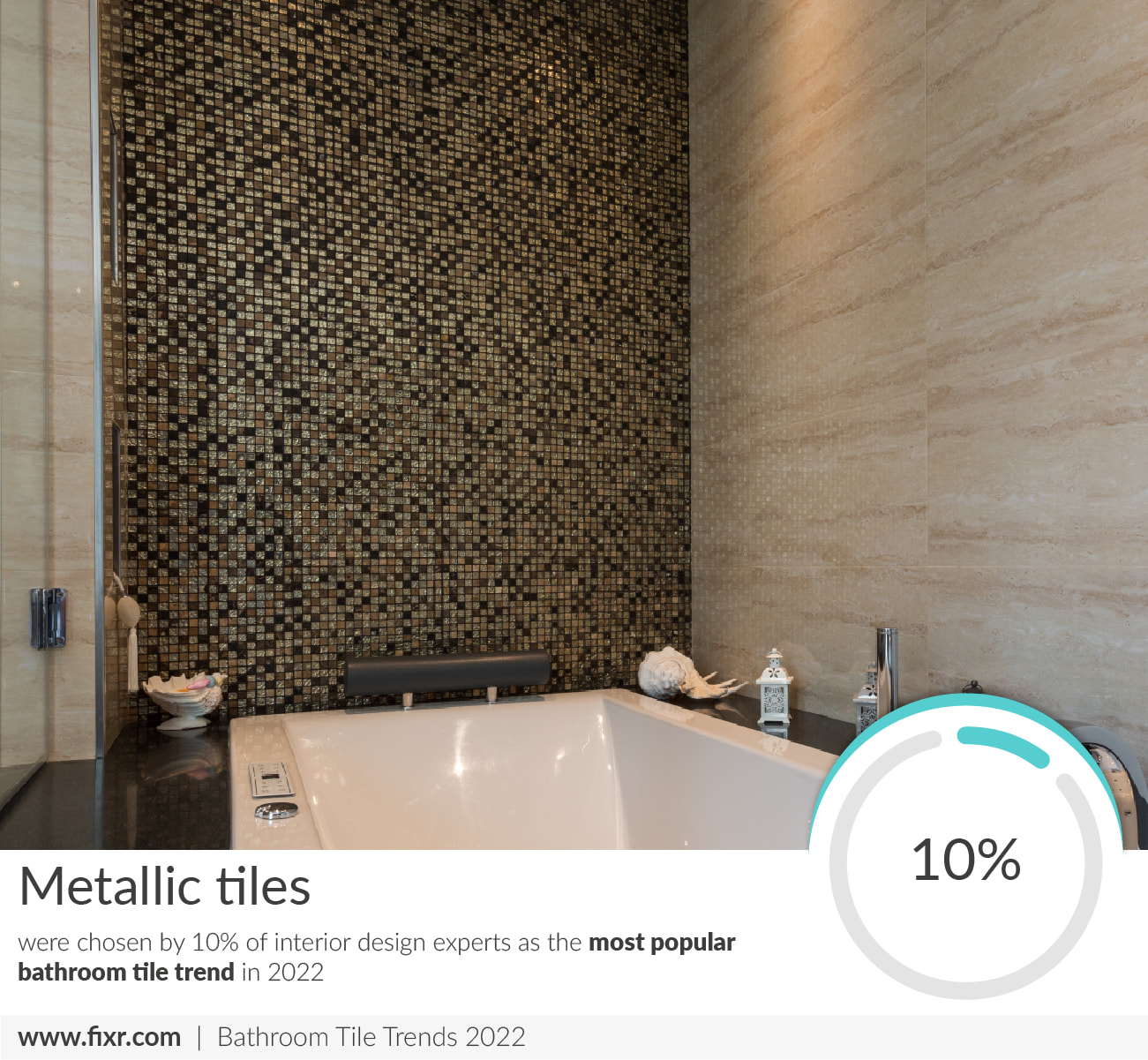 10% of experts also feel that metallic tiles will be a popular choice for the bathroom in 2022. Metallic tiles are generally less common in bathrooms, because those that use real metal in their glaze or makeup could therefore be subject to corrosion in the bathroom. It's important, therefore, to make sure that if you go with this trend, that you use materials that are designed for wet spaces. This could be porcelain tiles with a metallic glaze; these are generally fine in damp areas, but cannot be cleaned with anything acidic, or it could be using stainless steel tiles in accent areas such as around a sink.
Metallic tiles have a very contemporary look to them, with some types also working well in industrial-style spaces. This could be popular therefore in contemporary homes and homes that have a rustic-modern look. They may also work well in powder rooms, where there isn't as much moisture as in full bathrooms.
Metallic tiles can be expensive, with costs starting around $20 to $50 a square foot, depending on what the tiles are made from, and installed costs ranging from $23 to $65.
Conclusion
Bathrooms are one of the most commonly renovated spaces in the home. If you're considering a renovation of your bathroom in the coming year, you may want to consider adding one or more of these bathroom tile trends to the space. Trends can help make your home look fresh, and are more likely to keep it from feeling dated in coming years as well. Consider freshening up your bathroom tile in 2022 with one of these popular looks to make the most of your bathroom space.