Ramp up the style in your kitchen and cement its design with a new kitchen backsplash. The backsplash is one of the best features in the kitchen to show off and create a finished look within the space. Any material can easily work in this area, and whether the backsplash is confined to the 18-inches between the counter and the cabinets or it splashes out for a whole wall, a backsplash can really draw the eye and create a more finished look for the room. With so many options available, it's no wonder that backsplashes can have a wide range of costs averaging between $900 and $2,500.
To help uncover the freshest trends available for 2023, we undertook research into this topic in order to find out more about what homeowners want. We also interviewed some experts in the field of kitchen design to help find the hottest trends. Below are the 8 most popular and stylish backsplash trends forecasted for 2023.
1. Metro/Subway Tiles
The subway tile is one of the most classic design statements available. These rectangular tiles have been popular in the kitchen backsplash area for decades, making this trend an ongoing force to be reckoned with. Subway tiles are typically 3x6 inches in size, but you can also find 4x8 or 2x4 tiles to get the same look with a slightly different spin.
You can install subway tiles in a classic running bond or offset pattern, branch out and stack them horizontally or vertically for modern looks, or set them in a herringbone for something more classic. They come in a wide range of colors and materials, so it's possible to capture more than one trend at a time by using them.
2. Statement Backsplash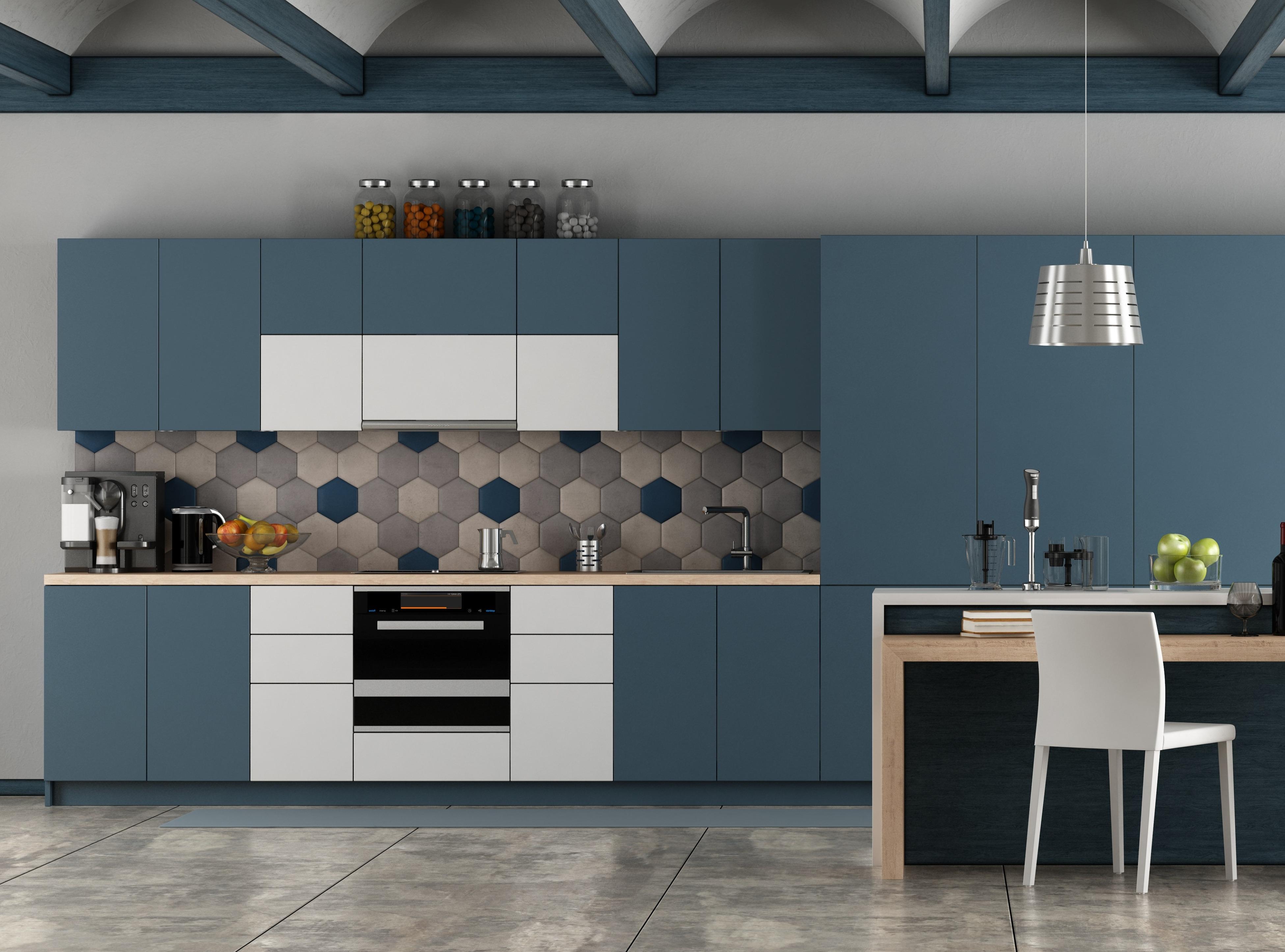 The statement backsplash is predicted to be very hot in 2023. A statement backsplash is one that is designed to catch the eye, rather than simply blend into the rest of the kitchen. Examples can include using bold colors, mixing materials like metal or glass into the design, or using tiles that create geometric patterns or that have three dimensions, extending off the wall.
With a statement backsplash, the rest of the kitchen design takes a bit of a backseat, so clean lines and soft colors are needed to let the backsplash shine. As Sean Walsh of Walcraft Cabinetry explains, "The backsplash is no longer a place for rogue spaghetti sauce to claim, it is a bold statement in the midst of a simple backdrop. Without a doubt 2023 will see more of this awesome display. Kitchens will be simple, backsplashes will grow bolder, and tiles will become larger."
Statement backsplashes can also incorporate other trends, including Art Deco tiles, marble, or medium format tiles. No matter which one you choose, make sure that it's the main feature of the space.
3. Art Deco Style
Art Deco style rose to prominence in the 1920s and 30s. It's now back with a vengeance in the 2020s and hotter than ever. This style is dominated by bold colors and repeating geometric designs. There are several types of Art Deco tiles on the market today, including many that link together to create repeating patterns that can cover a wall right up to the ceiling. Art Deco tiles can be used to create a statement backsplash or to add just a border of interest to an otherwise plain area.
Fixr.com Interior Design Expert, Sarabeth Asaff South, explains, "Art Deco tiles are precise, bold, and very eye-catching. For those looking for a focal point in your kitchen design, having a dedicated area filled with these geometric designs will be sure to do the trick. Consider Art Deco tiles for any modern or retro kitchen design."
4. Medium Format Tiles
Tiles come in many different sizes. For years, the large format tile dominated the market with sizes ranging from 12-inches to 36-inches and beyond. People are scaling back a bit from this level of excess, particularly on the walls. This is where the medium format tile shines. A medium format tile is bigger than the average tile - think 4x8 for a subway tile instead of 3x6, but it's not going to overwhelm the space. With medium format tiles it's still possible to create a pattern, while with large format tiles the lack of grout tends to create a simpler design. At the same time, medium format tiles are less busy than their smaller cousins, so the pattern can be enjoyed without the clutter.
5. Marble
Marble backsplashes are another trend with staying power. Last year, natural stone backsplashes made the list of the most popular materials, and this year marble came out ahead of other stones in general. Marble can be polished and sleek, or matte and rustic depending on its finish. It comes in numerous colors and can be found in subway tiles or medium format tiles, making it possible to incorporate several trends at once. Look for classic white marbles like Bianco Carrara or go daring with a black marble with white veins like Nero Marquina for a more modern look.
6. Slab Extension of Countertop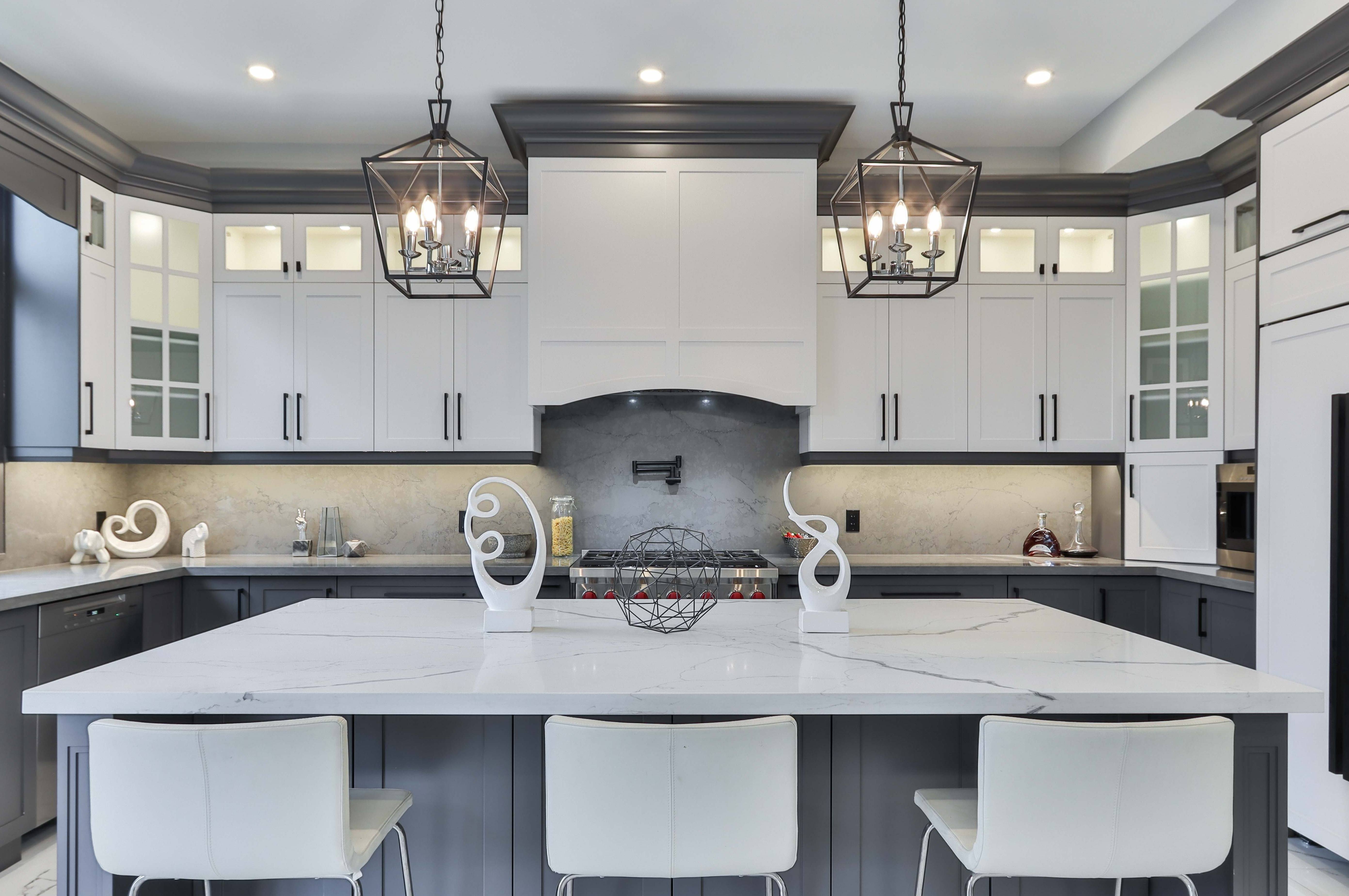 Another very popular trend we saw last year was the extension of a slab countertop as the backsplash. "Homeowners are really leaning into this look. The continuity of counter to backsplash elevates the look of a kitchen giving it a high-end aesthetic." Liz Toombs, certified interior decorator and owner of PDR Interiors explains.
Any slab countertop can be used in this way including marble, granite, quartz, and quartzite - all popular materials for countertops this year. Slab countertop extensions are not as busy as tiles, and can really produce a wow factor in the kitchen. They are more costly than most backsplash materials, though, as they cost the same as a kitchen countertop. So when installing a new countertop, be prepared to double the price.
7. Ceiling Height Backsplash
Also returning this year as a hot trend is the ceiling height backsplash. This backsplash isn't confined to the space between the countertops and cabinets; instead it wraps around the cabinets and extends to the ceiling. These backsplashes work particularly well with open shelving and in kitchens with very high ceilings. Walsh further elaborates, "Many are turning to the architectural wizardry found in cutting edge commercial spaces and restaurants by embracing ceiling height backsplashes in their new kitchen."
The ceiling height backsplash can be done using any material or style of backsplash. This can enable a combination of trends - Art Deco tiles can be used to cover a full wall with geometric patterns or subway tiles can create a Country Cottage look.
8. Diagonal Installation Tiles 
One simple way you can dress up a backsplash and give it a fresh new look is to turn the tiles at an angle. Diagonal tile installations can be used to create different patterns with square or rectangular tiles. Toombs explains, "In opposition to the horizontal 1/3 offset subway tile layout that has dominated the backsplash trends for a few years, people are getting more creative with their tile layouts. Laying tile on the diagonal or in a herringbone pattern takes a simple tile and gives it a whole new look."
This is a great idea for anyone that wants to enhance their backsplash, but doesn't want a pattern or a bold color. By installing the tile on a diagonal, it gives it a more unique appearance, while remaining subtle. Keep in mind that turning the tiles on the diagonal can increase the cost of the project by as much as 20%, due to the many cuts needed to create the design.
Make a Statement With Your Backsplash Design
Whether the desire is for a bold statement backsplash, a ceiling height installation, or a simple subway tile backsplash, these trends are sure to make any backsplash the winning focus of the kitchen design. Use one trend or combine several to elevate any kitchen design from ordinary to extraordinary.