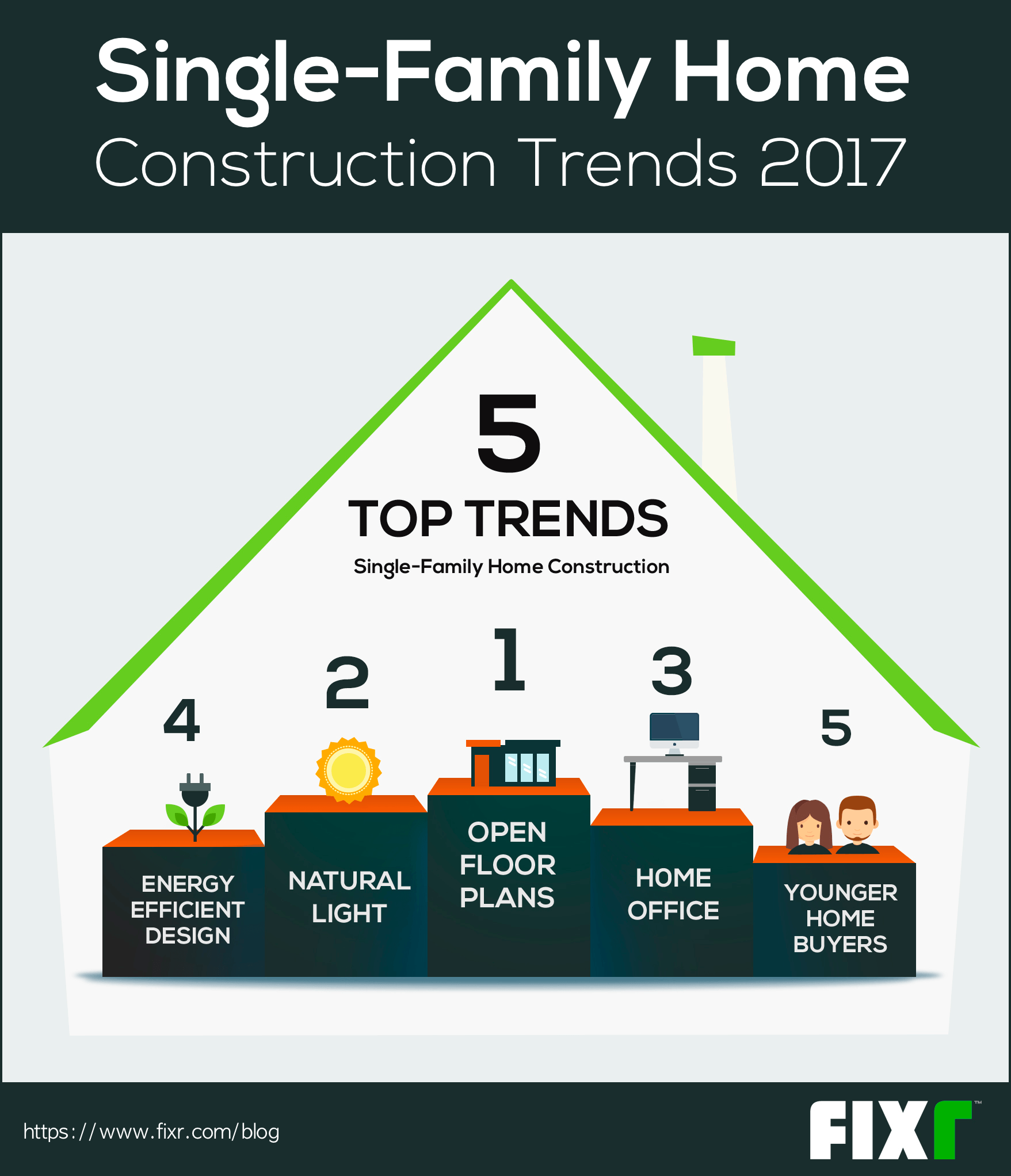 "The architect must be a prophet... a prophet in the true sense of the term... if he can't see at least ten years ahead don't call him an architect."
As Frank Lloyd Wright put it, architects must be able to see the future to do their jobs properly. After all, it's their job — along with designers, builders, and other stakeholders — to provide direction and creativity in the world of residential real estate. That's why we've conducted a survey of construction trends that have been seen emerging this year; so that industry professionals can make better, more informed choices going forward, homeowners can get inspiration for new projects, and homebuyers can prioritize their needs and wants in today's real estate market. Trends are created by people, not the industry itself. We extend a special thank you to those savvy, experienced contributors who helped us collect this data about the current state of the construction industry.
Our Expert Contributors
5 Top Trends
After querying our contributors on multiple areas of home construction, we were able to determine the top trends for single-family home construction for this year.
Methodology
We asked industry influencers from across the country to rate the trendiness of eight categories about home construction, with 1 being the least trendy, 3 being neutral and 5 being the most. They were also asked an open question on each category to better capture industry ideals.
Characteristics of Single-Family Home Buyers
Keynote: Younger generations are becoming the most prominent buying group today, with Generation X and Millennial buyers coming out ahead of the Boomers and the Mature generation.
Who are the Most Likely Single-Family House Buyers?
We asked the influencers to score from 1 to 5 who they think are most likely to buy a single-family house. We calculated the representative score for each generation bracket using normalization. The influencers gave 1.71 points to Mature, 2.99 points to Baby Boomers, 3.62 to Generation Y and 3.87 to Generation X.
Not surprisingly the Silent Generation was deemed least likely to buy a single-family home. As they age more into their senior years, they're more likely to downsize when it comes time to make a move. Baby Boomers still have a fair amount of purchasing power in the market, but have been edged out by both Millennials and Gen X'ers who are ready to put down roots in a single-family home.
Do you think millennial buyers are likely to build a smaller size house?
"Yes, I think the Tiny House movement along with Sarah Susanka's "Not so big House" will impact this segment."
-Matt Risinger, CEO & Chief Builder
" I believe they will be looking for smaller homes that have the flexibility to grow or change over time."
-Jeremiah Russell, AIA, NCARB, Rogue Architecture
Emerging Home Design Trends
Keynote: Energy efficient and smart home designs are nearly neck and neck as the most popular design trends of 2017. In fact, efficiency features and new technologies are practically a must for all new home styles from builders.
What are the trendiest home designs for 2017?
We asked the influencers to rate home designs for single-family homes in 2017 on scale of 1 to 5 .
We summed the percentage of the influencers who gave the score 4 and 5 to each home design and represented it as the total percentage of the influencers who think it will be "trendy".
Energy efficient designs lead to the pack in the type of homes that are being built right now, including passive design features. Following closely was smart home designs, which can be anything from a thermostat controlled by your smartphone to a wi-fi video doorbell. Sustainable design placed third, while universal design and modular or off-site built homes trailed far behind the leaders.
What's your favorite architectural design for single family homes?
"Rustic with a touch of modern design."
-Lisa Willard, Ashley's Building and Construction
"French with a steep pitch roof."
-Gary Smith, SafeHome Inspections
Most Desirable House Plans/Layout
Keynote: Open floor plans remain the leading trend in home layouts, providing more flexibility for homeowners.
What are the best floor plans for single-family homes in 2017?
When asked about the most preferred floor plans, our survey respondents almost universally chose open floor plans. Each home design was rated by influencers from 1 to 5 and we then found the percentage of those types receiving a score of 4 or higher.
It's the open floor plan that's really popular for the average single-family home layout right now. Single level homes are also slightly edging out two-story designs by a narrow margin, while the once popular split level drops to last place.
What will be the key concern in planning a single-family home layout be in 2017?
"Clear concise plan with effective adjacencies, maximizing light and air."
-George Bradley, AIA
"Liveability and a design that suits the individual family's needs."
-Josh Christian, Axiom Design
Exterior Facade Colors
Keynote: Home exteriors are cooling off with color trends moving toward gray, black, and white palettes.
What exterior paint colors do the influencers think will be the most popular 2017?
Cool colors like gray received the largest percentage of 4 and 5 ratings from influencers, and are popular across all regions when it comes to home exterior color palettes. Light colors follow, while dark colors aren't getting as much attention this year.
Cool tones of gray, blue, white, and black are the most popular color trend for home exteriors throughout the country. Light colors, including white, cream, yellow, and pale blue, are also quite desirable. However, warm browns and reds, neutral beiges, and dark shades are some of the least popular design trends hitting home siding this year.
What's your favorite front door color and why?
"Dark purple - eggplant. It's unique yet timeless."
-Lee Calisti, lee CALISTI architecture+design
"Pop of color - I call them the painted fingernails of the house. You can change it with a quart of paint and it gives the house - and the owner - a style just their own."
-Jay Kallos, Ashton Woods
Home Safety Concerns
Keynote: Water damage prevention, flood safety, and mold remediation top the lists of what most people are concerned about when it comes to home safety.
What home safety feature do the influencers think will be the trendiest in 2017?
We asked influencers what the biggest safety concerns are for homeowners this year, and what features they're looking for to prevent these issues from occurring. The results were found by calculating safety features with the highest percentage of 4 and 5 ratings from our respondents.
For home safety concerns, the biggest perceived threat is flooding and water damage, with many homebuyers viewing mold resistance as a desirable trait in a new home. These concerns outpace other threats such as heat, radon, or electrical failure by more than 15%. Interestingly, childproofing features were noted as trendy by 45% of influences, perhaps aligning with the growing number of Millennial buyers with young children.
What home foundation material is the safest?
"I believe reinforced concrete is the safest foundation material. For basements, I prefer insulated concrete forms."
-Chuck Miller, Chuck Miller Construction Inc.
"Concrete, either mat slab or a pier and grade beam system."
-Neal Pann, Dahlin Group Architects Planners
Green, Sustainable Living Means Energy Efficient Design
Keynote: Houses are becoming more energy efficient with more designs incorporating natural light and an influx of additional insulation throughout the home.
We asked the influencers both about consumer values when it comes to home choices, as well as the most popular trends when it comes to sustainable living in 2017.
In your view, do consumers value green home designs?
"Yes, every client wants some form of a green home for an affordable price."
-Rhett Jeffcoat, Randy Jeffcoat Builders, Inc.
"I believe the trend in green home design is growing. I think pricing for "green" infused homes still impacts decision makers."
-Adam Helfman, Hire it Done
What green themes do the influencers think will be trendy for 2017?
We provided six sustainable living design trends to our influencers and asked them to rate each one on demand using a scale of one to five. The top three results include the use of natural light and solar energy.
Passivity is the key to green design right now, with things like natural light, solar energy, and passive solar design being among the top concerns of homebuyers. These types of changes pay off in returns without affecting the lifestyle of the owner, making them an ideal investment. Less popular green options included using recycled or reclaimed building materials, and thermal concrete flooring.
What is your favorite energy efficient window?
"There are many good brands. The quality is based on the price point. Window placement is key."
-Susan P. Berry, Disability Smart Solutions, a Service of Susan Berry Design, Inc.
"Anything that offers an insulated glass product with options for gas infill."
-Brinn Miracle, Architangent LLC
Outdoor Space Trends
Keynote: Usable outdoor space is a driving force for many home buyers, with porches and gardens topping the lists of must haves.
What type of outdoor space do the influencers think will be added most frequently to a single-family home in 2017?
We asked influencers about the most popular types of outdoor spaces, giving them a number of choices, such as specific landscape designs, outdoor living spaces, and water features. We then found the highest percentages of 4- and 5-rated features.
Porches overwhelmingly lead the way for homeowners' ideal outdoor space. Many homeowners also want to see a backyard or garden, which came in a close second. Over half of our influences cited hardscaping as an upcoming trend, giving homeowners a more manicured look in their yard. Water features of any kind whether a pool or a pond bring up the rear of the group, and may be influenced by location.
What is your ideal open space?
"A covered outdoor area with fire feature and seating."
-Jordan Iverson, Jordan Iverson Signature Homes
"A modern back deck with social and dining functions near grassy backyard and garden with composting."
-Lora Teagarden, L² Design, LLC
Special Function Rooms
Keynote: Special rooms are becoming more common in all types of homes, with home offices and garages leading the way.
What special function rooms do the influencers think will be the trendiest for 2017?
Our influencers ranked the desirability of eight different special function rooms to reveal the most popular ones this year. Home offices topped the list by a landslide, receiving the largest percentage of 4- and 5-ratings from influencers.
The home office is far and away the most popular type of special function room requested by homeowners, perhaps reflecting the growing trend of remote working. However, both garages and guest rooms don't lag too far behind, which provide homeowners extra space for visitors and their vehicles. The man cave, game room, and exercise room were also fairly popular within the 30% range.
How often are you seeing special function rooms being added to single-family homes?
"We add game/media rooms to 90% of our homes."
-Jeff Japhet, Japhet Builders
"Flex spaces are huge in allowing the buyer to color their lives in the space."
-Mark English, Mark English Architects
Conclusion
Trends point the way to the future, allowing architects, designers, builders, and other industry professionals to create better, more valued homes. As you can see from these survey results, homebuyers are becoming increasingly knowledgeable, and understand exactly what they want to see in their homes. This means that industry professionals need to keep up with the latest trends to stay relevant with their clients. Learn from these trends and trendsetters to keep your finger on the pulse of the construction industry today, whether you're a professional ready to exceed your client's needs, a homeowner looking for inspiration, or a homebuyer trying to figure out the best value for your next purchase.
---