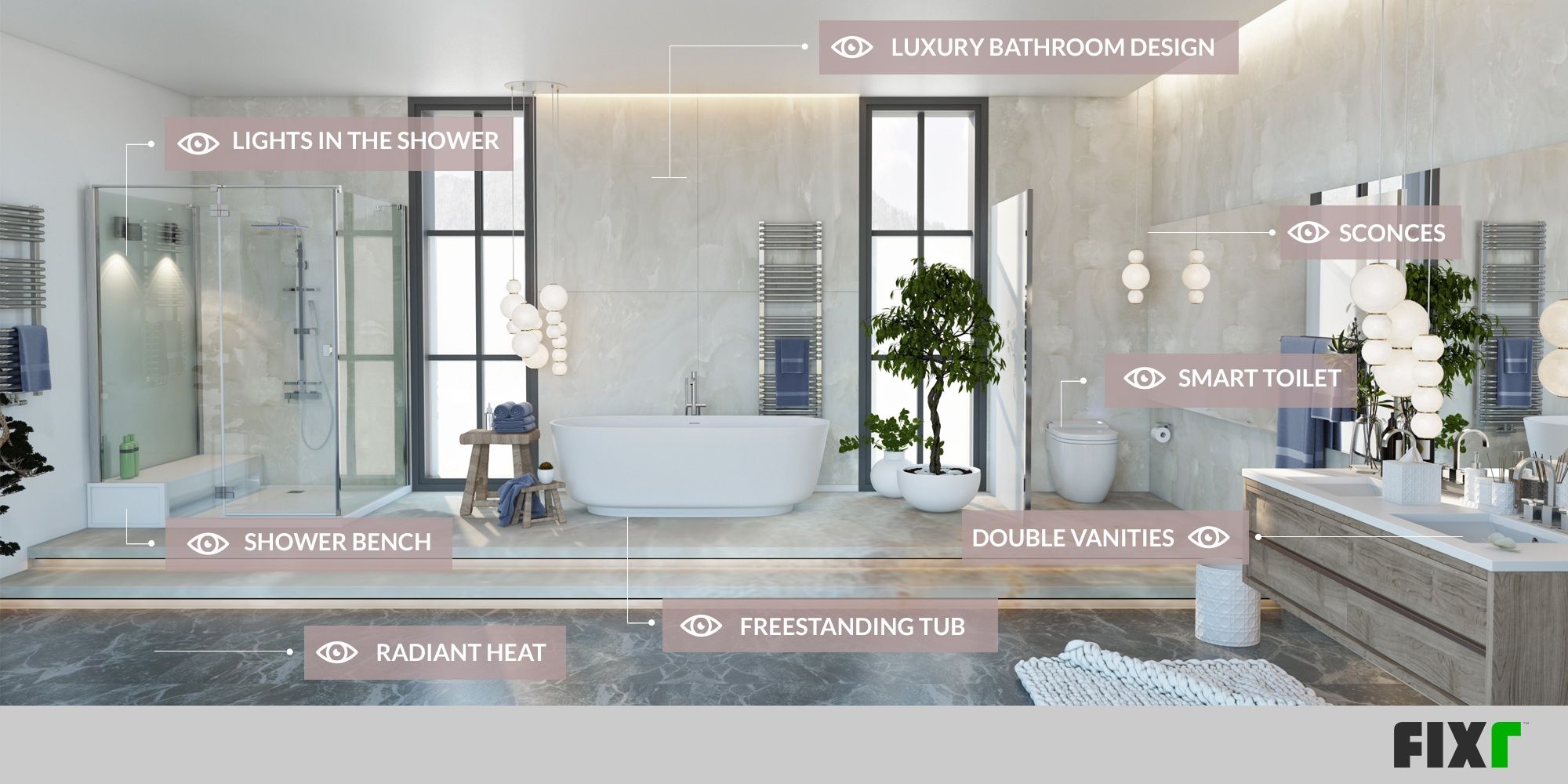 When it comes to bathroom remodels, it often seems as though anything goes, with fads coming and going every other day. Both designers and homeowners want to look to the future to stay current yet maintain a timeless aesthetic. Upcoming trends not only show you what's hot now, but point to the direction of things to come as well. That's why we've conducted this survey of bathroom trends that have been seen so far in 2017; so that industry professionals and homeowners can make better, more informed choices going forward.
Trends are created by people; the designers and pros who work in the field every day. We therefore extend a special thank you to those savvy, experienced contributors who helped us collect this data about bathroom trends in 2017 to help inspire their peers and homeowners alike.
Visualize this year's top bathroom trends
After querying our contributors on multiple areas of home design, we were able to determine the top trends for bathroom remodeling for this year, illustrated below.
Methodology
We asked industry influencers from across the country to rate the trendiness of eight categories about bathroom design and renovation, with 1 being the least trendy, 3 being neutral and 5 being the trendiest. We also asked open questions to get a more specific view of industry ideals.
To calculate the results, we then took the percentage of influencers who gave scores of 4 and 5 to each design and used it to represent the total number of influencers who predict this trend.
The results are in
Q1. What are the most trendy bathroom sizes in 2017?
The vast majority of influencers surveyed found that the powder room is the new, trendiest size of bathroom to be remodeled or added to a home. This was followed by the Master bath, which maintains its popularity from years past; the Jr. Master takes a more distant third as it begins to grow in popularity.
Q2. What are the most trendy bathroom designs/styles in 2017?
87% of influencers say that they find luxury bathrooms to be the most trendy of the possible designs today. This is closely followed by urban designs, with 80% of influencers rating this style as trendy, while spa bathrooms take third place with 75% finding them to be on trend in their areas.
Q3. What is the most recommended DIY remodeling project for a bathroom?
According to Barbara Segal of Barbara Segal & Associates, "Organized drawer dividers for toiletries and makeup are DIY essentials in vanity design. When designing your new bath, smart storage is a trend that will always be in favor." Nora Schneider of Nora Schneider Interior Design feels that bathroom remodeling should be left to the professionals, "...But if you must, then painting or wallpapering is the one area where you can get in the least amount of trouble."
Whether you plan to take on the work yourself or have it done professionally, Troy Beasley of Beasley & Henley Interior Design adds, "An updated look with new materials that project a lighter and cleaner overall palette is recommended. This would include replacing the flooring and wall tiles, countertops, and plumbing fixtures."
Q4. What accessible design will most likely be applied to the bathroom in 2017?
As many as 87% of influencers find that homeowners are adding shower benches to their baths in the way of accommodation. Lever handles on faucets are the next trendiest option at 80%, while curbless showers with frameless glass doors are the third trendiest option being installed now, according to 75% of the influencers surveyed.
Q5. What are some effective solutions for overweight people to take a bath?
"We always recommend grab bars in the bathtub area. Another way to increase safety in the tub area is to add stairs into the tub when space allows and ensure the tile surround has some grip to it to prevent slipping," according to Erica Lugbill of Lugbill Designs.
Linda Merrill of Linda Merrill Decorative Surroundings adds, "Aside from wider tub space, grab bars positioned lower on the wall would be very helpful. Also, controls that are centered and lowered for easier reach."Jennifer Bertrand of Jennifer Bertrand Designs likes walk in baths, "because it allows a person to feel successful in bathing when it becomes difficult to reach or soak in tubs or showers."
Q6. What are the most popular energy efficient bathroom designs in 2017?
Energy efficiency is always on trend, with 77% of influencers surveyed finding radiant heat to be on trend for the bathroom. 75% feel that low-flush toilets are also a trendy addition, while 64% say that water-saving faucets have become a trendy addition to the bathrooms they design.
Q7. What are the best plants to put in the bathroom?
Most designers agree that succulents and orchids are the way to go in the bathroom. While Claire Ratliff of Cullman & Kravis, Inc. doesn't usually put plants in the bathroom, but when she does, she opts for an orchid. "They are just so sculptural and beautiful and work in every environment, from super traditional to uber modern." Pat Valentine Ziv of PVZ Design, LLC argues for succulents because "they do wonderfully in a bathroom as well as the air plants that live on mist." .
For a more dramatic impact, Lisa Wolfe-DiGanci or Lisa Wolfe Design, Ltd. recommends getting creative. "We've even put trees INSIDE large walk-in showers...feels very jungle spa but almost as if you're outside!"
Q8. What are the most popular high-tech bathroom gadgets in 2017?
When it comes to tech, there are several emerging trends that influencers see being added to the bathrooms they build and design. The most popular is the Smart toilet, which 79% of influencers rate as trendy. Anti-fog vanity mirrors are cited as trendy by 64% of influencers, while towel warmers are in third place with 59% of influencers finding them trendy right now.
Q9. Which age demographic do you feel is most likely to invest in Smart bathroom technology?
Designers have found that nearly all age brackets are investing in Smart bathroom technology. "The smart bath technology is becoming more important typically if the age of the owners is between 35-69. Boomers are still young today so that they also want to be part of the tech world and enjoy the rewards," says Alene Workman, of Alene Workman Interior Design, Inc. Michelle Minch of Moving Mountains Design disagrees, arguing, "Millennials are most likely to invest in Smart bathroom technology, followed by Baby Boomers." David Phoenix also feels that it's the under-30 crowd who will be the most likely to invest.
Q10. What are the most trendy bathtub designs in 2017?
It's freestanding baths that are carrying the trend right now, with 93% of influencers reporting it to be trendy in their area. Deep-soaking tubs follow at 63%, while a sleek undermount design takes third place with 43% of influencers finding it asked for in the bathrooms they design.
Q11. How often does privacy factor into the bathroom layout and design?
Helen Bartlett of Refined Interior Staging Solutions finds that, "Privacy is a key issue for most people. On a scale of 1 to 5, it would be 5." Laurence Carr of LTC Design finds that while privacy is important, his designs are influenced by"shower, bathtub and toilet are all part of an open space layout in one room."Jeanne Chung of Cozy Style Chic adds that privacy comes up, "Not as often as one would think."
Q12. What are the most popular vanity cabinet styles in 2017?
The double vanity leads the way in popularity in 2017 with 86% of influencers finding it trendy today. Wall-hung vanities offering space-saving design and linen cabinets both tie for second place with 77% of influencers finding them trendy additions to the bath.
Q13. What are the three most trendy colors to paint a bathroom vanity cabinet in 2017?
Garrison Hullinger finds that, "Homeowners seem to enjoy a bright and cheerful bathroom in a warm white color." Cheryl Kees Clendenon of In Detail Interiors finds that blues and greens are the trendiest options right now, while Dahlia Mahmood of Dahlia Design prefers classic white, dark gray, and blush pastels for vanities this year.
Q14. What are the most popular lighting styles in 2017?
Lighting is crucial to any good bathroom design, with 97% of influencers rating both lights in the shower and sconces in the bath as trendy, popular additions to the room. Vanity lights in general are also trendy with 87% of surveyed influencers adding them to baths, and 63% of influencers using overhead lights as well.
Q15. What is the most relaxable lighting?
Michael Wolk of Wolk Design Associates finds that relaxable lighting, "Depends on bathroom style." Lisa M. Smith of Interior Design Factory, however, likes, "Dimmable LEDs and under (floating) cabinet night lights." Robert Stilin agrees that finding soft, dimmable lights is the most relaxing option for any bathroom design.
Get Ready for a Bathroom Redo
Maybe you're a trendsetter or perhaps you prefer to follow advice from the pros. Either way, the top bathroom design trends of 2017 are a great place to get inspired. Whether you're looking for easy upgrades or a complete overhaul of your current bathroom's look, the survey results offer plenty of ideas. Some can be incorporated on any budget, while others are more likely to need expert design and installation. And if you really want to be wowed, you can integrate smart technology in a number of different ways. No matter what, you're sure to make a splash in a trendy bathroom space unique to your own home.