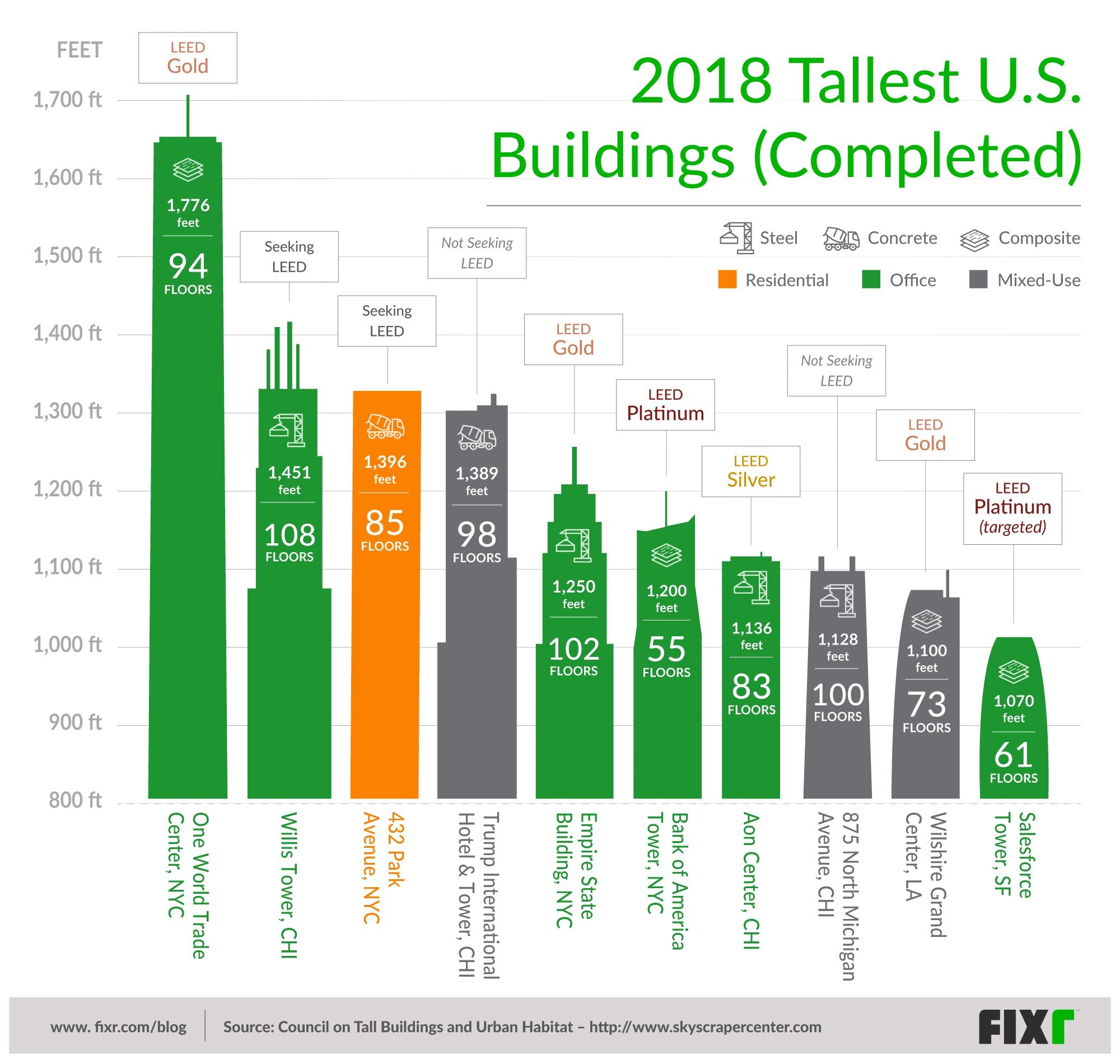 Since the dawn of time, man has aspired to great heights. Historically, tall structures were reserved for great rulers, religions and empires, but as technologies and techniques improved, towers began to spring up to celebrate our culture, promote our cities, or simply to show off.
Modern skyscrapers are a result of many factors. Technological advancement, like the invention of the elevator, allowed buildings to rise even higher into the sky. Economic factors, like the 1973 oil crisis, paved the way for greener and more sustainable buildings, leading to some of today's certifications like the EPA's ENERGY STAR or USGBC's LEED certification. And, of course, learning from tragedies, such as the June 14, 2017 Grenfell Tower fire in London or the 2010 blaze in Shanghai helped to propel safety to its highest levels for all those working and living in today's modern towers.
The above infographic, based on data from the Council on Tall Buildings and Urban Habitat, displays the 10 tallest buildings in the U.S. that have been completed as of January 2018. Nine of the top 10 tallest contain office space. Out of these, six are office space only while three are mixed-use. There is only one tower fully consumed by residential space. Eight of these giants have steel as a main building component - half of those are a composite mix of steel and concrete. Stats from the Energy Star and USGBC's websites indicate that four of the top 10 have been awarded the an ENERGY STAR rating and eight either have or are currently seeking LEED certification.
One World Trade Center
Location: New York City
Height (m/ft): 541.3 m / 1,776 ft
Completed in 2014, this office skyscraper is the highest building in the U.S with 94 floors and replaces almost one quarter of the total office space lost on September 11, 2001. The building materials are a composite of reinforced concrete in the core and steel in both the columns and floor spanning. One World Trade Center carries a LEED Gold rating and is an ENERGY STAR labeled facility. There are 73 elevators housed in One World Trade Center with the top speed reaching 10.16 m/s, or nearly 23 mph, making them the fastest elevators in the U.S.
Willis Tower
Location: Chicago
Height (m/ft): 442.1 m / 1,451 ft
Willis Tower is the tallest building in the city of Chicago.Constructed of steel and used for office space, it was originally completed in 1974. Housing over 100 elevators, a tenant can reach any of the 108 floors at a top speed of 8.1 m/s. Willis Tower is constantly greening itself, implementing multi-faceted sustainable elements and efforts aimed to conserve energy and spurring an effort to pursue LEED certification. In 2018 they were awarded the EPA's ENERGY STAR certification.
432 Park Avenue
Location: New York City
Height (m/ft): 425.5 m / 1,396 ft
432 Park Avenue is more than just a New York City address for the residents that call it home. Completed in 2015, this 85 story high-rise, the second largest in New York City, is constructed out of concrete. The building has six elevators that service the 104 apartments, each with oversized windows that not only add weight to the structure, but also provide ample amounts of light and uncontested views of midtown Manhattan. 432 Park Avenue is currently working with a U.S. specialty design-build contractor while seeking LEED certification.
Trump International Hotel & Tower
Location: Chicago
Height (m/ft): 423.2 m / 1,389 ft
The second tallest building in Chicago was completed in 2009 and is home to both residents of the city and travelers alike. Twenty seven elevators, with top speeds of 8 m/s service the 339 hotel rooms and 486 luxury apartments spread over the 98 floors of this concrete structure.
Empire State Building
Location: New York City
Height (m/ft): 381 m / 1,250 ft
Constructed of steel in less than 14 months, the Empire State Building held the title of tallest building in the world for 40 years from its completion in 1931 until 1971. The building is home to businesses and office workers spread over 102 floors that are reached by any of the 73 elevators that travel at top speeds of 7.1 m/s. The Empire State Building is an ENERGY STAR labeled facility, and in 2011 achieved LEED Gold certification.
Bank of America Tower
Location: New York City
Height (m/ft): 365.8 m / 1,200 ft
The Bank of America Tower was built with a composite of reinforced concrete at its core and steel in its columns and floor spanning. Completed in 2009, it was designed to emphasize daylight and fresh air and it boasts a LEED Platinum certification. It's 55 floors of office space can be reached at 8.1 m/s by one of the 52 elevators throughout the building.
Aon Center
Location: Chicago
Height (m/ft): 346.3 m / 1,136 ft
At its time of completion in 1973, the Aon Center was one of only six supertall towers in the world. It is composed of steel, and although originally clad in marble, the building facade was changed to white granite in the early 1990s due to safety concerns. In 2014, the building achieved LEED Silver certification and it is also carries an ENERGY STAR label. The office workers that call this building home work across 83 floors and may soon have a sky-high exterior elevator to a new observation deck to brag about.
875 North Michigan Avenue
Location: Chicago
Height (m/ft): 343.7 m / 1,128 ft
This steel building, completed in 1969, is a mixed use building of both residential and office suites and remains one of the world's most recognized skyscrapers. With 100 floors, tenants and residents can reach their level in one of 50 elevators, with speeds up to 9.2 m/s.
Wilshire Grand Center
Location: Los Angeles
Height (m/ft): 335.3 m / 1,100 ft
Designed to be the tallest structure in the Los Angeles skyline, the Wilshire Grand Center is 73 stories composed of a reinforced concrete core, concrete filled steel columns and steel floor spanning. It was completed in 2017 and is mixed-use with luxury hotel rooms, restaurants, businesses, and nightlife options which can be accessed by 38 elevators, reaching top speeds of 8.13 m/s. Within four months of completion, LEED Gold certification was granted for the building's water and energy conservation systems, as well as efforts made during the construction process to be energy efficient.
Salesforce Tower
Location: San Francisco
Height (m/ft): 326.1 m / 1,070 ft
The Salesforce Tower might reside in the shadows of skyscrapers in New York or Chicago, but in San Francisco, it ranks as the city's tallest building. It was officially completed in 2018, making it the newest of the top 10 tallest buildings in the U.S. Spanning 61 floors of office space, the tower's core is composed of reinforced concrete while the columns and floor spanning are both steel. LEED Platinum pre-certification was awarded to the Salesforce Tower in January of 2014.
As cities and populations around the globe continue to grow, along with technological and safety advancements, it is expected that bigger and more elaborate towers will dot our skylines. Dario Trabucco, Research Manager of the Council on Tall Buildings and Urban Habitat (CTBUH), suggests that modern skyscrapers may no longer be standalone structures, but instead might be interconnected on higher floors - allowing "much more redundancy in terms of energy and water supply, as well as secondary escape and rescue routes." Could the future hold multi-tower buildings stretched across the landscape, all interconnected and accessible with elevators that don't only go vertical, but horizontal as well? Will the top 10 tallest buildings discussed above soon be overshadowed by new behomeths? Only time will tell!
---