Following on from our post in early June, which focused on the types of residential construction trends, we wanted to further break down the statistics to give you a more in-depth understanding of the construction market across the various states. As shown in the graphic above, construction is a multi-billion dollar industry and as such it can be very helpful to establish where the major spending is happening to ensure products are marketed toward the most lucrative and relevant geographical areas on both a macro and a micro level.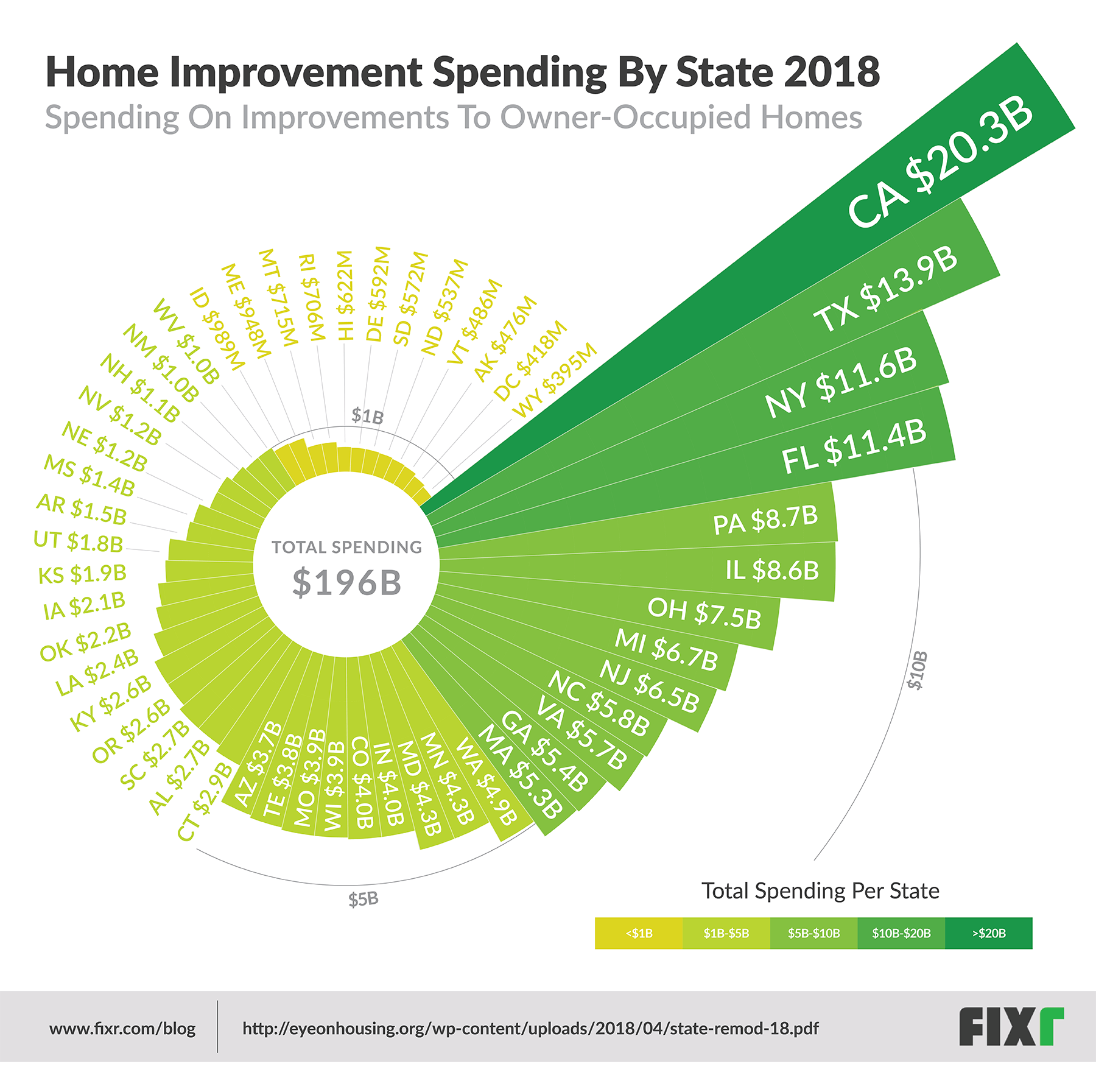 The graphic is based on the National Association of Home Builder's projected spending on home improvements in owner-occupied houses. Those projections are based on a model which focuses on five key elements: number of homes in the area, percentage of 1960s builds, percentage of 1970s builds, and the average income and education levels of the home owners.
Expenditure varies greatly per state
Expenditure has been broken down by state, looking at owner occupied homes' estimated improvements in 2018. This, therefore, excludes renters (who are disinclined or prevented from making renovations) as well as the remaining percentage of homeowners per state who will not make renovations. Expenditure on improvements has been broken down into five sectors of total home improvement spending by state, from below $1B, to $1-5B, $5-10B, $10-20B and more than $20B. The greatest number of states fall into the $1-5B spending bracket with a 50.9% share, the below $1B spending bracket represents 23.5% of states, the $5-10B bracket accounts for 17.6% of states. The smallest brackets represent the highest spending with 5.8% states spending $10-20B and only 1 state, California, with a spending exceeding $20B.
It is important to note that according to Harvard University's Joint Center for Housing Studies, home improvement spending will be the highest it's been since the 2008 crash. A variety of factors have combined to lead to homeowners choosing to renovate their existing property to accommodate their changing needs, rather than buy 'up'. As a result, homeowners are choosing to spend more on improvements than they would previously, as they are up-scaling their existing home, and want higher quality and more personalised improvements than if they were trying to improve the property for resale. This means the quantity and the quality of home improvements will increase, leading to a rise in revenue for the construction industry.
Only 30% of owners make improvements
Interestingly, while the amount spent by state varied significantly from $395m to $20.3B, the percentage of homeowners choosing to make improvements on average only varied by 3%, from 28-31%.This implies that states with higher populations and therefore higher numbers of homeowners still provide the most lucrative market segments to target. As opposed to the potential for earning if those percentages were inversely proportional to the amounts spent.
While there are many factors that affect a homeowner's intention to make improvements, income levels can be directly linked to spending, in general and on renovations. A comparison between the median household income in the U.S.A. and the above graph, shows almost parallel positions between highest and lowest spenders Vs. highest and lowest earning states. This therefore indicates that focus could be turned to states where income levels are exponentially increasing, as areas for future focus for marketing for home improvements and construction. While California, Texas, New York and Florida lead the race in terms of highest earnings, states like Oregon and Massachusetts show the most growth and a potential for future earnings.
As a last note, it may be worthwhile to consider the number of homes that are not projected to carry out improvements. On average that's 69-72% of homeowners per state, and consideration could be given to converting that group into home improvers.