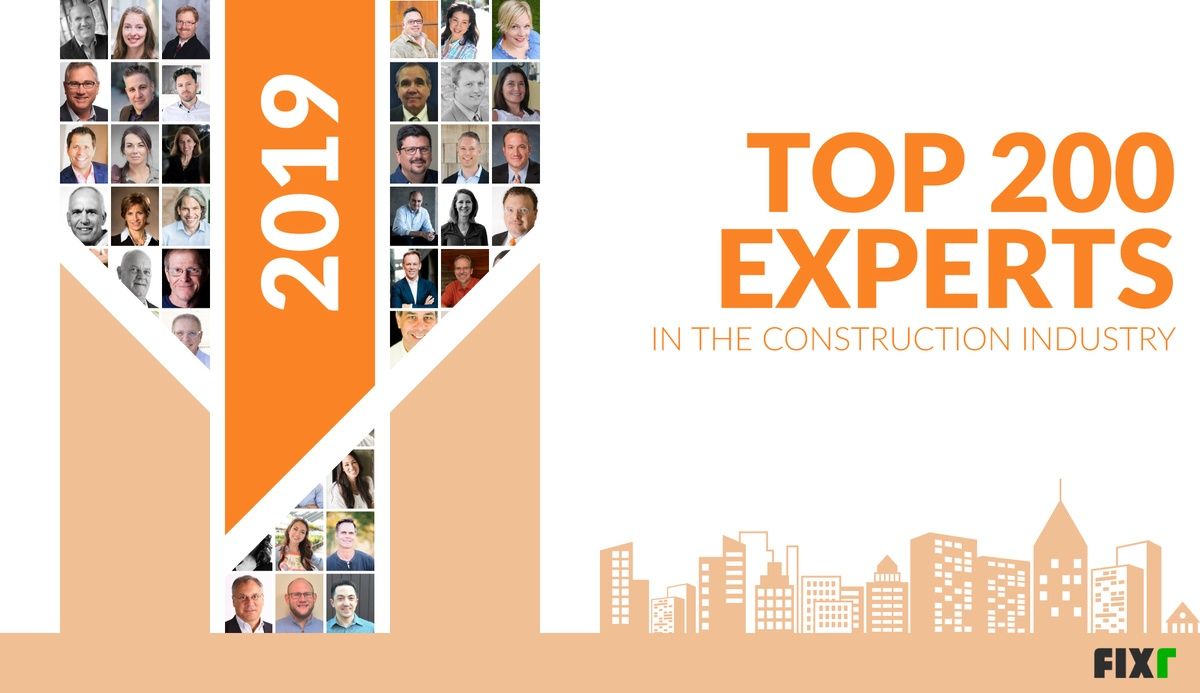 Our homes are more than structures. They are the places we live, where we shape each day of our lives and help create our futures. As Winston Churchill once said, "We shape our buildings; thereafter they shape us."
For this reason, the builders who construct our homes also help to construct our future lives as well.
In 2018, we brought you the Top 200 Experts in the construction industry, and now we bring you an updated list of experts for 2019. You will see some familiar faces from previous lists, as well as a few new faces who have emerged as industry leaders for 2019.
We selected each industry expert for their knowledge, expertise, and experience, as well as the awards they have recently won and how they engage with others online and in social media. We present them alphabetically in simple, beautiful, and easy-to-view graphics that let you quickly and easily see their names, companies, and websites.
You can see the full list.
Who Are the Experts and How We Selected Them
This list of construction industry experts is made up of industry-wide professionals who design, build, or are otherwise experts and leaders within the home construction industry. We included home builders, energy-efficient home experts, highly experienced and recognized contractors, as well as experts in home improvements and editors of the most prestigious building industry magazines.
Each choice was considered and made based on their total experience, expertise in their field, and the awards they have won. And because the most effective experts are the ones who can make their voices heard, we also looked at how they interact with a wider audience and how they relay their ideas and influence others. We, therefore, examined their impact on the industry through the lens of social media channels and contributions to other websites and organizations.
Why You Should Know About Them
Home construction is one of the most important industries in the world today. It is constantly changing, striving for improvements that can enhance the way we live and work. But this industry does not change or grow on its own. That growth is entirely due to the people behind it, the expert builders, designers, and workers who select the materials and designs and make the decisions that shape the buildings we live in.
If you are familiar with our list of the top home construction influencers from the last two years, you will want to check out the Top 200 Industry Experts in 2019 as well.
You will find this list useful if you are:
A professional working in the home construction industry who needs to keep up to date with the latest in opinions and trends.
A current or future homeowner or renter interested in remodeling or building a home or purchasing or renting a new one.
Someone who is interested in home construction and the way that this field is constantly changing.
If you are a professional, staying in touch with the top industry experts can help grow your own business more effectively. You will see trends emerging, which can help your clients achieve the freshest looks and materials available. This in turn will put you in demand as someone who has their finger on the pulse of the industry, able to predict trends and fads for the future.
If you are a current or future homeowner or renter, you can learn a lot from industry experts to help you gain insights into what to do for your home. Whether you intend to DIY a project or want to know the latest news on a style or material, following industry experts can provide you with the information you need. You will even find valuable information that can help increase the value of your home.
Follow the Experts to Find the Hottest Trends
It is our hope that both individuals and professionals will find this list of industry experts helpful in reaching personal and professional goals. We extend our thanks to the experts who helped build this list, and we encourage everyone to follow them to stay up to date on everything related to the home construction industry in 2019.
Check out our future posts on this topic to learn more about these experts and what industry trends they see for 2019 and beyond.
As Ludwig Mies van der Rohe said, "The architect must get to know the people who live in the planned house. From their needs, the rest inevitably follows." True builders create the places where we can all feel at "home."