The fireplace is arguably the most popular part of the home. It adds literal and visual warmth to a room, is an automatic focal point, and most single-family homes today include a fireplace. Therefore, the material that homeowners choose to create their surrounds is incredibly important to the area.
There are many different materials that can be installed on the fireplace surround. This area gets no traffic or moisture, although it is exposed to heat. Therefore, its demands, maintenance, durability, and installation will differ from other areas of the same home.
To make the best choice, you need to rate each material on its ease of installation, maintenance, durability, the number of options it has, and how customizable it is to your home.
We took this information and broken it down into an easy-to-read graphic based on the information from Fixr's fireplace installation cost guide . You can tell at a glance where each material falls so that you can choose the one that is the best fit for you.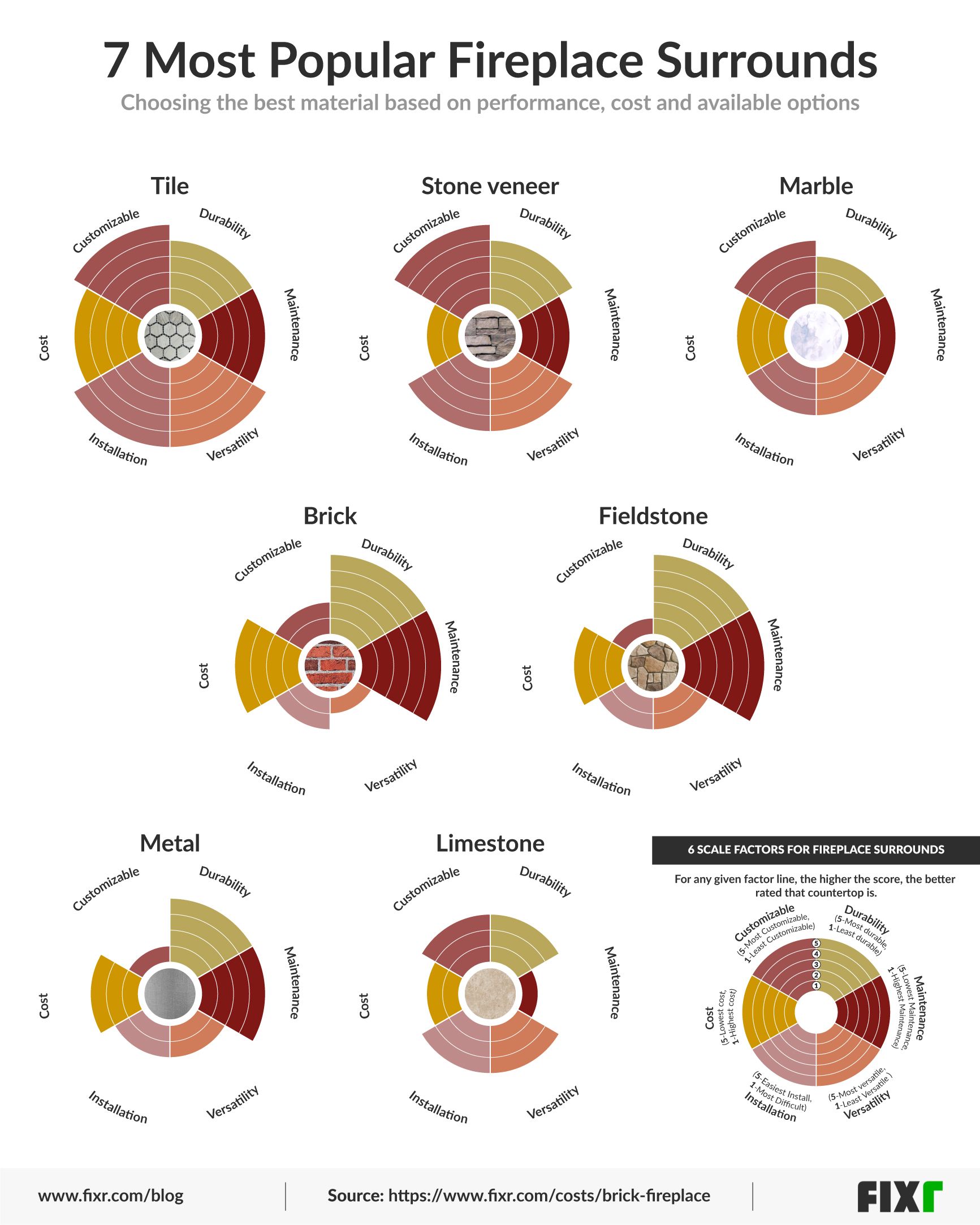 Visually Comparing Fireplace Surround Materials
In the above graphic, we broke down seven of the most popular and frequently used materials for fireplace surrounds. Each one has been broken down into six comparable factors and ranked on a scale of 1 - 5, with a score of one being the least/worst and a score of 5 being the most/best. These factors include their cost (high to low cost), how customizable they are (low to high customization), their durability, maintenance (high to low maintenance), their versatility, and installation (hard to easy to install).
Like any summary, these numbers are averages.Within each group of material, you may find outliers that can mean a particular factor has more or less impact.
In the way the graphic is laid out, the higher the score a material achieved, the more favorable it ranks in that factor. As a homeowner, you want to see a high score in as many categories as possible. For example, a high score in durability and versatility means that the material is going to perform well and fit in with a variety of styles. A high score in installation or costs means that this material will be easy to install and inexpensive, while a low score in these areas means a material that is difficult to install and costly.
A quick look at the graphic, for example, shows you that the first two materials have a higher score for almost all factors. Tile has the maximum score for three factors - customization, versatility, and installation. Stone veneer also has a high score for most of the six factors except for cost.  Marble is the most balanced material, and although it has a lower score on average than stone veneer, it is generally less expensive.
You can also see that brick and fieldstone are both durable and low-maintenance. Of the two, fieldstone is more versatile, while brick is more customizable as well as less expensive. The cost of brick ranges from $3,500 to $5,000, while fieldstone ranges from $4,550 to $7,500, resulting in the differences within the graphic.
For the last two materials shown, metal scores particularly well for costs as well as for durability and maintenance, while scoring low in other factors. Limestone scores more evenly across the board, but it scores lower in maintenance than any other material, accounting for its last place finish in the set.
Comparing each material to one another lets you determine which factors are most important to you and how they all rank together.
Compare Materials for the Best Results
As a homeowner, you want a fireplace surround that is going to draw the eye of everyone who enters the room. And, you want that surround to coordinate with your home's style, hold up well to years of use, and preferably not break the bank at the same time. By taking a look at a visual representation of the different materials, you can get the information you need to make a better choice.
While it is always a good idea to look more closely at the specific materials once you make your choice to learn more about outliers and exact factors, a quick comparison like this allows you to narrow the field and discard some options that will definitely not be a good fit for your project.
Consider these factors and how they relate to one another before you select a material for your fireplace surround so that you can make a better, more informed decision for your home.
---