Most homeowners may not be aware of the very real threat climate change poses to their homes, particularly for those that live in coastal regions. Should global warming continue unchecked, the  National Oceanic and Atmospheric Administration (NOAA) warns that nearly 300 U.S. cities will have lost half of their homes in the next 80 years, thanks to rising sea levels. Even more shocking is that 36 further cities will sink completely, swallowed by the rising oceans.
We take a look at projected changes in sea levels to help you find out if your house is at risk, and what we should all do, to make a change.
Rising sea levels to effect 24 main states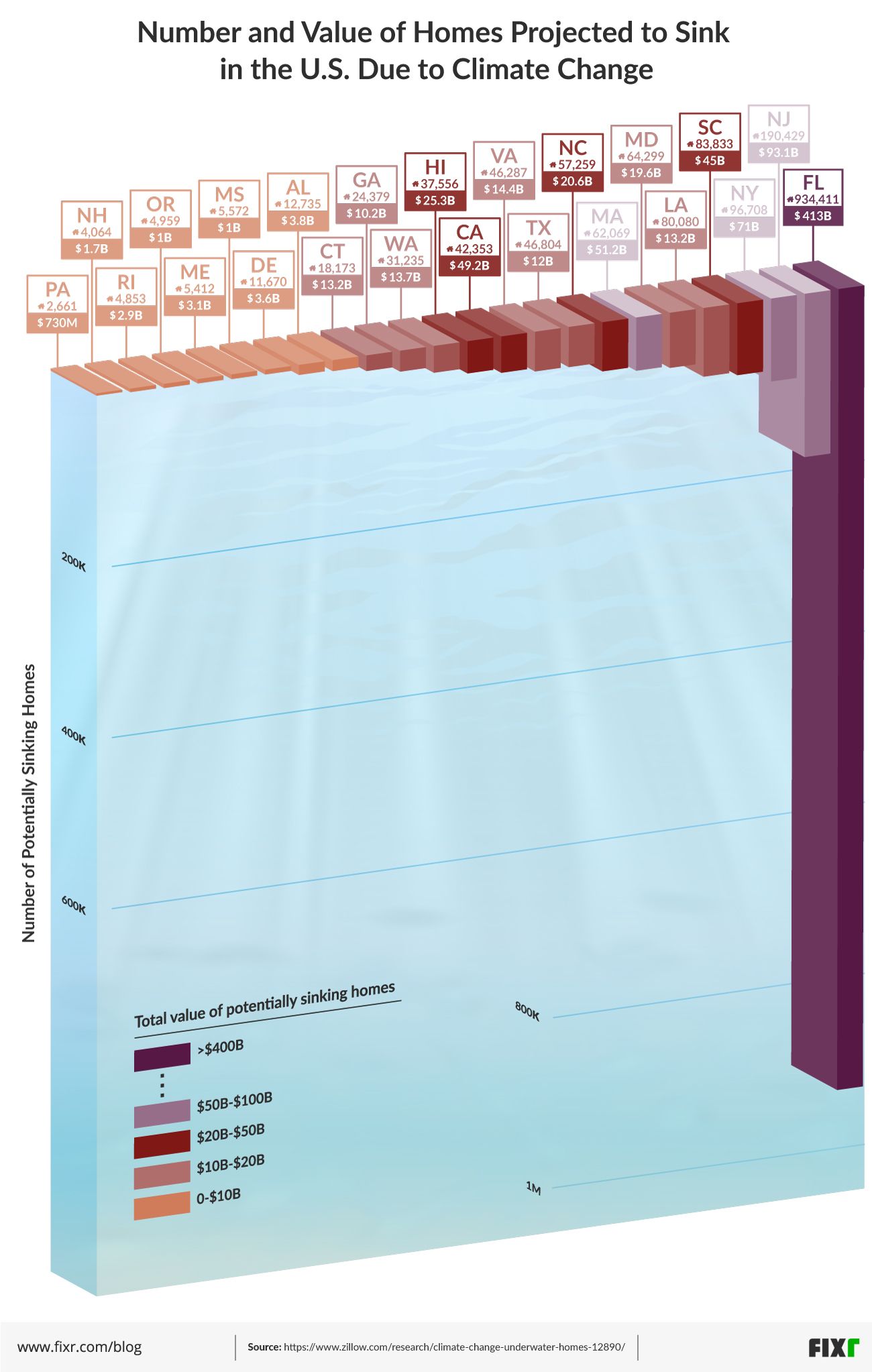 The above graphic was created using data from Zillow's assessment of the results of rising tides on homes in the U.S, which was based on NOAA's sea-level rise projections. The graphic indicates the threat to homes in the top 24, high-risk, coastal states by indicating both the number of homes that are projected to sink as well as the value of those homes combined. These figures are based on sea levels rising by a projected six feet by 2100.
Florida is the unfortunate leader, should waters rise as projected, with a total loss of 934,411 homes; more than the total of the remaining top ten states. The next closest state is New Jersey with 190,429 predicted lost homes. The following six states are expected to lose more than 50,000 homes each, namely, New York with 96,708 lost, South Carolina with 83,833, Louisiana with 80,080, Maryland with 64,299, Massachusetts with 62,069 and North Carolina with 57,259 houses lost.
The next nine states are all projected to lose more than 10,000 homes with Texas topping the list at 46,804 homes, next is Virginia with 46,287 homes, California with 42,353 homes, Hawaii with 37,556 homes, Washington with 31,235 homes, Georgia with 24,379 homes, Connecticut with 18,173 homes, and lastly Alabama and Delaware with 12,735 and 11,670 homes lost respectively.
The last six states are all projected to lose less than 10,000 homes, which could represent entire communities in some areas. Mississippi stands to lose 5,572 homes, Maine 5,412, Oregon, 4959, Rhode Island 4,853, New Hampshire 4,064, and the bottom of the list belongs to Pennsylvania which stands to lose 2,661 homes.
When looking at the total value of the homes, the top ten spots don't change significantly. Florida still leads with the value of $413B total for homes lost. New Jersey holds second place with a value of $93,1B, New York $71B, and Massachusetts at $51B. California joins the top ten with projected losses to the value of $49,2B, South Carolina $45B, Hawaii, $25,3B North Carolina $20,6B, Maryland stands at $19,6B, and Virginia $14,4B.
Five other states below the top ten are set to lose more than $10B worth of housing. They are Washington with a projected $13,7B in losses, Louisiana and Connecticut with $13,2B each, Texas with $12B and Georgia with $10,2B.
The remaining 8 states are projected to suffer less than $10B worth of damages with regard to lost housing. Alabama tops this group with $3.8B in projected losses, Delaware $3,6B, Maine $3,10B, Rhode Island $2,9B, and New Hampshire $1,7B. Mississippi and Oregon are both projected to lose $1B and Pennsylvania once again sits at the bottom of the list with projected losses of $730M.
Comparing the numbers between homes lost and the value of those homes
The number of houses that will be lost is affected both by the density of housing in each coastal region, the cost of housing in the region and the height above sea level of the land that the homes stand on.
For the most part, the number of houses lost and the cost of those houses fall in similar places on the scale, with a maximum shift in placing of 5. The main exceptions being California, which was in 6th place with regard to the cost of losses at $49,2B but only 12th place in terms of the number of houses lost (42,353), which suggests housing is unusually more expensive in this state. Conversely, Louisiana took 6th place with regard to the number of houses lost (80,080), however, combined losses positioned the state in 13th place with a total value of $13,2B in total losses, which is relatively low.
How homeowners can combat climate change
Given that the projected date is some 81 years in the future, some homeowners will not see this as a cause for concern. However, relative to the history of the planet, this change will be swift, and Americans will need to get on board to make the changes necessary to make a difference.
The plus side is that more than 73% of Americans now believe global warming exists, and that number is rising. However, the real divide is political, with only 52% of Republicans accepting the climate change facts, luckily Democrats fare better with an 86% believe rate and Independents are close behind at 70%. This means legislative changes and regulations may be slow to take place. Instead, homeowners need to enact change from the bottom up.
70% of homeowners are already making green choices to save the environment. However, even the more economically driven homeowners recognize that green choices lead to financial benefits. These include up to $1,182 in annual savings on energy, water, and repair costs, and green options often even provide a chance to get an ROI in the future.
The big savings come from homeowners making green choices on big-ticket items like new appliances and equipment for the home. However, making smart choices when completing even a small DIY project and following through with green initiatives in daily life will also make a difference in your savings and quality of life.
While scientists are divided on whether it is possible to completely halt the damages of climate change, by starting now we can certainly make a difference.
---