Some things in life benefit from a bit of spontaneity, however, when it comes to selling your home, a fair amount of research and preparation is necessary. The whole process can get a little overwhelming, from preparing for show days to completing all of the paperwork. So, to help make things easier, we have created a graphic to show you when the best time to sell is, to get the best price for your home according to the city you live in. We also look at the top home improvement projects that will help you sell your home and how to prioritize them for best results.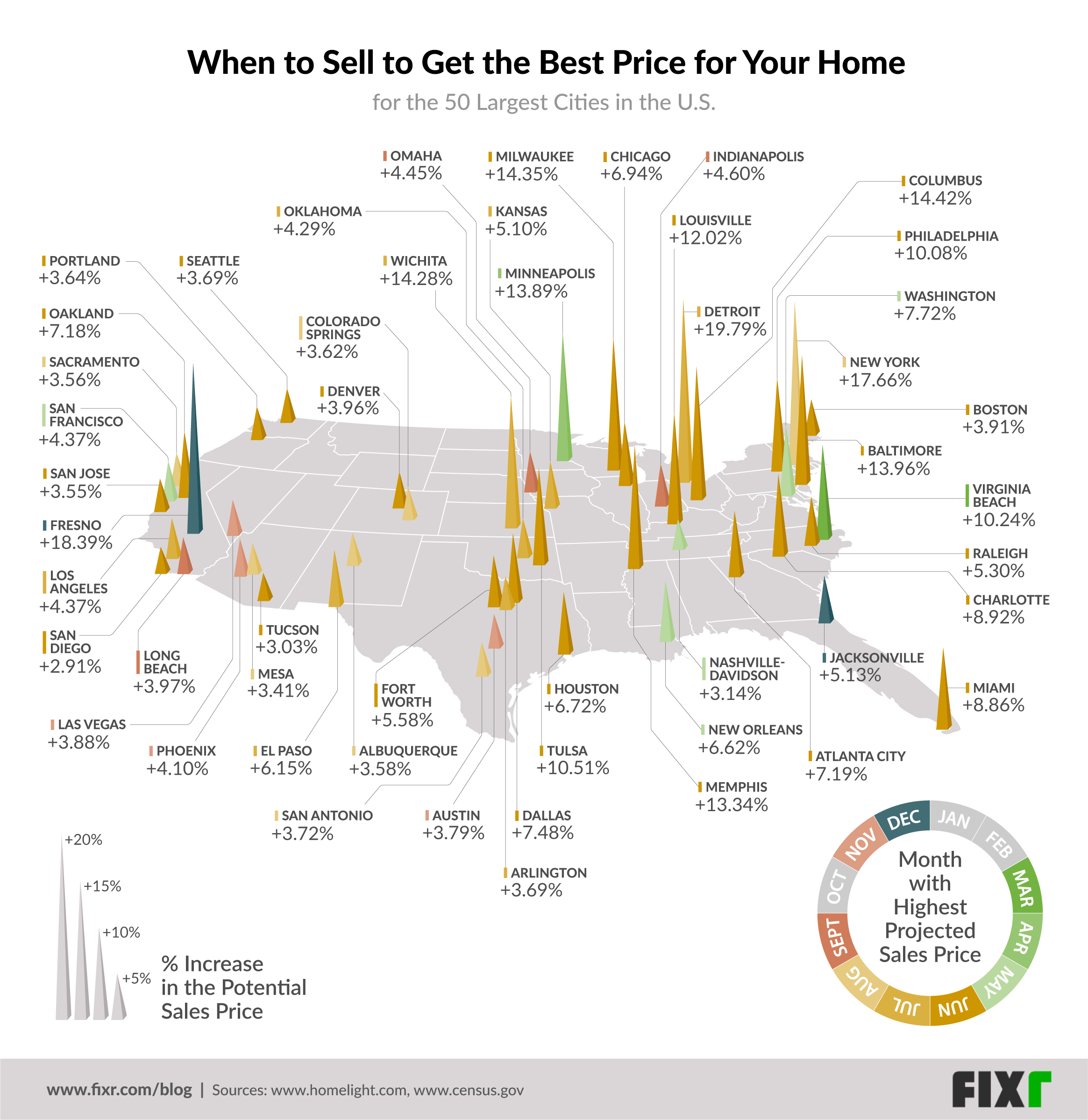 We created this graphic using data from the U.S. Census on population numbers to get the top 50 most populous cities. We then input the data into Homelight's algorithm for finding the best month to sell your home to get the highest price, according to your city. Also, the assumption is that it generally takes three months to close on a sale, so these months are the close month, assuming you listed three months prior.
As you can see, for most cities, selling in the summer months will get you the best price, However, there are 8 cities that would benefit most from selling in the last four months of the year, and 6 that sell highest during the months of Spring: March, April and May.
If you live in Indianapolis, Long Beach and Omaha you could get between 3.97% and 4,6% more for your home if you sold in September. While November could get an increased sales price of 3.97% to 4.10% if you live in Phoenix, Austin or Las Vegas. December Sales could get residents of Jacksonville 5.13% more, however, Fresno has the greatest potential improvement in sales price of up to 18.39% in the last month of the year.
The spring months benefit Virginia by increasing sales price potential by 10.24% in March. Minneapolis' sales potential peaks in April with a possible 13.89% hike. And San Francisco, Washington, Nashville -Davidsons metro area, and New Orleans all would benefit most from a sale in May with anything from 3.14% to 6.62%.
The city with the greatest potential increase in price is Detroit with a significant 19.79%. While San Diego has the lowest potential increase of 2.91%. Keep in mind, these figures relate to an improvement on your selling price, simply related to the timing of your listing. In our next graphic, we show you the best projects to tackle to add even more value to your home, when it comes time to put it on the market.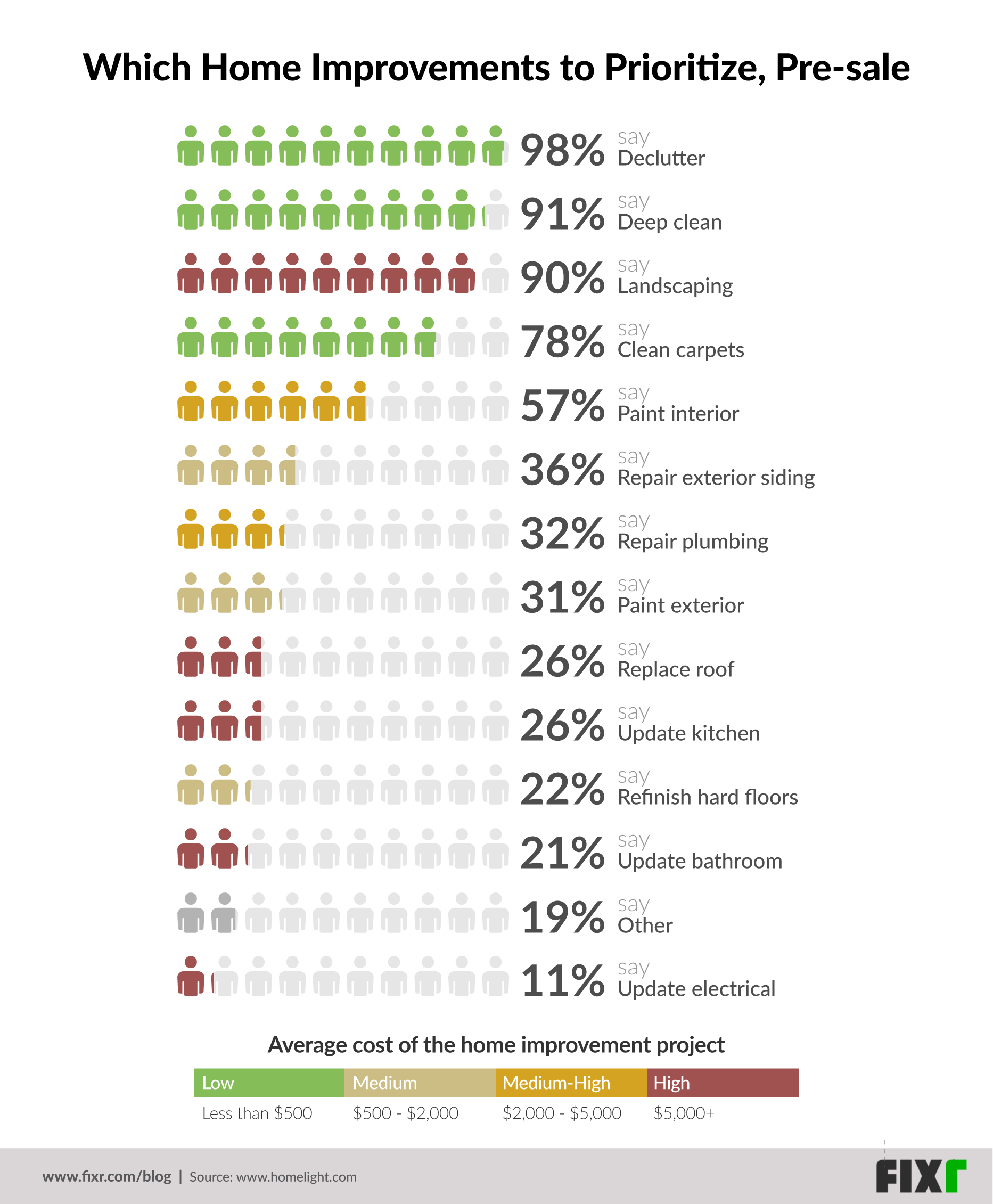 This graphic was created using Homelight's top agent insights: Q1 2019 report and it shows the top 14 home improvement projects you should tackle to improve your chances of selling according to over 900 estate agents in the industry. We also give an indication of the costs involved, from low: less than $500, to high: more than $5000.
The projects that will most effectively improve your chances of a sale, also happen to be the most cost-effective projects. However, even though some projects will set you back a little, they may provide an impressive return on investment and actually increase your selling price.
First on the list is decluttering, with 98% of estate agents stating this is the priority project. What is great is it pretty much only costs you your time, a couple of trips to donation sites and the dump for recycling.

Once you've gotten rid of all of the clutter, you can do a really deep clean. 91% of estate agents say this is another high priority and it only takes a bit of elbow grease if you want to go the cost-effective route. Of course, there are cleaning agencies who will come in and do this for you for a reasonable rate, depending on what you need to be done.

Following a good, overall spit-and-polish, curb appeal becomes the priority and 90% of estate agents say you should make landscaping your next project. Of the top five, this is the exception as it can be costly to complete a full landscaping renovation. However, it is possible to make some impressive changes with a minor injection of funds, so it is worth getting quotes from several specialists to identify your options.

Fourth on the list is cleaning those carpets, and this is another relatively low-cost project. We all know that carpets should be cleaned regularly, and very few homeowners actually do this enough. When it comes time to sell, however, clean carpets make a big difference according to 78% of the agents polled.

The fifth most effective project to undertake is to repaint the interior of your home. 58% of the agents said this should be a priority and this is especially true if in the past you've been quite creative with your color choices. Though this can be relatively costly, it is worth bringing in the professionals to ensure a neat, thorough job is done.

Repairing exterior siding, repairing plumbing and repainting the exterior of your home come next on the list with a 31%-36% priority rating.

Replacing your roof, updating your kitchen, refinishing hardwood floors and updating your bathroom all fall between 21% and 26% priority.

Lowest on the list are electrical at 11% and 'other' jobs with 19%.
Focus your energy to 'sell high'
As mentioned, planning to sell your home and get to the point where you have sold for the best price and are ready to move out, can be a stressful process. So we hope that with the above information, we've managed to ease your stress a little, and shown you where to focus your energy to make sure your house is at its very best to attract the very best price offer.