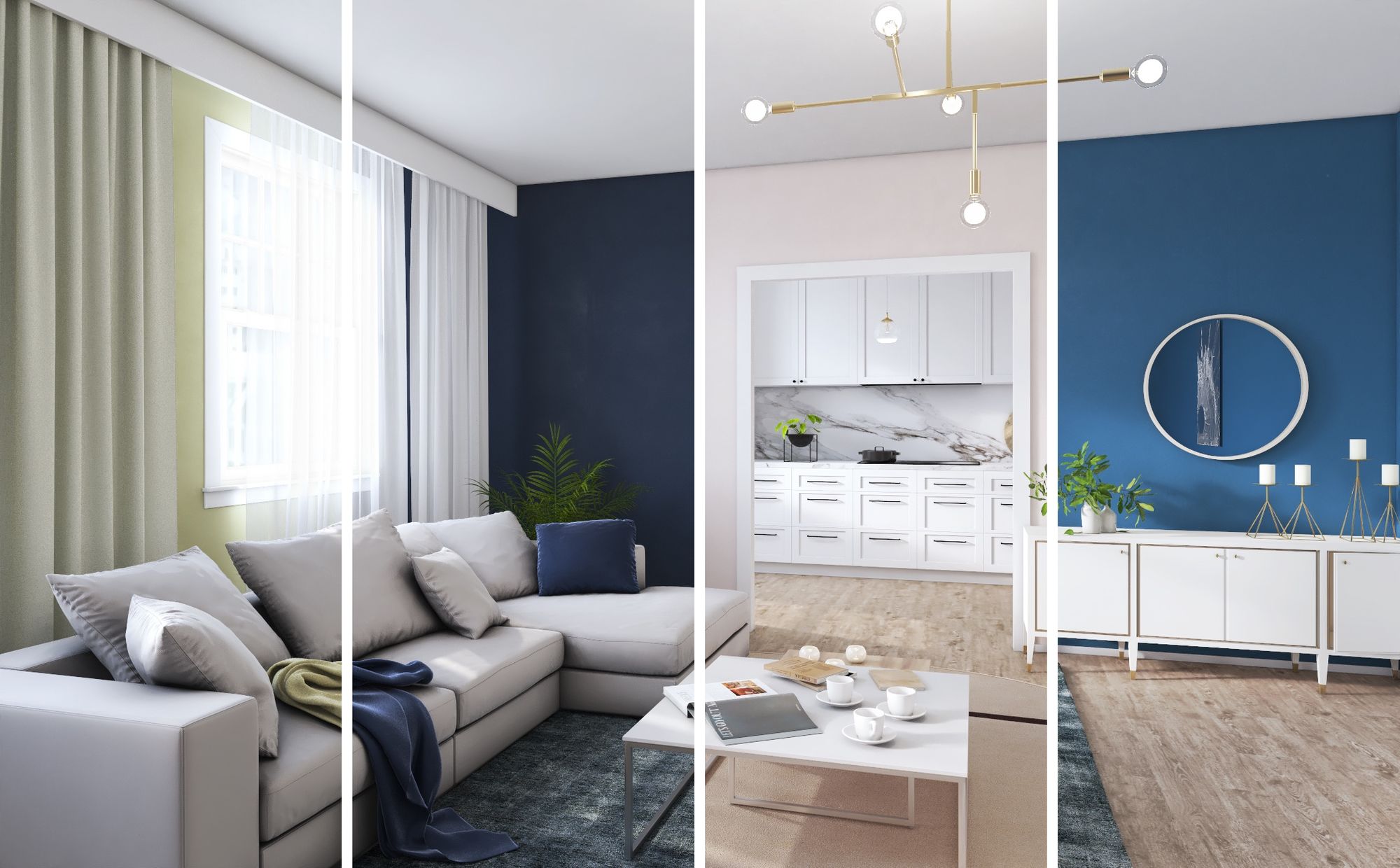 It's the most wonderful time of the year. No, it's not the holiday season (although it's fast approaching). We're talking about the time of year when big brands start to announce their "color of the year" choices. This is THE time of year for interior designers and anyone else who wants to stay on top of home design trends. So whether you want to get your interiors freshened up before the holiday season or are just planning on changing your wall color to stay on-trend, the colors announced for 2020 won't disappoint.
Using the 2020 Colors
If you've ever painted a room before, you know how different the finished product can look from the paint swatch or the color sample you viewed on the kiosk touchscreen. To help you decide whether or not you should run out and buy the latest trending color, we have created a living room to show you how the different colors can transform your space. Each of the images featured below have the same layout and the same furniture. However, we have slightly varied some of the minor design details (such as curtains, cushions, etc.), all in the hopes of helping you see how to incorporate the 2020 colors into your living space.
Back to Nature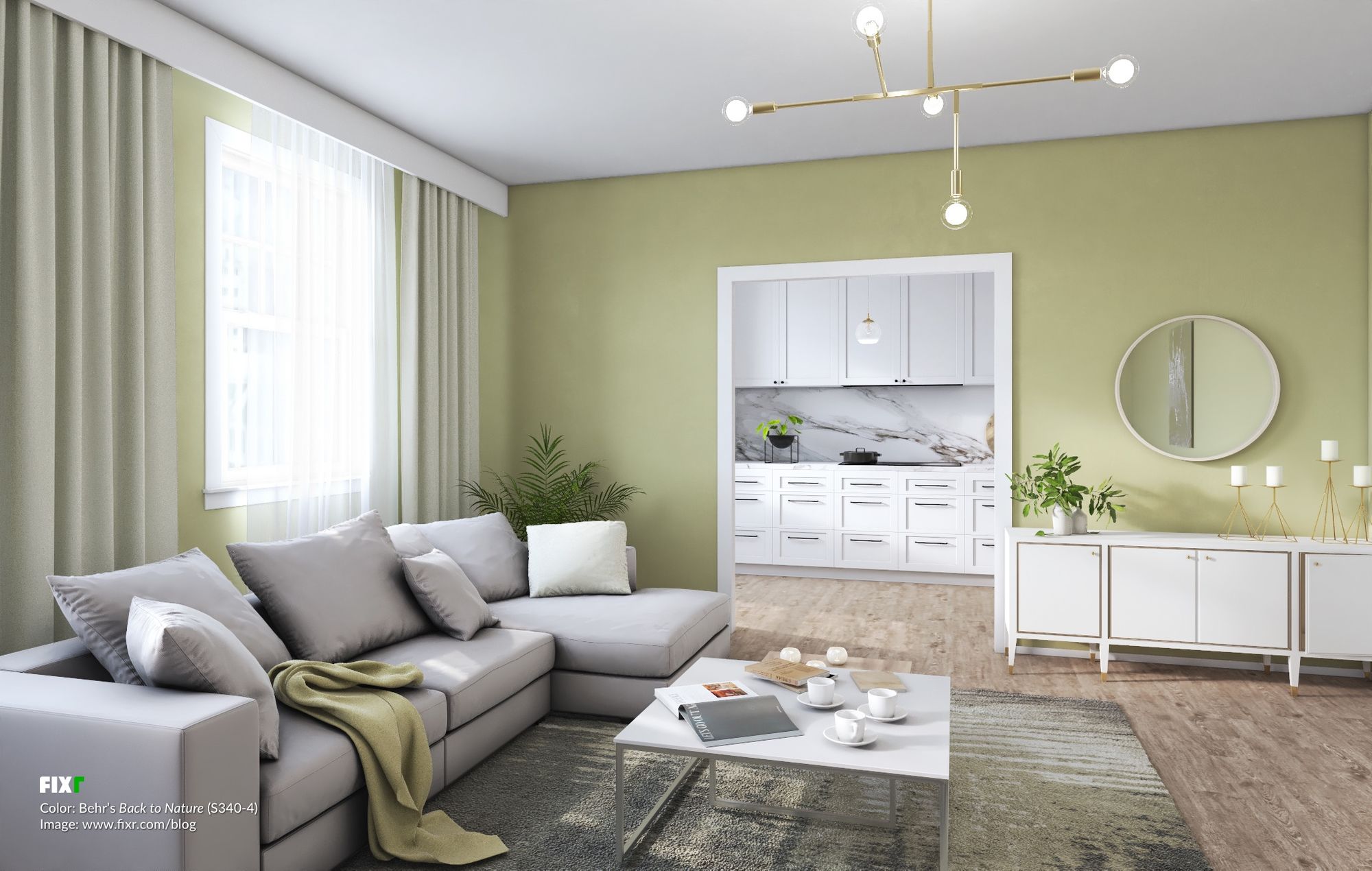 Behr's choice for 2020 is the lovely Back to Nature (S340-4), which is a revitalizing green hue. This color capitalizes on the growing trend of biophilia, paying tribute to an individual's need to interact with nature. Any space can be brightened with this shade, regardless of the lighting, by adding a fun pop of color without being overwhelming. The fact that this green is pulled from nature makes the space feel calm and balanced. This color would be ideal even in smaller living rooms that are lacking in natural lighting.
Integrating Back to Nature into your existing interiors should be relatively simple, especially if you have not previously explored with color. It definitely will look best with other earthy tones and natural elements. As we see in the rendered image above the white trim and furniture visually pop against the green hue of Back to Nature. This color would also be complemented by including green plants and natural fiber accents throughout the room.
Naval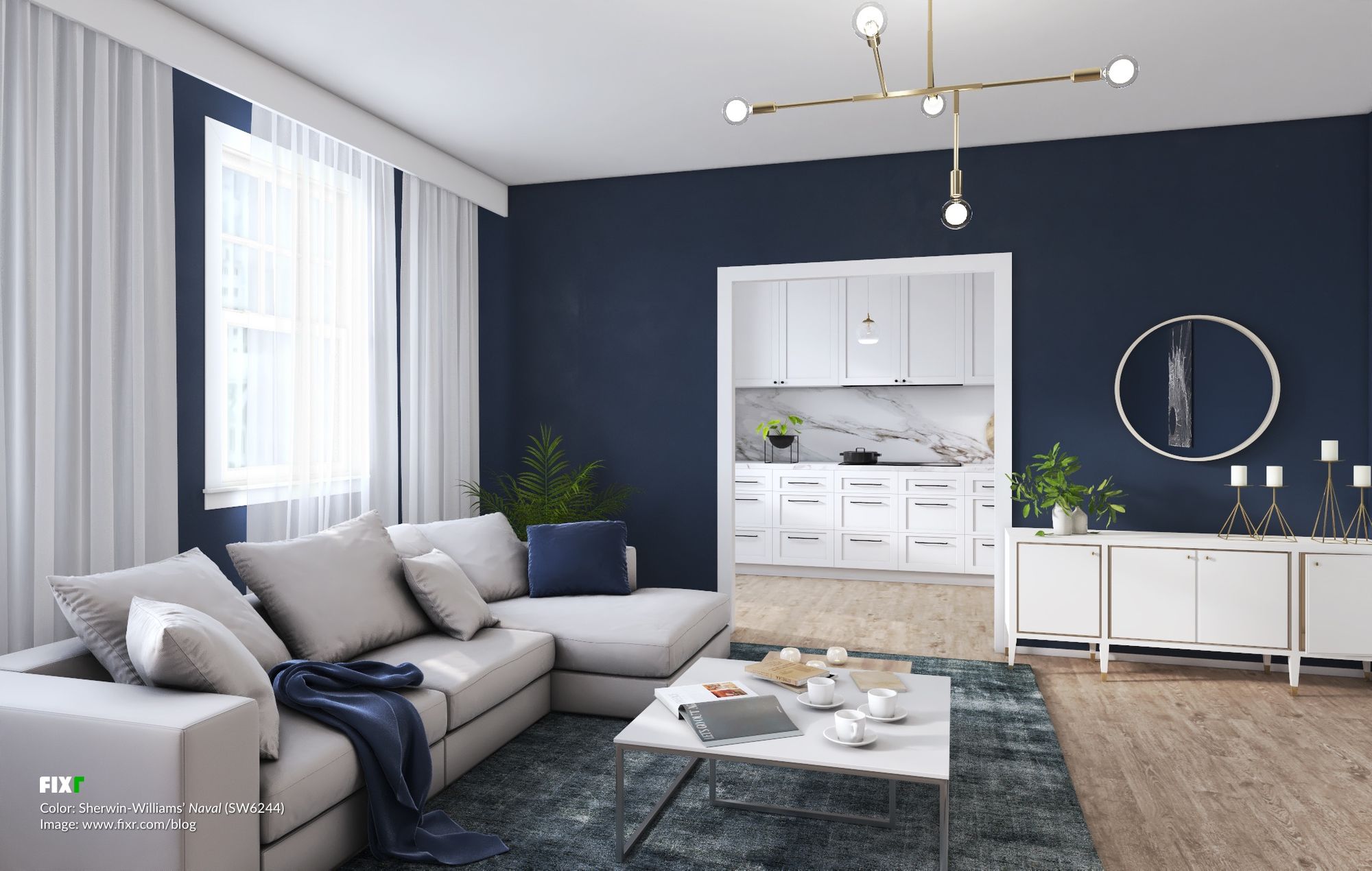 Sherwin-Williams' color pick for 2020 is Naval (SW6244)-- a deep, bold navy that brings confidence to any living room. This choice is a testament to the growing interior design trend we saw in 2019 of using bold colors in place of the cool, airy grays that were popular earlier this decade. Unlike Behr, who chose to focus on plants and greenery, Naval mimics some of the deepest blues in nature whether it is depths of the ocean or the night sky. The dark, bold color helps create a sense of calm and grounding. This color will work beautifully in large living rooms that get lots of natural light (both of which will help keep the room from looking small). However, incorporating this color in smaller rooms can also offer a more intimate experience.
If you've been looking for a drastic change in the vibe of your living room, Naval should be a serious contender, especially if you've previously embraced the trend of light grays and whites. Combining this navy blue with these lighter colors helps give a strong contrast that brings life to your space. It also looks good with natural stone, such as Carrara marble with the gray veining on white, as well as pops of color with greenery. As you can see in the rendered image, Naval gives a look that is bold, but still warm and inviting.  
Chinese Porcelain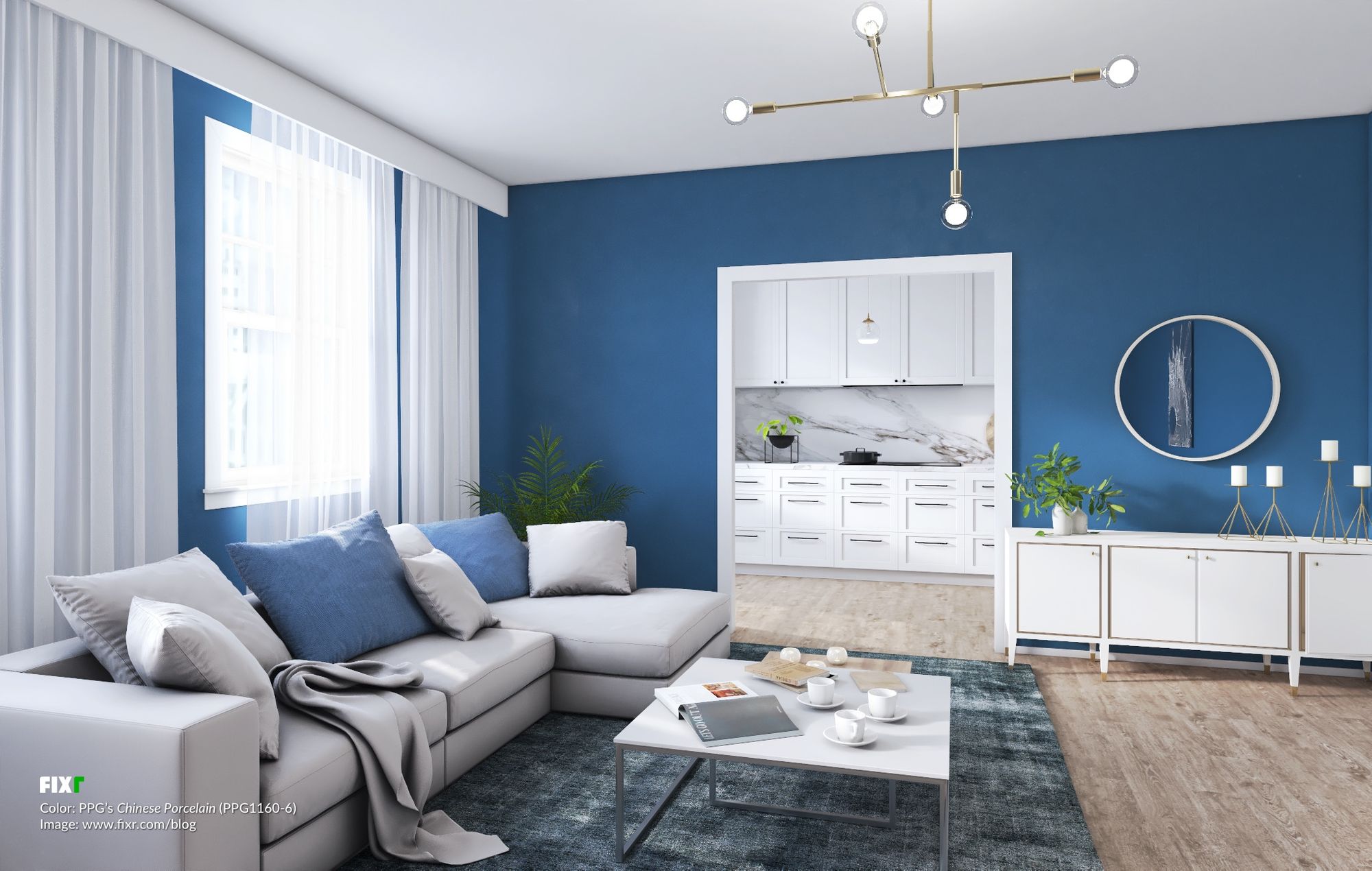 PPG's Chinese Porcelain (PPG1160-6) is a shade that induces the feeling of escapism that many of us crave in the fast-paced, technology-driven world. This unique color embraces other design trends as well, such as the bold, jewel tones seen lately in interior design. The intense color saturation of Chinese Porcelain works with all types of lighting and room sizes. PPG's combination of cobalt blue and ink blue creates a sense of serenity in the space that will easily make your living room your favorite room in the house.
Again, if you embraced the earlier trend of light color grays and white or if your design has already transitioned to more natural materials, Chinese Porcelain will complement either. Dark colored furniture and upholstery may get muted given the intensity of this color selection, so if possible stick with lighter shades. This is also a beautiful color to incorporate other interior design trends that we are seeing such as monochromatic design. Fill your space with accents in the same family of blues or jewel tones to get a well-rounded design in your living room.
First Light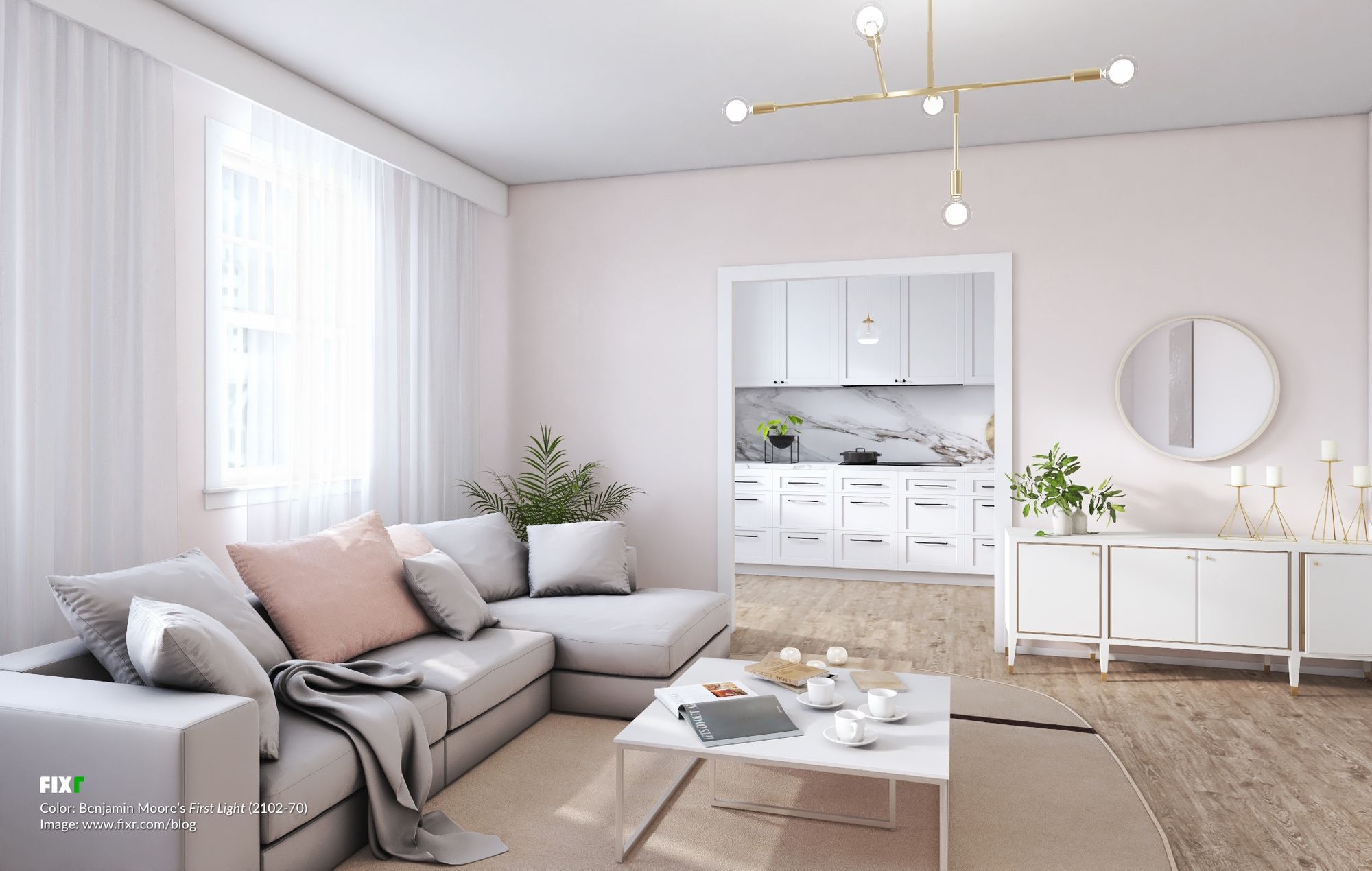 Benjamin Moore's 2020 selection, First Light (2102-70), is reminiscent of the soft rosy light that fills the sky when day breaks. It has just enough color pigment to give your space that extra charm, without being overwhelming. It's that perfect transition from the white and gray trend of the last decade to a new decade full of color. This soft pink can brighten up any space and is ideal for incorporating modern trends of monochromatic palates. While it is ideal for any type of lighting, natural light will reflect, making the space feel open and airy. This makes it an ideal selection for small living rooms.
This light rosy color complements past trends of neutral tones and present trends of bold colors. While using First Light in a monochromatic color palate can give your room a sophisticated look, it works well with other design elements and trends as well. Regardless of whether your furniture is light or dark, this color will work. Pairing with white can pull out the rosy color of First Light. Meanwhile, pairing with dark furniture pulls the attention away from the wall color and puts it on the furnishings. This color goes especially well with darker woods and greenery. If you're not ready to take the leap to bold colors, Benjamin Moore's 2020 selection may be a happy medium.
Should You Take The Leap?
All of the 2020 color choices complement previous design trends of cool grays and whites and minimalist design. Likewise, they work with growing design trends such as incorporating nature and natural materials, bold colors, and jewel tones. Each color gives the room a distinct look that is bold and unique and can be a major change in your living room. Your living space can be completely transformed with any of these color choices. You can also incorporate these colors in other aspects of your interior design such as accents, pillows, rugs, etc. If you're ready for a change, the 2020 colors may just be what you've been looking for.