Energy efficiency is a hot topic in the construction industry because there is a tremendous need to improve the way energy is used. While individuals can make some efforts at home, building smarter, more efficient buildings will go a long way in making a difference. This is why energy efficiency has been a key contributor to the growth that the construction industry has seen in the last couple of years. In fact, the demand for energy efficiency in construction is forecasted to continue growing for the foreseeable future.
The Impact of Energy Efficiency in the Construction Industry
To understand how energy efficiency is affecting the construction industry, one must first understand what it is. Energy-efficient jobs aim to improve how energy is used. In the construction industry, this may include installing high-efficiency systems, windows, and installations. It may also include upgrading or repairing existing energy systems, such as HVAC and water heating, or even constructing buildings so that they earn LEED certification. As the demand for energy efficiency continues to rise, the construction industry is realizing substantial growth in energy-efficient (EE) jobs. In fact, the construction industry is home to 55.6% of all EE jobs in the U.S.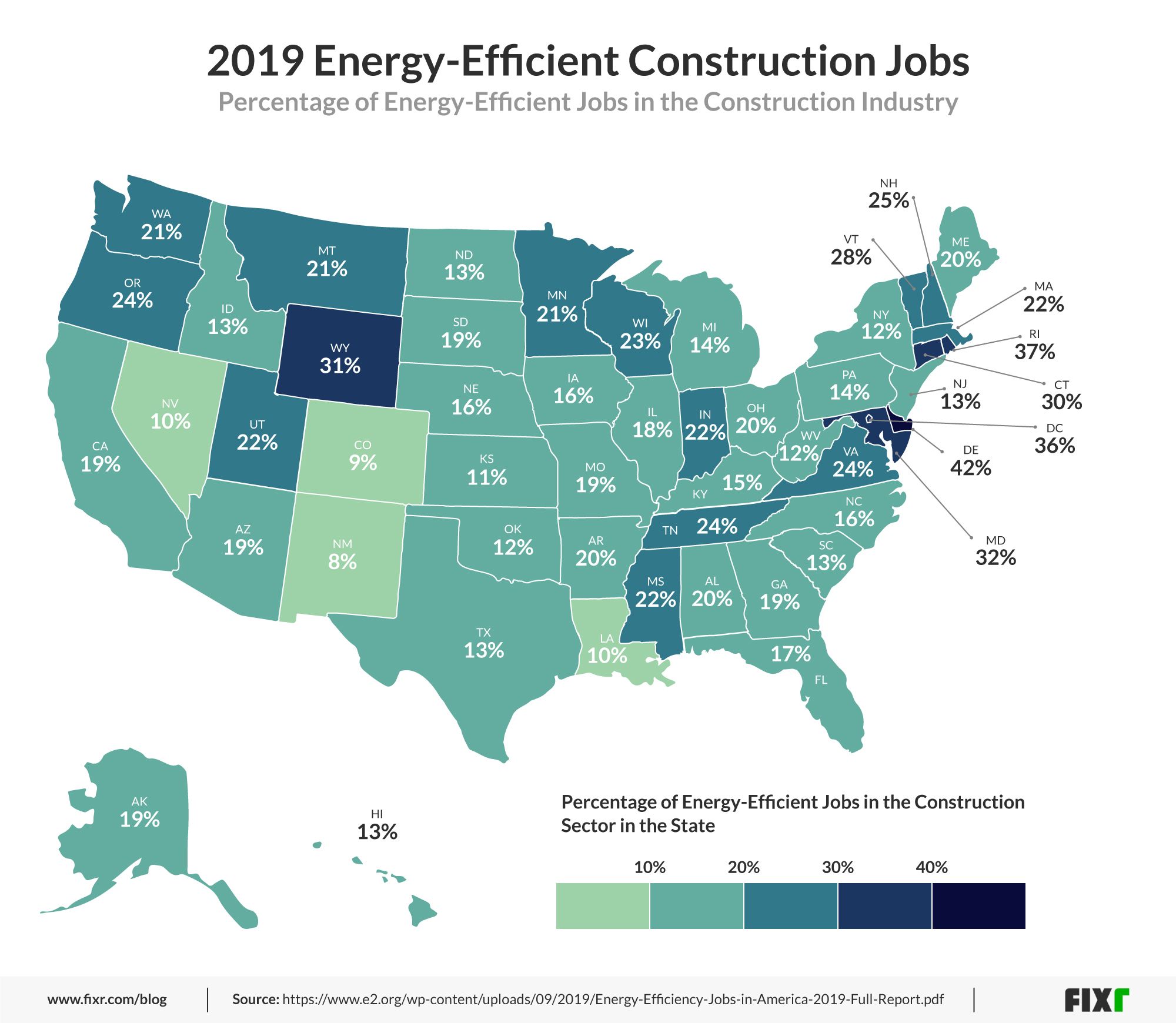 We created this graphic using the 2019 Energy Efficiency Jobs in America report by E2. The map shows the percentage of all construction jobs that are energy-efficient for all 50 states, revealing the true impact EE jobs have made on the construction industry.
The Best States for Energy-Efficient Construction Jobs in 2019
By looking at the graphic, it is easy to see that some states are clearly winning when it comes to incorporating energy-efficient jobs in the construction industry. The top-performing states include Delaware (42%), Rhode Island (37%), District of Columbia (36%), Maryland (32%), Wyoming (31%), Connecticut (30%), Vermont (28%), and New Hampshire (25%). Oregon, Tennessee, and Virginia also have a substantial percentage of EE jobs in their construction industries, with 24% in each state.
The Worst States for Energy-Efficient Construction Jobs In 2019
Some states, however, have not adopted energy-efficient jobs as quickly. The worst states for EE jobs in the construction industry come in at less than 14%. These states include Hawaii (13%), Idaho (13%), New Jersey (13%), North Dakota (13%), South Carolina (13%), Texas (13%), New York (12%), Oklahoma (12%), West Virginia (12%), Kansas (11%), Louisiana (10%), Nevada (10%), Colorado (9%), and New Mexico (8%).
Climate Seems to Play a Role
One interesting finding is many of the states with a high percentage of energy-efficient jobs in the construction industry are in the northern part of the country where the climate is much colder. As homeowners look for ways to save money, improving the efficiency of their homes can make it more affordable to heat in the winter. This would be a logical reason as to why these northern states have higher percentages of EE jobs.
Construction Industries Will Flourish as Energy Efficiency Demand Rises
Currently, one out of every seven construction jobs spends most of the time working on energy efficiency. However, this need is forecasted to continue growing as the issue of climate change takes center stage. As demand for EE increases, a greater number of construction workers will be needed to fulfill the growing demand for new energy-efficient buildings and upgrading existing buildings. This means that construction industries will also rise as EE needs increase. In states like New Mexico, Colorado, Nevada, and Louisiana, there is huge potential for the construction industry to grow at a rapid pace, given that each of these states have fewer percentages of EE jobs in the construction industries. However, the growth in EE jobs in the construction industry is likely to increase nationwide.
Based on the forecasted growth, adding energy-efficiency services may be just the thing you need to expand your construction business. Homeowners and business owners alike need services to update the efficiency of their properties to reduce their energy consumption and energy costs. Incorporating EE services, such as updating electrical and HVAC systems and upgrading building materials like doors, windows, and insulation, will make construction companies more competitive and contribute to the nation's energy-efficiency efforts.