Home remodeling is nearly a 450 billion industry. Even with the Great Recession, the home remodeling industry remains strong, and homeowners and renters alike are continuing to invest in home improvement projects. In order to get the biggest return on investment, it's important to keep the cost and value of these projects in mind. The average return on value for home improvement projects varies from year to year, so analyzing current trends is necessary when deciding which projects to pursue.
Which of the following will cause the ROI to increase?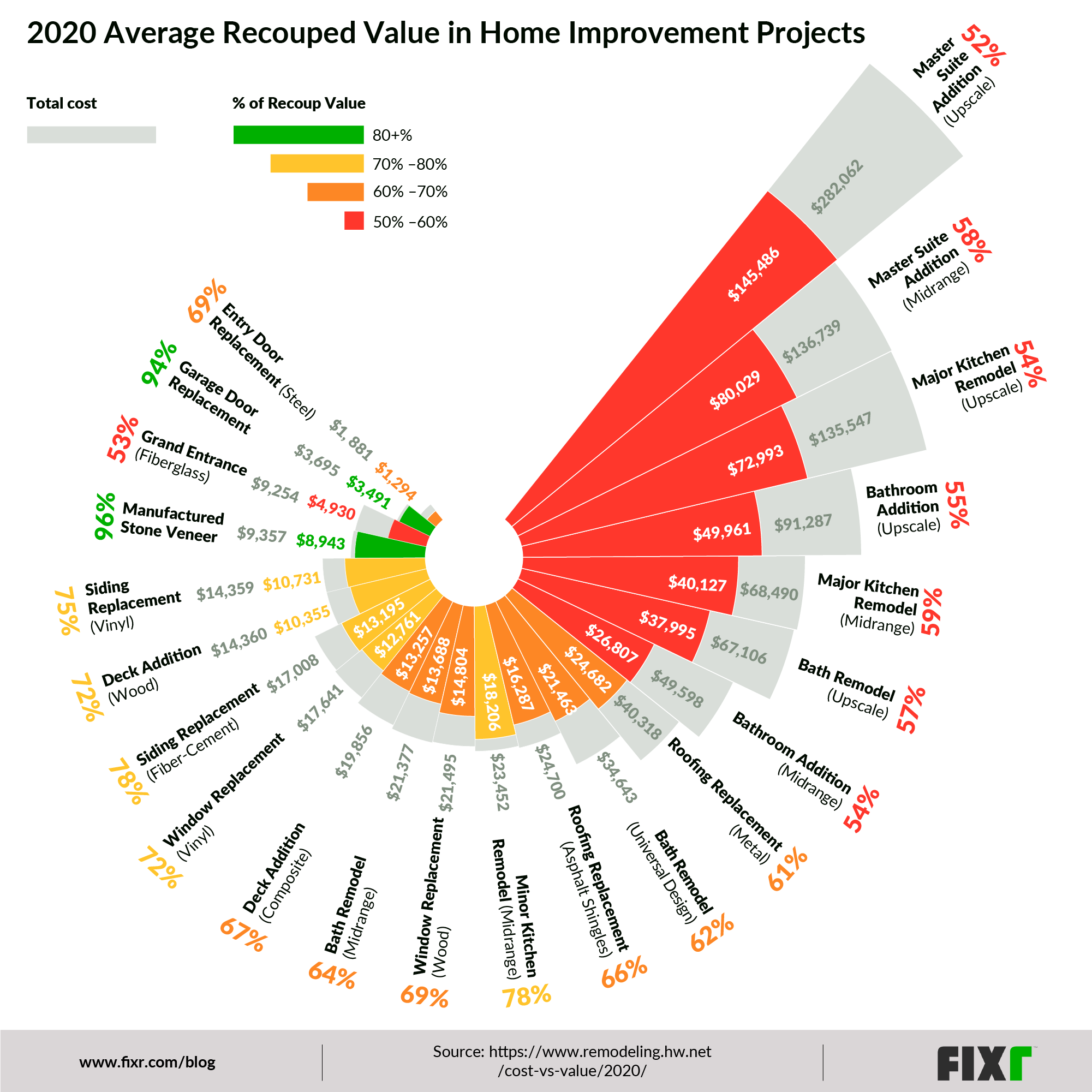 The 2020 Cost vs Value Report from Remodeling Magazine looked at 22 of the most popular home improvement projects. The reported values are the average value each of these projects retains at the time of resale in US markets. We created this graphic to help understand the variance between the cost vs value of the selected home improvement projects, based on this data.
Remodeling Cost Versus Value
Home improvement projects vary greatly in terms of cost. Likewise, the value that can be recouped from a project also varies. However, there are clearly projects that, while they may improve the overall enjoyment of the home, homeowners are unlikely to recoup the cost. For instance, the most expensive home improvement projects in 2020 include:
| The Most Expensive Home Improvement Projects in 2020 | Average Cost | Average Recouped Value |
| --- | --- | --- |
| 1. Master Suite Addition (upscale) | $282,062 | 52% |
| 2. Master Suite Addition (midrange) | $136,739 | 58% |
| 3. Major Kitchen Remodel (upscale) | $135,547 | $54% |
| 4. Bathroom Addition (upscale) | $91,287 | 55% |
| 5. Major Kitchen Remodel (midrange) | $68,490 | 54% |
Yet, these same projects have some of the lowest percentages of return on value, recouping only 52-59% of their cost. However, this does not mean that lower-cost home improvement projects will have the best ROIs either. The lowest cost home improvement projects in 2020 include:
| The Lowest Cost Home Improvement Projects in 2020 | Average Cost | Average Recouped Value |
| --- | --- | --- |
| 1. Entry Door Replacement (steel) | $1,881 | 69% |
| 2. Garage Door Replacement | $3,695 | 94% |
| 3. Grand Entrance (fiberglass) | $9,254 | 53% |
| 4. Manufactured Stone Veneer | $9,357 | 96% |
| 5. Siding Replacement (vinyl) | $14,359 | 75% |
Only garage door replacement and manufactured stone veneer projects recover most of their costs, averaging 94% and 96% respectively. On the other hand, entry door replacement (steel) and grand entrances (fiberglass) have the lowest return on investment values at 52% and 53% respectively.
Home Trends and Remodeling ROI
An interesting thing to note is that the ROI on home improvement projects is largely influenced by current home design trends. The projects that are seeing growing returns are largely projects to improve the outside of the home, like installing a deck, updating the garage door, or replacing siding or windows. At the same time, the remodeling projects that most homeowners think of first, like master suite additions, bathroom additions, or kitchen remodels, actually bring in much lower ROI.
Installing manufactured stone veneer and garage door replacement are home improvement projects that will see the biggest returns on investment in 2020. These small changes can improve a home's resale value, without a large investment.
ROI Changes in Home Improvement Projects Between 2017-2020
The previous visualization showed the cost vs. value related to 22 popular home improvement projects in 2020. This graphic combines that data with historical trends for similar projects, which shows the biggest increases and decreases in ROI for the most common home improvement projects since 2017.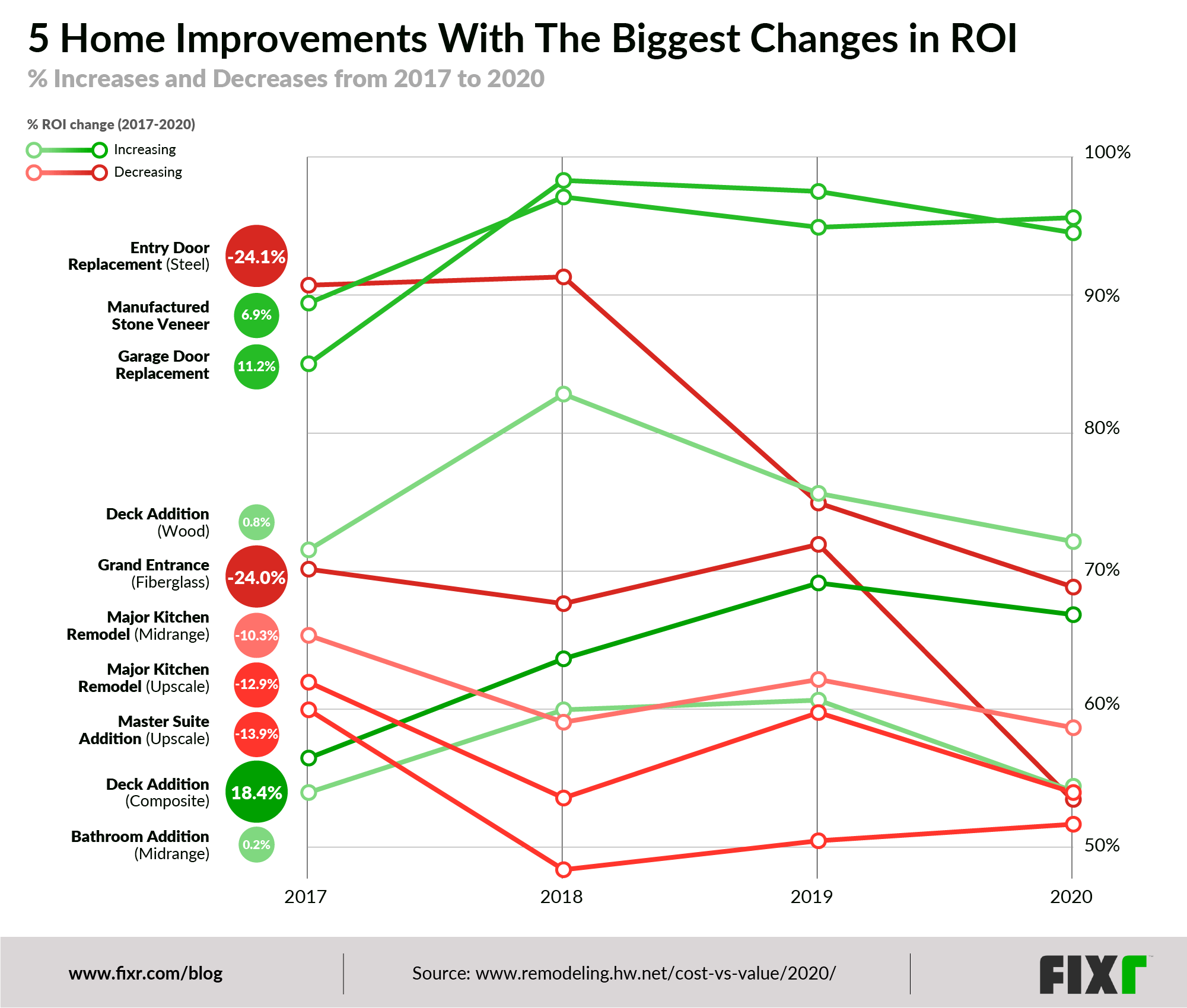 Notable Changes in ROI for 2020
Since 2017, there has been a significant change in the ROI on the most popular home improvement projects. We see that the projects with the biggest decrease in return on value are entry door replacement (steel) and installing a grand entrance (fiberglass). Once recouping 91% and 70% respectively, these two projects now yield the lowest average return of all popular home improvement projects. The project that has seen the most growth in ROI is building a composite deck addition, seeing ROI increase 18% since 2017.

Projects such as the installation of manufactured stone veneer and garage door replacement have continued to maintain their value, making them smart projects to undertake. If you are looking for quick projects that are affordable to update your home, whether it is for your own enjoyment or to resell, these projects are good options.
Another point to note is that home improvement projects that are a major undertaking, like major kitchen remodels and upscale master suite additions, usually don't recoup the money spent.
Looking at the historical data, these projects have had lower ROIs compared to other home improvement projects, and their returns on investment have continued to decline since 2017.
What It All Means
Experts recommend setting aside an average of 0.5% - 1.0% of your home's value for annual repairs, while looking at the cost vs value of each home improvement can help you make better strategic decisions. Cost and being able to recoup the investment are important factors, but they aren't the only things to consider for a home improvement project. Enjoying the results of the project should also be considered.

The information in this cost vs. value report is based on national averages. Trends may be different depending on where you live, the climate, and the neighborhood. Therefore, it is important to stay on top of the trends and choose projects that will increase your home's value and pay you back when you decide to sell.

This report is a good starting point in guiding you on the projects with the best return on value so you can decide which project is best for you.