COVID-19 has had an enormous impact on people's lives. As the virus swept the nation, many people found themselves at home far more often than they normally would be. And whether they were working from home, studying from home, temporarily furloughed, or were just trying to minimize their movements, many people began looking for ways to spend their time.
Because people were spending more time at home, interest in DIY home improvement projects increased. Whether it was driven by need, a hope to save money, or just a way to stave off boredom, more homeowners felt the DIY call than ever before.
To find out more about homeowners' DIY activities, Fixr reached out to 174 Fixr users via email. They were given a series of multiple-choice questions to help shed some light on the trend of DIY during the pandemic.
DIY Home Improvement Statistics During The Coronavirus Pandemic
The survey uncovered a wide range of statistics detailing DIY activities and projects during the coronavirus pandemic. Highlights include:
The majority of homeowners are completing more DIY projects during the coronavirus lockdown than in the past
Most people tackling DIY projects have completed three or more during this time period
Landscaping and indoor painting top the list of completed projects
Homeowners learned the skills necessary to complete these projects mostly from YouTube videos
Most people embarking on a project knew what materials they wanted before they began
1. 68% of homeowners have done more DIY projects during the coronavirus lockdown than in the past.
When asked about their DIY activities during the pandemic, the majority of homeowners responded that they were undertaking more DIY projects during this time than they have in the past. 20% of survey respondents said they were completing about the same number of projects as they were before the pandemic.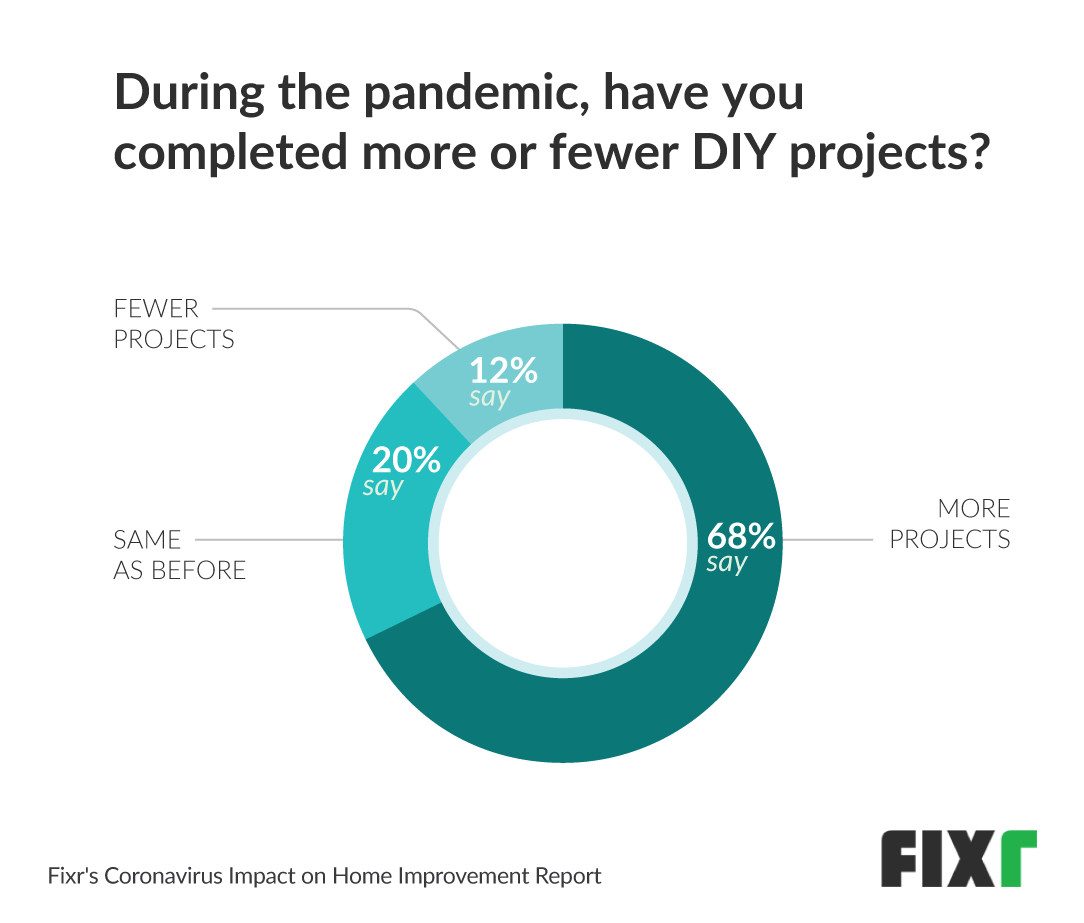 2. Overall, 57% of homeowners have done more than three DIY home projects. More than 95% have done at least one DIY home project.
When describing the number of DIY projects they've completed, most homeowners responded that they have tackled three or more projects during this time period. Of note, 70% of those who said they're completing more projects (in the previous question) also responded that they have completed more than three projects. This shows an overall increase in DIY projects completed, as well as an increase in the frequency of these projects.
3. 40% of homeowners said they decided to pursue DIY job(s) because there was no contractor available at that moment.
With many people being out of work due to the pandemic and contractors still wrapping up projects that had been underway when the pandemic began, it makes sense that 40% of people completing DIY projects did so because there was no contractor available at the time.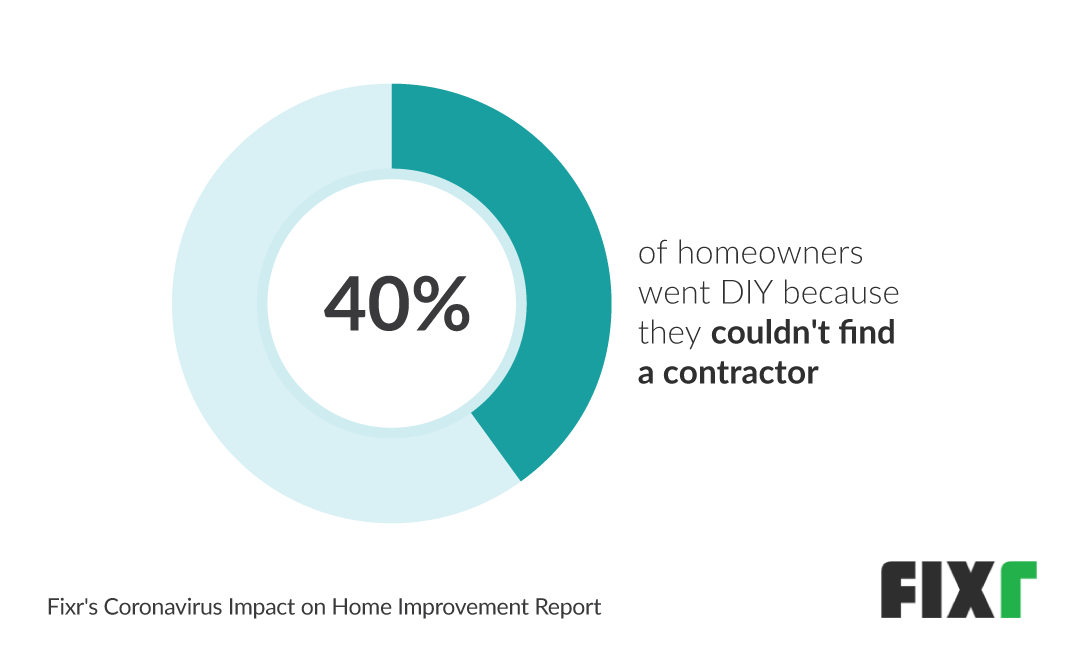 4. 50% of homeowners enjoyed completing a DIY project.
50% of homeowners who completed a DIY job during this time period also reported enjoying DIY improvements in general. People who complete DIY projects report a higher "Joy Factor" than those who hired a contractor, according to the National Association of Realtors Research Group. It may be that those reporting enjoyment feel that way about the completion as well as the process.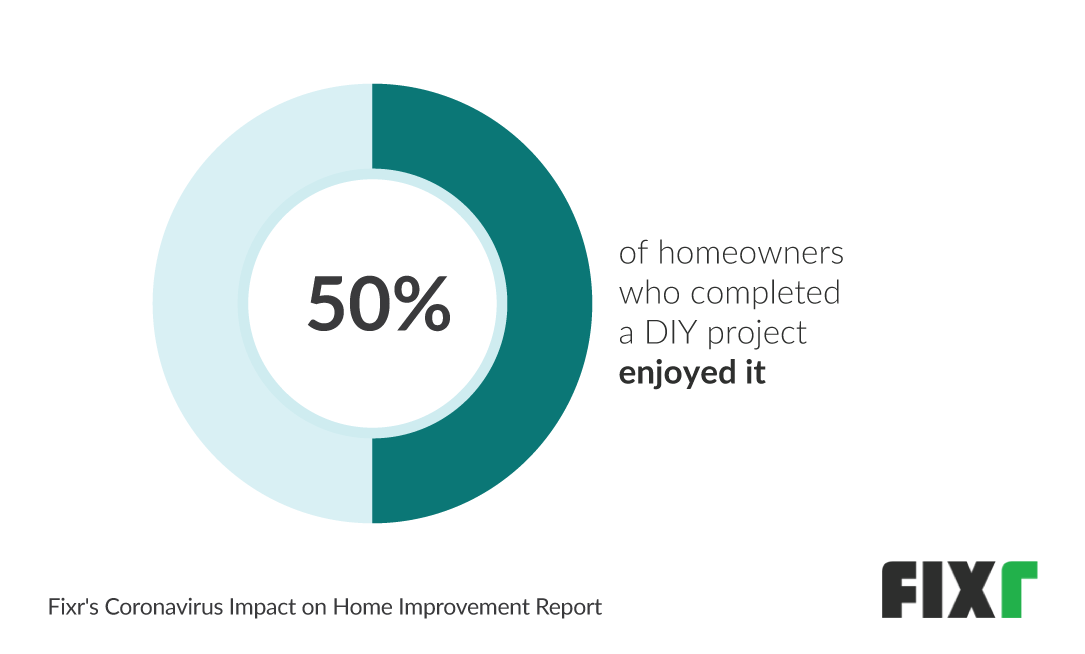 5. Landscaping, indoor painting, and electricity projects were the top DIY jobs completed by homeowners.
Respondents could choose multiple options when asked which DIY projects they had completed. Landscaping, interior painting, and electricity were the top three answers. Of these, landscaping makes the most sense, with many homeowners looking ahead to a summer spent at home and wanting to make the most of their yards and properties. Electricity is a more surprising answer, especially considering the fact that electric projects are among those most commonly cited by homeowners as being more technically difficult than they thought.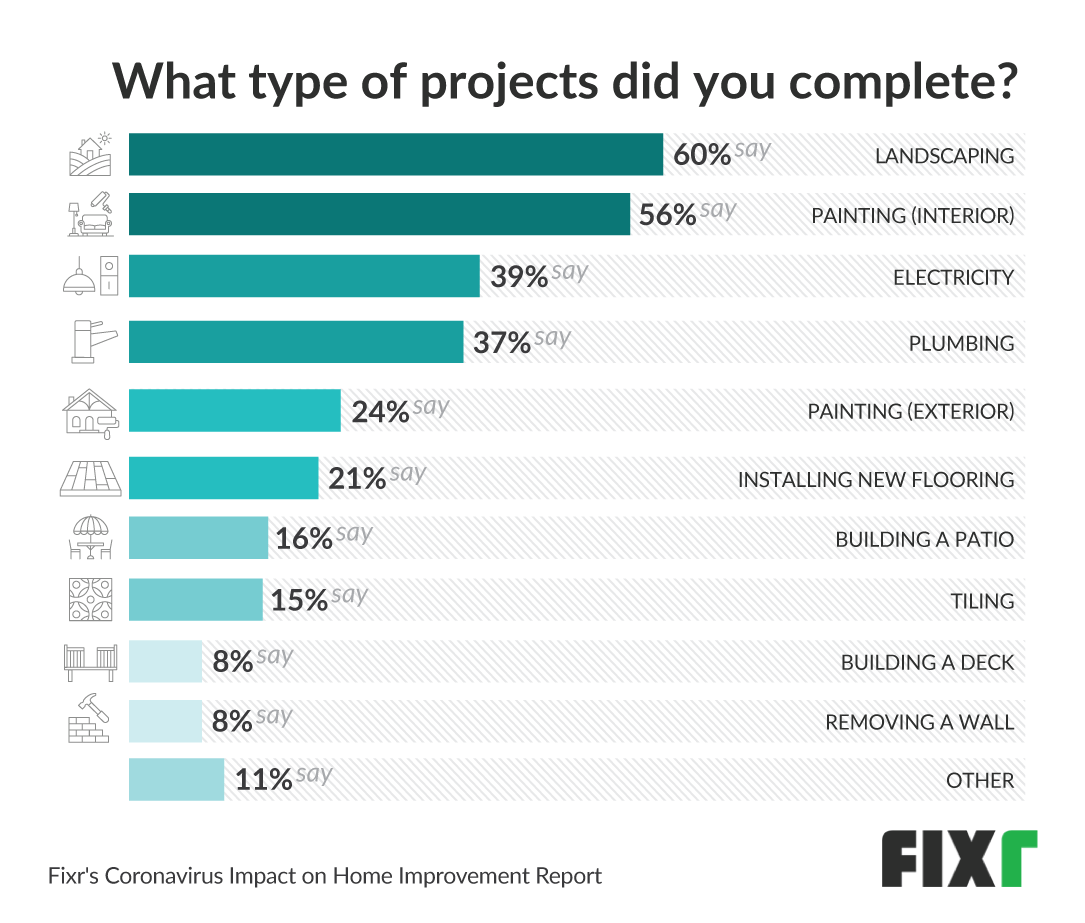 6. Youtube and Internet search are the top learning channels for DIY home improvement.
When it comes to learning how to complete their projects, most homeowners are turning to the Internet, with YouTube videos and Internet searches being the two most common methods for learning a new skill. Both YouTube and the internet in general are filled with information that's easily accessible by most homeowners, so it makes sense that people would turn here first to get the information and skills they need to complete a project.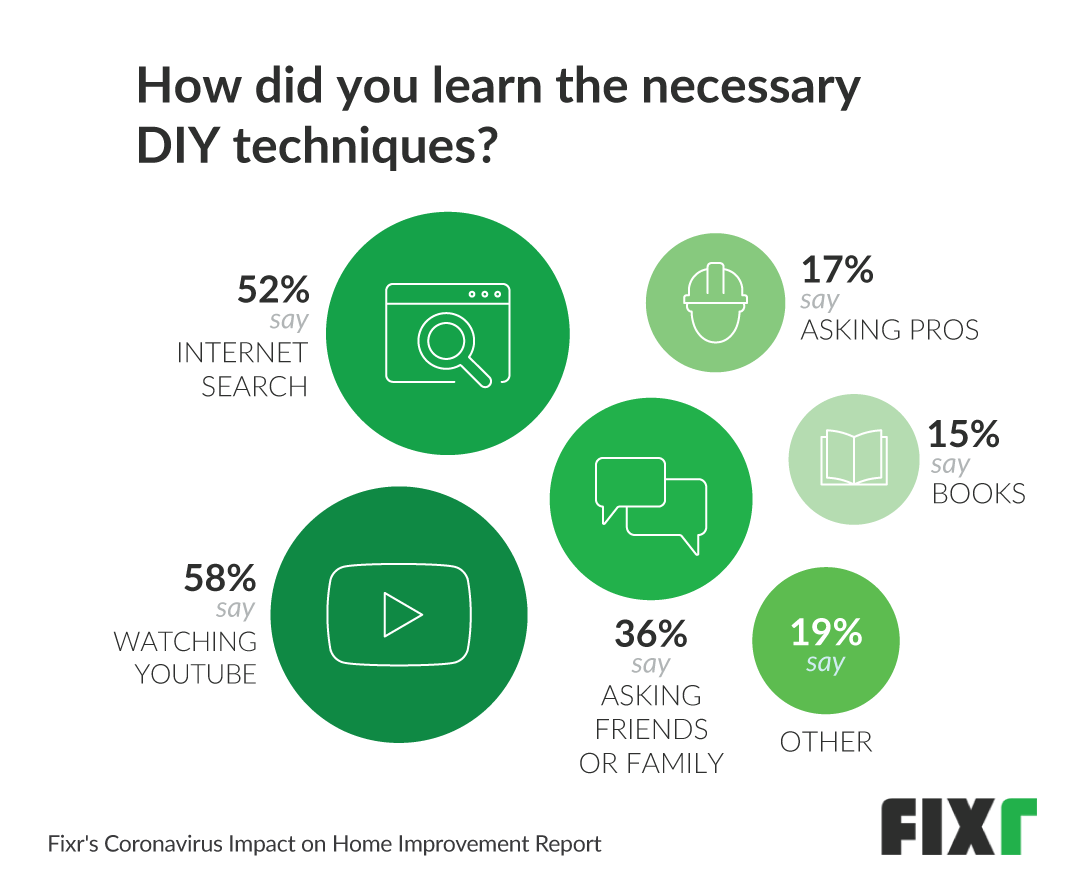 7. The total money spent for completed DIY jobs varies: 43% spent less than $500, while 27% spent more than $2,000.
Answers were mixed when homeowners were asked how much they spent on completed projects. 43% answered that they spent less than $500 in total, while 27% answered that they spent more than $2,000.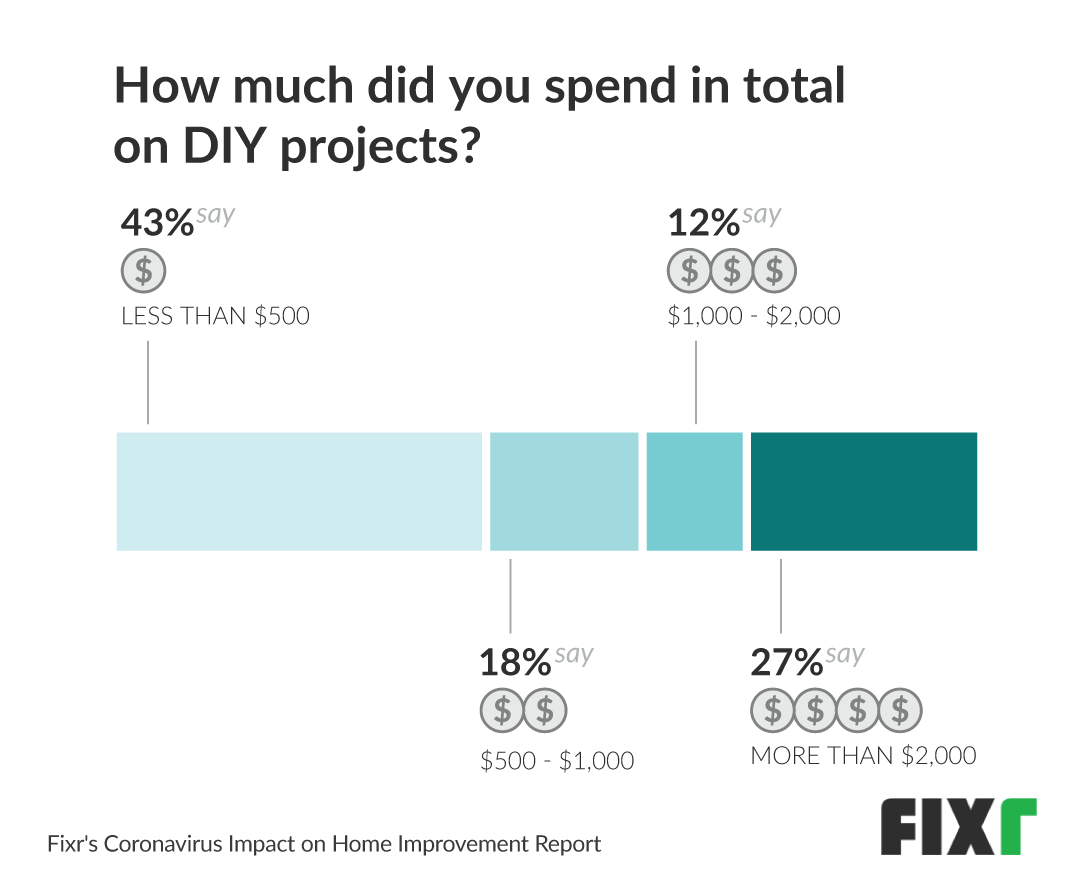 8.  Homeowners face several obstacles when tackling DIY projects, like lack of funds, time, skills, and supplies.
Answers were also mixed when it came to what challenges homeowners faced when attempting DIY projects. Respondents were able to select multiple answers for this question, and reported lack of funds, time, knowledge, and supplies as the most significant obstacles they encountered in their DIY journeys.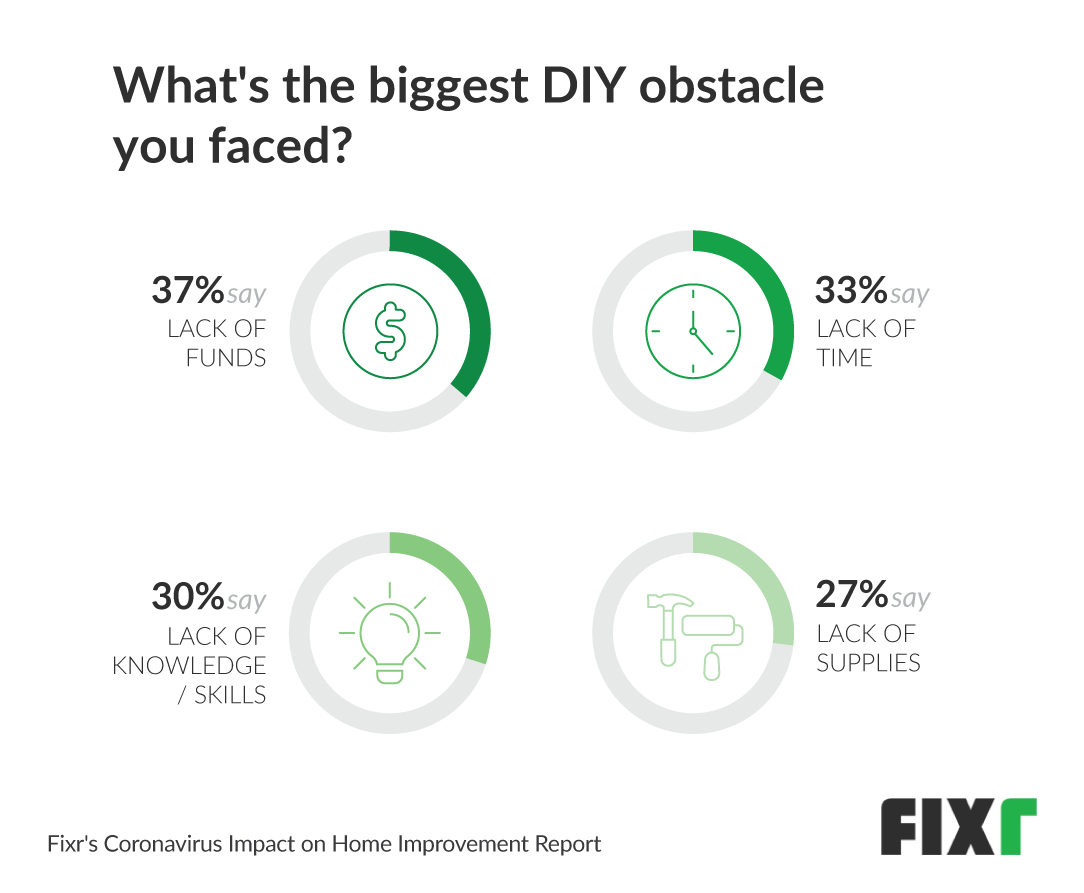 9. 45% of homeowners know what products and materials they need for their DIY jobs.
A large percentage of homeowners knew what they wanted to use for their materials and supplies when the time came to start their project. Another 30% stated that they researched and asked questions before they began their jobs. With the number of YouTube videos, online and print magazines, and other resources commonly available, it makes sense that so many homeowners had a good grasp on what they wanted ahead of time, while so many others also knew the right places to go to research and/or ask questions.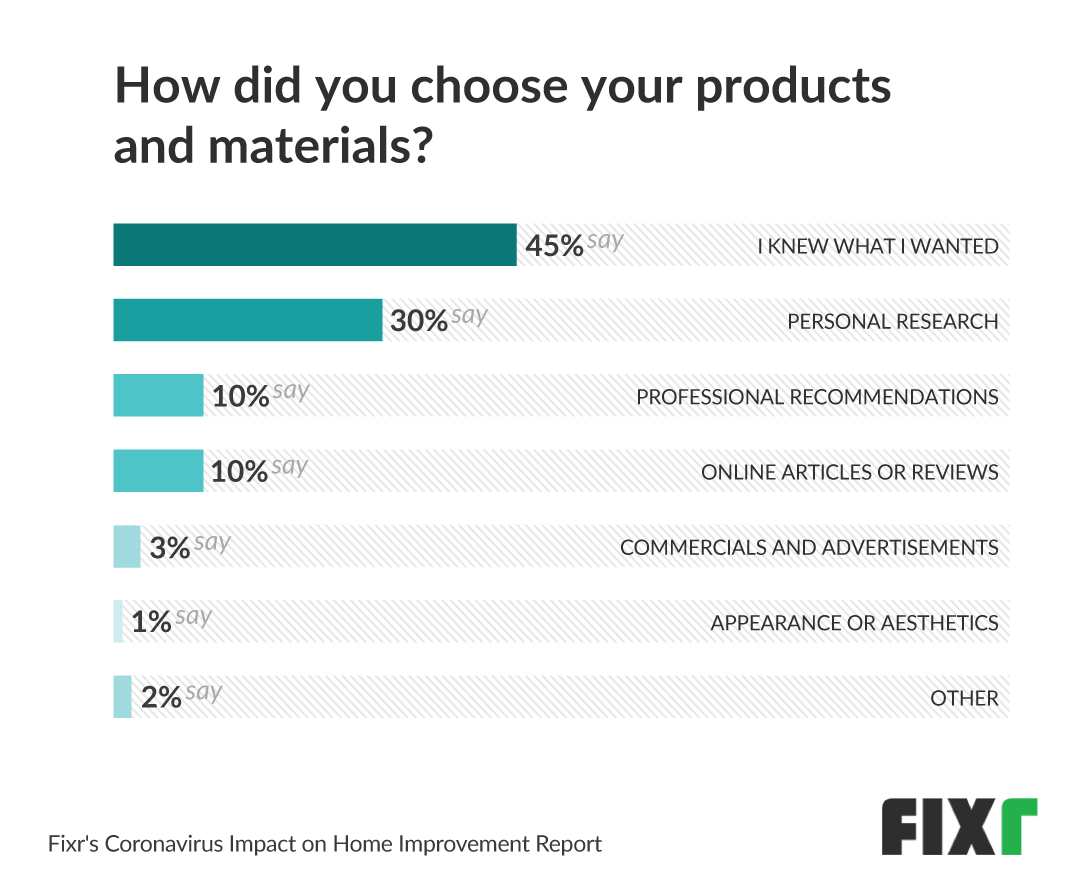 10. 55% of homeowners plan to pursue more DIY home projects in the future.
The majority of homeowners answered that they would be willing to do more DIY projects in the future. A further 43% answered that they'll do a mixture of DIY and hiring a contractor, depending on what the project is. This could be due to the newfound confidence many people may experience upon successful completion of their DIY project during quarantine.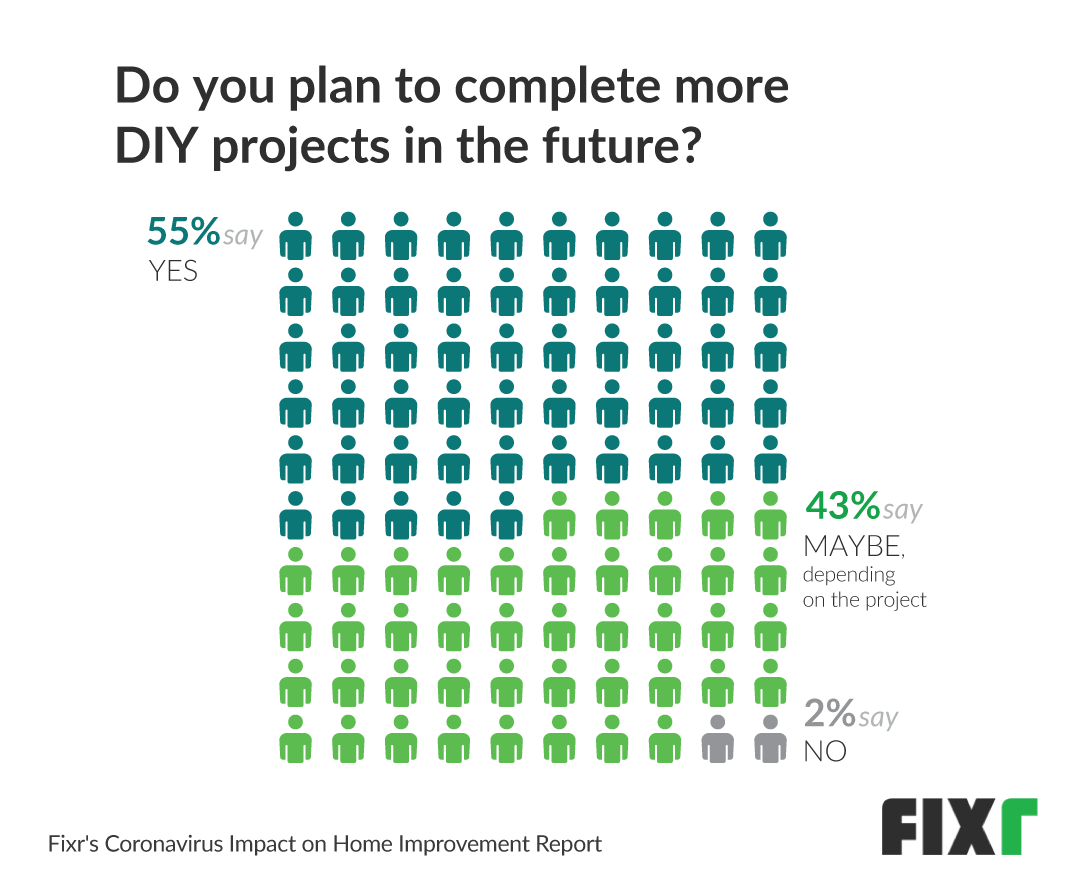 11. 98% of homeowners felt they saved money by completing the project(s) themselves.
DIY has long been touted as a way to save some money on your home improvement projects. A full 98% of those surveyed agreed, saying that they had definitely saved by taking on the project themselves. Labor often makes up a big percentage of projects, so even in small areas, DIY can be a way to save.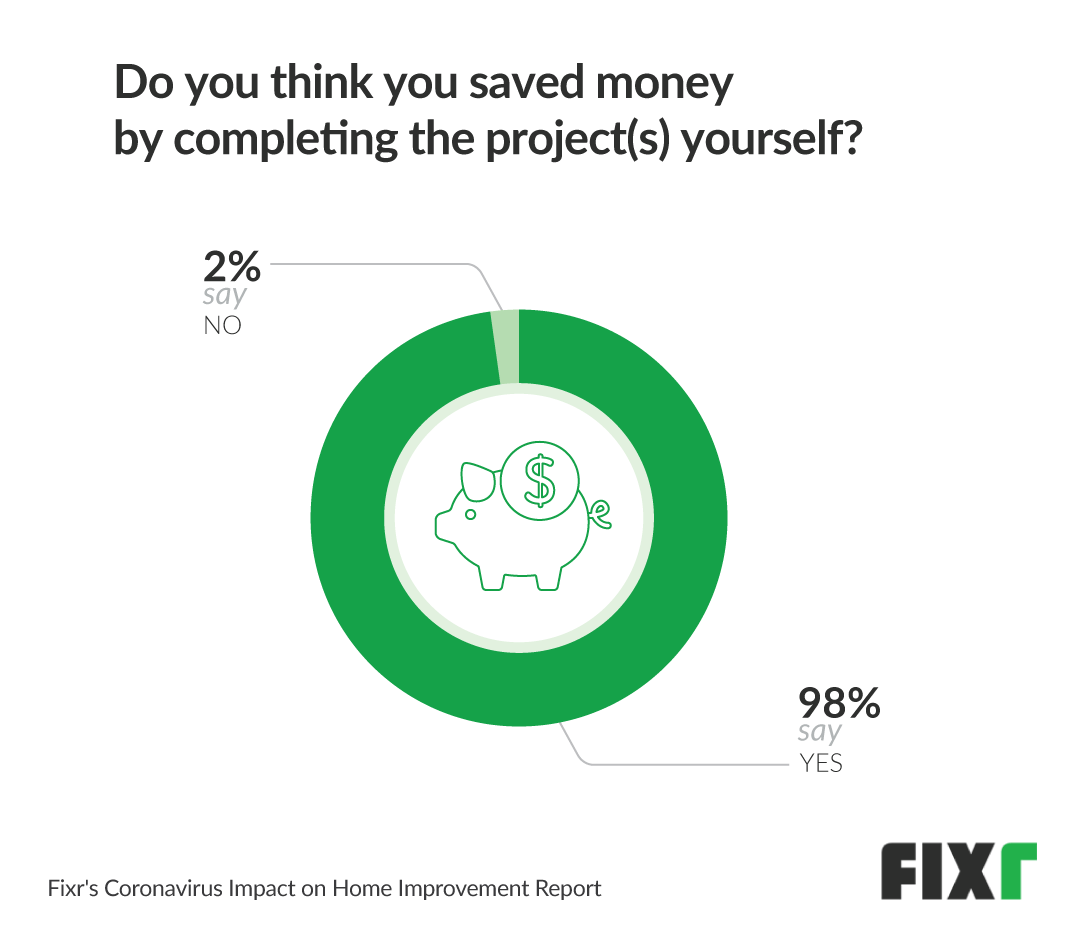 12. Lack of skills, time, and necessity are why some homeowners didn't complete DIY jobs during the lockdown.
When it comes to why people haven't tackled any DIY projects, answers were mixed among respondents. Some felt that they just didn't need to do so yet, while others lacked skills and time to get the project done. As necessity can change quickly, it could be that more of these people may find themselves completing a project in the future.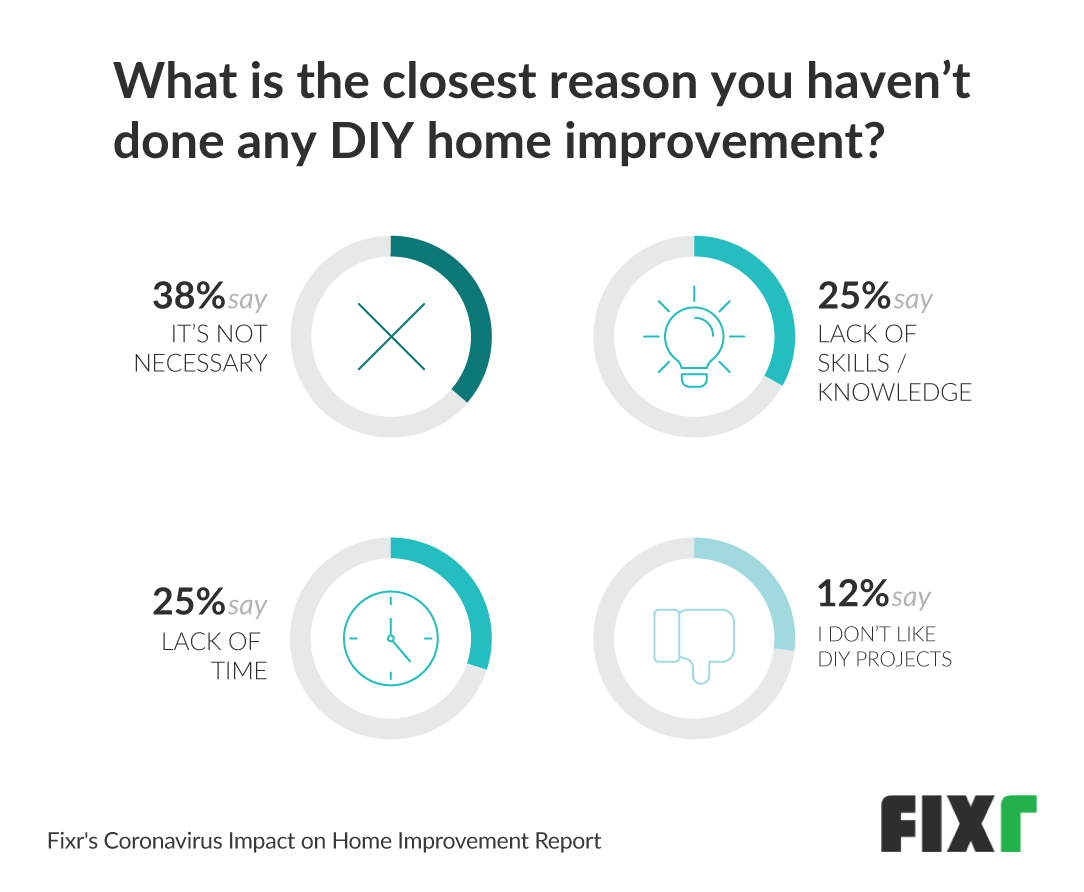 Make the Most of Your Time at Home
With DIY projects trending upward, this could be an indication of new confidence in homeowners who may be more willing to tackle future projects as well. While the pandemic continues, it's too early to predict whether these trends will continue at this rate, but it is safe to say that many homeowners have now seen the benefits of DIY, such as the savings it can bring. We'd like to extend our thanks to those Fixr users who participated in the survey.
This unprecedented situation has had its share of negative consequences, but perhaps one positive outcome is a new sense of pride in our homes. Now that more homeowners have taken the leap and completed DIY projects, it will be interesting to see if this trend continues into the future.