There's a misconception among many Americans that most of the goods and products used in America today were produced overseas. A report published by the National Association of Home Builders has found, though, that when it comes to the materials that are being produced for home and building manufacturers, the vast majority is being produced right here in the US.
In total, the United States produced $88.5 billion dollars worth of building materials in the last year. The materials were broken down into general categories to make them easier to keep track of, and further grouped by the state or states that were most integral in their production.
If you've been curious about where the material that goes into your home is coming from, or what your state's biggest contribution to the industry is, this map has everything you need to know.
A State-by-State Look at Manufacturing
By tracking how much and what types of material are used in home construction, builders and industry analysts can gain a better understanding of the market, both now and where it may be going in the future.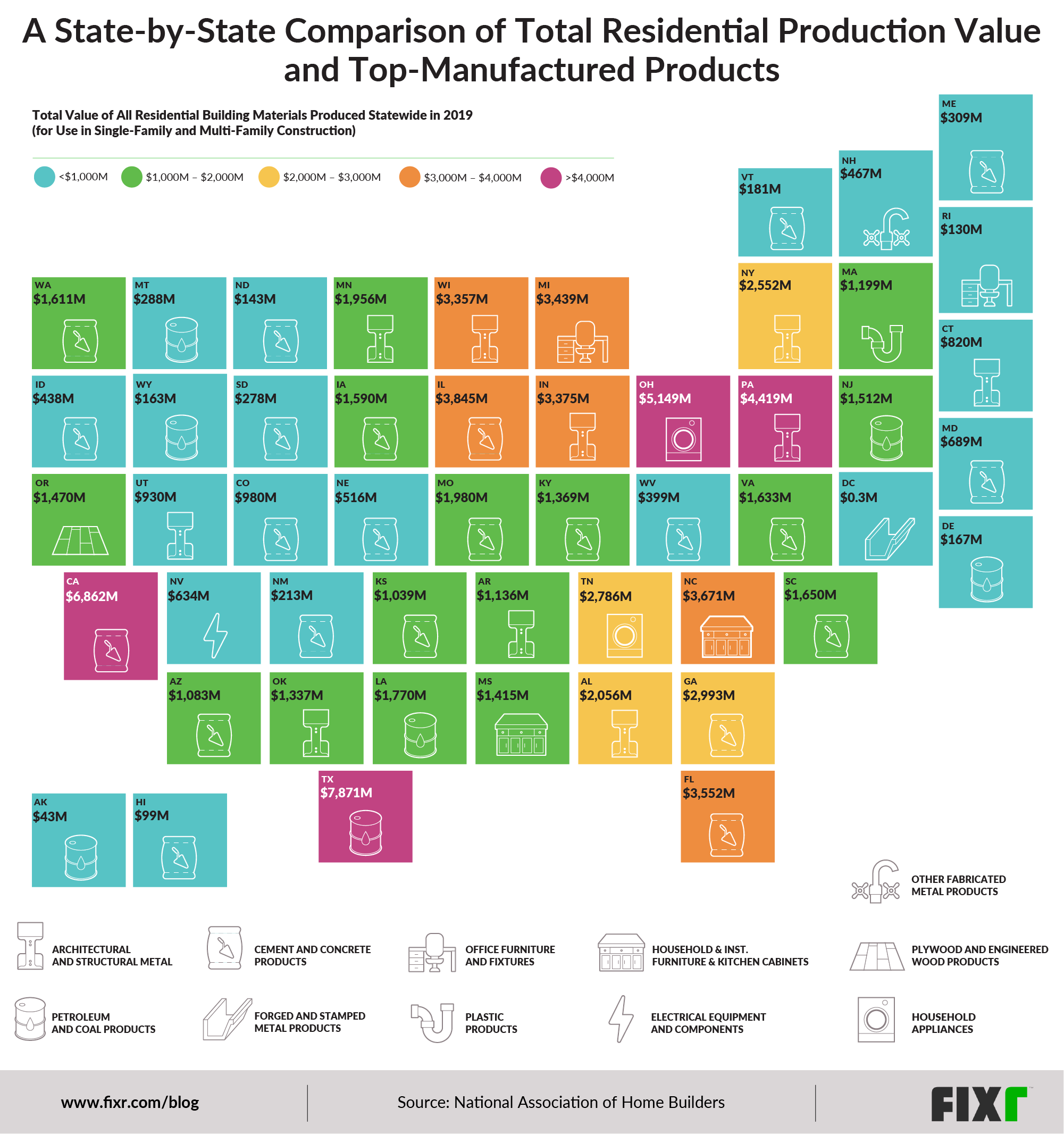 This map of the 50 states can give you a better understanding of where various materials are being manufactured.
The map is designed to be easy to read, with the general layout showing the relative placement of each state. Included in each block is the value generated by the manufacturing of each construction item, as well as a pictogram of the state's largest commodity. The key at the bottom explains the categories.
The map is further broken down by the amount of money generated in each state, with a color assigned to each general category from under $1,000M (blue) to over $4,000M (purple).
The Top Producers and Products
A quick glance at the map can reveal several interesting things about manufacturing in the US. The first is distribution of the products being made - cement and concrete products are the biggest commodity, with 22 states reporting them as their top produced item. Of those states, California outpaces them all in terms of total capital.
Top Produced Building Materials
1. Cement and concrete products
2. Architectural and structural metals
3. Petroleum and coal products
It's also interesting to note that in many areas, location seems to have some impact on the manufacturing of that area as well. This is certainly true of Texas, which is well-known for their oil fields. It's also interesting to see the way that many states seem to cluster in terms of their top products, with large sections of the midwest reporting cement and concrete products as their top produced item.
It's also important to note that while both Texas and California rank high in terms of how much value they generate, both Ohio and Pennsylvania rank nearly as high. This is relevant because while both Texas and California are high-population states, Ohio and Pennsylvania are not. So, while it could be said that the higher production values for California and Texas are simply because there is a bigger populace to translate into more jobs, the same does not apply to Ohio or Pennsylvania, or to any other states.
The top 10 states in terms of value produced are Texas, California, Ohio, Pennsylvania, Illinois, North Carolina, Florida, Michigan, Indiana, and Wisconsin. While Ohio, Pennsylvania, Illinois, Indiana, Michigan, and Wisconsin are considered part of the industrial belt and would therefore be expected to have higher production values, North Carolina and Florida do not fit this model.
| State | Total Value Produced |
| --- | --- |
| 1. Texas | $7,871M |
| 2. California | $6,862M |
| 3. Ohio | $5,149M |
| 4. Pennsylvania | $4,419M |
| 5. Illinois | $3,845M |
For those states on the other end of the spectrum, however, such Alaska, Hawaii, and Washington DC, other factors come into play. For example, while DC has a high population density per capita, it has the lowest output for production. However, the focus of this area is not on production, as the city was formed solely to be a neutral area for the centralization of the US government. While the city has taken on a new role since the 1970s, it is still overseen by congress, which limits its other functions.
Alaska and Hawaii on the other hand have lower production as well as lower population density. Their separation from the contiguous 48 states could be the reason behind their lower production as well, since culture, location, and distance could lower their economic impact or their ability to divert natural resources.
It could be, therefore, that material production can be governed by many different external factors that can be traced to each state's or area's history, which can in turn dictate its role in the economy.
Construction Means Jobs
While many people will focus on the ways that the construction industry will generate job growth in an area, it's equally important to note that an underlying factor of job growth is the value each state produces. The construction industry also impacts the economy on various other levels, such as production. With more than $88 billion dollars generated in the production of construction materials in the US, the construction industry may play a much bigger role in the US economy than many people may have realized.
Keep up to date with these and other important industry publications to make sure you stay informed as to the nature of the construction industry, and its role in the future of the country.