Every home built across America represents jobs, trade, and economic growth, and the total impact of residential construction on the U.S. economy is profound. For every home built or remodeled, jobs are created, profits are made, and taxes are paid.
We looked at the impact of residential construction on the U.S economy, using data from the National Association of Homebuilders. The image below illustrates some of our findings. The economic impact of a new single family home equaled $327,681, and $188,962 of that goes into wages and salaries, the equivalent to 2.9 full-time jobs. That means for every single family home being built, the unemployment count goes down by almost three.
In 2019, 862,084 single family home building permits were issued in the United States. This represents a possible economic impact of $282,488,457,204, or the equivalent two and a half million jobs.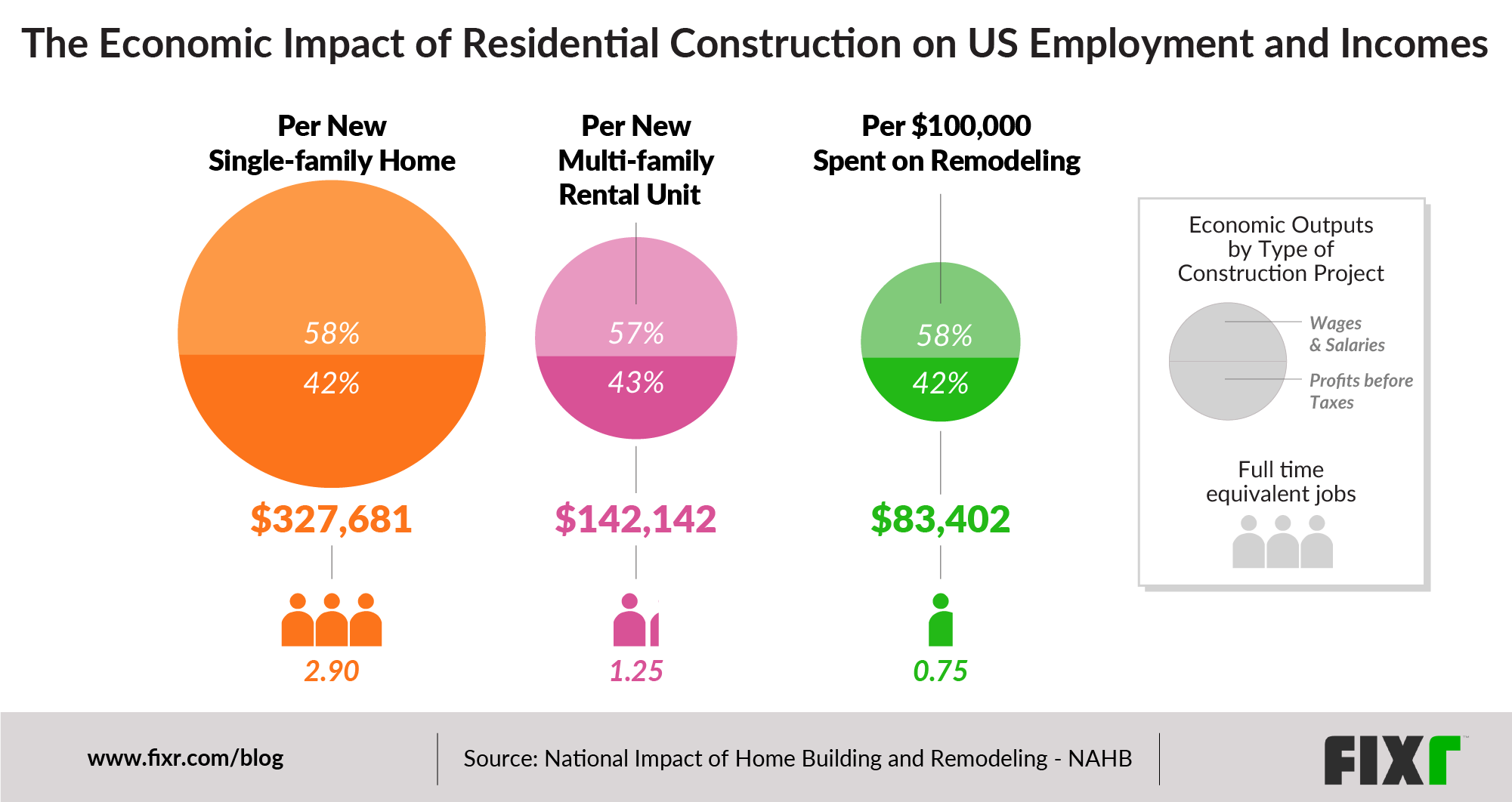 For construction of each rental unit (a single rental unit in a multi-family building), the economic impact is $142,141, or the equivalent of 1.25 new jobs. And for every $100,000 spent on remodeling, the equivalent of 0.75 new jobs are created.
These figures reflect not only wages and salaries paid directly to construction workers or remodelers, but a wider, more general picture of the jobs created both on and offsite. The manufacture of construction materials is responsible for part of this new job creation, as is the trucking industry: every board, nail, and roofing tile has to be transported in from somewhere.
The image below provides a more detailed understanding of the employment impact by industry.  This data is based on estimates from the NAHB, and uses additional data from the U.S. Bureau of Economic Analysis. As might be expected, construction is responsible for the lion's share of wages and salaries: for single family homes 1.71  jobs out of 2.90, or 59%. The manufacturing industry comes second, and for every single-family house built, the economy sees the equivalent of 0.36 new jobs added.  Retail & transportation, the financial sector, and real estate and professional admin services all show job impact as well.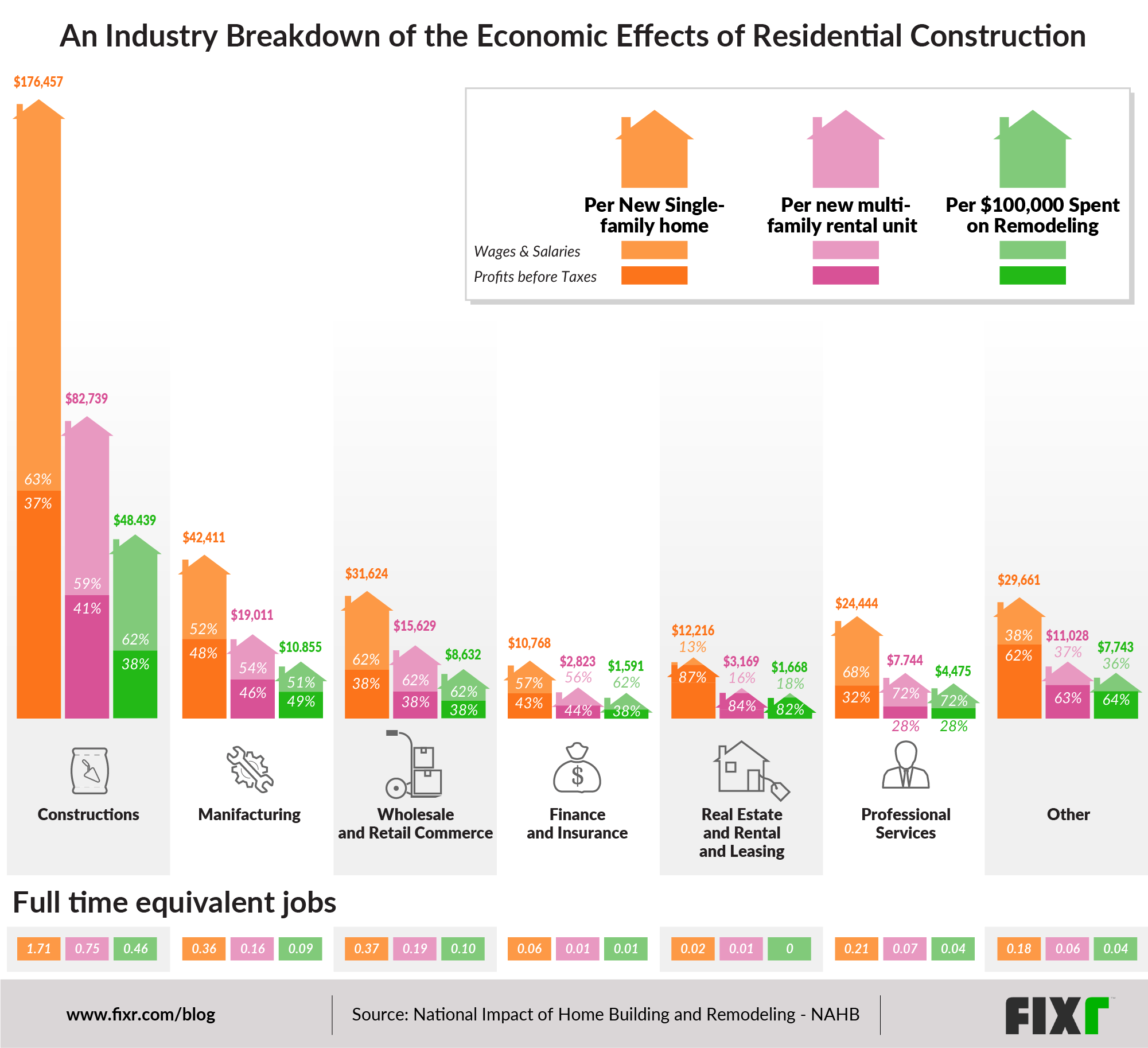 The image also illustrates the distribution of wages vs. profits over different building types and in various industries. Construction work on single-family homes sees the biggest percentage of impact represented by wages, while in real estate and rental leasing the great majority of economic impact is represented by profits. Much of this difference may be caused by the fact that real estate professionals are self-employed or contract workers, and work income is often represented as profits rather than a set wage.
While the U.S. economy went through a general slowdown during the spring of 2020 due to COVID-19, single family home construction was less affected than other industries. In fact, some states showed a positive growth rate in the construction industry. As families spend more time at home, it may be that spacious, comfortable indoor spaces become more of a priority, and more families look at remodeling or moving from cramped apartment spaces to single family homes with outdoor living spaces.
In light of this, residential construction could represent a significant economic stabilizing force during COVID-19 and the period immediately after. As America gets back to work after the pandemic, the jobs created by home construction and remodeling will continue to have an economic impact not only in the construction location but across the country.