As the US approaches the one-year anniversary of the initial government-mandated lockdowns meant to suppress the spread of COVID-19, it is clear that nearly every industry has been affected to some degree. Some industries fared well, even profiting, from COVID-19 mandated restrictions and the subsequent fallout.  For example, as restaurants closed their doors, the supermarket industry remained open, filling the gap where others couldn't.
It seemed to many that being deemed "essential" was one way that an industry might be able to endure the pandemic unscathed; however, the residential construction industry tells a different story.
Although many states categorized residential construction as  "essential" when lockdowns began, the industry still felt the brute force of COVID-19 with initial slumps in permits, new starts, and project completions between January and April 2020.  The industry, however, proved itself resilient, gaining mostly consistent upticks in those same areas from April onwards. This recovery was critical not only to homebuilders, but to the economy as a whole.  
According to a study by Leading Builders of America, construction spending is a powerful source of economic activity and can be a major force in the acceleration of the US economic recovery.  Residential construction is so interdependent with other industries (e.g. professional & businesses services, financial activities, retail, & transportation) that the economic benefits are wide-reaching.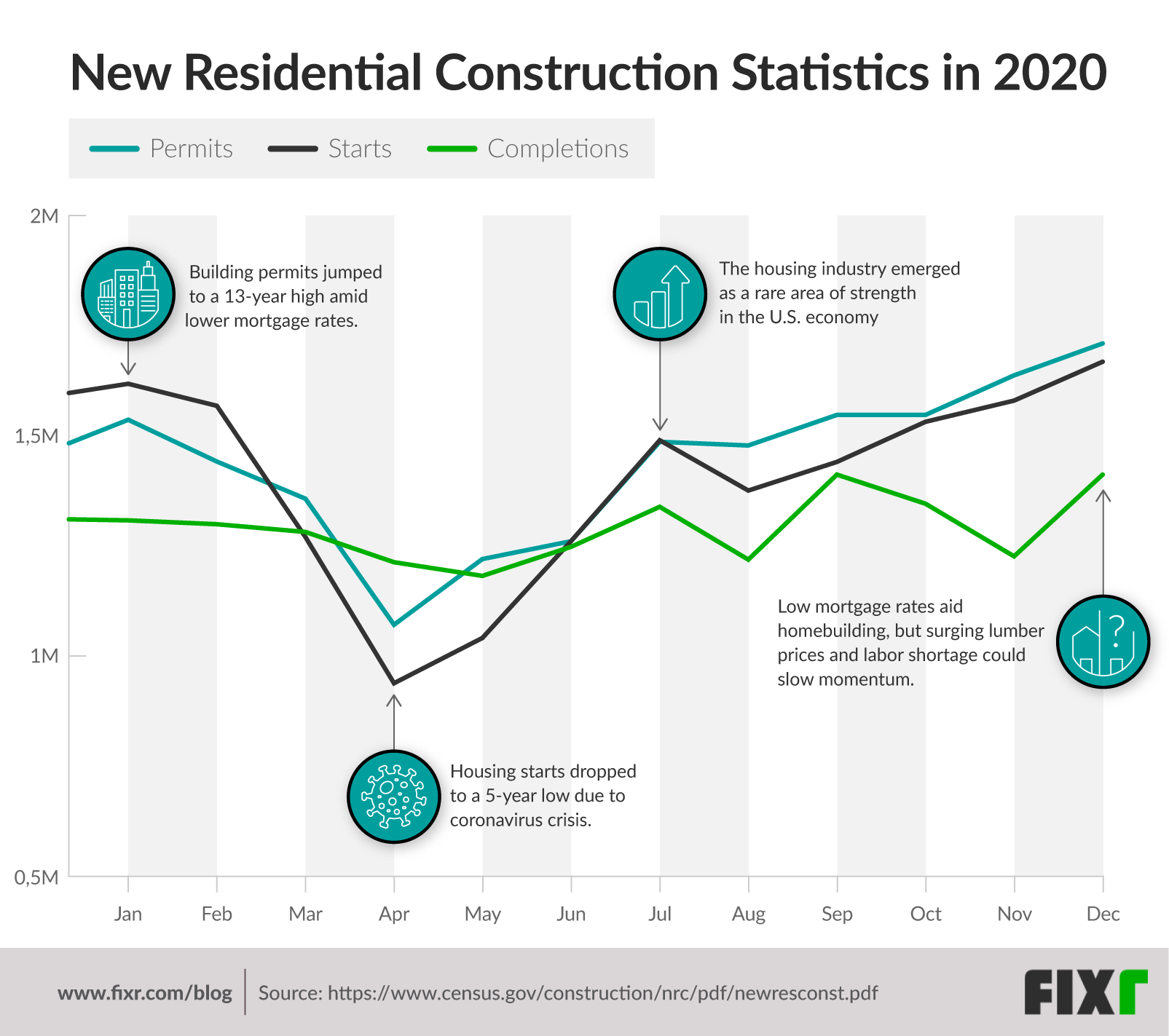 The infographic pictured above depicts the residential construction business as it went from its 13-year high to a 5-year low in just a few months' time and then reversed course to climb back up again during the tumultuous year that 2020 proved to be. The data used for this graphic was released by the U.S. Census Bureau and the U.S. Department of Housing and Urban Development as new residential construction statistics for 2020.
January - March 2020:  US Housing Market Records Growth as COVID-19 Begins to Spread
Supported by the lowest mortgage rates in more than three years, coupled with the longest economic expansion on record, residential home permits surged to a near 13-year high of 1.5 million units in January 2020.  
Although the US was aware of COVID-19, the virus was still a bit of a mystery for the first half of January and was restricted mostly to Wuhan, China.  By the end of January 2020, COVID-19 had been identified in 18 countries outside of China and the WHO declared the virus a Public Health Emergency of International Concern (PHEIC).
By February, infections had been officially documented within the US, and pessimistic economic forecasts began to emerge. On February 24, 202o, analysts issued warnings that COVID-19 outbreaks could affect global economies and stocks fell enough to wipe out all of the index's gains for 2020.
As indicated by the graphic, there is a slight drop off in February as it relates to permits, starts, and completions. This is likely caused by the sharp sell-off on the stock market caused by COVID-19 which resulted in wiping out considerable equity for households.  
The downward track continues straight through March, and as the first quarter of 2020 closed out, there were more than 184,000 infections in the US  and government mandated lockdowns and school closures are in full effect from coast to coast.
April - June 2020: Homebuilding Takes a Major Hit
Despite maintaining the coveted "essential" designation, the residential construction industry continued to slow in April. Compared to January levels, newly issued permits plummeted 30.6% (from 1.536 to 1.066 million units), new construction starts fell 42.2% (from 1.617 million to 934 thousand units), and completions were down by  7.1% (from 1.305 to 1.212 million units).
Slowdowns were blamed on COVID-19  induced disruptions to building material supply chains and workforce shortages due to symptomatic employees, the need for employees to care for family members, or increased absenteeism due to concerns of becoming infected.
April boasts two undesirable stats:  Homebuilding drops to a five-year low and COVID-19 cases officially exceed the one million mark.
July 2020: US Residential Construction Solidifies Gains Despite Pandemic
Between April and July 2020, there was sustained and consistent growth in all areas:  permits (39.1%), starts (59.2%) , and completions (10.4%).  This growth was far more than expected and was a positive sign the housing sector was emerging as one of the few areas of strength in an economy suffering a record slowdown because of the Covid-19 pandemic.
Although COVID-19 infections were still on the rise, reaching 4.4 million in July, many of the March lockdowns were lifted and economies slowly reopened.  The residential construction industry was able to pivot successfully and adapt quickly to implement various continuity strategies.  This placed them in a good position to survive the pandemic even as future "second wave" lockdowns would arrive in the fourth quarter of 2020.
December 2020: Continued Labor and Supply Chain Shortages Threaten Growth
By December 2020, 13.2 million COVID-19 cases had been documented in the US. That number would eventually grow to nearly 20 million by the end of the year.
The constant uptick of cases, which became inflated after the Thanksgiving and winter holidays celebrated throughout the US, did not hold the residential construction industry back.  Between July and December, growth continued.  Although it did not meet the same pace as seen in July, gains were still felt in each area:  permits (15.2%), starts (12.2%), and completions (5.9%)
Recap & The Future
The overall impact of the COVID-19 pandemic may not ever be fully known; however, by examining the data as it relates to residential construction, we have learned that albeit an initial downturn from a 13-year high to a 5-year low  (caused by pandemic concerns, government lockdowns, and supply & labor shortages), the industry is a resilient one which was able to bounce back to levels higher than pre-pandemic levels (permits +17.3 Dec YoY, starts +5.17% Dec YoY, & completions +8% Dec YoY).
The exodus from the suburbs to the city trends once highlighted by news outlets  have been reversed as COVID-19 forced people out of their offices and back to their homes. Today, as companies allow employees to work from home, schools shift to online classes, and renters are seeking more outdoor space, the exodus is now occurring in the opposite direction, from city centers to suburbs and other low-density areas, fueling a continued need for new housing.
There is still, however, room for concern. CNBC reported in January that even though the housing market remains a star performer in the US economy, the pandemic has created significant shortages that are felt from labor to material to new lots on which to build. These shortages mean higher costs which are passed on through the new home's price.  
Being that more than 90% of new homes are constructed from wood and lumber prices surged 52.2% on a year-on-year basis in December, it may not be enough that mortgage rates remain at historical lows.
In the end, though, although momentum of permits, starts, and completions may slow due to the above factors, demand for new homes may not necessarily follow suit. Builders say there are plenty of factors pointing to a strong market in the future: population growth; household formation; historically low interest rates; and continuing growth of the 55 and older buyer.