World Pest Day is observed annually on June 6th to raise awareness and appreciation for the global pest control industry and the important work they do in preserving our quality of life. They are a vital part of everyone's collective public health needs.
To continue to spread the importance of World Pest Day, we gathered and analyzed the most recent U.S. Census Bureau's American Housing Survey data related to household pests. The results are in the infographic below, illustrating the percentage of in-home roach sightings (red numbers) and rodent sightings (yellow numbers) across the top 15 most populous U.S. metropolitan areas.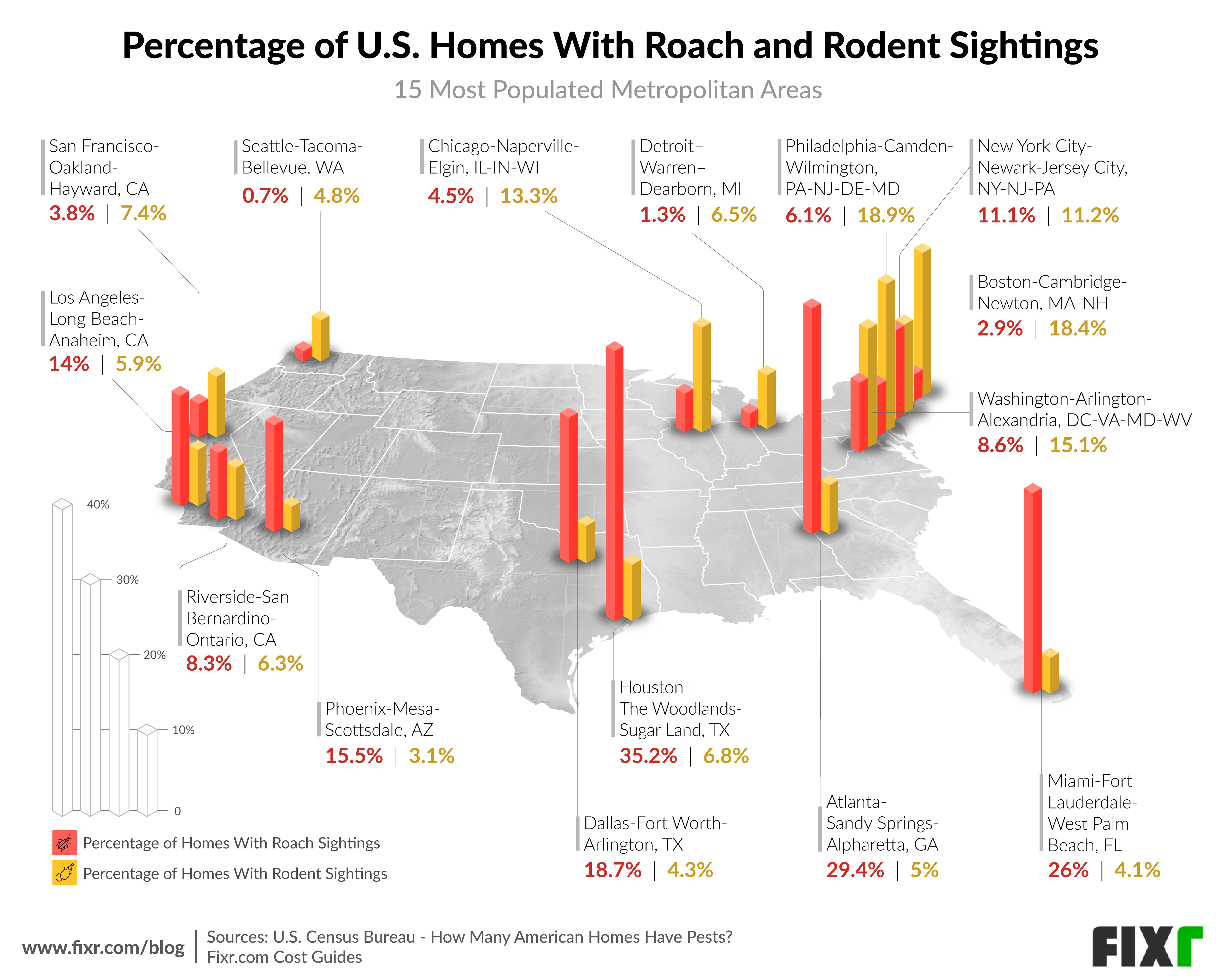 Areas With the Highest and Lowest Frequency of Roach and Rodent Sightings
Roaches Sightings in the U.S.
The lowest percentage of roach sightings is in the Seattle-Tacoma-Bellevue area with 0.7%. At the other end of the scale, the highest percentage of homes with sightings of roaches is the Houston-TheWoodlands-Sugar Land area with 35.2%. The New York City-Newark-Jersey City area has an 11.1% sightings rate, which is close to the 11.3% national average of roach sightings. In general, there tends to be more roach sightings in Southern metropolitan areas than in Northern areas.
Rodents Sightings in the U.S
Homeowners living in the Phoenix-Mesa-Scottsdale region are the least likely to see rodents in their homes, having the lowest percentage of sightings of 3.1%. In comparison, the highest number of sightings, with a rate of 18.9%, is in the Philadelphia-Camden-Wilmington area. Once again, the New York City-Newark-Jersey City area comes close to the 11.9% national average with a rate of 11.2% rodent sightings. The three areas with the highest percentage of rodent sightings are all in Northeastern areas of the country. Along with Philadelphia-Camden-Wilmington, there are Boston-Cambridge-Newton with 18.4% and Washington-Arlington-Alexandria with 15.1%.
| Metro Area | % of Roach Sightings | % of Rodent Sightings |
| --- | --- | --- |
| Houston-The Woodlands-Sugar Land, TX | 35.2 | 18.9 |
| Atlanta-Sandy Springs-Alpharetta, GA | 29.4 | 18.4 |
| Miami-Fort Lauderdale-West Palm Beach, FL | 26 | 15.1 |
| Dallas-Fort Worth-Arlington, TX | 18.7 | 13.3 |
| Phoenix-Mesa-Scottsdale, AZ | 15.5 | 11.2 |
| Los Angeles-Long Beach-Anaheim, CA | 14 | 7.4 |
| New York City-Newark-Jersey City, NY-NJ-PA | 11.1 | 6.8 |
| Washington-Arlington-Alexandria, DC-VA-MD-WV | 8.6 | 6.5 |
| Riverside-San Bernardino-Ontario, CA | 8.3 | 6.3 |
| Philadelphia-Camden-Wilmington, PA-NJ-DE-MD | 6.1 | 5.9 |
| Chicago-Naperville-Elgin, IL-IN-WI | 4.5 | 5 |
| San Francisco-Oakland-Hayward, CA | 3.8 | 4.8 |
| Boston-Cambridge-Newton, MA-NH | 2.9 | 4.3 |
| Detroit–Warren–Dearborn, MI | 1.3 | 4.1 |
| Seattle-Tacoma-Bellevue, WA | 0.7 | 3.1 |
Cockroaches and Rodents Extermination Costs
Rodent Control
Rodents are not usually physically spotted until the infestation has become severe. It is important to be on the lookout for signs like rodent droppings, chew marks, nesting material, or stale smells coming from hidden areas to identify an infestation in its early stages. If you notice any of these or have an actual rodent sighting, tackling the issue quickly is important. Because rodents are quick to reproduce, small problems can turn large in no time.
Rats
Hiring a pest professional to exterminate rats while the infestation is still small generally costs $150 to $400. A larger infestation generally costs $500 to $800. In some cases, the rodents may have gone undetected for some time because they adapted to hiding in places like the basement or under floorboards. Infestations like these can become severe before the signs are noticed and can cost up to $1,200 to resolve. A few other aspects affect the cost to exterminate rats, such as where the infestation is, the method used to trap them, and the frequency of the checkup service.
Mice
The cost to exterminate mice also varies depending on determining factors. The average cost is similar to that of rat extermination at around $450 to $600. A smaller infestation caught early costs between $250 and $500. A more severe case costs over $1,000. The property type and size and the method used cause fluctuations in these price ranges.
Roach Extermination
Similar to rodents, roaches leave telltale signs that they are living in your home. Droppings, musty odors, egg cases, and shed skins are indications that the nocturnal insect has taken up residence. Should you be unlucky enough to come across a live cockroach (or even a dead one!), expect more to follow.
Roach extermination costs vary depending on the size of the infestation and the home. In general, expect costs to range from $150 to $450. For homes with a severe infestation or large apartment buildings, tenting may be required, which costs between $1,200 and $7,500, depending on the building location and size. Homeowners should check with contractors to see which method will be used because each has a different cost. In some cases, the best roach prevention is to use more than one method to decrease the chances of infestations returning.
Pest Prevention Methods for Your Home
Pest control professionals are a necessary part of mitigating and eliminating pest problems. However, prevention is key to stopping some of these issues before they start.
Rodents and roaches access the home through cracks and holes in exterior walls, foundations, and around doors and windows. Pest prevention methods, such as sealing doors and windows, cost an average of $350 to $2,000, and fixing foundation cracks averages $500 to $4,000. Sealing foods (human and pet) is one of the best ways to ensure any pests that access your home are not made to feel welcome. If you are unsure where to start, focus on the kitchen. Keep countertops crumb-free, remove the garbage daily, and ensure any leaky faucets are tightened so that they do not offer water to unwanted guests.
Final Thoughts
Pests are destructive, spreading disease, creating unsanitary conditions, and destroying food sources. While World Pest Day is only celebrated once a year, it is important to prevent and control pests the entire year. Being aware of the pests that are most likely to infest homes, based on geographic location, and knowing prevention tactics to keep pests out to begin with help limit the need for costly exterminating and mitigate the efforts resulting from an infestation.