Build-to-rent (BTR) communities or built-for-rent (BFR) homes is an area of home construction that's popularity has remained steady over recent years with a small share of the market, but has the potential for imminent growth. Amid rising house prices and shortages, more and more homeowners are considering these purposefully built-to-rent single-family homes as an alternative option to buying as the outlook is a favorable one for this sector.
We surveyed esteemed experts in the home construction industry to find out key insights into what constitutes a build-to-rent home, and what they believe the industry can expect going forward.
Who Is Driving the Demand for BTR Communities?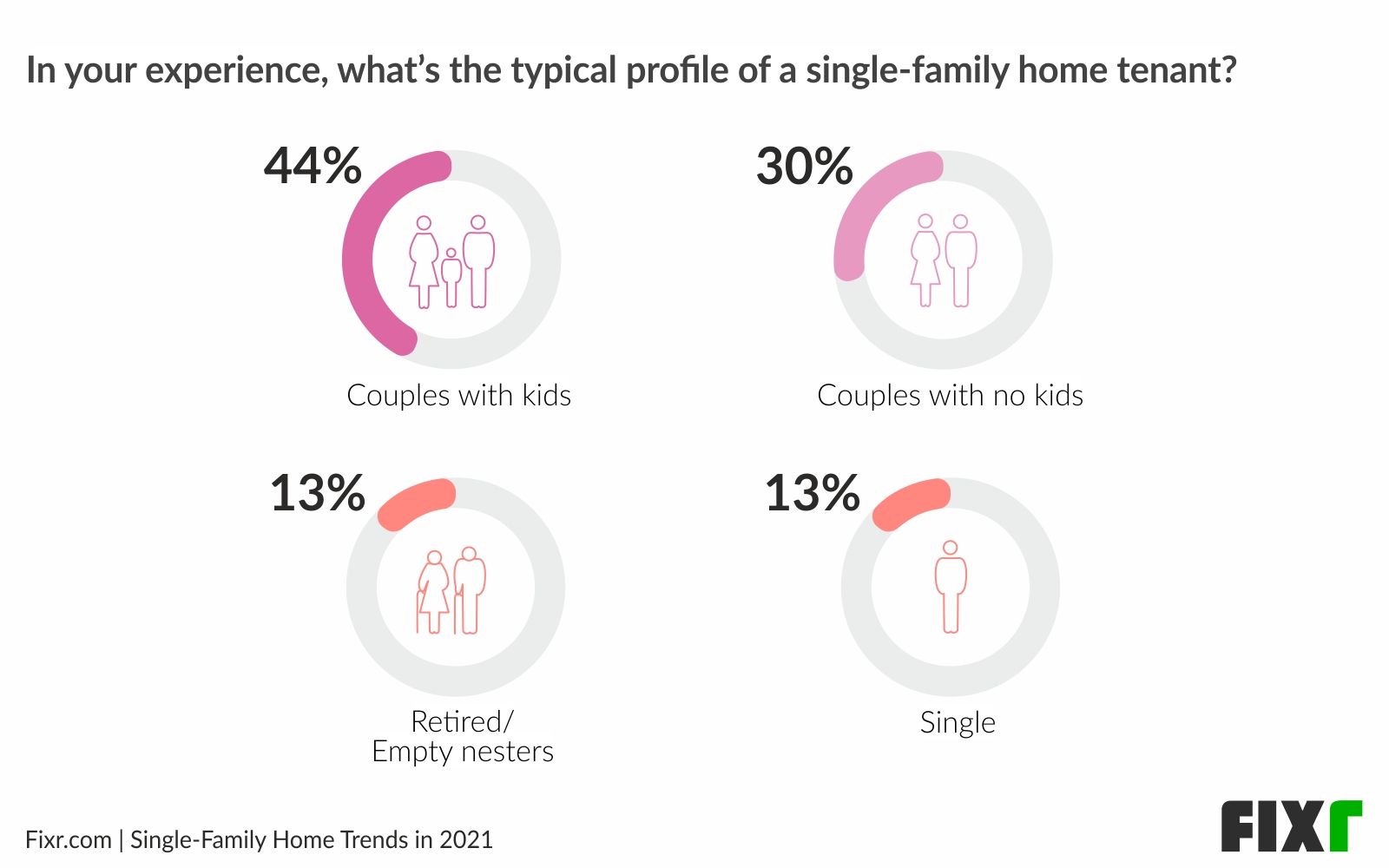 When considering which household demographics are most likely to opt to live in a build-to-rent home, 44% of respondents believe that it is a couple with kids. This makes sense when considering that one of the main appeals of this type of construction is the extra space gained compared to that of a condo or multi-unit property, for example.  

Another noteworthy percentage margin of 30% of experts feel that a couple without kids are likely to choose BTR communities. With many people now finding themselves working from home, the extra space could also be beneficial to them.

Build-to-rent communities give homeowners the chance to get the space they need for their family even if they lack the budget to buy such a spacious home. Recently we've seen an increase in the amount of people unable to afford to get on the property ladder with around 60% of Americans lacking the funds for a national median priced home, making renting a more viable option. Brad Hunter, President of Hunter Housing Economics, agrees, "There are two groups who gravitate toward BTR: those who cannot afford a home, whether because of the higher monthly cost or the lack of funds for a downpayment, and those who are renters by choice."
What Can You Expect From a Typical Build-to-Rent Home?
There are some differences between the features and size you are likely to see in a single-family home built-for-sale and one which is built-for-rent, for both the interior and exterior. However, as demand increases, the differences are decreasing. As Brent Landry, SVP of Development for American Homes 4 Rent, points out, "Built-for-sale communities come in all sizes, finish levels and price points. You will see the same breadth of choice emerge in rental communities."
Lumber Prices Could Affect Renters
Firstly, and one that may hinder the growth of demand in the sector for a time, is that they are almost all wood-framed. Like most homes in the U.S. BTR houses are mainly constructed using lumber. This is worth noting due to the recent record-breaking cost of lumber, possibly affecting the cost of these homes to construct, which could end up causing a knock-on effect resulting in higher prices to rent.
Open Floor Plan Is the General Layout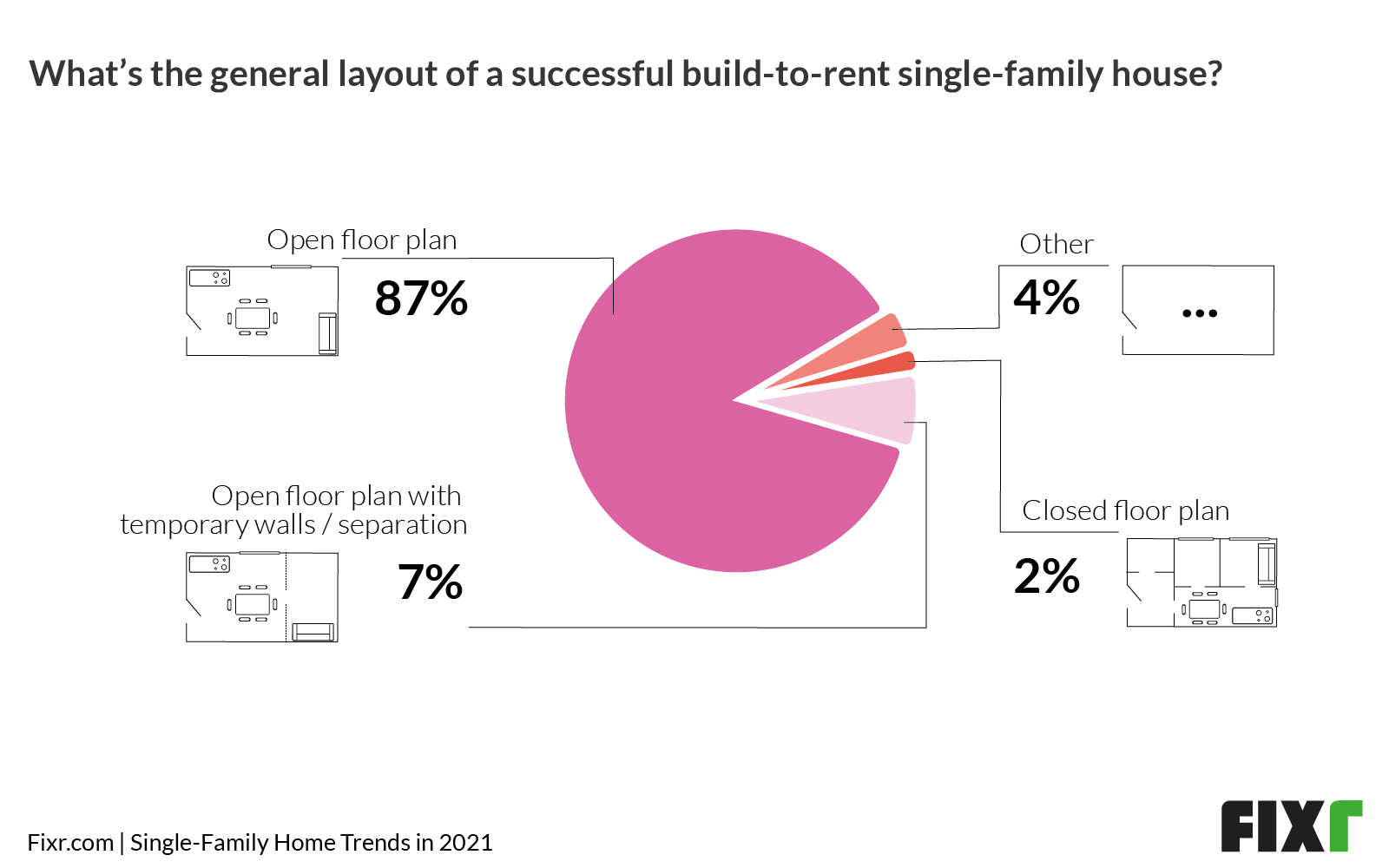 A massive 87% of experts feel that build-to-rent houses will have an open-plan layout. Open-floor plans have been the preferred choice for almost any type of home in recent years. Along with its on-trend popularity, this floor plan allows more options for furniture placement and room organization for tenants who are restricted when it comes to making changes to the home. Open-plan layouts also cater for the illusion of more space, which is welcomed in BTR housing as they tend to be smaller structures, on smaller lots.
Vinyl Siding Is a Popular Choice
You are more likely to see vinyl siding as the chosen material on a build-to-rent home. With BTR houses around the size of 1,500 sq.ft., the cost of vinyl siding averages at between $3,500 to $21,100 for a single story house. Compared to wood, vinyl siding has much lower maintenance, beneficial to companies and landlords renting out the properties.
Outdoor Features and Amenities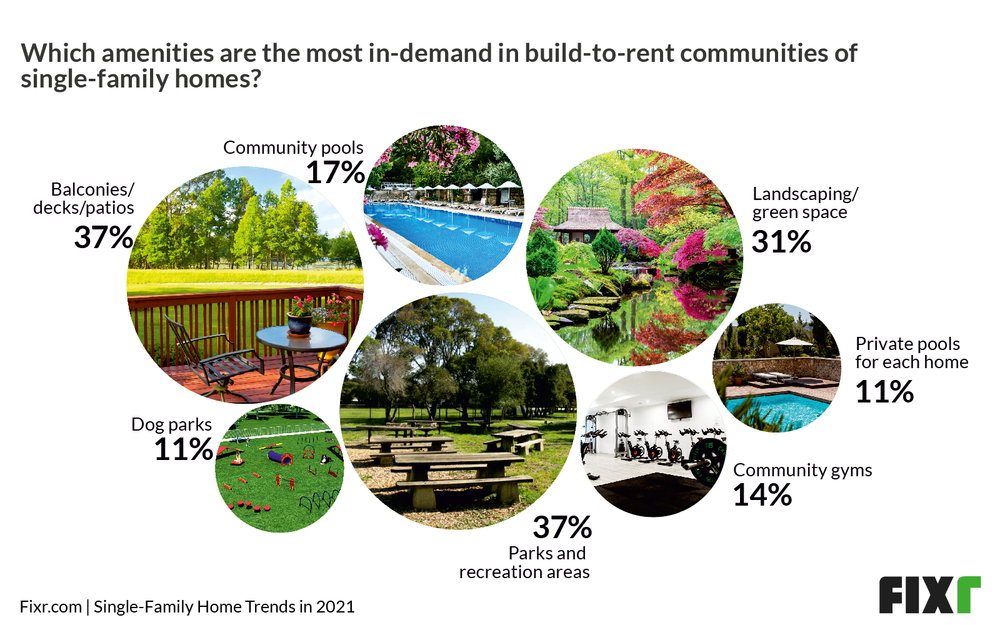 When professionals were asked which amenities are most in demand for build-to-rent communities, a majority of 37% answer that balconies, decks, and patios are what tenants want. Considering events over the past year it is no wonder that there is a desire for people to want an outside space to enjoy and spend time.
Another outside feature that 35% of experts believe are most wanted in a build-to-rent property is landscaping and green spaces. These spaces can be private or communal, depending on the type of BTR community, and tend to cost in the region of 10% of the overall value of a newly constructed property.
How Has the Pandemic Affected BTR Construction?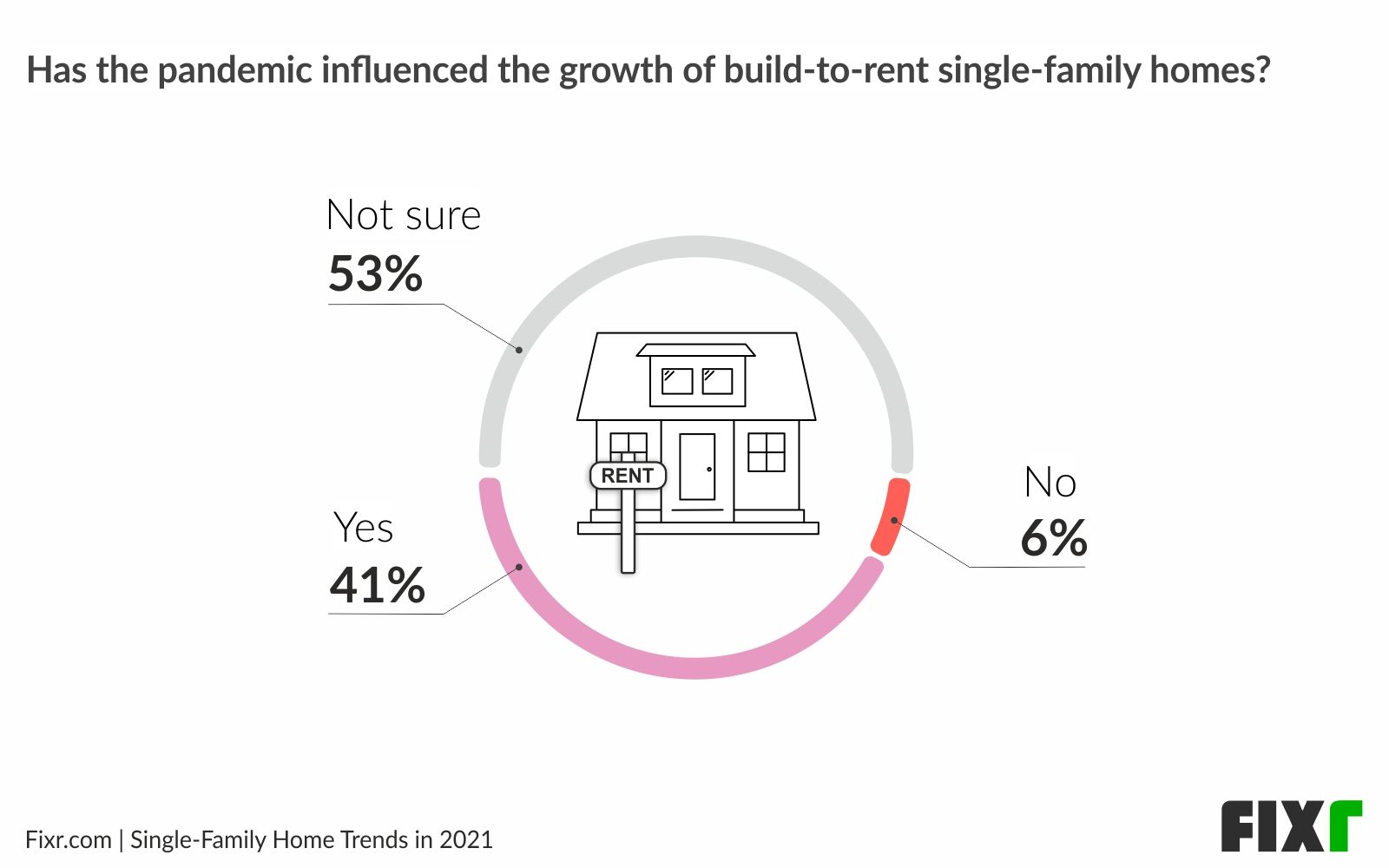 The construction industry as a whole has had to overcome challenges over the past year, in part due to the fallout of the pandemic. What's more is the ongoing shortage of affordable housing and lack of labor, as Landry points out, "there is an overall shortage of quality housing choices in America right now – both for sale and for rent."
Despite this, in the third quarter of 2020 there was a 27% year on year increase in single-family build-to-rent starts. This highlights the necessity and demand, which in part can be down to the pandemic's influence. When commenting on the pandemic's influence on BTR housing, Hunter says, "It has taken a trend that was already expanding and put it into turbo mode. That's because a lot of people who used to rent apartments are now craving more space, more windows, and more fresh air." The pandemic seems to have affected people, making them assess their living conditions. As Landry puts it, "The pandemic really forced people to evaluate how satisfied they were with their current housing situation."

There was, however, a decline of 22% in the first quarter of 2021. Due to the amount of varying factors during these unprecedented times, such as lumber and housing prices, we are yet to see clearly the full extent of whether or not the pandemic has had a significant impact. Reflecting this, 53% of experts surveyed are unsure of the pandemic's influence. However, we are likely to see demand continue to grow as the cost of buying a house becomes increasingly out of reach for many.
What Is the Outlook for Build-to-Rent Homes?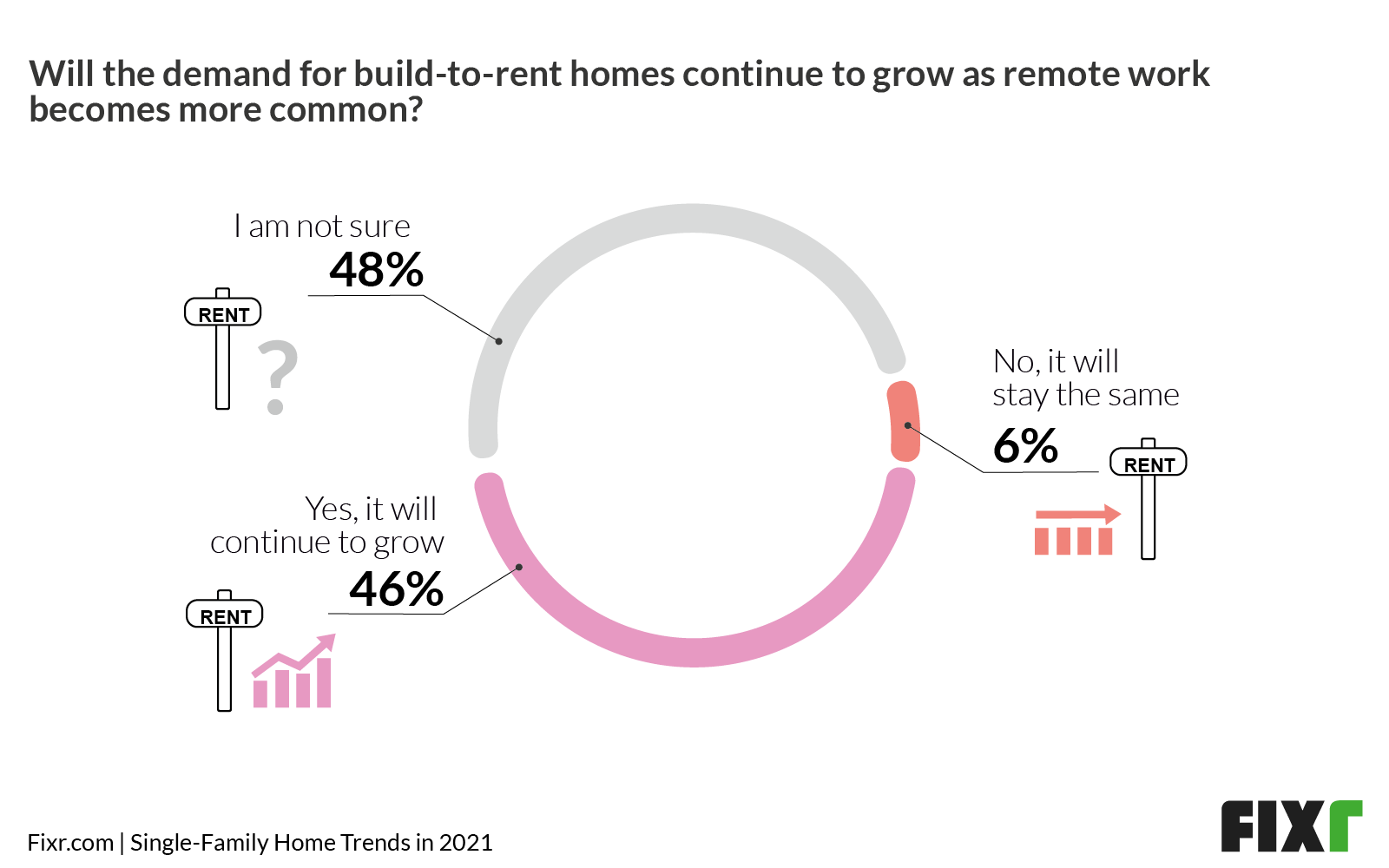 Whether you are looking to buy or rent a single-family home, it is worth considering all the available options to decide which is most beneficial to you and your family. Many people are in need of more space as we see people continue remote working. Such homes are a good option for people who move away from the city thanks to remote work but are not ready to buy or build a house. Therefore the demand for such homes is likely to keep growing.
46% of experts surveyed agree with this sentiment, and according to Hunter, "There were 64,000 BTR homes built last year, and it could rise to 80,000 this year, if developers can find enough land. They are chasing the demand, which is already well over 100,000 a year." Construction companies need to be aware of the changes in demands of people moving forward, and as we see house prices continue to go up, we may in turn see a growth in the sector of build-to-rent communities.
Staying Ahead of the Trend
Investing in build-to-rent communities may be worthwhile for companies in the near future. So it's useful to know what people want and what experts believe will attract people to rent these properties. As the homebuilding industry continues to evolve, people looking to buy also have to adapt to the limitations they have. Build-to-rent could be the alternative that many look to going forward.