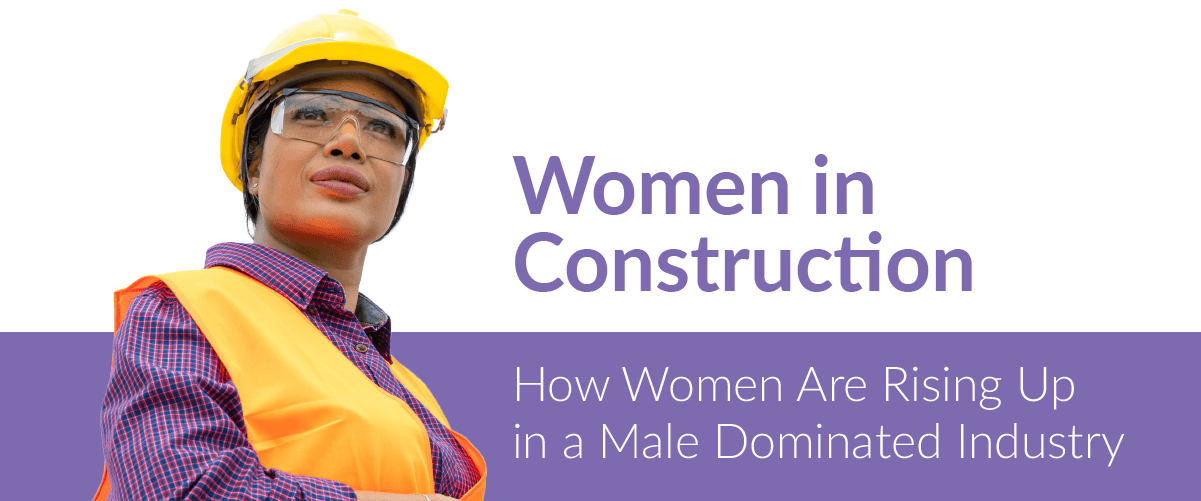 Today, there are approximately 1.2 million women employed in the US construction industry. This is more than ever before. Despite the industry still being male dominated, women are trail blazing their way to various roles including in management and as company owners.
Currently, women account for only 11% of the construction industry overall (compared to the total US workforce share of women of 47%), which may present itself as a barrier to women looking to enter the industry; however, this need not be the case! We interviewed women who work in construction to get an insight to the current state of the industry. They share their thoughts, opinions, and experiences on the matter, and give advice for future generations interested in joining the industry.
We have also compiled data from the US Bureau of Labor Statistics to highlight how women are breaking down barriers in the industry, growing their numbers, and taking on more leadership roles.
Women in Construction - 2022 Statistics
The number of women entering the construction industry has seen significant growth in the past decade and although women are still underrepresented in leadership roles, they are making significant progress in growing those numbers.
One notable step in the right direction is the small gender pay gap. The BLS reports that across all industries, women earn 81.5% of what men do. In construction; however, women's earnings as a percentage of men's is 94.3%. This is the lowest gender pay gap across industries measured in the US, according to the BLS.
In the sections below we have created graphics that share the most recent data about the situation of women in construction.
The Number of Women in Construction Has Increased Over 50% in a Decade
Over the past ten years (2012-2021), there has been continuous upward growth in the number of women employed in the construction industry. In total, the numbers have increased 54.7% from 802,000 women in 2012 to 1,241,000 women in 2021. Jocelyn Knoll, Partner at Dorsey & Whitney LLP, says, "There are more women who have a seat at the table and on site. This is a good time for women to enter the construction industry, whether as a tradesperson, construction manager, team member, architect, engineer, executive, consultant or professional."
Joan Barton, General Contractor at Dirty Girl Construction, comments on how she has noticed the rise in the amount of women working in construction by saying, "I have noticed an increase in the number of women who contact me about working in construction, which is a direct result of women being publicly recognized on numerous outlets. This has also translated into a general awareness about the need for earlier education and opportunity, as well as a specific outreach by some companies to train and hire more women."
Despite the strides the industry has made in recruiting more women, more could be done. Ruth Black at RTR Design Build agrees, stating, "I wish I saw more [women]. I rarely see a woman sub. When I do, it's usually someone's assistant that I try very hard to mentor and encourage. We need more women."
Sales & Office Roles Are Most Common for Women
The above visualization details the distribution of women in the construction industry based on the type of role they hold. The majority of women are employed in sales or as an office worker (38.6%); however, this is almost the same amount as those holding management and professional level jobs (37%). In comparison, very few women are involved in roles related to production, transportation & material moving (1.2%) or service roles (1.2%).
Barton suggests separating the issues of gender and job roles entirely, explaining, "We need to stop gender-defining the industry or crippling underrepresented demographics by combining gender+job title as a descriptor because it sideshows a person. That, in and of itself, further creates a perceived obstacle, or edge up, to success." She continues to draw on her perception of this matter, saying "It never occurred to me that I couldn't be a General Contractor because I'm a woman any more than it would occur to me that I could become a nurse because I am a woman. So, simply put, I am a General Contractor. I am a woman. These are two distinctly different things about me that should remain in separate sentences."
Men Outnumber Women in 4 out of 5 Occupational Areas
There are huge differences in the percentage of men and women working in different areas of the construction industry. As we can see in the graphic above, production, transportation and material moving along with natural resources, construction and maintenance are dominated by men with only 3.3% and 3.7% of women participating in those roles within the industry, respectively.
Women's representation increases a bit in the management and professional roles (17.1%) and the service roles (24.6%), but it is still quite low. In sales and office roles, women make up the vast majority at 71.3%.
Women's Insights: Challenges & Progress
The sections below feature responses from women we interviewed who work in the construction industry in order to get their insights on the current situation. They share their thoughts and opinions about the biggest challenges for women and how to overcome them, what has changed in the recent years, and their advice for future generations wanting to join the industry.
What Challenges Do Women Still Face and How Can We Overcome Them?
When asked about the obstacles women face in the industry, Knoll claims that the biggest challenges are acceptance and inclusion.
The biggest challenges for women in the construction industry are acceptance and inclusion. More women must attain senior leadership positions to overcome the outdated biases directed towards women leaders. Jocelyn Knoll, Partner at Dorsey & Whitney LLP
Debra L. Hilmerson, President/CEO of Hilmerson Safety® agrees and points out the "lack of challenging roles and opportunities for growth" as another big challenge: "Very few women hold executive roles in construction. [We] need to offer positions to qualified candidates."
Most of the women we interviewed agree that many women don't think of construction as an option and therefore networking and career fair events are key to making them aware.
Women need to get reached out to more to let them know they're needed in the construction field. Talking to them at career fairs, using photos of women in promotional content, etc. Crystal Felch, Field Engineer at Greiner Construction
Angela Cacace, owner of A.Marie Design+Build agrees: "A greater focus on how to make programs more welcoming and available for women to acquire the skills they need to find their place in this industry that needs them." Hilmerson adds that a way to achieve this is with "More education and trade classes in the school system and encourage young girls to participate".
Hilmerson also mentions that the majority of women are not aware of the various options that the construction industry offers: "Don't just think construction is about getting dirty and sweaty. There are several options available, such as a construction laborer or craftsperson in the field [...] to project managers, superintendents, draftsperson, engineers, architects, and project support personnel."
What Advances Have Been Made in Recent Years?
Although there are still challenges to overcome, women have also seen advances and improvements in recent years. As Hilmerson points out: "Years ago, women mainly held administrative support positions such as typing, filing and answering phones. However, in the past 10 years, I've seen more and more women holding leadership positions in the field (boots on the ground) and executive positions within large construction firms. While this is great to see, we still have a long way to go!"
Cacace highlights a change in apparel: "There's a long way to go but there are at least some options in apparel now. Our job is physical so attire needs to work with us, not against us. Things that men take for granted from steel toe boots to durable work pants to proper PPE are all items that women need and there has been a lot of progress from companies in recent years."

Black mentions the increased awareness as the biggest change. "I will say, the biggest difference - I feel safer. I think 'Me Too' brought about an incredible awareness. Even though I was the boss, I would still get bullied by (male) subs. There were a number of times where I was threatened and afraid. Certain guy subs didn't like it when I saw they were doing something wrong and questioned it. I think guys check themselves now. I'm grateful for that awareness. It's a good thing for everyone."
What Are the Advantages of Being Part of an Association?
Although the industry remains male dominated for the time being, there is a strong network of support available to those women interested in continuing to break barriers. Organizations like The National Association of Women in Construction (NAWIC) and Professional Women in Construction (PWC) offer support, leadership and networking opportunities as well as scholarship and mentorship programs.
Felch notes the advantages of being part of an association herself; "I'm part of AWC (Association of Women Contractors) and it's amazing to hear from women who own their own construction companies and the challenges/successes they've had." Others, like Women Construction Owners & Executives USA (WCOE) maintain a strong presence on Capitol Hill to help shape policy for women-owned and women-led companies in the industry.
Building the Future for Women in Construction
With construction preparing for another strong year while simultaneously experiencing a continued worker shortage, women are well positioned to become an integral part of an industry that offers multiple career pathways, enjoys a very low gender pay gap compared to other industries, and has a well-established network for the advancement of women in the industry. Knoll adds that, "There are plenty of opportunities for smart, driven, people-oriented women in the construction industry."
Jump in with both feet! Be ready to work hard. Have an open mind and an eagerness to learn. There will be challenges but learn to navigate around them safely. Debra L. Hilmerson, President/CEO of Hilmerson Safety
Felch champions women to take a leading role, saying, "Take the reins. It's easy to feel out of place at first being in a field dominated by men, especially if you've had no previous experience. Speak your mind and if you have an idea, implement it."
About the Author:
Adam Graham is an industry analyst at Fixr.com. He analyzes and writes about the real estate and home construction industries, covering a range of associated topics. He has been featured in Better Homes and Gardens and The Boston Globe, and written for the National Association of Realtors, and Insurance News Net Magazine.