In 2021, the construction industry breathed a huge sigh of relief as the pandemic eased. Reduced public health measures allowed busier construction sites again, with site meetings and the daily flow of contractors more like they were pre-pandemic. Construction firms began to work through backlogs as confidence returned. However, rising inflation through 2021 had a significant impact on the cost of building materials, and there has been an increasing shortage of labor throughout the industry.

The overall increase in building permits for new residential construction is a, broadly speaking, positive indication that more people now have the confidence and the means to start the process to build a home, but this progress varies significantly across the country. In this article, we explore which states are really picking up, using the latest US Census data to show you how many building permits were authorized in each state in 2021. We'll discuss what this suggests about the industry moving forward, what it means for homebuilders and investors, and what we might expect to see through 2022 based on the permit data and trends.
Total Building Permits by State in 2021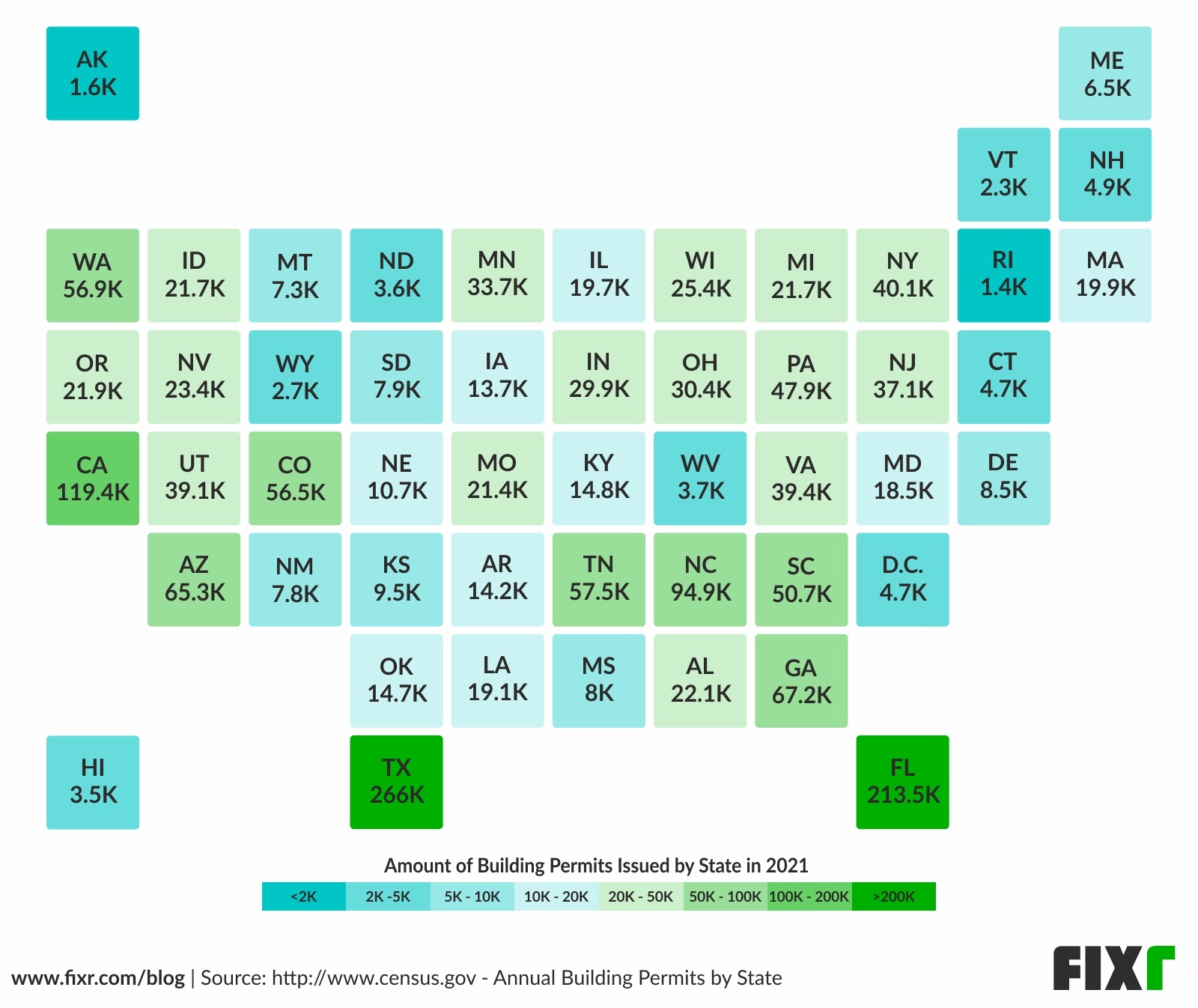 Top 10 States With Most Residential Building Permits in 2021
| | |
| --- | --- |
| State | Total Building Permits |
| 1. Texas | 265,955 |
| 2. Florida | 213,494 |
| 3. California | 119,436 |
| 4. North Carolina | 94,874 |
| 5. Georgia | 67,223 |
| 6. Arizona | 65,334 |
| 7. Tennessee | 57,484 |
| 8. Washington | 56,941 |
| 9. Colorado | 56,524 |
| 10. South Carolina | 50,680 |
Based on data from the US Census Bureau's Building Permits Survey 2021, the top ten states all authorized in excess of 50,000 building permits in 2021, whereas in 2020 only the top six did. The same ten states made up the top ten in 2020 also, and almost in the same order with only Georgia and Arizona swapping places, and Colorado and South Carolina also.

Consistent with previous years, Texas issued by far the most building permits of any state (265,955), followed by Florida (213,494), California (119,436), North Carolina (94,874), Georgia (67,223), Arizona (65,334), Tennessee (57,484), Washington (56,941), Colorado (56,524) and South Carolina (50,680).
15 states authorized between 20,000 and 50,000 building permits. These are Pennsylvania (47,894), New York (40,135), Virginia (39,388), Utah (39,058), New Jersey (37,094), Minnesota (33,652), Ohio (30,418), Indiana (29,860), Wisconsin (25,444), Nevada (23,406), Alabama (22,100), Oregon (21,916), Idaho (21,732), Michigan (21,732 also) and Missouri (21,372).
16 further states authorized more than 5,000 permits: Massachusetts (19,853), Illinois (19,658), Louisiana (19,147), Maryland (18,496), Kentucky (14,841), Oklahoma (14,733), Arkansas (14,198), Iowa (13,686), Nebraska (10,723), Kansas (9,538), Delaware (8,500), Mississippi (7,988), South Dakota (7,917), New Mexico (7,753), Montana (7,272) and Maine (6,530).
The 10 remaining states all authorized less than 5,000 permits each: New Hampshire (4,892), District of Columbia (4,740), Connecticut (4,651), West Virginia (3,692), North Dakota (3,600), Hawaii (3,459), Wyoming (2,706), Vermont (2,319), Alaska (1,552) and Rhode Island (1,392).
Building Permits Per Capita by State in 2021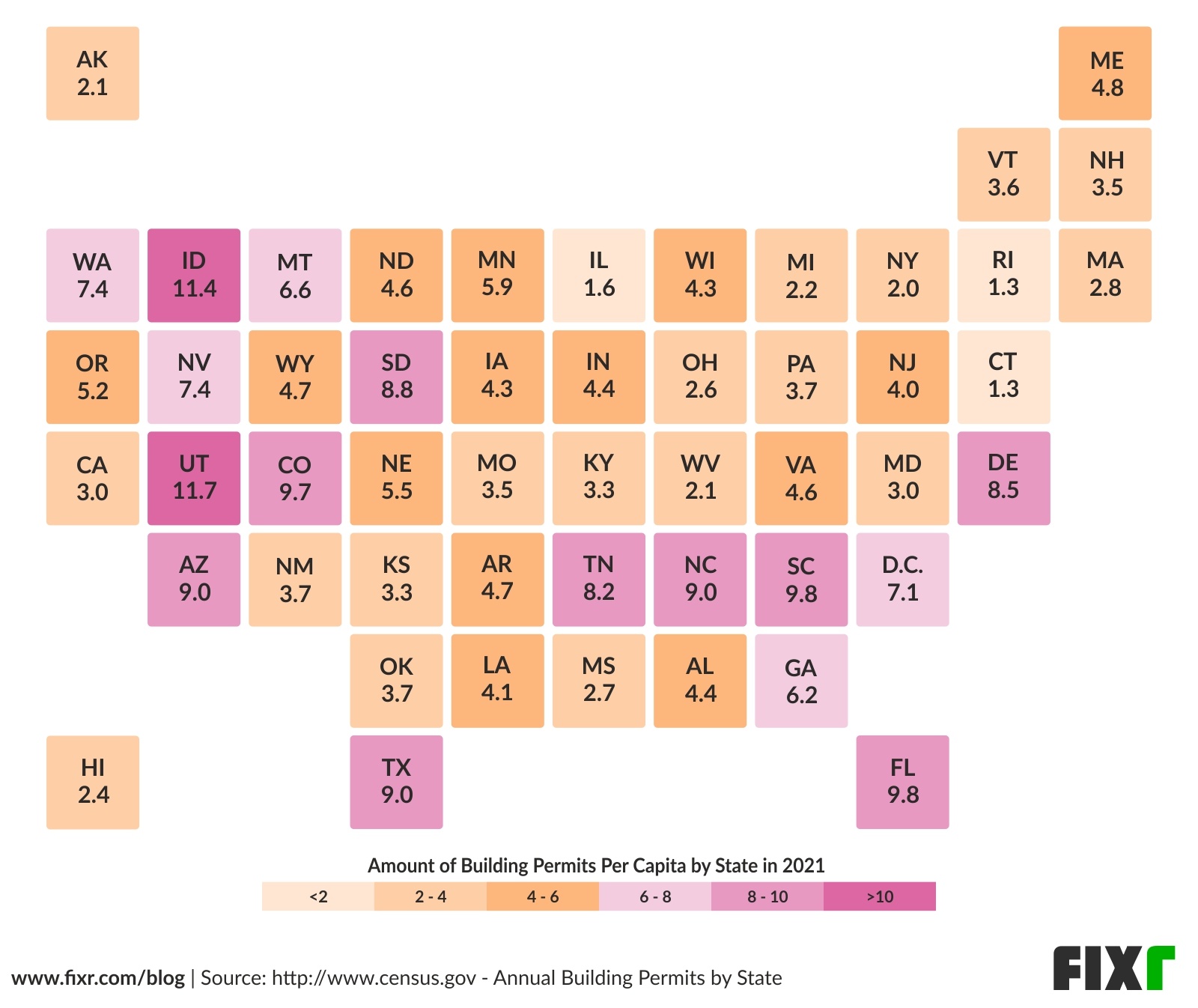 Top 10 States With Most Residential Building Permits Per Capita in 2021
| | |
| --- | --- |
| State | Amount of Building Permits Per Capita (1,000 Residents) |
| 1. Utah | 11.7 |
| 2. Idaho | 11.4 |
| 3. Florida | 9.8 |
| 4. South Carolina | 9.8 |
| 5. Colorado | 9.7 |
| 6. Texas | 9 |
| 7. North Carolina | 9 |
| 8. Arizona | 9 |
| 9. South Dakota | 8.8 |
| 10. Delaware | 8.5 |
The first graphic gave an indication of the total market in each state, while this graphic takes into account the population size also. It tells us how many building permits have been authorized per 1,000 people, which can be considered an indicator of the state economy and other social factors that affect homeowners and the construction industry.
The top ten states in this instance are significantly different, with Utah top (11.7 permits per 1000 people), closely followed by Idaho (11.4), Florida (9.8), South Carolina (9.8) and Colorado (9.7). Texas, North Carolina, and Arizona all had 9. South Dakota (8.8) and Delaware (8.5) round out the top 10.
What Does an Increase in Building Permits Mean?
In Pennsylvania, 86% more permits were authorized in 2021 than in 2020, and in New Mexico 50% more. About 30% more were authorized in Colorado, Kentucky, Florida, Washington and Wyoming. More construction permits have been authorized in 2021 than in 2020 in all but two states, which are Connecticut (down 14%) and District of Columbia (down 36%). These significant variations between states may reflect legislative, economic and social factors, such as planning law variations that encourage house construction, the stability of livelihoods in general, but also relating to the pandemic, and the current availability of housing, among other factors.
This general increase in permit authorizations tells us that more people have been investing and engaging with house construction through 2021, despite rising inflation and volatile project costs. The construction industry is central to the economy in general, as it permeates all aspects of society in terms of supply chains and construction pricing and delivery, and provides employment for a significant proportion of the population. Therefore, building permits can be considered a good economic indicator for the national and global economies.
What to Expect Moving Forward
Through the first half of 2022 inflation has been a hot topic nationally, particularly with Russia's invasion of Ukraine and the resulting shockwaves in global fuel prices. Uncertainty in global commodities markets and mortgage rates have risen in response to this. Construction backlogs are ongoing whilst construction firms continue to ramp up capacity post-pandemic, and there has been a rise in house completions month on month. Steel Orbis, report a downturn in building permits compared to 2021 alongside the rise in completions. This may be a fluctuation following the disruption of the pandemic, or it may represent a reduced financial capacity for customers to push the home-building projects forward.
Analysts are watching closely in the second half of 2022 as the market adjusts toward life post-pandemic and through the Russian crisis and other geopolitical dynamics. We will see whether rising inflation can grind down house construction or whether demand will be sufficient to drive the industry forward.
Author
Adam Graham is an industry analyst at Fixr.com. He analyzes and writes about the real estate and home construction industries, covering a range of associated topics. He has been featured in publications such as Better Homes and Gardens and The Boston Globe, and written for various outlets including the National Association of Realtors, and Insurance News Net Magazine.