While the front door is just a small part of your home's exterior design, it plays a very big role in how that design is perceived. The front door is often the focal point in a home's exterior. It's where the eye is drawn by guests and strangers alike. It can boost a home's curb appeal, and create a more welcoming atmosphere. Front door colors need to blend in with the overall look and style of the home, as well as complement the siding and exterior. And because it's so easy to change, it's one area that is easy to keep on trend.
To determine what the latest trends are in front doors for 2023, we reached out to experts in the home design industry for their thoughts and predictions. Below are the top trends for front doors to look for in 2023 for the freshest exterior home design.
1. Black
Black was the number one most popular color for front doors last year, and it's trending high again this year as well. Black front doors have a timeless appeal that work with many different color schemes. A black door will shine against a white a home, add depth to a sage green exterior, or make a blue exterior pop. This color will also work well with many shades of gray, barn red, and even some yellows. Because of this versatility, it's easy to fit a black door into any design.
To really make your front door stand out, opt for a glossy paint. Matte black absorbs a lot of light, making the area appear flat, but glossy black can add depth and dimension to the home.
2. Shades of Blue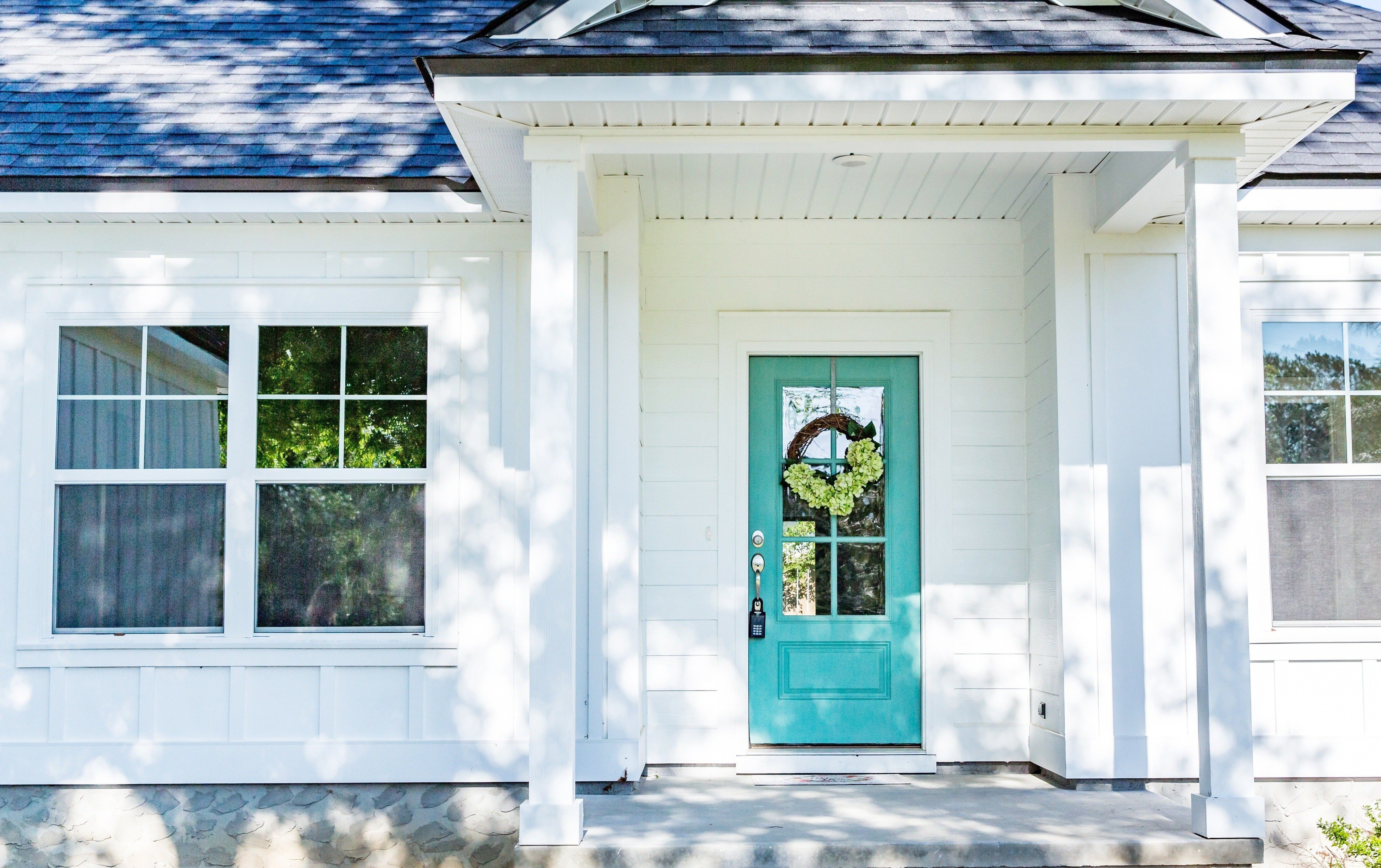 There are many shades of blue showing up this year for the front door. For the more daring, sky blue and a similar shade to Tiffany blue are emerging in more urban areas. For those that want something more classic, navy blue has been trending, as have some shades of Victorian blue - blue that has a little black mixed in to give it a somber feel.
If you're going light with your blue door, you can create a subtle design against a light exterior - beige, white, and cream will all work well. Or, go darker blue against these light exterior shades for a bolder look. Likewise, a light blue door will pop against a dark blue or green exterior, adding some contrast and drama to the design.
3. Sage Green
Another shade growing in popularity in 2023 is sage green. Sage green is a more muted shade of green with some yellow undertones. It's a calm and refreshing color that can work well with many exteriors including those that are cream, yellow, or blue in color.
Nishtha Sadana, Creative Director and Founder of NISH Online Interior Design, explains "The soothing and calm sage greens make an extra effort in making your home appear welcoming and inviting. Especially on the front door, they're bound to add an extra sense of freshness and serenity! Some notable colors to pick are Sherwin Williams Sea Salt or Rainwashed."
Shades of green including sage have been popular over the last few years for their ties to nature as well as their ability to go so well with a variety of different colors. This long standing popularity can help ensure that this front door color will have some staying power.
4. Gray
Another new shade for 2023 is gray, with tones ranging from deepest charcoal to light, dove grays. Gray in general has been a popular neutral for many years. It can work with many home colors including white, red, blue, green, and varying shades of gray. One of the nice things about this color is its ability to include some subtle undertones. Grays that have a hint of blue or purple in the undertone can help push them into deeper color ranges. For example, you could pair a deep blue/gray door with a pale gray siding to gain exceptional depth to the exterior without adding another color to the mix.
Gray can be warm or cool in tone as well, so you can easily contrast or blend with many different siding colors. This can help add some subtle elegance to the exterior without needing to make a bold statement.
5. Bold Colors
There are many bold hues that work well on front doors as well. Red has long been a classic front door color, working well on white and gray homes that are mixed with black trim. Added to red this year, you'll also find shades of yellow and orange. The key with using these bold colors is to opt for fully saturated hues - to get the best results, the trend needs to be fully embraced.
Bold hues work best against a more subdued siding color, so that the front door can be the focus of the design. A bold hue is sure to draw the eye, so make sure that there are no other competing elements nearby to fight with it.
Follow the Trends and Be the Envy of Neighbors
Whichever front door color option is chosen, remember to always consider the shade and type of existing siding that the home currently has. Both exterior shades should complement one another, whether the chosen style is something bold and eye-catching or something more subtle and elegant. Decide early on what that design will be, so that the colors can come together and add harmony. The front door is always a good place to try something new, because it's smaller and more easily updated, so if a fresh or bold color is what's called for, this can be a good place to give it a try.