Source: Owens Corning
Owens Corning is right up there with GAF and CertainTeed as one of the most popular asphalt shingle brands. Their wide selection of affordable, premium-grade, and specialty roofing shingles makes them worth a shout for just about any homeowner.
To see whether Owens Corning shingles are right for you, let's review their lineup of shingles, as well as their costs, pros, and cons.
On this page
Who is Owens Corning?
Formed in 1935 as a partnership between glass companies Owens-Illinois and Corning Glass Works (both of which are still big names today,) Owens Corning first hit the scene as a manufacturer of fiberglass products.
Image source: The Blade
Debatably more amusing than their origin story, Owens Corning is perhaps best known for their brand mascot of over 40 years – the Pink Panther. They partnered up with the renowned cartoon character to promote their trademark pink insulation.
Today, Owens Corning is one of the largest producers of insulation, roofing, and fiberglass composite materials in the world, reps the Fortune 500, and employs over 18,000 people in 33 countries.
How much do Owens Corning shingles cost?
For materials only, Owens Corning shingles cost between $90 and $120 per square (a square equals 100 square feet.)
Alongside materials, you may also need to have your old roof removed as well as replace components such as insulation, decking, and underlayment, all of which will add costs.
Complex roof shapes, steep pitches, and penetrations like skylights can make installation more difficult and increase pricing.
Owens Corning Roof Shingle Types
Supreme
Owens Corning Supreme shingles in Desert Tan. Image source: Owens Corning
On a tight budget? At an average cost of $85 per square, you can spend relatively little on a new roof with Owens Corning's Supreme shingles.
These 3-tab shingles come in eight colors across the United States with nine additional regional colors. When equipped with StreakGuard, or copper-lined granules, Supreme shingles can prevent unsightly algae growth on your roof.
Owens Corning rates Supreme shingles to withstand 60 mph winds, which should suffice in milder climates. Although Owens Corning provides a sizable 25-year limited warranty, they will not last as long as their costlier laminate counterparts.
Oakridge
Owens Corning Oakridge shingles in Shasta White, an Energy Star-rated shingle. Image source: Owens Corning
Oakridge – Owens Corning's entry-level architectural shingle – delivers better durability and arguably more curb appeal than Supreme shingles for only $98 per square.
Broadening their appeal in harsher environments, Oakridge shingles come with a "lifetime" limited warranty that lasts as long as you own your home and a standard 110 mph wind-resistance rating. That wind rating increases to 130 mph when combined with Owens Corning starter shingles and the use of six nails per shingle instead of the standard four.
Aesthetically speaking, Oakridge shingles feature 14 color options and a multi-dimensional look characteristic of architectural shingles.
Duration
Owens Corning TruDefinition Duration shingle in Brownwood. Image source: Owens Corning
Owens Corning's flagship product, Duration shingles, offers the same architectural style as Oakridge but steps it up in both the performance and styling departments. Expect costs to fall around $135-$160 per square.
The Duration line comes with Owens Corning's patented SureNail Technology, which makes it easier for roofers to nail each shingle as well as reduces nail pull-through and overdriven nails. Despite this cutting-edge innovation, Duration shingles wind warranty coverage caps out at 130 mph – the same as Oakridge.
Duration shingles also introduce Owens Corning's "TruDefinition" color platform, which features multiple granule colors that, according to Owens Corning, "enhance your home and complement its natural surroundings".
Owens Corning Oakridge in Driftwood & Owens Corning Oakridge TruDefinition Duration in Driftwood.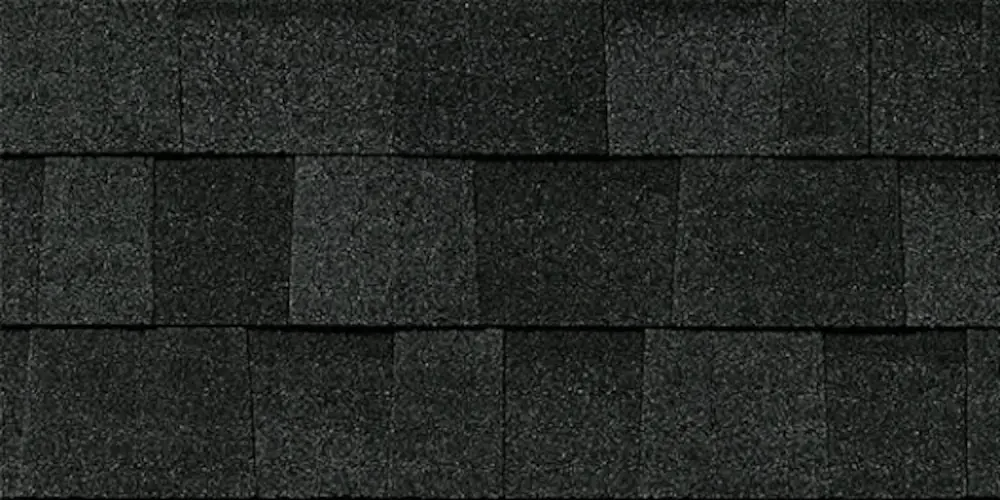 Owens Corning Oakridge in Onyx & Owens Corning Oakridge TruDefinition Duration in Onyx.
The disparity between Oakridge shingles and TruDefinition Duration shingles is rather stark for multi-colored options, like Driftwood. For more uniform colors, such as Onyx Black, we can hardly notice the TruDefinition difference, at least from the pictures.
Lastly, Owens Corning uses the Duration name for most of its specialty shingles. Some lines are only available in select areas and their prices vary from the core Duration shingle.
Berkshire
Owens Corning Berkshire shingles in Canterbury Black. Image source: Owens Corning
At around $275 per square, shingles don't get much costlier than Owens Corning's Berkshire line. They don't look much better than Berkshire, either. These premium shingles emulate the highly prized and substantially more expensive appearance of stone slate for a fraction of the cost. Beyond style, you also get 15 years on the algae-resistance warranty, when equipped with StreakGuard.
Owens Corning Shingles Summary
| | | |
| --- | --- | --- |
| Owens Corning Shingle Line | Cost | Why buy? |
| Supreme | $ | Cost-effective 3-tab shingle. |
| Oakridge | $$ | Entry-level architectural shingle. |
| Duration | $$$-$$$$ | More durable, richer-looking architectural shingle than Oakridge. Multiple sub-lines. |
| Berkshire | $$$$$ | Premium shingles resembling stone slate. |
Owens Corning Shingles Pros and Cons
Pros of Owens Corning Shingles
Wide Selection
Whether you seek to turn heads, protect your home, or simply keep costs as low as possible, there's likely a shingle among the Owens Corning selection that will catch your eye.
Even if you're not sold on Owens Corning, they offer a good place to start your search because of how many shingle profiles they offer. Once you find a product you like, you can cross-shop with other top brands like GAF and CertainTeed.
Comprehensive Roofing System
Image source: Owens Corning
Owens Corning offers the other essential roofing components you likely need alongside your new shingles like ice and water barriers, hip and ridge shingles, and underlayments through their Total Protection Roofing System.
Beyond the convenience of having your entire roof coming from one place, choosing three or more Owens Corning roofing components will automatically match their defect-warranties to those of your shingles.
For example, Owens Corning's VentSure® Sky Runner LTE™ Rolled Ridge Vent comes with a 20-year warranty against defects on its own. If you combine this product and one more with a limited lifetime warranty shingle, like the Duration series, all products will receive a limited lifetime warranty.
Certified Contractors
Image source: Home Run Improvement
Another way to bolster your warranty is to choose Owens Corning "Preferred" or "Platinum" contractors.
When installing four or more roofing system components using a Preferred contractor, Owens Corning offers a 10-year workmanship warranty. Choose a "Platinum" contractor, and Owens Corning bumps it up to a lifetime workmanship warranty, which they prorate after 25 years.
Asphalt shingle roofs mainly fail due to faulty installation. As it just so happens, Owens Corning's standard warranty does not cover workmanship.
Teaming up with an Owens Corning certified contractor and installing their roofing system offers a convenient way to insure yourself against poor workmanship. However, this combination is not necessarily the most economical course of action, which we will expand upon in the cons section.
Easy Installation
When equipped with SureNail Technology, Owens Corning shingles provide a highly visible nailing zone between each layer of shingles.
The patented white-fabric nail line provided by Owens Corning SureNail Technology. Image source: All Pro Remodeling Corp.
According to the company's own research, 9 out of 10 contractors agree that SureNail gives the most visible nail line.
An easily seen nail line helps accelerate installation and reduces the likelihood of stray nails that can lead to problems down the road. For those embarking on a DIY project, Owens Corning shingles with SureNail are a smart choice.
Potential Owens Corning Shingle Disadvantages
Warranty Frustration
Most complaints with Owens Corning stem from rejected warranty claims and transfers. Far from exclusive to Owens Corning, most asphalt shingle manufacturers will connect system failures to faulty workmanship and leave you to foot the bill for replacement materials and labor.
Although Owens Corning graciously offers a workmanship warranty, you must install multiple system components and hire a brand-certified contractor for eligibility, which might not be feasible for homeowners on a budget.
Our preferred means to avoid buying multiple roofing components and the chance of faulty installation is to find a reputable roofing contractor who has experience with Owens Corning products. Contractors who stand by their work may offer a workmanship warranty independent of the shingle brand you choose to foster your peace of mind and save you money.
Should You Buy Owens Corning Shingles?
Image source: Owens Corning
Looking at the pros, we highlight several sound cases to buy Owens Corning shingles. Owens Corning has plenty of options to choose from, offers other essential roofing products to complement your shingles, and provides a user-friendly installation platform with SureNail.
While the reports of warranty troubles might scare you, the reality is that this is just the way the cookie crumbles with most shingle companies. Even lifetime warranties won't cover poor installation – the main reason roofs fail.
In turn, your research should not stop once you pick a shingle company. We strongly encourage homeowners to vet contractors with a proven track record of quality installation and customer service to minimize the possibility of future roofing issues.
Fortunately, Fixr can help you do just that.