Over the last few years, wallpaper has made a big comeback, taking multiple trends by storm and showing up in homes of all styles. Today's wallpaper is easier to apply and care for than previous generations. It also comes in more colors, patterns, and styles than it has before, making it a fresh new way to add character, detail, and dimension to a space. As homeowners become more daring with their design choices, wallpaper has emerged as a fresh new way to liven up any space in the home. Costs vary depending on the material, size, and location. The national average cost range to hang wallpaper is $800 to $1,200.
As with many materials, wallpaper comes in so many styles that it can be hard to find the right ones for your space. Following what the popular trends are can be a good way to help narrow it down. To help uncover what those are, we've researched the topic thoroughly and have reached out to multiple experts in the home design industry for their thoughts as well. Below are the 10 hottest predicted trends in wallpaper for 2023.
1. Floral and Nature-Inspired
Nature-inspired wallpapers were fairly popular last year, but this year, the trend has shifted slightly to include more florals into the design. Nature-inspired patterns help to create varying atmospheres inside the home, whether that's somewhere exotic or someplace that brings a sense of familiarity and peace. As Stacy Lewis, Owner and Interior Designer at Eternity Modern explains, "Floral and nature-inspired patterns will continue to be popular as people seek to bring a sense of the outdoors inside their homes. This can be achieved with bold, graphic prints or more delicate, watercolor-style designs."
With so many different variations of this design, there's bound to be one that complements any room of the home. Look for more classic patterns for formal spaces like dining rooms and powder rooms, or go big, bold, and expressive for kitchens, family rooms, and entryways. Just be sure that if you choose a big floral print, the rest of the space remains more subtle in design to prevent the pattern from taking over.
2. Metallics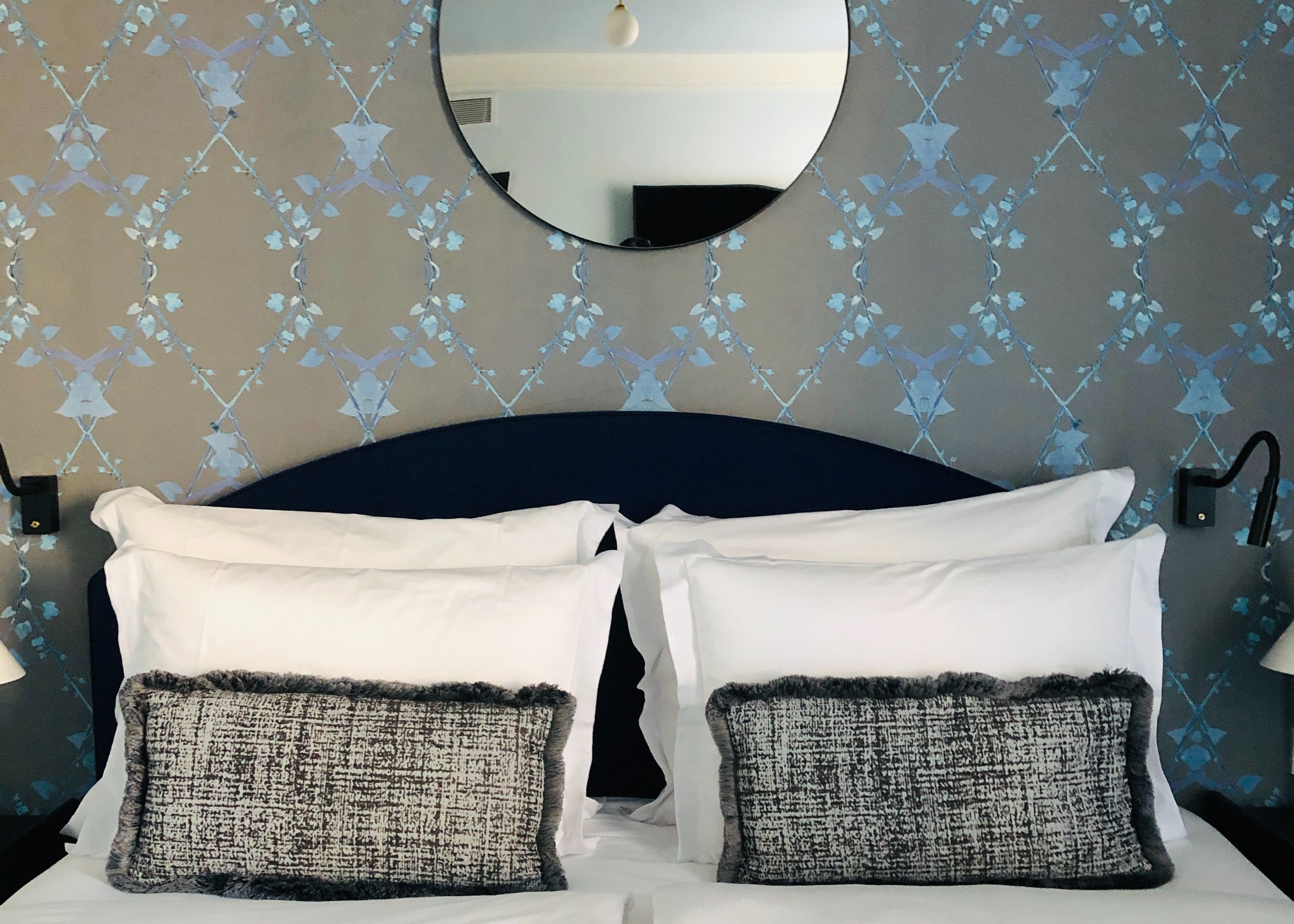 Metallic wallpapers are also becoming very big in 2023. Metallics have a modern look to them that can really capture and hold the eye. Some metallic prints use foil printing to capture some older, more traditional looks as well such as tin ceiling-inspired papers. These can bring a fresh, new look to an otherwise older and more sedate design. Choosing a more traditional pattern that uses metallic ink adds subtle depth and dimension to a room thanks to a soft shimmer. As Lewis explains, "Metallics are always chic, and we think they'll continue to be big in 2023. Incorporate them into your wallpaper design by using foil printing or metallic inks."
As with any pattern, make sure it works with the overall style of the space. Don't use a bold, modern print in a traditional setting; stick to adding just a hint of metallic sheen. Go big in more informal spaces that can handle a bold and eye-catching look.
3. Gradient Wallpaper
Gradient wallpaper is also trending this year. Gradients shade from light to dark over the wall, and can shift vertically or horizontally from any direction. The fun thing about gradients is that you can find them in solid colors that simply lighten and darken as they move, as well as in patterns that graduate in tone as well. Consider checks, pixels, or even geometric and floral designs that shift in color, hue, and density over the wall.
Fixr.com home design expert Sarabeth South has this to say about gradient wallpaper: "This can be a fantastic way to add subtle detail to a room. A pattern that shifts from light to dark is going to add a little sophistication and interest to a wall, without overwhelming the space or becoming the focus. This makes it a nice backdrop to any space in the home."
Consider gradient wallpapers on very large, otherwise plain walls. Tall ceilings or very long walls will let the gradients show themselves off to their best effect. Try not to use them in small spaces or on walls that may be covered with things as it may cause the design to get lost.
4. Wallpaper With Large Patterns / Maximist
Wallpaper with big, bold patterns has been gaining a lot of attention of late. These patterns are meant to be seen, and become the focus of any design. This is a new type of accent wall that will elevate the entire design to new heights. Large patterns can be playful and whimsical, perfect for family rooms, rec rooms, and children's spaces. They can also be bold and aggressive - something that might work well in an entryway or an otherwise bland dining room that needs something big to bring it to life.
According to Elizabeth Rees, founder of Chasing Paper, this trend is also not going anywhere for a while, "This has been a trend for the last year and we do not see any sign of slowing down! Prints with large scale and bright, bold colors are here to stay."
If there's a room that really needs a big, bold statement to make it complete, a large-pattern wallpaper may be the way to go.
 5. Tropical Prints
Going hand-in-hand with the nature-inspired wallpaper is a focus on tropical prints. While nature-inspired prints bring the outside in, these prints bring vacations home as well. Devin Shaffer, lead Interior Designer at Decorilla Online Interior Design has some insights into this popularity, "The pandemic started the ongoing peaked interest in bringing vacation-like looks into our homes. With the tropics ranking highest in travel destinations, it comes as no surprise that vibrant and exotic prints are popping up everywhere and in every type of room."
Tropical prints can be big and bold or more subtle, which allows homeowners a choice of how to introduce it into their homes. Among the growing trend of tropical-inspired wallpapers, Shaffer has also noticed that not only are the botanical prints taking off, it's animal-inspired prints as well. "What's exciting is the growing interest in playful wallpapers featuring animal life such as swans, monkeys, and leopards. It's easy to feel intimidated by these prints and I encourage clients to give it a try in smaller rooms of their homes- such as a powder room or reading nook."
Tropical prints can be playful, bold, or subtle depending on the print chosen. This makes them easy to blend into a variety of settings. For those nervous about incorporating this style into their homes, Shaffer has this to say, "From my experience it takes this initial push to inspire clients and after a few months of living with their tropical wallpaper, they're ready to see what other areas of their homes (where) this style can work."
6. Bold
Going hand in hand with the trend of large prints is a focus on bold colors. There are many wallpapers that feature bold colors in a variety of ways. This may include mixing bold colors into a tropical or large-patterned print, or choosing a gradient that moves from light to bold hues across the wall. As homeowners become more comfortable with the idea of going bolder in the home, bright colors are beginning to show up everywhere.
For those that want to start slow with incorporating these bright hues, consider using a pattern that features one or two bolder shades amidst a more sedate background. This can help capture some of the look without overwhelming the space.
7. Eco-Friendly
Another thing to look for this year in wallpaper trends is what the papers are made from. Many people are opting for wallpapers that are environmentally friendly and sustainably sourced. Many wallpapers on the market today are made from water-based inks or sustainable materials including hemp. This is a big leap forward from older wallpapers that gave off VOCs as they went up.
Shaffer explains some of the things her clients have been looking for, "We embraced peel and stick wallpaper from the get-go and clients were in awe, as it allowed them to make their homes more custom and personal. Another attraction to this type of wallpaper is that most options are made from organic materials such as jute, help, water-based inks- as opposed to toxic traditional wallpapers that contribute to indoor air quality problems."
Many of the most popular styles are available in eco-friendly papers, and more are coming to market every day. As Rees says, "More and more designers are coming to us and challenging us to find more environmentally-friendly solutions for customers and clients."
As this demand grows, so does the supply. This means that as wallpaper grows in popularity, so will the healthier and more eco-friendly options as well.
8. 3D
Textured wallpapers have always been around. But rather than the old, fragile flocked papers, today's prints are being made in new 3D prints and materials that can stand out on the wall. These surfaces are also far more durable and easier to care for than older wallpaper textures, meaning that they can be used in kitchens, powder rooms, and even stairways - all areas that previously needed a smooth and easy to clean surface on the walls.
What's more, textured surfaces are now available for many popular styles and prints, including tropical, floral, and other nature-inspired designs. Rees explains, "Textured surfaces have become more and more ubiquitous, and element designers are requesting papers that go beyond solid colors and have an architectural element."
Look for textured prints made of sustainable materials such as jupe or hemp as well, to get a rustic appearance and texture that can become a backdrop to any room of the home.
9. Ombre
Following close on the heels of the gradient trend is its cousin, ombre. Ombre is a specific type of gradient that blends more than one distinct color together. Rather than moving from lights to darks, ombre moves from one distinct color to another, blending the two of them in the center.
Like standard gradient wallpapers, they work well on large walls and open spaces where the full impact of the paper can be seen. They don't tend to overwhelm a space, but can make a beautiful statement on a large, otherwise bland or unoccupied wall. As Rees says, "Ombre prints can be tonal or mimic a sunrise or sunset; they are very impactful, but still soft enough for it to be easily incorporated into a space."
Consider an ombre wallpaper for a family room or bedroom. These papers are soft, warm, and welcoming, so they can really pull a person into the space.
10. Monochrome Wallpaper
For homeowners that love the idea of a bold or oversized print, or who are looking for ways to incorporate a tropical design without making it the focus of a room, a monochrome paper can be a great find. Monochrome wallpapers have many of the same popular patterns and textures that are showing up this year. But rather than featuring a bold color or bright hue, they tend to be fairly grayscale or in sepia shades instead.
South explains this benefit, "A monochrome wallpaper lets people bring a little pattern into a room, without making it the stand out feature. Monochrome patterns are soft and subtle, and can let color from other areas of the room pop against them. For anyone that loves the idea of a bold pattern, but is hesitant to commit to a color, a monochrome pattern can be beautiful."
Make sure when using a monochrome paper not to make the entire room too bland in color. Incorporate some color elsewhere with throw pillows or curtains to add some contrast and dimension to the room.
Get Big and Bold With Wallpaper
Wallpaper continues to grow in popularity from year to year. As Pamela O'Brien, Interior Designer and owner of Pamela Hope Designs explains, "We continue to see intense interest in wallpaper from our clients. A few years ago, a client would be willing to wallpaper a powder room and maybe a single wall in a bedroom. Now, they ask us how many rooms they can paper in their house."
This means that wallpaper will have some staying power over the next few years, making it a good trend to get in on now. Wallpaper of any kind is sure to help elevate the look and feel of any room, so get bold and try on one of these trends for size.