How much does it cost to install wallpaper?
Get free estimates from wallpaper specialists near you
Wallpaper Installation Cost Guide
To provide you with the most accurate and up-to-date cost figures, we gather information from a variety of pricing databases, licensed contractors, and industry experts.
Wallpaper is a common but underrated wall covering. It adds durability to walls and holds up well under wear and tear. Homeowners can choose from a seemingly infinite number of textures, colors, styles, and materials. It can make a wall or room pop and adds great dimension and depth.
It comes in many styles and materials. Costs vary depending on the material, size, and location. The national average cost range to hang wallpaper is $800 to $1,200. Most homeowners pay $1,000 for a 12' by 18' room with standard vinyl wallpaper installed. However, prices vary from $250 for an accent wall measuring 10' x 12' of non-woven wallpaper installed to $2,000 or more for textured or more expensive material in a 15 x 18 living room.
Average Cost of Wallpaper
Wallpaper Prices
National average cost
$1,000
Average range
$800-$1,200
Low-end
$250
High-end
$2,000
Wallpaper Installation Cost per Square Foot
The price per square foot for a vinyl-coated wallpaper installation is between $3.70 and $8.20, including labor and materials. It can often be purchased and installed by the square foot. This is very common because each room, wall, or area is different, so having the ability to custom purchase the right amount of material is crucial. A vinyl-coated model was used for this example because it is a mid-range option and a popular material.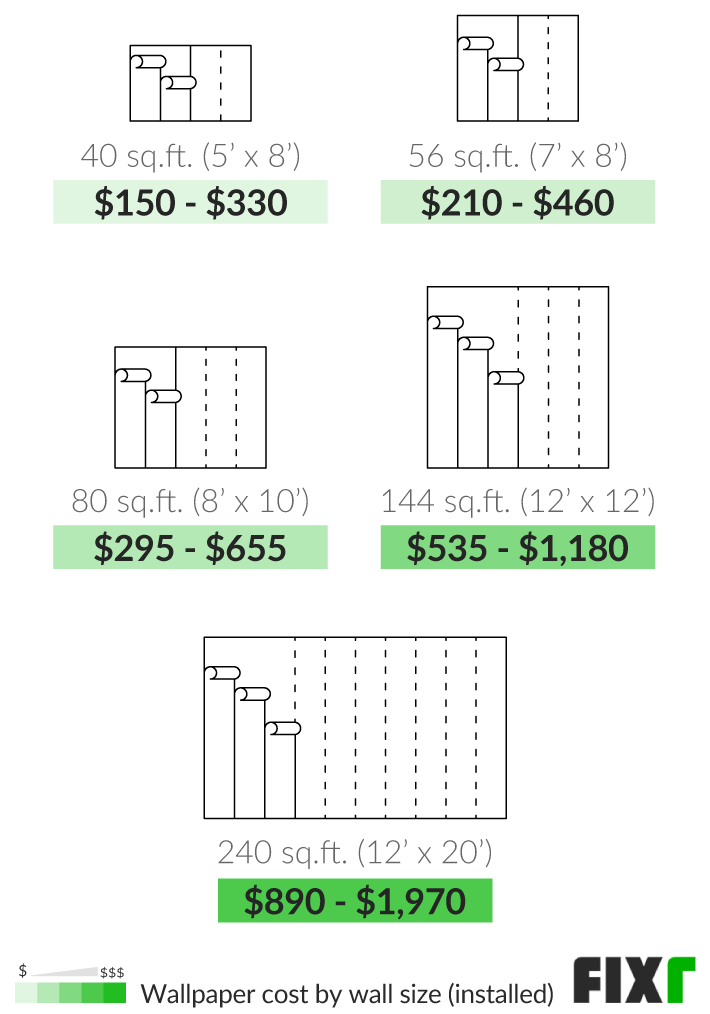 | | |
| --- | --- |
| Size | Average Cost (Installed) |
| 40 sq.ft. (5' x 8') | $150 - $330 |
| 56 sq.ft. (7' x 8') | $210 - $460 |
| 80 sq.ft. (8' x 10') | $295 - $655 |
| 144 sq.ft. (12' x 12') | $535 - $1,180 |
| 240 sq.ft. (12' x 20') | $890 - $1,970 |
Wallpaper Cost per Yard
The average cost of wallpaper per square yard for a vinyl-coated model is between $33 and $74. This includes materials and labor costs. Although not as common as being sold by the square foot or roll, it can also be sold per yard.
| | |
| --- | --- |
| Size | Average Cost (Installed) |
| 5 Square Yards | $165 - $370 |
| 6 Square Yards | $200 - $445 |
| 9 Square Yards | $300 - $665 |
| 20 Square Yards | $660 - $1,480 |
| 30 Square Yards | $990 - $2,220 |
Wallpaper Hanging Cost per Roll
The cost to hang wallpaper falls between $90 and $150 per roll. This includes labor and a medium-priced material, such as a vinyl-coated with a basic pattern. This is the most common way it is sold. A standard single roll is 28-30 square feet. However, this material is manufactured in double rolls, which are between 56 and 60 square feet. Although it is priced per single roll, you can only buy it in even numbers: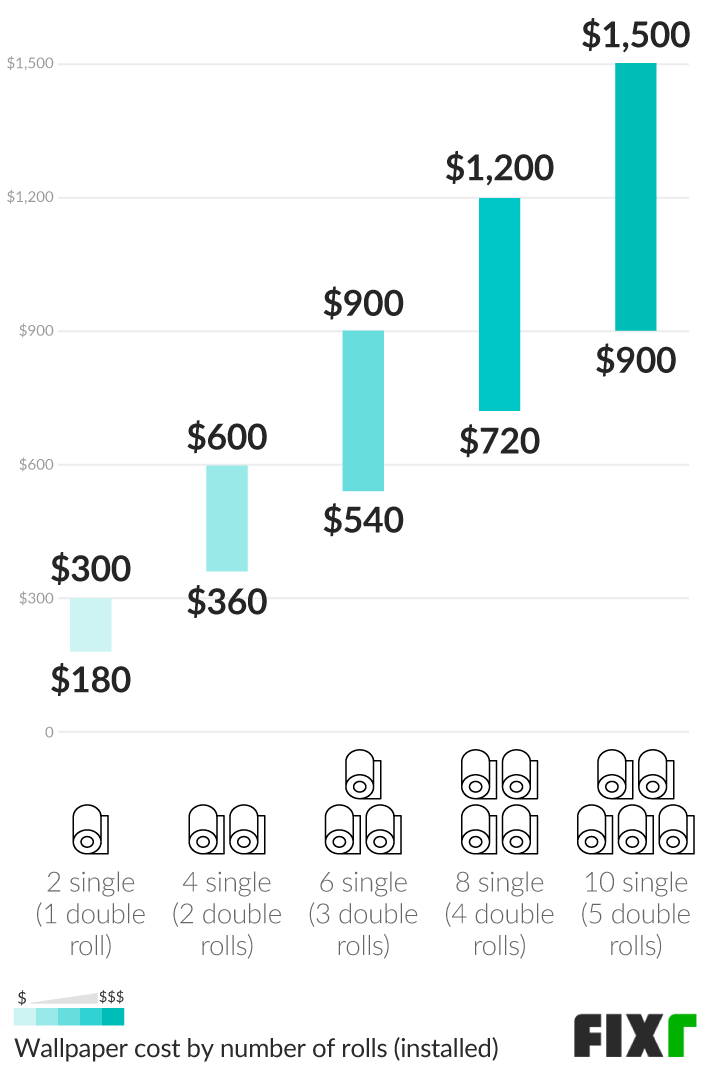 | | |
| --- | --- |
| Number of Rolls | Average Cost (Installed) |
| 2 Single (1 Double Roll) | $180 - $300 |
| 4 Single (2 Double Rolls) | $360 - $600 |
| 6 Single (3 Double Rolls) | $540 - $900 |
| 8 Single (4 Double Rolls) | $720 - $1,200 |
| 10 Single (5 Double Rolls) | $900 - $1,500 |
Wallpaper Cost By Material
The material is one of the biggest cost factors. Materials range widely in price. Each material gives a different look and style to the room. These prices are for the material only and do not include installation.
| | | |
| --- | --- | --- |
| Material | Cost per Sq.Ft. (Materials Only) | Cost per Single Roll (Materials Only) |
| Non-Woven | $0.50 - $1.15 | $18 - $40 |
| Vinyl-Coated | $1.67 - $2.23 | $58 - $78 |
| Vinyl | $1.76 - $2.33 | $60 - $80 |
| Woven | $1.76 - $2.33 | $60 - $80 |
| Solid-Sheet Vinyl | $1.85 - $2.40 | $65 - $84 |
| Foil | $2.14 - $2.71 | $75 - $95 |
| Grasscloth | $2.47 - $3.97 | $90 - $140 |
| Vinyl-Coated Fabric | $2.50 - $3 | $90 - $105 |
| Textile | $2.50 - $4.50 | $90 - $160 |
| Fiberglass | $3 - $5 | $105 - $175 |
| Velvet | $5 - $7 | $175 - $245 |
| Bamboo | $6 - $8 | $210 - $280 |
Non-Woven Wallpaper
The average cost of non-woven wallpaper is $0.50 to $1.15 per square foot or $18 to $40 per roll. This material was originally designed to make removal easier. It has a paper backing and is washable and environmentally friendly. There is no vinyl used in non-woven models, which makes it better for the environment. It can also be washed without damaging the product, so it can be placed in high-traffic areas or rooms where it could get dirty.
Vinyl-Coated Wallpaper
The average cost for vinyl-coated wallpaper is between $1.67 and $2.23 per square foot or $58 to $78 per roll. Vinyl-coated models are more durable than plain paper options. It has a paper base with a vinyl coat over the top. This coat makes it more durable and can be washed. It can be used in high-traffic areas or areas with higher moisture levels, such as in bathrooms and kitchens.
Vinyl Wallpaper
Vinyl wallpaper costs $1.76 to $2.33 per square foot or $60 to $80 per roll. Vinyl is a popular material because it is low maintenance and easy to clean. It has a water-resistant finish to be used in bathrooms and kitchens that have more moisture than other rooms. It comes in various colors and textures and can even be custom designed. The versatility of vinyl makes it one of the most chosen options.
Woven
On average, woven wallpaper ranges from $1.76 to $2.33 per square foot or $60 to $80 per roll. It is made of polyester fabric and has a woven pattern and texture. It is not meant for high-traffic areas or places with a lot of water or where it could be damaged. Because woven models have their own texture, they do not work well on previously textured or painted walls.
Solid-Sheet Vinyl
The average cost for solid-sheet vinyl wallpaper is about $1.85 to $2.40 per square foot or $65 to $84 per roll. Solid-sheet vinyl, also known as paper-backed vinyl, consists of a paper backing and a solid decorative surface. It is known for its durability because the surface is solid. Solid-sheet vinyl is moisture-resistant and easy to clean. This material is not suitable for a mudroom or where there could be a physical damage.
Foil
Foil wallpaper is naturally more expensive than standard models and costs an average of $2.14 to $2.71 per square foot or $75 to $95 per roll. It is made of a thin metallic foil and comes in many patterns, textures, and colors. They are a bold addition and can make a room pop. Foil is notoriously difficult to install because it is very thin, tears easily, and defects are magnified by the foil's shine. Despite this, it is very versatile and beautiful.
Grasscloth Wallpaper
Grasscloth wallpaper costs on average $90 to $140 per roll or $2.47 to $3.97 per square foot. Grasscloth is made of natural fibers, such as hemp, seagrass, bamboo, joot, rafia, and arrowroot grass. It is handwoven, which makes this a unique and more expensive option. The backing is unpasted rice paper. Because they are handwoven from natural materials, each roll is unique. Grasscloth should not get wet and is considered more of a statement piece than a durable wall covering. Additionally, this material is very hard to install and can hold scents in the fibers.
Vinyl-Coated Fabric
The average cost for vinyl-coated fabric wallpaper is $2.50 to $3 per square foot or $90 to $105 per roll. This material is similar to solid-sheet vinyl one. Instead of a paper backing, the backing is fabric. It can be very beautiful and is meant to be decorative. It is not the most durable option and is popular in low-traffic areas like dining and living rooms. These are meant to be artistic pieces and can be extravagant.
Textile
Textile wallpaper prices range from $2.50 to $4.50 per square foot or $90 to $160 per roll. There are two different types based on their composition, natural and synthetic. Natural models use laminated natural fibers, usually on paper backing. Sometimes, they are mounted on an acrylic backing instead. Synthetic options are made the same way, but instead of using natural fibers, synthetic fibers are used. This material cannot be cleaned with water and can be easily impacted by moisture. There are many colors, textures, and patterns available.
Fiberglass
Fiberglass wallpaper costs an average of $3 to $5 per square foot or $105 to $175 per roll. This material, also known as glasscloth, is a style made of woven glass fibers. The glass yarns can be of different thicknesses for a unique look. Fiberglass is very strong and can be used in high-traffic areas. It is fire-resistant and has an average life of 30 years.
Velvet
The average cost for velvet wallpaper is about $175 to $245 per roll or $5 to $7 per square foot. Velvet is an older style. Besides being soft and elegant, it is fire-resistant and provides great thermal insulation. It is also easy to clean and maintain. There are various colors, textures, and patterns to make them unique.
Bamboo
Expect to pay $6 to $8 per square foot of bamboo wallpaper or $210 to $280 per roll. These models are made of natural bamboo. It is usually mounted on a paper backing. While bamboo is physically durable, it expands and contracts significantly with changes in moisture. As a result, it cannot be cleaned. Bamboo always retains its color. It is eco-friendly and offers a range of natural colors. No two rolls of this material are identical because they are made of natural materials.
Wallpaper Price by Type
There are several types of wallpaper, which differs from the material. The type used can be determined by the location, how it is installed, or a coating over the material. Below is a table of costs and details on each type, excluding the installation cost.
| | |
| --- | --- |
| Type | Cost per Single Roll (Materials Only) |
| Peel-and-Stick | $20 - $45 |
| Prepasted | $20 - $80 |
| Liquid | $25 - $50/pack (equivalent to 1 roll) |
| Printed | $30 - $50 |
| Water-Resistant | $45 - $75 |
| Textured | $50 - $125 |
| Embossed | $70 - $105 |
| Mylar | $80 - $230 |
Peel-and-Stick Wallpaper
Peel-and-stick rolls, also called self-adhesive, costs an average of $20 to $45 each. It is great for easy installation and removal. Peel-and-stick models are also very versatile. Installation is as simple as pulling off the backing and sticking it to the wall. It is also designed to be easy to remove. Because of this, people use peel-and-stick options for everything from walls and bookshelves to bathrooms and basements.
Prepasted
Prepasted wallpaper costs about $20 to $80 per roll. It has a dry inactivated adhesive on the back. It is a style meant to make the installation process simpler. To activate the adhesive, it must be sprayed with water before installing it on the wall. This is a great option for those who want to install it DIY.
Liquid Wallpaper
Liquid wallpaper prices range from $25 to $50 per pack. This material is unique because it does not come in rolls. It is liquid and made of natural materials, such as cellulose and cotton fiber. It is great in arches or areas where normal wallpaper is difficult to install. It can also be repaired easily, similar to touching up paint. Because of the natural materials, it can be lightly textured. Liquid models come in dried packs roughly equivalent to one roll of standard models.
Printed Wallpaper
The average cost for a roll of printed wallpaper is $30 to $50. This material is printed digitally, meaning it is usually cheaper than other types and offers an almost infinite number of color and pattern options. However, it tears easily. It is not as sturdy as some other types, but its lower price and variety of patterns and colors make it an attractive choice for many.
Water-Resistant
Water-resistant rolls are $45 to $75 each on average. Also known as moisture-resistant, it is a coating put over the desired wallpaper. This can be done during manufacturing or after it is installed. Not all materials can be water-resistant. Grasscloth, foil, bamboo, and velvet models cannot have the coating on it because it ruins the material. Most vinyl and paper-based options can have a coating on it. The water-resistant coating protects wallpaper in high-traffic areas.
Textured
Textured rolls cost an average of $50 to $125 each. Some models are thicker and come in panels because it cannot be rolled. It is three-dimensional. The texture can be one of two design details: physically raised portions in the design's details or printed to appear 3D. It is great for adding depth to a room. Because it has 3D features, it can be more expensive and harder to clean. Several materials, such as vinyl and pressed paper, are used to make textured wallpaper, which affects if it can be cleaned.
Embossed
Embossed wallpaper prices range from $70 to $105 per roll. Embossed models are unique in that it can be painted over. It is great for covering up areas of a wall or ceiling that might have light damage. It has a texture, adding volume and depth to any room. Embossed models are also popular on ceilings to give a Victorian-era feel.
Mylar
Expect to pay around $80 to $230 per roll of Mylar. It has a polyester film coating the print's top so that it can be washed. This is a huge benefit if you want wallpaper in a high-traffic area or somewhere that it could get dirty. The Mylar coating protects the print and makes it washable. It can be tricky to install because this type creases easily, but removing it is fairly simple. It is a more expensive kind.
Average Cost of Wallpaper By Brand
Different brands offer various options and benefits. Some brands specialize in a specific style or type, while others offer many material and design choices. There are pros, cons, and cost differences for each brand. The costs below are for materials only and do not include installation.
| | |
| --- | --- |
| Brand | Average Cost (Materials Only) |
| Porter Teleo | $45 - $425/roll |
| Thibaut | $100 - $250/roll |
| Pierre Frey | $150 - $600/roll |
| Cole and Son | $165 - $185/roll |
| Zoffany | $230 - $270/roll |
| Farrow and Ball | $250 - $400/roll |
| Zuber | $250 - $450/roll |
| Phillip Jeffries | $250 - $475/roll |
| Calico | $900 - $1,200/roll |
| Gracie | $1,000/panel |
| De Gournay | Custom Only |
Porter Teleo Wallpaper
Porter Teleo wallpaper costs $45 to $425 a roll. The studio produces unique, hand-printed designs, mainly in neutral colors. Their abstract and contemporary artwork is featured on long-lasting models with pops of color throughout. There is limited availability for all original designs, which can influence the final price.
Thibaut Wallpaper
Most people pay between $100 and $250 for Thibaut rolls. As the oldest company in the industry in America, Thibaut is known for print, vinyl, and performance models in various colors and patterns. Natural tweed and grasscloth are some of their popular offerings with neutrals and pastels. Although, they have stripes, geometric, floral, leaves, and animal print options too.
Pierre Frey Wallpaper
Rolls from Pierre Frey cost $150 to $600 on average. The company specializes in traditional French wallpapers and fabrics with an elegant, eccentric collection. Their offerings include colorful geometric designs and pretty floral designs. Animal, nature, mosaic, and botanical-themed models are non-woven and feature hand-painted details in many varieties.
Cole and Son Wallpaper
The average cost for Cole and Son wallpaper is between $165 and $185 per roll. However, prices can go as high as $650 per roll, depending on the style. Cole and Son specialize in print designs in floral, geometric, and striped patterns. They have several grades, ranging from decorative use and light-traffic areas to general domestic and light commercial use, which would be more water have damage-resistant. Cole and Son have nearly every pattern imaginable.
Zoffany Wallpaper
Zoffany wallpaper costs on average $230 to $270 per roll. Zoffany offers many different options. They tout sophistication and cater to high-end clientele. They specialize in printed designs with patterns. Zoffany takes its inspiration from varying times in history. Their products have been known to be easy to maintain and hold their color.
Farrow And Ball Wallpaper
The average cost for a roll of Farrow and Ball wallpaper is $250 to $400. Farrow and Ball use eco-friendly processes when making their products, including water-based paint, eliminating vinyl, and sourcing all-natural materials. Their products are vegan, child-friendly, and naturally made. The price of this brand is mid-range compared to other brands.
Zuber Wallpaper
The average price of Zuber wallpaper is $250 to $450 per roll. Known for its repeat styles, wood blocks, and awe-inspiring scenes, Zuber produces unique panoramic artwork for elegant, classical decor. The highly detailed panels depict monumental scenes of European history, wars, palaces, royal life, and the world as it once was. These one-of-a-kind artistic designs are bright in color and historical significance.
Phillip Jeffries Wallpaper
The average price for Phillip Jeffries rolls is $250 to $475. As a leading provider of natural, textured, and specialty wallpapers and wallcoverings, the company has premium products that last longer than standard options. Their textiles include large geometric patterns and beach/desert-themed imagery. Vinyl hemps and grasses add a bit of shimmer to living rooms and bedrooms.
Calico Wallpaper
The average cost for Calico wallpaper is $900 to $1,200 per roll. Calico is a popular company specializing in printed designs. Most of their products use a vinyl base, making it durable and heat and water-resistant. This is not a product you can find in a store, however. Calico custom prints each order to the size desired by the customer. They can also provide custom colors and designs for an added cost.
Gracie Wallpaper
Gracie sells its product in 3' x 10' panels, which start at $1,000 each and range up to $4,500 per panel. Customizations are additional costs. Gracie products are comparable to De Gournay. They are an American-based company that specializes in high-end hand-painted designs. They have numerous collections, including everything from exotic landscapes to panoramics.
De Gournay Wallpaper
Their products are a custom design and priced upon request only, but it can be well over $1,000 per panel. De Gournay specializes in hand-painted designs. They offer limited design options across a series of collections. Each piece of wallpaper is meant to be a work of art. This is painted by hand and designed to the customer's preferences.
Wallpaper Pricing By Design
There can also be a range of prices for different designs. These designs enhance standard models and create a unique atmosphere in your home. This design can be an elegant addition or decoration to any room.
You might choose 3D models, which features colors and shading that makes the wall appear multidimensional. The average 3D wallpaper price ranges from $25 to $70 per roll. Another option is toile wallpaper, which costs between $30 and $90 for each roll. It features a repeating image or pattern of something like the outdoors or a cityscape. Flock wallpaper is an alternative to 3D and features a raised pattern that gives the onlooker a textured or 3D appearance. A flock wall covering costs between $70 and $175 per roll. An artistic option is a wallpaper accent wall, which is an excellent way to create a bold statement in the room. The price for an accent wall ranges between $90 and $125 per roll.
You may also choose to wallpaper half of your wall, which costs between $50 and $70 per roll. The number of rolls you need depends on the height of your ceiling and the size of the wall. You can employ a bold color or pattern to cover half the wall. An additional option is to wallpaper a single wall in the room, which costs between $50 and $70.
At the high end of the price spectrum, you will see murals, which cost from $100 to $300 per roll. Unlike the repeating pattern of toile designs, murals generally feature a single large image. The prices below are for the materials and do not include installation.
| | |
| --- | --- |
| Design | Cost per Roll (Materials Only) |
| 3D | $25 - $70 |
| Toile | $30 - $90 |
| Half Wall | $50 - $70 |
| One Wall | $50 - $70 |
| Flock | $70 - $175 |
| Accent Wall | $90 - $125 |
| Mural | $100 - $300 |
Labor Cost to Install Wallpaper
Hanging wallpaper can usually be completed in one to two days of work and costs between $400 and $1,300 for installation, depending on the wall's condition and wallpaper type. For example, installation for a 12' x 18' room using vinyl wallpaper costs between $350 and $500 for materials and an average of $450 to $700 for installation, bringing the total average cost to $800 to $1,200. A professional installer is always the best choice because they have the tools and experience to install it correctly the first time, saving on timely repairs and redos that can quickly add up. Different ways in which it may be priced are shown in the table, including the cost per hour ($30 to $60), the cost to hang wallpaper per roll ranging from $30 to $70, cost per yard from $18 to $54, and the labor rate per sq.ft. which usually ranges from $2 to $6.
| | |
| --- | --- |
| Billing Method | Average Cost |
| Per Square Foot | $2 - $6 |
| Per Yard | $18 - $54 |
| Per Roll | $30 - $70 |
| Per Hour | $30 - $80 |
Installation Process
Wallpaper installation can be a fairly involved process. Most of the cost is dependent on the wall's condition and the material type and style. Some models, such as a peel-and-stick vinyl, are simple to install. Others, such as bamboo and foil, are incredibly difficult and time-consuming.
First, a contractor must prepare the walls. This means cleaning the wall so that the adhesive can be applied. Sometimes, an existing wall's texture must be removed so that it does not disrupt or ruin the wallpaper being installed. Generally, the cleaning and preparation of the wall are included in the price. However, these may be billed separately at the contractor's hourly rate if extensive texture removal must be completed.
Next, the wallpaper is measured and cut. A plumb line ensures that it is straight. The paste or adhesive is applied, and the first piece is hung. Then, the contractor moves around the area, hanging pieces. They ensure it has no folds, creases, or bubbles.
After the contractor is finished, they make sure the corners are all cut and installed properly. They fill in any gaps and trim the excess before sealing. Typically, contractors have an hourly rate for this, but sometimes it is by area.
Cost to Hang Wallpaper by Location
Different rooms in a home can have varying wallpapering prices. Some are better suited for different areas. For example, vinyl is durable and could be installed in a bathroom, kitchen, or living room. Bamboo is very susceptible to moisture, so it is exclusively an indoor material that would not do well outside or in a bathroom or kitchen. Interior design experts say popular rooms for wallpaper in 2022 include powder rooms, dining rooms, and bedrooms. Wallpapering the ceiling has even started to become a popular option, with 28% of experts suggesting it will be the go-to place to wallpaper in 2022. The prices below include materials and installation.
| | |
| --- | --- |
| Location | Average Cost (Installed) |
| Powder Room | $325 - $600 |
| Floor | $370 - $700 |
| Ceiling | $370 - $800 |
| Bathroom | $650 - $1,200 |
| Outdoor | $1,000 - $1,400 |
| Bedroom | $1,100 - $2,100 |
| Kitchen | $1,500 - $2,700 |
| Living Room | $1,600 - $3,250 |
| Garage | $1,900 - $3,600 |
Wallpaper Powder Room
The average powder room size is 20 square feet. You will pay between $325 and $600 to wallpaper the room. The proximity of a powder room to your bathroom may indicate the need for a moisture-resistant model. In such installations where your powder room connects to your bathroom, your contractor may use solid-sheet vinyl, which helps prevent damage from humidity and any styling products you and your family might use.
Floor Wallpaper
Floor wallpaper is a stylish and newly popular option for homes with an average cost of $370 to $700. Advanced manufacturing techniques that use 3D imagery help create a vivid display on your floor for a fraction of the price of installing stone, marble, or hardwood flooring. Wallpapering floors remains a mildly specialized project, so confirm with your contractor that they have experience in that area and can install it.
Ceiling Wallpaper
A ceiling of 100 square feet costs between $370 and $800 to install using a vinyl-coated wallpaper. Using wallpaper on a ceiling is a great way to make a room pop. It is not very common, but it can be tasteful and decorative when done well. Depending on the room, the necessary durability of the wallpaper could change.
Wallpaper a Bathroom
The average installation cost, including materials, is usually between $650 and $1,200 for a bathroom of approximately 170 square feet. Wallpaper in a bathroom needs to handle moisture. It also should be durable and able to be cleaned. Solid-sheet vinyl models are one of the better choices for a bathroom. Due to a bathroom being a high-traffic area and the change in moisture, there are not many materials that could handle the everyday usage a bathroom gets.
Outdoor
When wallpapering an exterior wall with an area of 200 square feet, expect to pay between $1,000 and $1,400. While most of this guide focuses on indoor models, there is specific wallpaper that can be installed outdoors. It is not very common and is quite expensive. Typically, it is an accent to the rest of the facade. It is specifically made to be water and weather-resistant and durable.
Bedroom Wallpaper
The average bedroom is about 300 square feet. The average material and installation costs for wallpapering a bedroom are between $1,100 and $2,100. Bedrooms are a great place to create a unique look with wallpaper. They are a personal space that can be customized to each person's needs. There is a lot of traffic in a bedroom, but not as much of a chance for damage or moisture. Similar to a living room, a vinyl-coated fabric models are a good bedroom option.
Kitchen Wallpaper
For a standard kitchen of about 385 square feet, the cost to install wallpaper ranges from $1,500 to $2,700. Kitchens have very similar needs to bathrooms. It must be durable, water-resistant, and able to handle daily traffic. It should also handle damage well. Kitchens are one of the most used rooms in a home, so having the right wallpaper is key. Solid-sheet vinyl or woven options meet all these requirements.
Living Room Wallpaper
Using a vinyl-coated fabric model, the cost for materials and installation are between $1,600 and $3,250 for a living room of 450 square feet. Living rooms do not need as durable models as bathrooms and kitchens, but it is still a fairly high-traffic room. This is a room where the wallpaper could be more decorative rather than functional. Non-woven and vinyl-coated fabric options are great for living rooms.
Garage
A 500-square-foot garage costs an average of $1,900 to $3,600 for materials and installation. A garage is another unique place for wallpaper to be installed. If the garage is finished and temperature-controlled, nearly any type or material can be used. However, if the garage is not temperature or moisture-controlled, a durable option like vinyl-coated should be used.
Wallpaper Replacement Cost
Replacing wallpaper is more expensive than installing it for the first time. The old pieces must be removed before putting up the new ones. This is not simple and could ruin or damage the wall if done incorrectly.
Professionals can remove it without harming the wall, but it can be time-intensive. Some models, such as a peel-and-stick style, are meant to be temporary and easily removed. Others like textured and fabric models are harder to remove and cost more.
The average labor cost to remove wallpaper is between $0.75 and $2 per square foot. This does not include the installation. There may also be a $50 to $75 material handling and disposal fee, but some contractors dispose of the old wallpaper for free.
Considering the cost to remove and install new wallpaper, including materials and labor, a complete replacement project for a 12' x 18' room costs $960 to $2,200.
Preparing Walls for Wallpaper
Before installing wallpaper, wall preparation is always needed. Dirty or damaged walls can cause an imperfect seal, causing gaps, bubbles, or creases in the surface. Small imperfections, such as holes or small scratches, are fairly simple to repair with spackle but large bumps or textures on the wall must be sanded down.
Some wallpapers can be installed on a wall with a little texture but others, such as foil, cannot have any texture. The contractor may include wall preparation in the price, but it should not be more than an hour or two, costing between $25 and $160 if it is not already included. This price should also include the cost of moving around the furniture.
It may be more practical to install lining paper before if damage to walls is significant. Lining paper is made of fiberglass and its purpose is to create a clean and durable base layer for the wallpaper to adhere to. There are different thicknesses that can be used based on the amount of damage that must be covered up. A roll of liner typically costs between $20 and $40.
It is important to cover imperfections with plaster or spackle for peel-and-stick wallpaper. The walls should be cleaned with sugar soap or hot water with vinegar because standard soap might leave a residue that could cause the adhesive to not stick.
How to Measure for Wallpaper
Homeowners and contractors rely on accurate measurements to ensure wallpaper is appropriately fitted for the space. Your wall measurements will help with the cost estimate of the overall project. The area of a wall is a simple calculation of width x height—for example, 9 feet tall x 20 feet wide = 180 square feet. These measurements determine how many rolls are required. Use a tape measure and a beam level to measure from the top of the wall to the bottom and from one side of the room to the other.
You will need to perform an additional calculation to determine how many rolls you will need for a wall. The calculation is wall size divided by the square feet of the roll. For example, a 180 sq.ft. wall ÷ 25 sq.ft. roll = 7.2 rolls. You would round up to 8 rolls to have enough paper for the entire wall. For double rolls, you would add one more calculation by dividing the result by two.
If you are working with a roll with a repeating pattern, ask your contractor about the size of the design and the number of rolls it may require. You can assist your contractor by measuring the walls you want to be covered. A large repeat pattern usually results in more unused wallpaper at the end of the project. Complex rooms with rounded doorways, hexagonal windows, and other odd shapes may also require some extra calculations by your contractor.
Pros and Cons
Wallpaper offers many advantages to homeowners looking for affordable, aesthetically-pleasing wall décor. One of the main pros is the seemingly endless variety of colors and styles from which to choose. Unlike paint usually applied in one base color, it offers a wide range of patterns that are relatively easy to apply on the wall.
Some homeowners find the shorter lifespan a disadvantage, as it generally lasts for five to ten years before showing signs of wear and tear. However, others view this as an advantage because it's easy to switch up and change colors or designs for renovations or just refreshing a room. Modern wallpaper has become more advanced to resist water and sun damage and last longer, even in homes with young kids or pets.
Keep in mind that cheaper, older models are more susceptible to moisture and peeling, especially in kitchens and bathrooms where water exposure is higher. Generally, the more you pay, the better quality it is and the longer it will last. Professional installation can be quick and completed within a day. These results are often faster than applying multiple coats of primer and paint.
Maintenance
Professionals recommend lightly dusting the surface every few months or even monthly if there is a lot of dust in your home. Clean grease splatters and finger smudges right away with warm water and a small drop of dishwashing liquid. Just lightly wash the affected area, taking care not to soak the entire wall. Keep in mind the specific instructions for your wallpaper, as some types may have specific requirements. Vinyl is typically the easiest to clean because it's resistant to dirt and water damage.
It's also a good idea to check for marks and signs of mold or mildew. The sooner these things can be addressed, the longer it will last. You can avoid the need for early replacements. While general maintenance is often easy enough to do on your own, some companies offer wallpaper cleaning services for a more high-level cleaning and inspection. This costs around $0.56 to $0.59 per square foot.
Peel-and-Stick Wallpaper vs Regular
Peel-and-stick wallpaper is becoming very popular among DIY enthusiasts and people who rent homes or apartments. It is easy to install and take off the wall and does not ruin the wall underneath. It is also on the cheaper end, about $0.70 to $1.50 per square foot or $20 to $45 per roll. However, peel-and-stick limits the materials and patterns available. While there is a wide range of colors and patterns, it is not nearly as wide as regular options.
Regular wallpaper typically requires a professional to hang it. Sometimes, a professional is required to remove it, too. Regular wallpaper costs anywhere from $1.50 to $7 per square foot or $20 to $270 per roll and cannot be cleaned or exposed to moisture, depending on the material. The major benefit of regular wallpaper is a nearly infinite number of material, texture, pattern, and color options.
| | |
| --- | --- |
| Type | Cost per Roll (Materials Only) |
| Peel-and-Stick | $20 - $45 |
| Regular | $20 - $270 |
Wallpaper vs Tiles
Many homeowners try to narrow down their options between wallpaper and tiles. While wallpaper averages $0.50 to $8 per sq.ft., tile can be much more expensive, around $1.25 to $50 per sq.ft. for machine-made styles and $10 to $100 per sq.ft. of handmade tiles.
While the initial cost of tiles is higher, they generally last for up to 50 years when properly installed and maintained. Wallpaper doesn't last as long. The color may fade within a few years, depending on the quality of the product and the natural light shining through. The replacements add up over the years, while tile repairs are less common, although the latter requires more labor. Removing stains is easier with tiles, while marks and dirt on wallpaper are more difficult to remove.
Overall, most homeowners opt for wallpaper if they want a cost-effective décor option that they can change up in five to ten years. Tile is seen as a more permanent, long-lasting option that may improve the home's value.
| | |
| --- | --- |
| Material | Cost per Sq.Ft. (Materials Only) |
| Wallpaper | $0.50 - $8 |
| Tiles | $1.25 - $100 |
Wallpaper vs Paint Cost
Wallpaper and paint have the same basic function, which is to decorate and protect walls. Each has pros and cons. Paint is typically cheaper, costing an average of $600 to $850 for a bedroom. Some of the pros of paint include color versatility, easy cleaning, and humidity resistance. However, paint chips easily, shows imperfections, and does not last as long.
Wallpaper is more expensive, ranging from $800 to $1,200 for a 12' x 18' bedroom. It comes in a nearly infinite number of colors, textures, materials, and patterns. Wallpaper has a long life, usually at least 15 years, and does not chip or peel easily. However, it needs to be hung professionally, can be affected by humidity, is hard to clean, and can be difficult to remove.
| | |
| --- | --- |
| Wall Decoration | Average Cost (Installed) |
| Paint | $600 - $850 |
| Wallpaper | $800 - $1,200 |
Enhancement and Improvement Costs​
Splashproof Wallpaper
Sometimes homeowners are concerned about water getting on their bathroom walls due to close proximity to showers and sinks. That's why splashproof wallpaper for bathrooms has become a popular option for interior design that's moisture resistant and long-lasting even with the humidity in these rooms. This costs between $40 and $150 per roll, depending on brand and style.
Additional Considerations and Costs
Temporary wallpaper. Consider how long you want to have wallpaper before installing it. This could be a factor in determining the type. If you only want it for a few years, then an easy-to-remove option might be the best choice.
DIY. Hiring a professional is recommended to ensure the wallpaper is installed well. Most wallpapers show errors made in the installation process. There is not much room for error in the installation process for wallpaper. Some models, such as peel-and-stick, are more DIY-friendly and can be installed without a professional.
FAQs
Is wallpaper hard to put up?
Hanging wallpaper can vary in difficulty depending on the wall and the type of wallpaper. Once it is installed, it can be challenging to remove. For the straightest and cleanest results, professional installation is recommended rather than DIY.
How much wallpaper do I need for one wall?
The amount needed is directly related to the wall size and how much of the wall you want to install the wallpaper on. It is measured by area, similar to a wall. It is important to get more than the wall's size because some excess is needed around corners and edges. If you opt for a non-random pattern, you need even more extra wallpaper to line it up properly. It is always a good idea to discuss the final measurements with your contractor.
How long is a roll of wallpaper?
A single roll is 5 yards long and 27 inches wide. A double roll, which is how it is manufactured and sold, is the same width but is 10 yards long. A single roll has about 30 square feet, with approximately 27 square feet that is considered usable after considering any excess needs, such as edges.
How long does wallpaper last?
It can last at least 15 years. Some materials, such as velvet and bamboo, can last over 20 years when well-maintained. The lifespan depends on the environment and if it is maintained.
Can you put wallpaper in a bathroom?
Certain types can be installed in bathrooms. Most vinyl models handle moisture well and do not peel off the wall. Some materials, such as bamboo and foil, do not do well in moisture-rich environments and get ruined when installed in a bathroom. If you want to install it in a bathroom, make sure you purchase an appropriate type for the job.
Can you put wallpaper on textured walls?
Certain types can be installed on textured walls. For some patterns, the texture adds dimension. Foil and velvet models cannot be installed on textured walls.
Can you put wallpaper over wallpaper?
It is not advised to put wallpaper over wallpaper. The adhesive is not meant to stick to other wallpapers. Additionally, many modeñs have a coating preventing the glue from sticking. Old pieces should be removed before installing new ones.
Is wallpaper cheaper than painting?
It is typically more expensive than painting, but it has benefits, such as a longer lifespan than paint and not chipping or peeling.
How much do wallpaper hangers charge?
Professional hangers typically charge $30 to $80 per hour. This cost is dependent on the job's size, and more importantly, the wallpaper type. Foil and velvet models are extremely difficult to install and can result in a higher hourly rate than a vinyl-based one.​