No matter the size or how many you may have in your home, the bathroom is arguably one of the busiest and most important rooms of your house. It is where you go to start your day, to unwind before readying for bed, and to relax. So it is essential to create a space which functions well, and has an appearance that makes you enjoy spending time there.
We asked interior design experts to weigh in on what they believe the most popular bathroom trends will be in 2022, including which bathroom color trends, themes, and palettes they thought would be hot. Below we feature the top 5 bathroom color trends with a percentage showing how many experts chose it as the one they believe will be the biggest trend this year.
5 Most Popular Bathroom Color Trends 2022
1. Natural and Green Colors

The hottest color trends in bathrooms this year mirror colors and trends that we're seeing in other parts of the home as well. Natural colors, and in particular shades of green, are incredibly popular right now for all areas including the bathroom. 72% of experts feel this is going to be the most popular bathroom color trend in 2022. Several shades of green were selected as the Color of the Year by paint companies, and natural tones tend to combine well with green in many different combinations.
Green is considered a soothing color, as are many nature-based motifs. As people look for ways to help lower stress levels and create calming spaces in their own homes after dealing with the pandemic for the last two years, these colors and shades are set to be a top choice.
Since the bathroom can frequently be seen as a space for pampering and relaxation, green and other natural colors can work well here. This is particularly true for anyone hoping to create a low-stress atmosphere in the room.
2. Wood Decor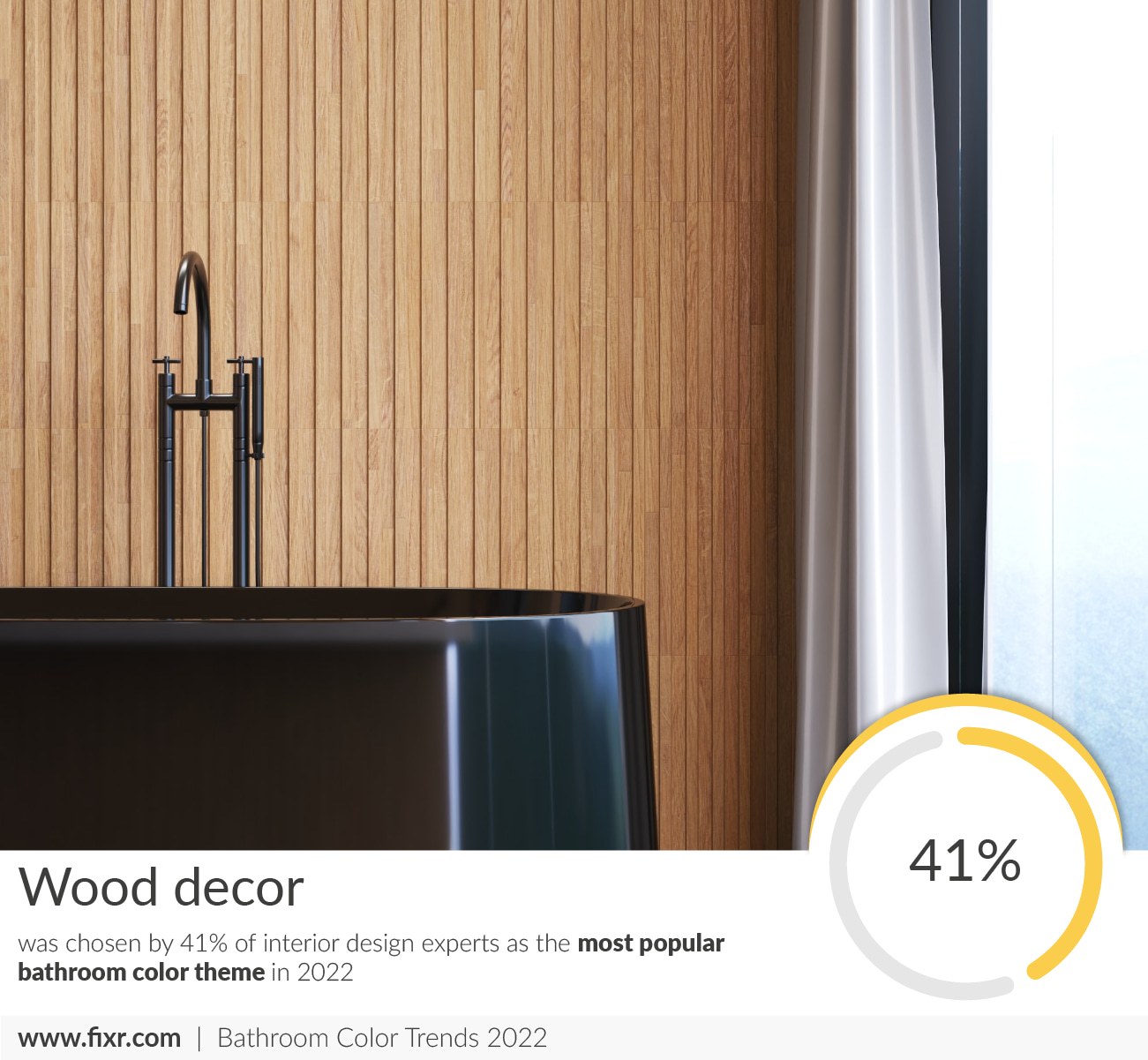 Wood is another popular choice for bathrooms in 2022, and will be the biggest trend according to 41% of interior design professionals. Wood tones work well with the larger theme of nature-inspired colors and trends, and most wood tones pair beautifully with several shades of green.
Wood is not often used in the bathroom beyond cabinetry because of the high humidity in the space, which can cause wood to swell and warp. For some wood species, such as cherry, humidity can make it darken or patina over time. However, you can still use wood in the bathroom if you take some precautions first.
If you love the idea of a wood floor, consider engineered hardwood, rather than solid. Engineered hardwood is less likely to warp because of the way that it's made. You can also consider adding some wood paneling in powder rooms and half-baths, which are less likely to have issues with humidity, because there is no tub or shower. Or consider using woods that can handle the high humidity, such as teak. While they're more costly, they will last longer in a damp environment than other woods.
3. Stone Decor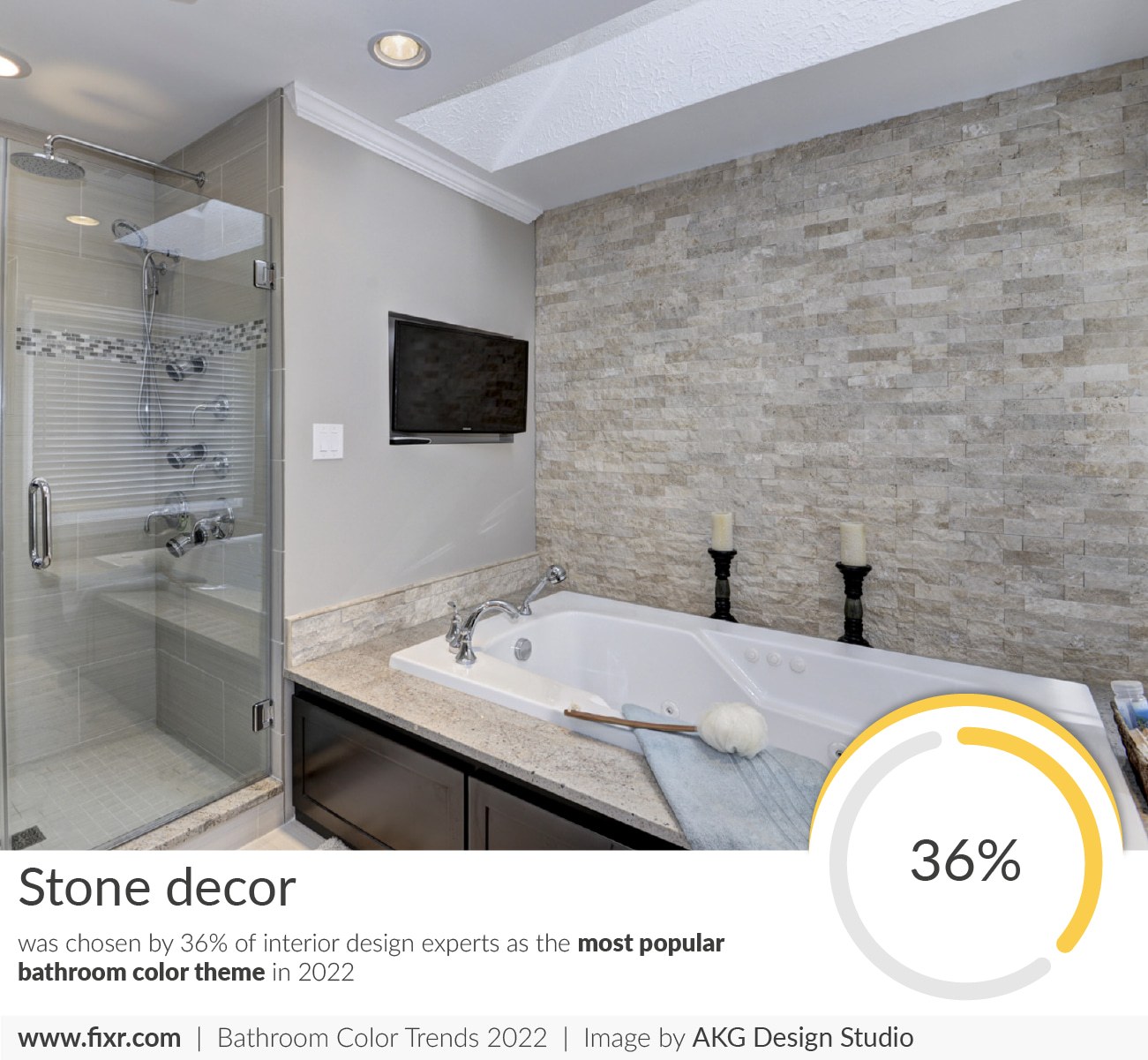 Natural stone decor is another hot trend that blends well with the themes of nature for the bathroom. Of the experts surveyed, 36% believe it will be the top trend in bathrooms this year. There are many different stones and types of stone that can be used in this space. This includes river rocks, marble, granite, and slate in tiles, slabs, and mosaics. Because natural stone is available in so many colors, styles, and forms, it's possible to use this material in bathrooms of any style.
Consider using natural slate on the floors and walls of a bathroom to create a rustic design. Slates like Moss Green and Chinese Green have beautiful variation to them, and can incorporate shades of green that are also on trend now.
River rocks can be used on the floor, shower floor, or walls to help you create a zen or spa-style bathroom. They can also be combined with other materials - stone or materials like ceramic and glass - to let you customize the room.
You can even use classic marbles like Bianco Carrara and Nero Marquina to achieve a classic black and white bathroom decor that is still on trend even if you don't love using other natural shades.
Just beware not to use green marbles in the bathroom. These stones don't like water, and may produce scales and flakes over time.
4. Black and Dark Tones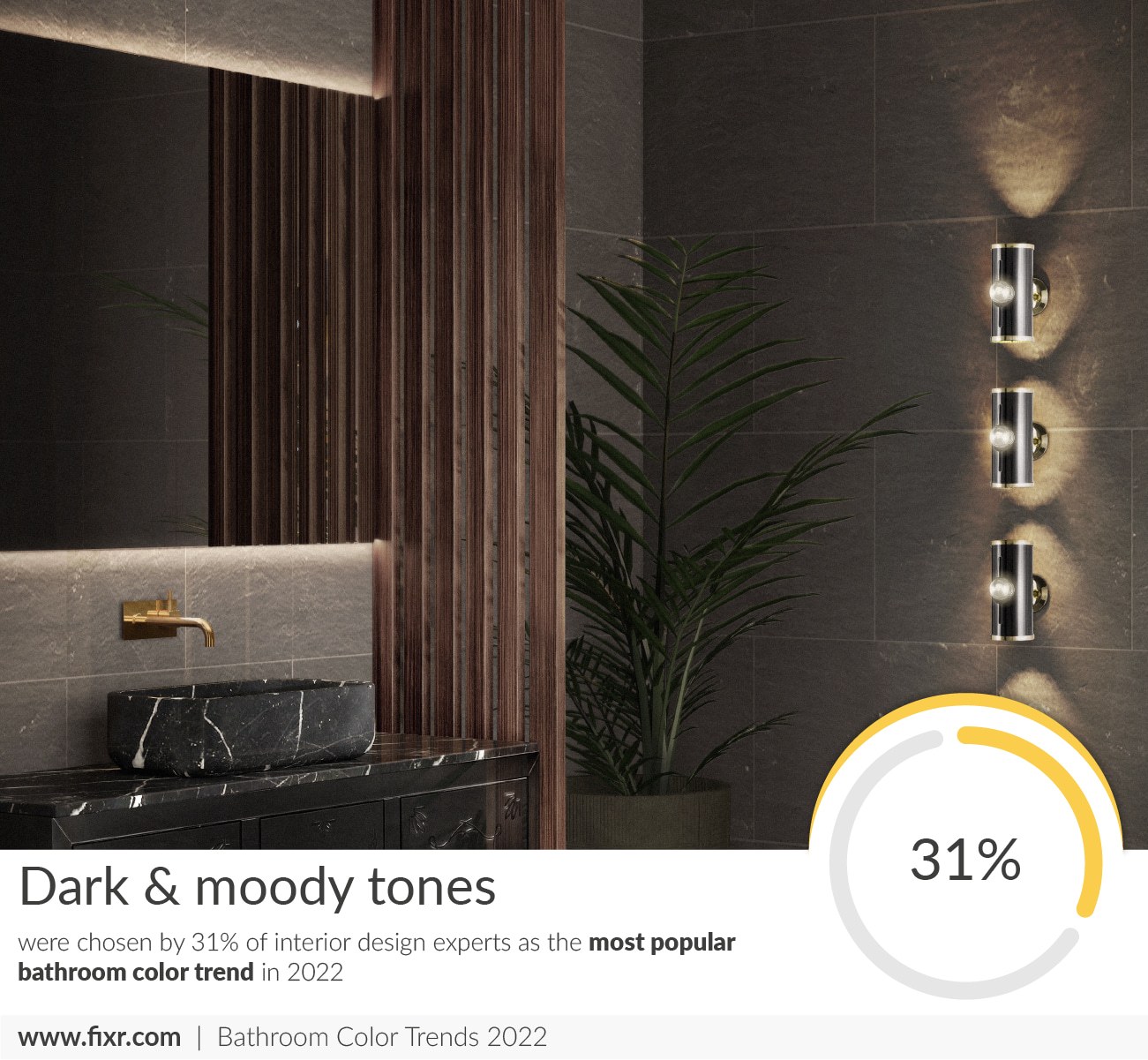 Black and dark tones have been popular as accents in the bathroom in the recent past. Now they're continuing their popularity and expanding to include other features such as the walls, floors, and furnishings as well as accents. 31% of experts say it is going to be the most popular bathroom color trend this year. Dark tones in the bathroom can produce a much more dramatic appearance that can be very eye-catching. Just be sure that your bathroom has a lot of light - natural or artificial - to help keep the space from becoming gloomy or dim.
You can include black and dark tones with some of the other prominent colors and themes right now as well. Black granite can make a beautiful choice in the bathroom whether it's polished, honed, or leathered, allowing you to use natural stone and get that dark, dramatic look. You can also include dark woods like Wenge in the design as well. Be sure to balance your dark tones with some lighter shades as well. You can incorporate white for a starker effect, or go even bolder by putting in some pops of red from glass or ceramic tile. You can also consider using backlighting to good effect in a bathroom with lots of black or dark tones, such as lighting up the underside of a translucent sink or countertop to help brighten the room and increase the dramatic effect.
5. Stand-Out Bold Themes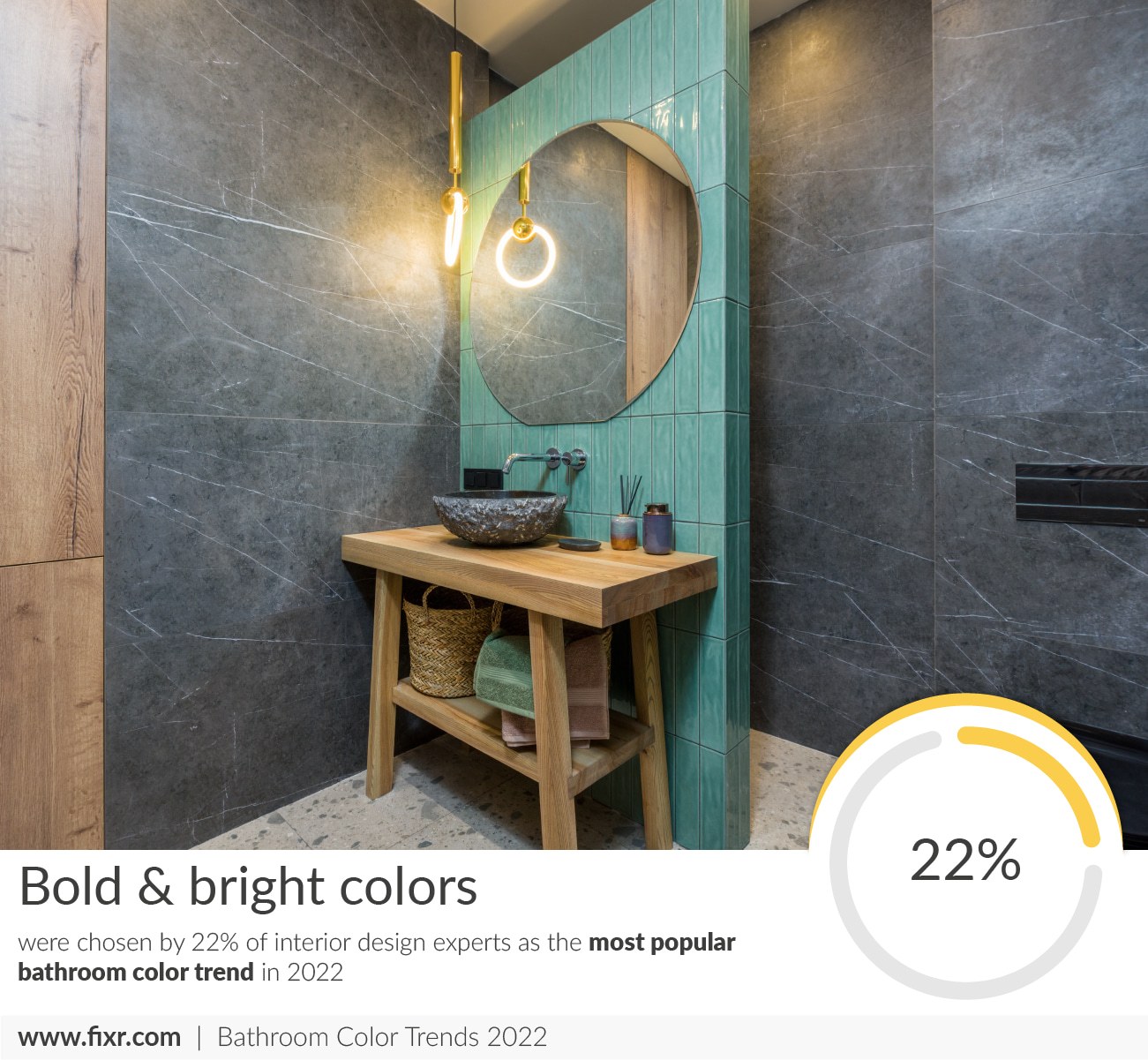 Bright and bold colors are also predicted to be the most popular trend this year by 22% of industry experts. Bright colors can come in many different forms and shades. This can be a bright bold green, a deep red, or a stand out shade of yellow. Bold colors tend to draw the eye, especially if they aren't used everywhere.
Bold colors can be used in conjunction with many of the other popular trends this year. For example, in a dark bathroom, a bold color will really stand out and help brighten up the space. You can also find some natural stones in bold colors that can give you a natural appearance with a lot of character at the same time.
In a bathroom, a bold color should be kept as an accent or a focal point. Using too much in a small space can quickly overwhelm it. Therefore, a strip of boldly-colored mosaic tile, some bold glass cabinet knobs, or a glass vessel sink in a bright shade are all great ways you can include a bold color, without having it take over the rest of the room.
Use the Bathroom Color Trends to Inspire Your Renovation
While there are some big differences between these trends, there are also many ways in which they can overlap as well. This can allow you to pick and choose what best suits your needs and your space. Whether you're completely renovating your bathroom or just trying to give it a face lift, incorporating any of these color trends can help you reach your goals.