With the worldwide outbreak of the Coronavirus and the illness it causes - COVID-19, more and more people are beginning to shelter in place by working and attending school from home. Even those that need to continue to work and provide services outside of the home need to take steps to help protect themselves.
One way you can do this is to make sure your home environment is clean and ready for you to remain at home until the worst of the pandemic is over.

Thoroughly disinfecting your home can be difficult though, and one good way to do it may be to hire a professional cleaning service to give your home a deep clean, especially if you are unable or unsure of how to effectively clean different surfaces.
Deep cleans can vary from home to home, depending on size, number of bathrooms, and the current state of cleanliness. Typically, in a 2,000sq.ft home, companies will send 2 - 3 cleaners to do the job, charging between $300 and $400 on average.
Cleaning companies are handling a lot of calls right now, however, so after your deep clean, you may be on your own to maintain your home's cleanliness. The below illustrations show how you can clean and disinfect your home by yourself, according to the CDC.
How to Coronavirus-Proof Your Home, Room by Room
You don't need to spray your home with disinfectant from top to bottom, but there are several areas where you should concentrate your cleaning efforts to help keep you and your loved ones healthy. Start your cleaning by wearing disposable gloves whenever possible, and throw them away after you're done. If you can't wear gloves, make sure you wash your hands thoroughly for at least 20 seconds with soap and warm water after you finish cleaning.
Living room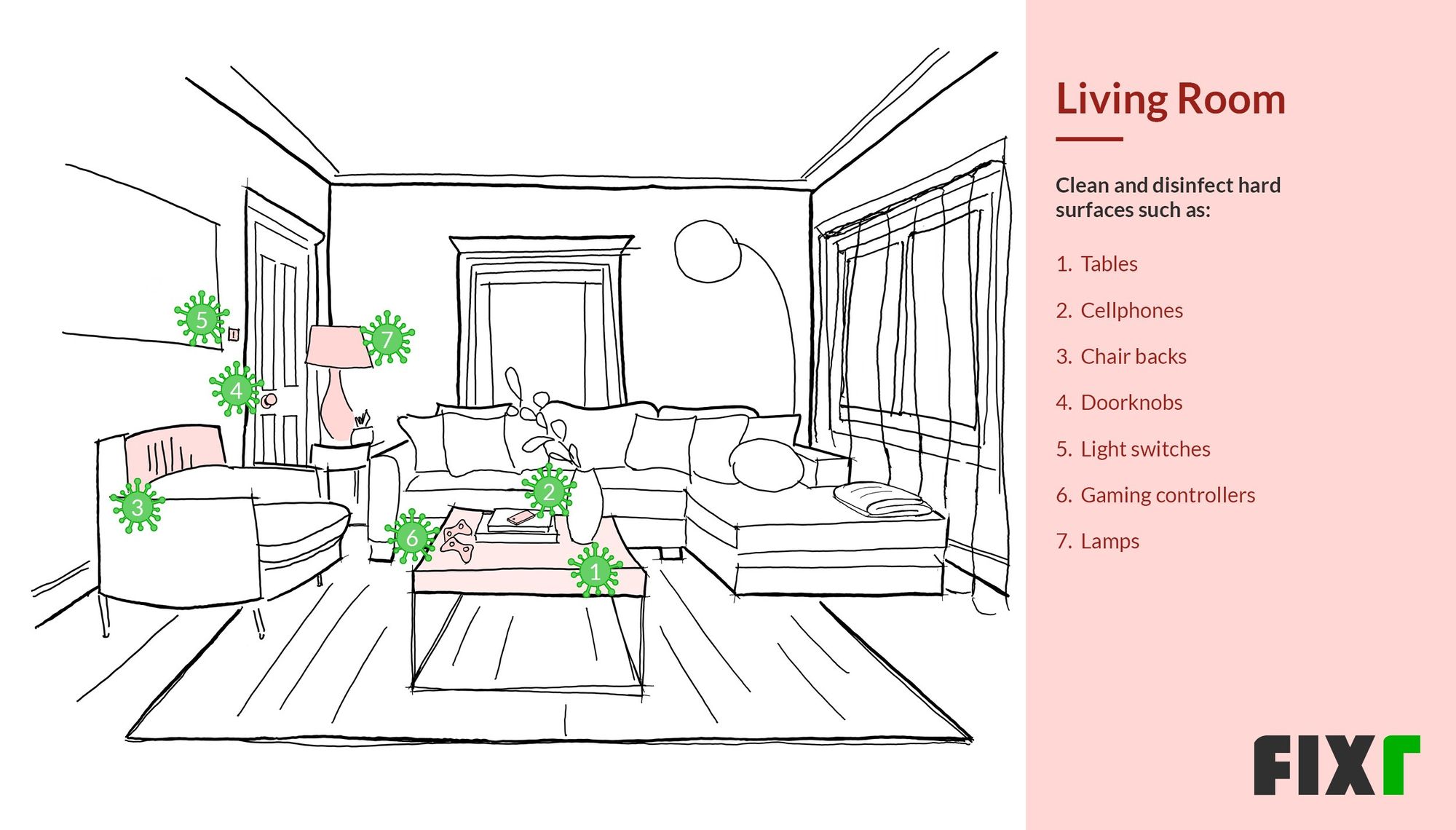 Start cleaning in the living room, family room, or den - whichever room your family is most likely to spend the most time in. You'll want to make sure that any surfaces that are high-touch areas, or areas that get touched frequently, are cleaned daily. You can use your favorite household disinfectant, or dilute 5 tablespoons of bleach in a gallon of water - always test any cleaning solution in an inconspicuous area first to check for colorfastness before cleaning the entire area.
Start with hard surfaces first such as:
Tables
Cellphones
Hard-backed chairs
Doorknobs
Light switches
Gaming controllers
Lamps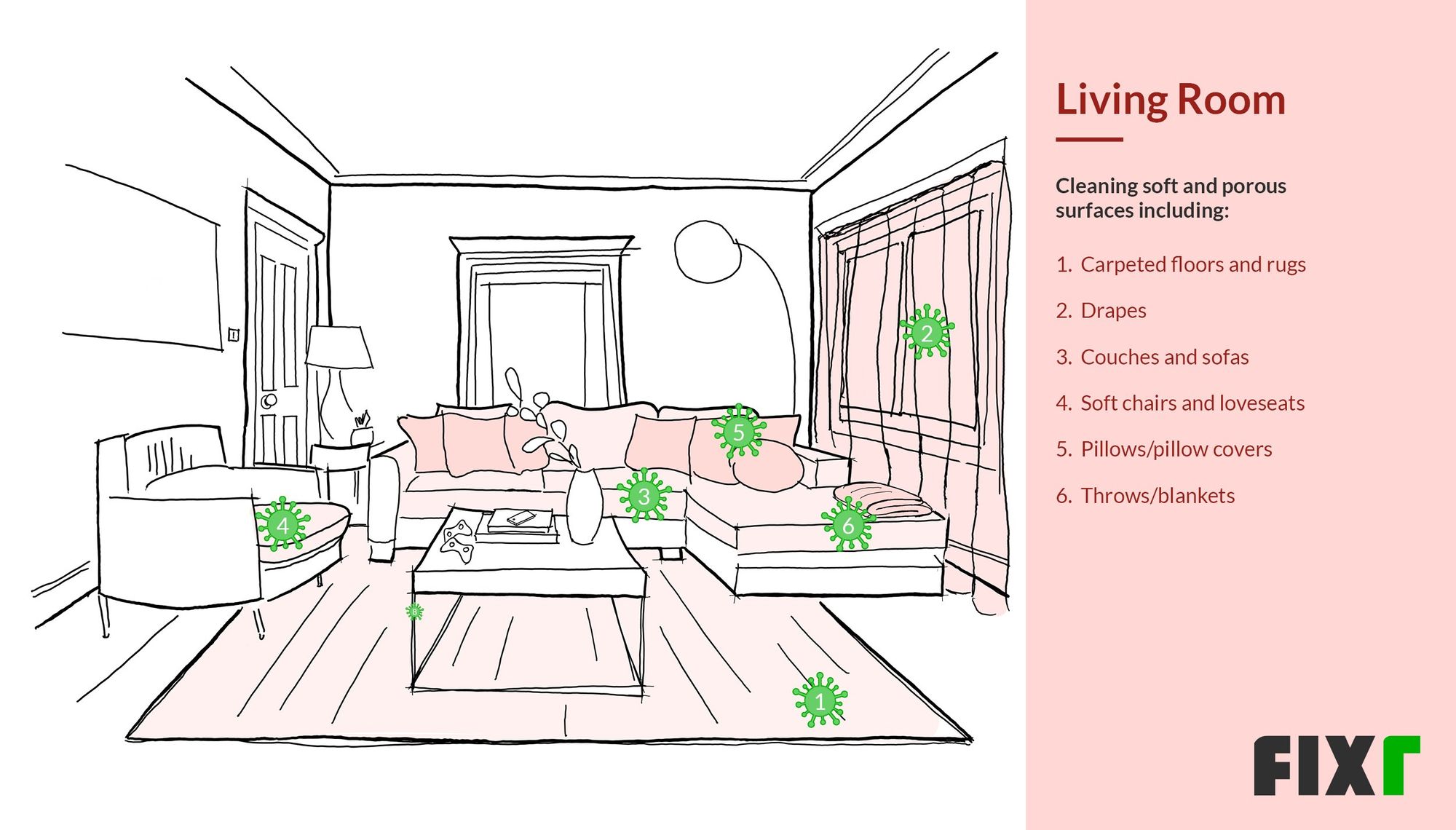 Cleaning soft and porous surfaces may be more difficult. Ideally, use whichever products you have on hand that are recommended for those surfaces, and check to ensure the product is not past its expiration date. If you are able, you can also put things like cushion covers, throws, blankets, and drapes into the laundry. The products on this list from the CDC can kill the coronavirus, and many are safe to use on soft and porous surfaces. Make sure you include areas such as:

Carpeted floors and rugs
Drapes
Couches and sofas
Soft chairs and loveseats
Pillows/pillow covers
Throws/blankets
Laundry room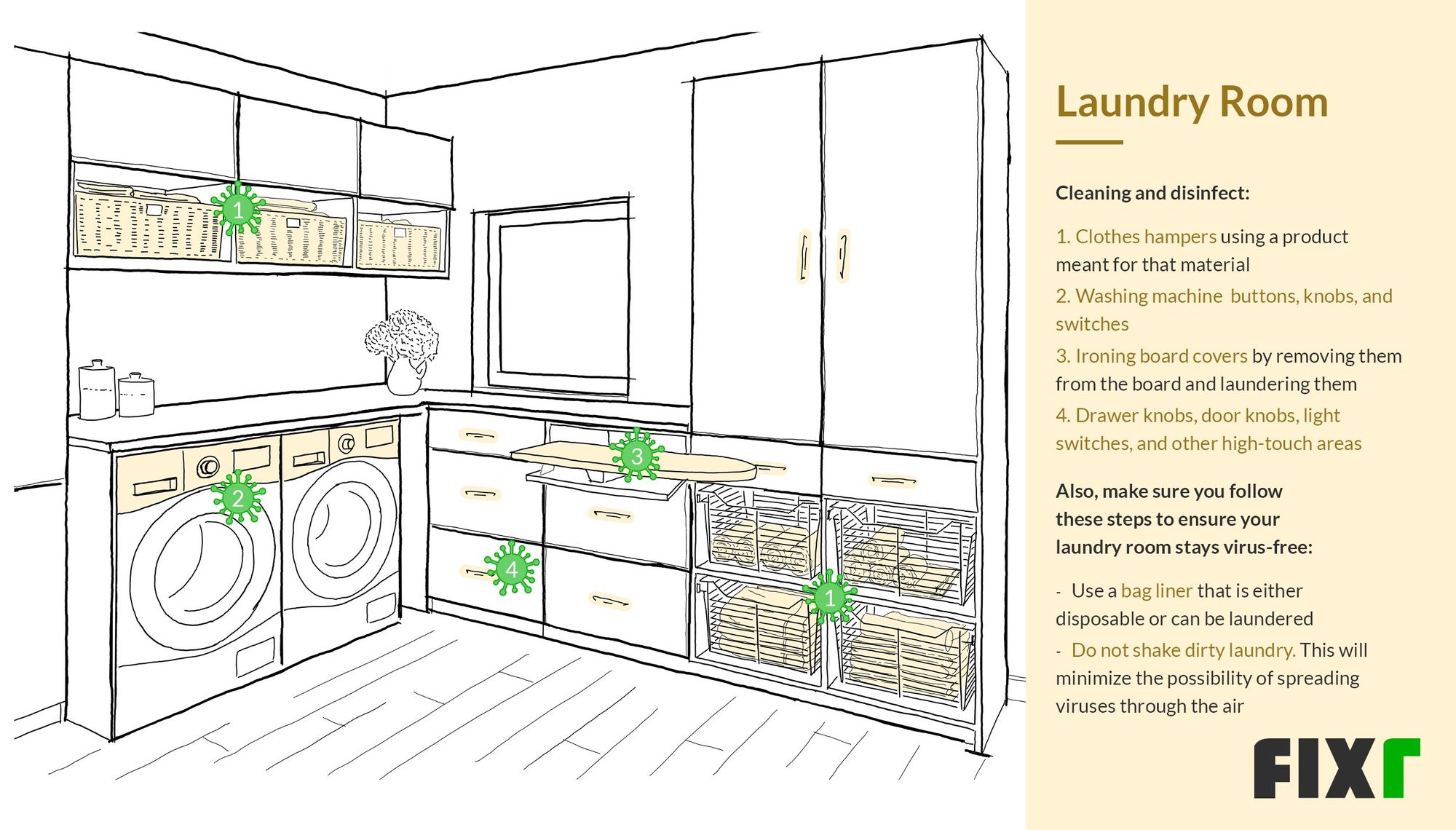 It's important that you wash the clothes you wear out each day to minimize the presence of viruses inside your house. You should also take steps to clean your laundry room as well. Wash all clothes and soft surfaces as you normally would, utilizing hot water, laundry soap, and drying them completely. In addition, you'll want to make sure you follow these steps to ensure your laundry room stays clean and disinfected:
Clean and disinfect clothes hampers using a product meant for that material
Use a bag liner that is either disposable or can be laundered
Do not shake dirty laundry. This will minimize the possibility of spreading viruses through the air
Clean and disinfect washing machine buttons, knobs, and switches
Clean and disinfect ironing board covers by removing them from the board and laundering them
Clean and disinfect drawer knobs, door knobs, light switches, and other high-touch areas
Bathroom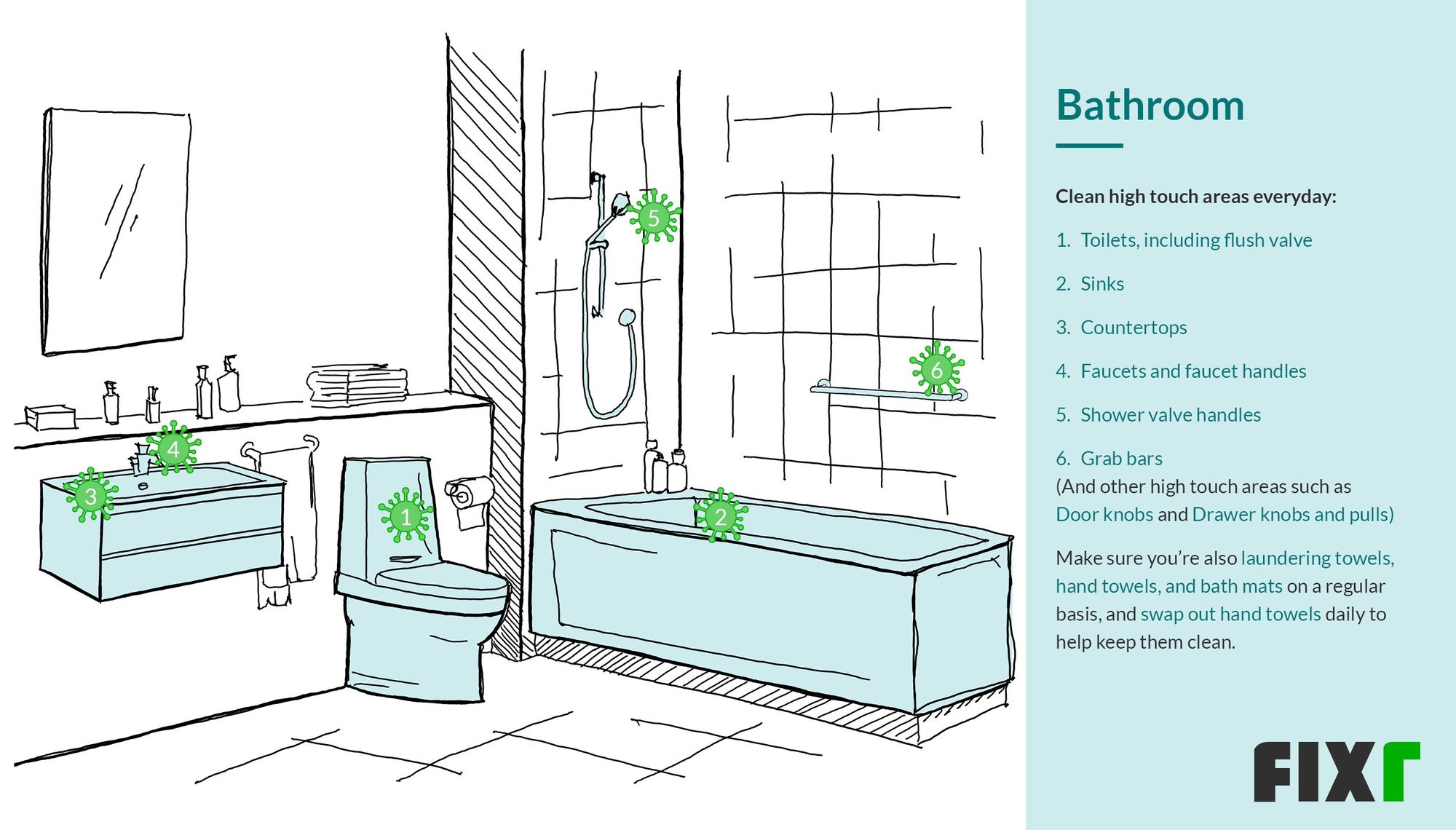 You'll be using your bathroom each day, so make sure the bathroom itself is well-sanitized each day to help prevent viruses from remaining on any surfaces. Most bathroom cleaners and disinfectants can be used here. Otherwise, mix 5 tablespoons of bleach into 1 gallon of water and use this to clean the bathroom. Include all high touch areas, such as:

Toilets, including flush valve
Sinks
Countertops
Faucets and faucet handles
Shower valve handles
Door knobs
Drawer knobs and pulls
Grab bars
Make sure you're also laundering towels, hand towels, and bath mats on a regular basis, and swap out hand towels daily to help keep them clean.
Kitchen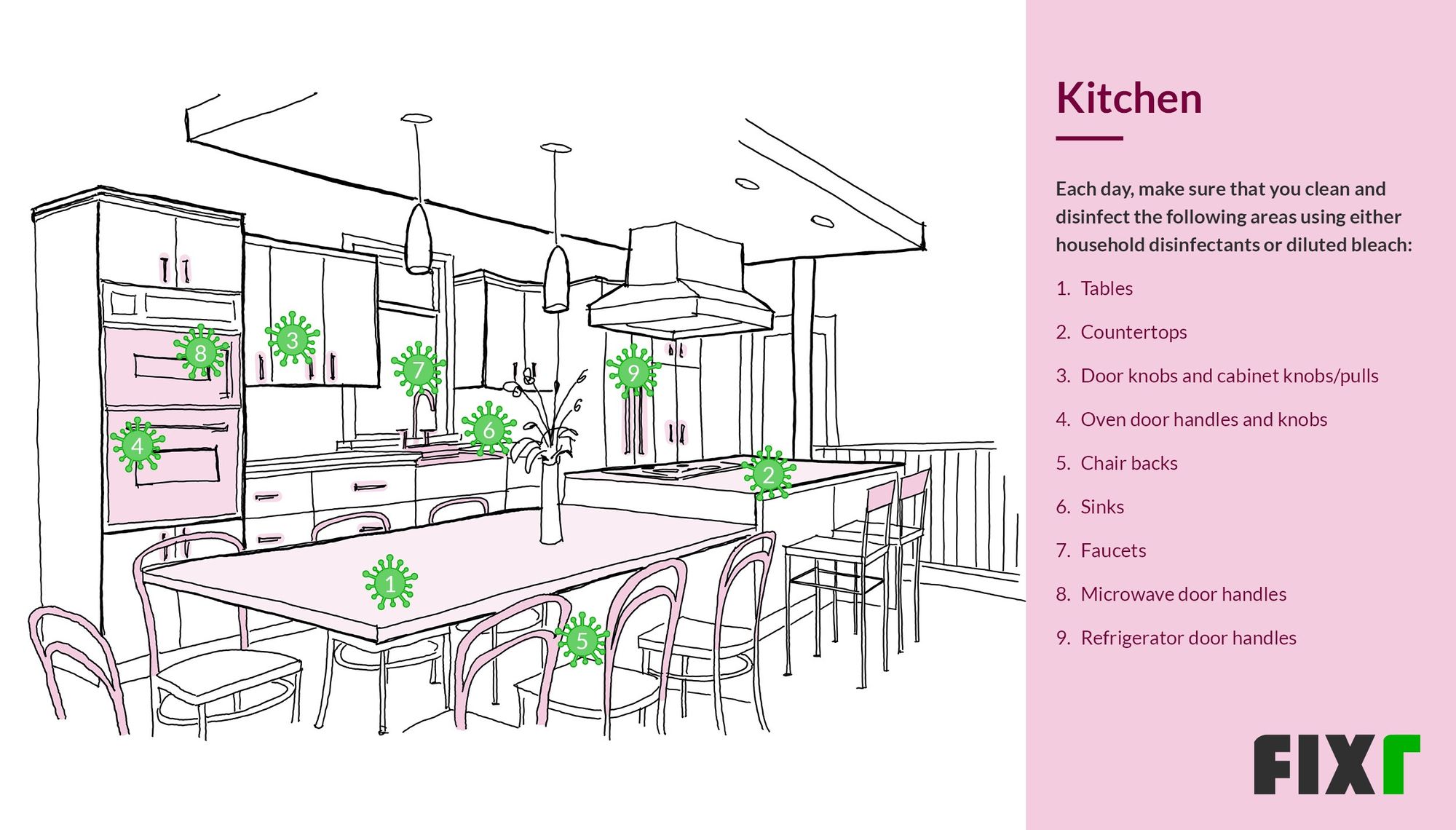 The kitchen is one of the busiest rooms in the home, so make sure that it's clean, organized, and appliances are working properly so you can remain safely at home. Make sure that your fridge, freezer, and dishwasher are working properly.
Take stock of your pantry, make sure that it's clean and well organized, and if you can make room for additional items, this is the time to do so. If you're cleaning out items you no longer want or need, consider donating anything that has not expired to your local food bank.
Each day, make sure that you clean and disinfect the following areas using either household disinfectants or diluted bleach:
Tables
Countertops
Door knobs and cabinet knobs/pulls
Oven door handles and knobs
Chair backs
Sinks
Faucets
Microwave door handles
Refrigerator door handles
Bedrooms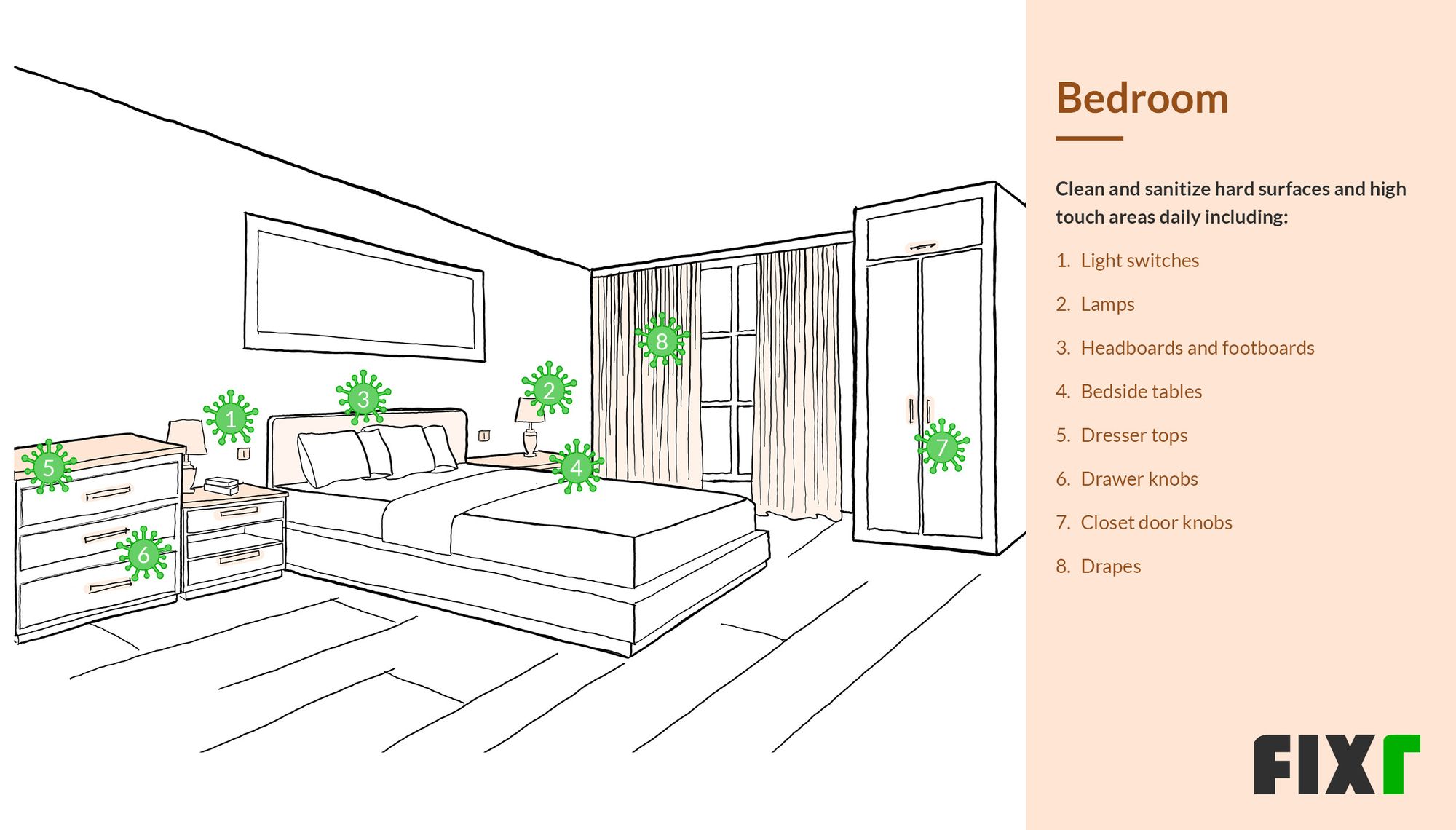 Keep bedrooms in the home clean and tidy, washing high touch areas frequently, and cleaning regulalry used items daily.
Change and wash all bedding at least once a week, using hot water and laundry soap. Dry everything thoroughly - you can wash items from an ill person with the rest of the household laundry without risk.
Clean and sanitize hard surfaces and high touch areas daily including:
Light switches
Lamps
Headboards and footboards
Bedside tables
Dresser tops
Drawer knobs
Closet door knobs
Drapes
If you have children who have a lot of stuffed animals, test out any disinfectants on a small area first. You can also dry them using high heat or clean them using steam to help sanitize.
If someone in the home is ill, use a separate room and bathroom prepared for sick household members (if possible). Clean the sick room and bathroom using diluted bleach, products containing more than 70% alcohol or other EPA-registered disinfectants, as needed. Avoid unnecessary contact with the sick person.
Stay Safe at Home
With the ultimate timeline for the global crisis still unclear, most people are going to need to make sure their homes are cleaned and sanitized on a regular basis for the foreseeable future.
Remember, each home is different. These illustrations are based on general guidelines released by the CDC. For further information, please visit the CDC's guide to protecting your home.