Architecture is an important and growing field within the United States. Architects fulfill an important role in their communities, assisting with remodeling, construction, and even preservation of homes and buildings.
To become an architect, one must complete relevant training and schooling before completing and passing licensure and certification testing. This process ensures that all architects can conform to a minimum standard of knowledge, experience, and suitability for the role they play.
The National Council of Architectural Registration Boards (NCARB) keeps track of the number of licensed architects in each state, as well as the number of new record holders each year and how the community continues to grow over time. This data makes it easy to keep track of the state of the architecture industry, and it can be a measuring stick for how the building industry is doing at any given time.
Tracking Architects by State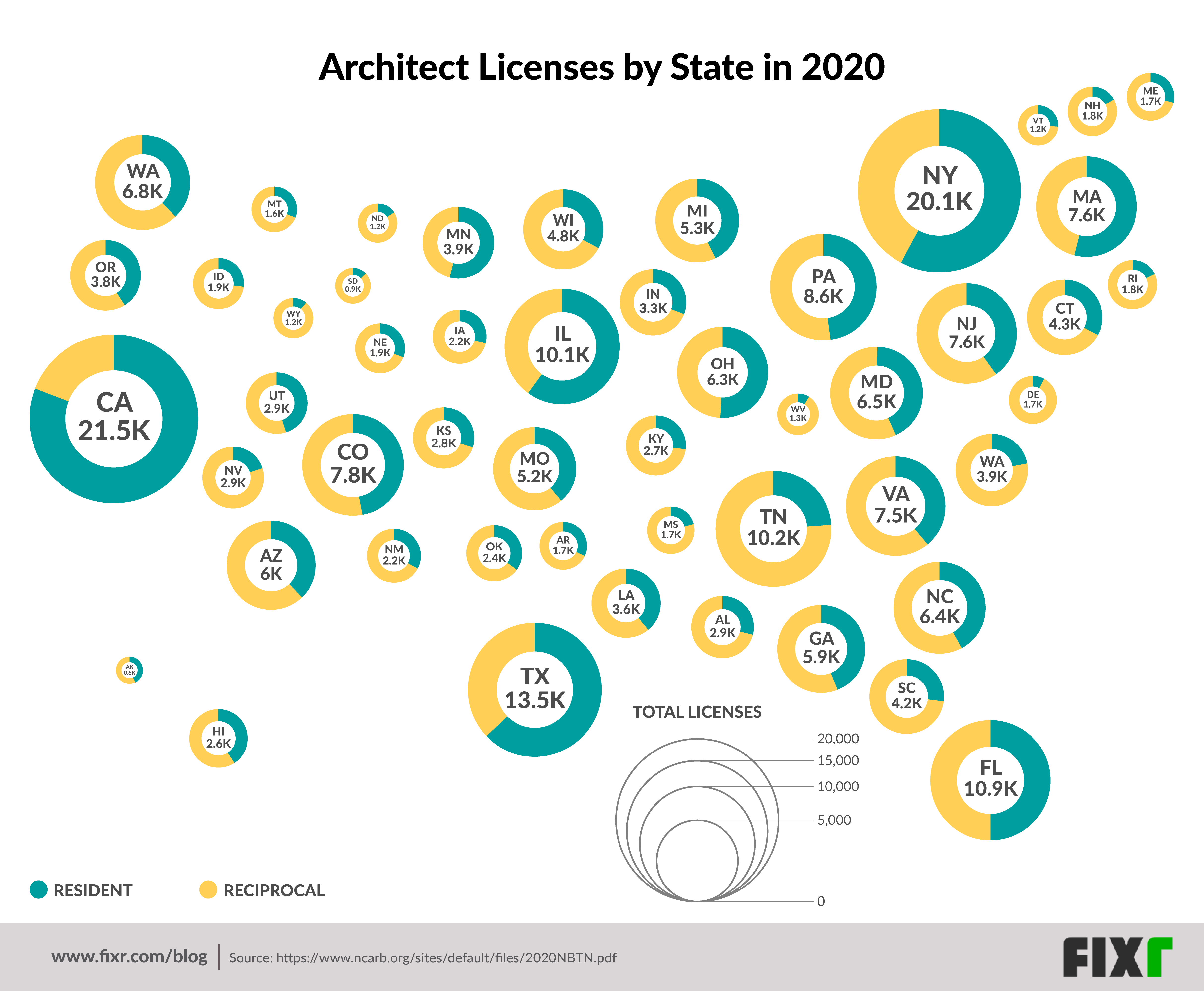 The map above shows the number of architects that can be found throughout the US. It shows how many resident licenses each state issued, as well as how many reciprocal licenses each state issued to non-resident architects. The larger each circle showing the number of architects is, the larger the number of architects in that state. The section of each circle showing turquoise is the percentage of resident licenses the state issued, while the section showing yellow is the amount of reciprocal licenses the state issued.
At a glance it's easy to see that some states have significantly more architects than others, with California, New York, Texas, Florida, Tennessee, Illinois, Pennsylvania, Colorado, Massachusetts, and New Jersey ranking first through 10th in terms of overall numbers. It's also easy to tell at a glance that of those 10, most of California's architects are residents, as are the majority of Texas' architects.
At the other end of the spectrum, Alaska has the fewest number of architects, followed by South Dakota, with both having fewer than 1K each. Of these, South Dakota has a sizable percentage of reciprocal licensees.
Top 10 States by Total Licenses
| State | Total Licenses | Licenses per 10000 residents | Resident | Reciprocal |
| --- | --- | --- | --- | --- |
| 1. California | 21,528 | 5.4 | 81% | 19% |
| 2. New York | 20,102 | 10.3 | 58% | 42% |
| 3. Texas | 13,558 | 4.7 | 63% | 37% |
| 4. Florida | 10,917 | 5.1 | 50% | 50% |
| 5. Tennessee | 10,184 | 14.9 | 24% | 76% |
| 6. Illinois | 10,057 | 7.9 | 60% | 40% |
| 7. Pennsylvania | 8,571 | 6.7 | 48% | 52% |
| 8. Coloradoa | 7,804 | 13.6 | 47% | 53% |
| 9. Massachusetts | 7,646 | 11.1 | 54% | 46% |
| 10. New Jersey | 7,618 | 8.6 | 40% | 60% |
Top 10 States by Per Capita Licenses
| State | Total Licenses | Licenses per 10000 residents | Resident | Reciprocal |
| --- | --- | --- | --- | --- |
| 1. Washington DC | 3,947 | 55.9 | 22% | 78% |
| 2. Wyoming | 1,215 | 21.0 | 11% | 89% |
| 3. Vermont | 1,216 | 19.5 | 26% | 74% |
| 4. Hawaii | 2,586 | 18.3 | 41% | 59% |
| 5. Delaware | 1,734 | 17.8 | 8% | 92% |
| 6. Rhode Island | 1,828 | 17.3 | 18% | 82% |
| 7. North Dakota | 1,167 | 15.3 | 16% | 84% |
| 8. Tennessee | 10,184 | 14.9 | 24% | 76% |
| 9. Montana | 1,564 | 14.6 | 31% | 69% |
| 10. Colorado | 7,804 | 13.6 | 47% | 53% |
Full list here
Architect Demand in Each State
What's very interesting to see is that the total number of architects in each state can vary tremendously based on population. One would assume that more residents in a state would mean that you would need more architects per capita, and while states with higher populations do tend to have more architects in general, the percentage per population doesn't always translate.
For example, while Texas has the third highest number of architects in the country, they have just 4.7 licenses per 10,000 residents - this is the lowest in the country. California, which has the most architects, doesn't fare much better per capita with just 5.4 licenses per 10,000 residents. In both of these states, most of the licensed architects are residents as well. One could wonder if these states simply aren't attracting as many architects from other areas, or if many of the architects getting licensed there eventually move on to other areas.
It's also interesting to note that some of the states that have the highest number of architects per capita have fewer overall architects. Many of those architects in these states have reciprocal licenses as well. This includes DC, which has total licenses of just under 4k, of which 78% are reciprocal, making their per capita numbers around 55.9.
Next is Wyoming with just 1,215 licenses total, of which 89% are reciprocal and 21 licenses per 10,000 residents, followed by Vermont at 1,216 licenses with 74% being reciprocal and 19.5 per 10,000 residents. It could be that some of these areas may be attracting architects from other areas, which can account for the differing percentage numbers.
Tracking Growth and Industry Behavior
When looking at the total numbers of architects currently licensed, it's important to pay attention to the amount of industry growth as well. The NCARB keeps track of up-and-coming architects, as well as potential influences on the future of the industry.
"NCARB expects COVID-19 to have a significant impact on the number of individuals who become licensed architects in 2020."
For example, the current situation with COVID-19 is impacting nearly all industries in some way. According to NCARB CEO Michael J. Armstrong, the virus may be slowing down prospective architects from achieving licensure. As he explains, "NCARB expects COVID-19 to have a significant impact on the number of individuals who become licensed architects in 2020. Currently, we're seeing close to a quarter of the normal number of candidates completing the licensure process, with the year slightly more than half over." He further expands that this could be due to the closure of testing facilities - another sector that has been impacted by the virus.
Before the virus caused a sudden slowdown, however, more students were beginning their education earlier, and were completing their courses sooner than in years past. As Armstrong explains, "The overall time to complete the licensure process has dropped by nearly one and a half years over the past decade, with candidates in 2019 completing the experience and examination programs a year younger than those in 2010. There's also a growing trend of candidates starting their NCARB Record (often seen as the first step on the path toward licensure) in school. Combined, these data points indicate that candidates are becoming aware of the steps they'll need to take to earn a license earlier, which can help them make informed career decisions." This awareness of the process needed and the advancement in the number of people completing sooner than in years previous may be needed for the industry to recover in a timely way from the current crisis.
"Minority candidates are 31 percent more likely than white candidates to stop pursuing an architecture license."
Not everyone who begins the process to become an architect is able to reach their goal and complete their license, however. When asked about how diversity has increased within the profession in recent years, Armstrong has some mixed results to share: "NCARB has seen consistent improvements in both gender equity and racial and ethnic diversity in recent years, especially for individuals at early stages in their architecture careers. However, our data also shows that minority candidates are 31 percent more likely than white candidates to stop pursuing an architecture license. Understanding where this disparity stems from and how NCARB can better support minority candidates is a core focus for our organization this year. We have recently partnered with the National Organization of Minority Architects (NOMA) to explore this area more closely."
With many non-white and racial minority communities being hit harder by COVID-19, this is particularly concerning for the current group of candidates who may be struggling to complete their licenses in 2020. This, combined with the other trends being seen in the industry, will bear further watching to see how they continue as the year progresses. With testing centers reopening and schools preparing to go back in session, numbers could begin to climb again in the next quarter.
Why Hire an Architect?
When viewing the number of architects currently practicing in the US, it's important to consider just how important these skilled workers are to the building industry. Architects offer many services that can't be found in other areas, such as space planning, energy efficiency, and how to bring a project in on time and budget. Their training, knowledge, and experience in the field mean that they have the skills needed to complete projects successfully, whether you want them to design the initial stages of or oversee your entire project.
The Architecture Industry is Constantly Evolving
Looking at the numbers is always a good way to grasp the health and wellbeing of an industry. While the current health crisis caused by the coronavirus has slowed the industry somewhat, all other indications show healthy growth, which in turn means that the rest of the construction industry could flourish as well. The NCARB releases its NCARB by the Numbers report annually. Its data, combined with Fixr's ongoing industry analysis, can provide a deeper insight into where the overall building industry is currently, and where it's going in the future.