How much does it cost to hire an architect?
Get free estimates from architects near you
Architect Cost Guide
If you are building a new home or considering an extensive remodel, hire an architect to help. Architects have the training, knowledge, and experience to plan the project, maximize the space, select finishes and materials in your budget, and even manage the project. Architects have a wide range of roles, from planning, designing, and drawing to overseeing the project start to finish.
They have varying fee structures, some of which may combine through the project as it moves through different phases. For this reason, there is a range of costs associated with hiring an architect. The national average to hire an architect for a new home building project of 2,500 sq.ft. ranges from $26,000 to $71,000, with most people paying $48,500 for the plans, designing, and overseeing the building process for a new 2,500 sq.ft. home. This project's low cost is $2,500 for an initial meeting and custom design plans for a 2,500 sq.ft. home build with no continuing oversight of the work. The high cost is $150,000 for full design, plans, and overseeing of a custom 3,000 sq.ft. high-end home build by a senior architect.
Architect Costs
Hiring an Architect Costs
National average cost
$48,500
Average range
$26,000-$71,000
Low-end
$2,500
High-end
$150,000
What Does an Architect Do?
Architects have specialized training in the science and art of building design. Professional architects hold a bachelor's degree in architecture and have completed a professional internship. They also need to pass the state licensing exam and maintain their qualifications or update their licensing depending on where they live and work. These professionals create building designs and blueprints by evaluating sites and understanding zoning regulations and building codes.
Architects draw building plans and incorporate plumbing and electrical systems into the designs. They prepare detailed construction documents outlining the structural plans and how they meet code. Architects also work with contractors throughout the construction process to ensure the building's safety and integrity. Architects oversee the building design and create building plans that accommodate the landscape, surrounding buildings, and project goals.
Architectural Fees for Residential Projects by Billing Method
Architects have different fee structures for their costs. They may combine them, use one, or determine the fee structure based on the project. It is common for a firm to look at a project before deciding how to proceed. They may break the project into phases and determine the best method of charging for each phase. For example, they may charge hourly for the planning, designing, and drafting, switch to a flat fee or square foot pricing for the bulk of the project once it has broken ground, and return to hourly to wrap up. The idea is to make the pricing process transparent to the client while ensuring the firm gets paid for the work. Sometimes, hourly rates add up quickly, so homeowners may balk at the final costs. By capping the hourly rate and moving to a fixed fee, the homeowner feels in control of the project costs, and the firm is paid for their work.
If the architect works in a combination billing method, insist they give you a fee schedule with how much you pay for each project phase and how it is billed. Find out what you are paying for in each phase so that there are no surprises later. Every firm has its own fee structure. Due to the Sherman Act, which prohibits the American Institute of Architects from recommending what architects should charge, each firm must independently create its own fees and ways to implement them. Therefore, comparing costs between two architects is difficult because they bill the same project differently. Below are the average costs that an architect may charge based on different fee schedules and charging methods.
| | |
| --- | --- |
| Charging Method | Average Price |
| Per Sq.Ft. | $2 - $15 |
| Hourly Rate | $60 - $400 |
| Percentage of Total Cost | 5% - 20% of the project |
| Fixed Price | 40% of the architect's fee |
Architect Cost per Square Foot
If your architect charges by the square foot, expect fees of between $2 and $15. Architects sometimes charge by the square foot, especially for smaller projects. This is less common for big jobs and new construction because it is difficult to set a cost before choosing materials or working out the design. The architect risks losing money if they price too low, but they alienate future clients if they price too high. That is why they generally do smaller projects by the square foot, where they understand the project scope ahead of time. It is common for the cost per square foot to range depending on the project complexity and architect's experience.
Architect's Hourly Rate
The total cost range that an architect may charge per hour falls between $60 and $400, but most hourly fees cost between $100 and $200. Most firms charge some of their work per hour, even if it is just the initial meetings, planning, and designing phases. Some firms also charge per hour for drafting. They may have different hourly rates depending on who does the work. For example, a senior principal may do the bulk of your work and charge one fee, but they may have an unlicensed architectural designer and draftsman handle some parts at a lower cost. You can also put a cap on hourly work to ensure it is done efficiently and quickly if the project is large and not priced as a percentage. Stipulate in the contract that you have a maximum amount for hourly fees if this is the case.
Architectural Fee Percentage of Construction
For total projects where the architect may be designing, drawing, and managing, your fees may be 5% to 20% of the total project. Most projects fall between 10% and 15% of the total fee, complex remodels can go higher, and straightforward bills can be lower. Many architects use this method because it is easy to conceptualize. If you know your project falls into a certain price range, you can extrapolate the cost of the architect more easily. Most architects who bill this way have completed hundreds of projects and know how much work it takes, so they can easily work out the costs using this method.
Fixed Price Architect
If your architect charges a fixed fee for some services, this is roughly 40% of the total architect's fee or what you pay for the entire service. This is less common. If the architect oversees the project, they may charge a fixed fee for the second or third phase of the project because this has fewer variables. While total percentages can vary as many changes are made, fixed-fee pricing is set, so you know what you are paying up front. If your total bill is $40,000, the fixed-fee portion for overseeing the work is $16,000. Fixed fees are for project management and oversight, not for drawings, ordering, or planning. It is common for a project to begin hourly, move to a fixed fee for the middle stages 1, and move back to hourly at the end for the architect to tie up loose ends and address unforeseen issues.
Average Cost for an Architect by Level of Expertise
An architect's experience level may dictate the cost you pay. A new architect or intern just starting out or who has little experience charges much less than an architect who has completed many projects. Likewise, a project manager who handles more of your project and has much more experience charges a higher rate. Senior architects and principal architects have the most experience and command the highest rates. However, it is important to know that while these architects may have the highest costs, their experience can help save money on the project. They may have methods that make your home more efficient to build and live in, so while you pay more hourly, you pay less in total. Average costs for an architect's hourly rates range from $60 to $400, depending on the firm, your location, and the architect's experience. Below are the average hourly costs charged by architects of varying experience.
| | |
| --- | --- |
| Experience | Architect Cost per Hour |
| Intern | $60 - $90 |
| Project Manager | $110 - $350 |
| Senior | $200 - $400 |
Price of an Architect by Level of Involvement
Architects offer basic house plan drawing or complete service with full documentation and project management. If you already have a builder you trust and just need your plans confirmed by an architect, the drawing-only service may be best for you. This costs $2,500 to $15,000 for a 2,500 sq.ft. home. If you want an architect's full experience and support throughout the entire process, full service is better but costs much more, around $25,000 to $150,000 for a 2,500 to 3,000 sq.ft. house. With full service, your architect is available from start to finish to assist with drawing, revisions, construction documentation, project management, and administration. Below are the average costs you can expect for the most common levels of involvement by an architect.
| | |
| --- | --- |
| Service | Average Price Range |
| Custom Drawing Only | $2,500 - $15,000 |
| Full Service (Drawings, Documentation, Project Management) | $25,000 - $150,000 |
Architect Costs by Type of Project
Architects work on many home projects, ranging in price from $2,500 to $150,000. Every homeowner is different, and the costs depend on the project's property and complexity. You may have a small project you want architectural approval on, or maybe you plan to build your long-desired dream home. Speak to your architect about their fees per project type and anything else you want to know before moving ahead with the project. Below are the average project costs, with an hourly rate ranging from $60 to $400 and cost per sq.ft. of between $2 and $15. While these are average costs, remember that project prices vary greatly depending on the size and specifications.
| | | |
| --- | --- | --- |
| Type of Project | Cost (Drawings Only) | Cost (Drawings and Overseeing the Project) |
| Small Project | $2,500 - $5,000 | $5,000 - $10,000 |
| Home Addition | $4,000 - $9,000 | $8,000 - $20,000 |
| Remodel | $8,000 - $10,000 | $16,000 - $40,000 |
| New Construction | $10,000 - $30,000 | $20,000 - $150,000 |
Hire an Architect for a Small Project
The average cost to hire an architect for a small project is $2,500 to $5,000 for drawings only and $5,000 to $10,000 for architectural oversight. You may wish to bring in an architect for minor residential projects such as renovating one bedroom or bathroom or enhancing outdoor-indoor living space. If you need some inspiration and want professional expertise, a few meetings and blueprints from an architect could make a big difference. Architects will explain how your vision can come to life while keeping the project within budget.
Architect Cost for an Addition
The cost to design a home addition is $4,000 to $9,000. The architect's fee for a small extension increases if they oversee the project. The final amount approaches $8,000 to $20,000, depending on the project scope and the architect's level of involvement. When adding to your home, hire an architect for some or all of the job. Architects may be part of the design process for the addition, or they may design and then oversee the work. Percentage fees for this type of service can be slightly higher than for a new build. This is because the addition must work with existing features and walls, increasing the project's complexity. So while the project is small, it can be more involved in some ways, resulting in higher percentage costs. This means an addition may have percentage fees at 12% to 18%, while a home build may have costs averaging 8% to 10%.
Hire an Architect for a Remodel
Hiring an architect for a remodel drawing costs $8,000 to $10,000. The project price depends on how extensive the remodel is and the architect's involvement. The cost may be closer to $16,000 to $40,000 if the architect oversees the project. Remodels often have surprises, such as old pipes, mold, asbestos, and other things that are uncovered once the remodel is underway. Changes frequently occur to the plans during the remodel, and the contract may undergo multiple revisions. For these reasons, it is common for the percentage costs to approach 20% of the total project costs. This is higher than the average percentage cost of a new home build because of various factors.
Hire an Architect for a New Construction
Hiring an architect for new construction is the most expensive project, costing $10,000 to $30,000 for the plans alone. Adding project management and other details can raise total costs from $20,000 to $150,000. Architects can take on many roles in new home construction. They may be involved only in the design of the home or oversee the entire project. If working on a percentage fee-based structure, the most common costs fall between 8% and 10% of the total project cost. However, it may drop to 5% for large homes and raise to 15% for involved and complicated projects.
Cost of Architect Plans by Type
There are two types of home plans, stock and custom. Stock plans are readily available for purchase through a third party or architect firm. They can be modified to make changes to meet your needs. This is a semi-custom design, and it is a very common building method. Modifying stock plans is less expensive than custom drawings because there is less work involved. It also takes less time, considering part of the work is already done. Most plans are priced on the number of hours it takes to do the work. The cost per hour for architect drawings ranges from $60 to $400 based on the plan type. Drawing custom plans may involve many other costs because it is a very intricate and detailed process, depending on the house size, project scope, and other factors.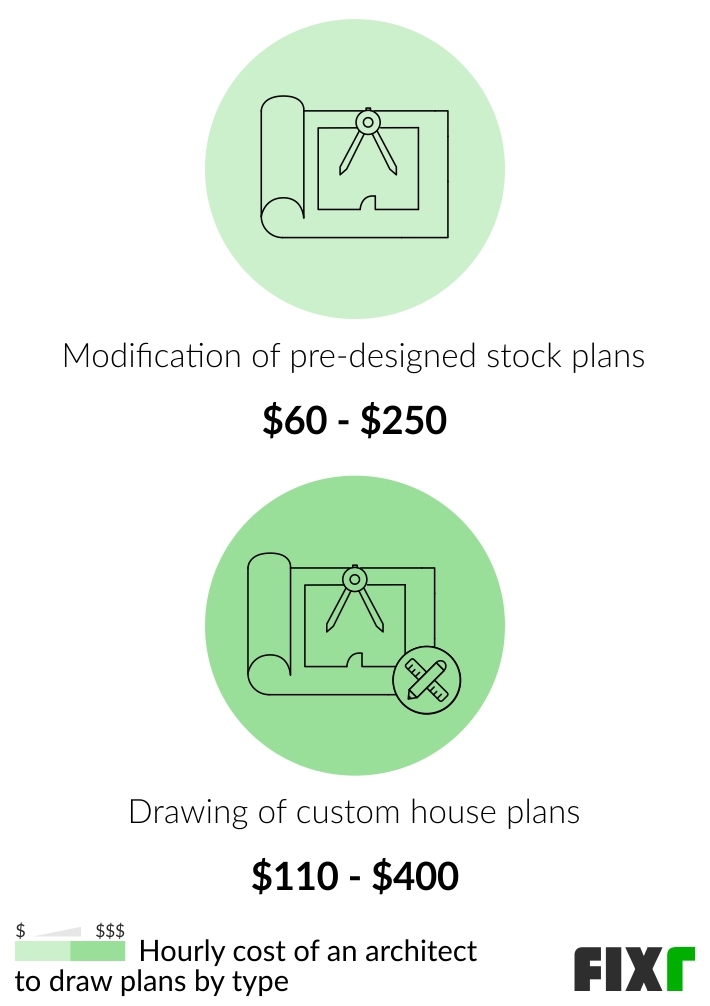 | | |
| --- | --- |
| Type of Drawings | Cost per Hour |
| Modification of Pre-Designed Stock Plans | $60 - $250 |
| Drawing of Custom House Plans | $110 - $400 |
Modify Pre-Designed Stock Plans
Architects charge $60 to $250 per hour to modify pre-designed stock plans based on your design preferences and desired outcome. Stock plans include the most in-demand features homeowners are looking for, with several options for the number of bedrooms and bathrooms with different square footage. Stock plans may include open-plan living, high ceilings, spacious master baths, safe staircases, and other popular features. By modifying them, you can take out things you do not like or add more of what you do. During meetings with your architect, you can go over the stock plans and explain what you want to see in your home project, whether new construction or a home addition.
An Architect to Draw House Plans
To have an architect draw custom house plans, expect an hourly fee of $110 to $400. This is the best option if what you want is not found in a modified stock plan. A custom home is one created completely from scratch and designed in phases. The initial phase is done in consultation and may be complimentary or charged hourly, depending on the architect. The next phase draws up the initial plans. This may go back and forth many times between the homeowner and architect while they fine-tune it. The more changes you make to a plan, the more time is spent on it, and the higher your total costs.
Architectural Fee Breakdown by Phase
Every home is unique, and so is every project that requires an architect. You may have an architect involved for the beginning phases or the entire thing. The price of an architect depends on how much consulting they do on your home. Most projects can be broken into components that make up the full-service cost. They start with an initial interview with the architect to get your thoughts and go over what you want from the project. It is recommended that you go through this phase with at least three architects to find the right fit.
From here, the architect draws up the plans. This phase can go back and forth as you make changes. Once it is done, the architect draws the final design, which can include many sets of drawings and plans to be worked from and for you to visualize. Next, bidding starts from the builders and contractors. They bid on the project, and your architect can ensure they are the best people for the job. Sometimes, you may be involved in this process, but at other times, they may have people they work with regularly that they can recommend.
Once the team has been assembled, the architect comes up with the construction documents. This includes the permit plans, other necessary documents, and the plans for the builders. This phase can take up to 6 months to finalize. Once everything else is done, it is time to start building. Your architect oversees the entire process, which can take several months to two years to fully complete, depending on how complex the build is. The following phases show the steps of having an architect involved in the full project and the percentage of their time and budget each takes.
| | | |
| --- | --- | --- |
| Phase | Percentage of Time | Percentage of Total Cost |
| Initial Interview and Review | 5% | 5% |
| Schematic Design | 10% | 15% |
| Final Design | 15% | 15% |
| Bidding | 5% | 5% |
| Completion | 20% | 40% |
| Construction Administration | 45% | 20% |
Architect Blueprint Cost
While you can purchase stock plans or have basic plans drawn up or modified by a draftsperson, you can also have your blueprints drawn up by your architect alone. Generally, architect-generated plans are more detailed, involving the technical drawings and artistic renderings of the final design. These plans are more likely to be custom and much more involved. It is common to have your blueprints drawn up by new architects or interns at the firm rather than the architects doing the project management. However, you may have one person handle all parts of the job if you are contracting with an individual or a smaller firm, including the plans. Custom plans range from $2,500 to $15,000, depending on the project size and scope, architectural expertise, drawing detail, and the number of changes made to the drawings as they are being produced.
Add-Ons Cost
There can be additional fees for drawing the plans and overseeing the project. Some architects may roll these into the total costs, others break these out separately. In most cases, you are given itemized lists for add-ons, particularly things like renderings and reimbursable expenses. Renderings are the artistic drawings that you may get in addition to plans. They can be 3D and may show exploded views or finished interiors and exteriors. It is not uncommon for a project that uses multiple renderings to have total rendering costs of up to $10,000. Renderings are priced by the piece, so the more you have, the more detailed they are and the higher the costs.
Performing a land survey is generally a good idea before commencing building. Surveys can give you boundaries, which is important in some areas because you cannot build near boundaries in some cases. Surveys can also inform the architect about the terrain and how best to support the structure. Most architects overseeing the project submit the plans for permits. Building permits are required for all projects that impact the home's structure, including remodels, additions, and new builds.
Most architects also bill you for reimbursables. These are things they may pay for out of pocket during the project, including photocopies, mailing supplies, airline fees, rental cars, mileage, hotel fees, couriers, and food. Most architects charge for the exact cost of the reimbursable and an extra administrative fee of 10% to 25% of the cost. So, if the architect had to fly to your location, you may pay $600 for the flight, plus $150 in extra fees. Good architects keep track of their reimbursables and present an itemized list. Below are the average costs you can expect for common add-ons to average architect costs.

Commercial Architect Cost
Commercial architects work solely on large-scale commercial projects rather than residences and homes. They may design and build hotels, hospitals, apartment buildings, restaurants, shopping centers, and office buildings. Because these projects are larger and more complex than residential projects and they work with different materials and builders, the fees are usually different from residential. The average costs for commercial architects are 2.5% to 12% of total building costs. While these are lower than the average percentages for residential services, the projects are much larger and more costly, so the architects typically make considerably more while the percentages are lower.
Landscape Architect Cost
Landscape architects work with built and natural structures. They design and plan gardens, parks, and other outdoor areas, along with the structures typically found there, including paths, walkways, roads, shelters, and seating. While most landscape architects work on a large scale, there are residential landscape architecture services. If you are planning a full-scale landscaping job with walkways, fountains, a structure like a gazebo, and gardens and other plants, a landscape architect can help achieve your goal. These architects typically design the space, but some also oversee the project. Costs range from $70 to $150 an hour for design work. Typical total costs range from $2,000 to $7,000 for most full-scale design services.
Do I Need an Architect?
Architects are expensive to hire, so many wonder whether they are truly necessary for the job, especially when design/build firms, builders with design experience, and stock building plans exist. However, architects offer several services you do not get elsewhere. They have a lot of training, knowledge, and experience in the field that benefits you and the project. They know how to bring in a project on or under budget and avoid added and unexpected expenses.
They create an energy-efficient home, so you save money on energy bills going forward. They also find materials and finishes that are less expensive than what you may have imagined, offering a better fit for your home and lifestyle. Suppose you have a problem with your current home layout or property and are unsure how to fix it. The creative expertise of an experienced architect helps solve the problem and offers innovative design elements for your living space.
Architects are also better at space planning, so they lay your home out in a way that makes sense for you rather than a generic layout. They are as involved as you need them to be, so have them oversee everything or just get your project off to a good start, making them more affordable for nearly all projects. Architects also help when restoring or remodeling historic homes, so you can maintain the integrity while ensuring it is a safe and comfortable living space. Something else to keep in mind is that you may be required to hire an architect to draw or at least sign off on your plans, depending on where you live. Some local building departments may require architect approval while others do not, so always check with your city to be sure.
Tips to Hire a Professional: What Questions Should I Ask an Architect?
Before hiring an architect, plan on interviewing at least three individuals. Ask numerous questions during this process to find an architect who is a good fit for the job and someone with whom you can work comfortably. It is also important to understand how they work, the level of work they do, and that they understand your expectations. A partial list of questions you should ask an architect during the interview are:
What responsibilities in this job are you handling? What am I handling? Because the role of an architect varies, make sure you are clear on why you hire them.
What services are included in your basic fee? What incurs extra charges? Sometimes architects price things out separately, so make sure you get a clear understanding of their services.
What part of choosing fixtures and finishes do you take? What role do I play in this? Architects may show you samples and ask you to pick, or you may want to choose everything yourself. Be upfront if you have a preference.
How do you handle a project of this size/budget? How do you make sure it does not exceed that budget? Gauge their experience with other projects similar to yours. Their answers to these questions determine that.
What is your fee schedule, and how does it work? It is not enough to get a breakdown of when they are paid. Find out how they charge and if you need to put a cap on expenses.
How involved are you with the contractor? Are you managing the project? Some architects assume they manage, while others do not. Be clear if you want to hire them for this portion of the job or not. Find out how often they meet with the contractor and if you need to be involved.
What are your credentials, and are they up-to-date? Architects are licensed. Architectural designers are not. Find out if their license is current.
Do you carry insurance? Your architect should have limited liability insurance at a minimum.
May I have at least three references from recent projects? Call these references and find out how satisfied the past clients were with the work.
May I see a portfolio of your recent work? You want to know that your style and the architect's style work together. If you want a cottage and they specialize in ultra-modern, know that before you hire them.
​Legal Considerations
When you hire an architect, you need to sign a contract. This includes the scope of the work and services the architect provides and the fee schedule. Ensure that it is clear, you understand it, and that everything is spelled out to your satisfaction before signing.
One important stipulation in your contract is that the architect owns their mistakes. Keep in mind that architects are human, and mistakes happen. By stipulating that, the architect fixes errors they make and ensures you have legal options later. If one room was designed with incorrect dimensions and the builder did not notice, the mistake falls on the architect. However, If building errors occur unrelated to the initial design, they are the contractor's responsibility.
Throughout meetings, interviews, and the schematic design process, not everything may go according to plan if issues arise. If your project is not completed, almost all American Institute of Architects (AIA) contracts give architects ownership of the plans. Even when a home is finished, this architect ownership means other homeowners could hire your architect and use those same plans. If you need to abandon a project midway through, you likely need to forfeit the plans. Hopefully, this does not happen, and your home project proceeds without problems. Still, it is good to discuss this possibility with your architect. You may find some architects are more willing to give back your plans than others.
Architect vs Architectural Designer Price
The main difference between an architect and an architectural designer is that the former has more professional experience and accreditations than the latter. Both have studied architectural design and may have years of professional practice, but designers are not licensed. A registered architect has taken and passed the state licensing exam and maintained their certifications throughout the years. The National Council of Architectural Registration Boards facilitates the architectural exam, much like the bar exam for lawyers.
Keep in mind that architectural designers are not the same as design architects. Design architects have passed their exams but specialize solely in the design elements of a project, letting another architect handle the construction aspects. Architectural designers do many of the same tasks as architects but for a lower cost because they aren't fully licensed and certified. Most architectural designers charge around $50 to $150 per hour, while architects have an hourly rate of $60 to $400 depending on seniority and expertise.
| | |
| --- | --- |
| Professional | Price per Hour |
| Architectural Designer | $50 - $150 |
| Architect | $60 - $400 |
Architect vs Home Designer Cost
Another person you may hire for a home build, addition, or renovation is an interior designer. A designer can work on the layout finishing of the home's interior, and so can an architect. The difference is the architect oversees everything about the home from the ground up. The designer focuses on the interior, furnishings, layout, and how it looks and functions when completed. There is some overlap between the two professions, but these are separate areas of expertise. It is not uncommon for architects and designers to work together, with the designer taking over the interior layout, flow, and the finishing and furnishing of the space. While an architect may charge $60to $400 per hour or $48,500 to design and oversee the building of a home, an interior designer charges $50 to $450 per hour or $30,000 to complete the interior layouts, flow, finishes, and furniture for the space.
| | |
| --- | --- |
| Professional | Price per Hour |
| Home Designer | $50 - $450 |
| Architect | $60 - $400 |
Additional Considerations and Costs
Permits. Building permits are documents required by the city before breaking ground on a major home building project. In some areas, you may need an architect on your project to get a permit. In other locations, a builder or design/build firm does this. Check your local laws to determine if you need to hire an architect. If necessary, you can use your architect's drawings to obtain building permits, costing $500 to $1,000.
Changes to plans. If you do not like the designs your architect comes up with, ask them to change or modify them. You may also fire them and switch architects, but you need to pay the original architect for their work.
Interview prep. When first meeting with an architect, you should bring any photos, plans, or other sources of inspiration. Also, bring images of your existing property, whether it's an older house or a plot of land. While the interview covers the broad project scope rather than extensive details, visuals will assist the architect in these discussions and help set the expectation for project scope, timelines, and budget.
CAAD and 3D renderings. Almost all architects and design firms use computer-aided drafting today. It is rare to find someone who drafts completely by hand. 3D renderings are more abstract and cost more money than computer-aided architectural design (CAAD). Ask the architect in the interview how they complete designs and how this may impact the project budget.
FAQs
How long does it take for an architect to draw up plans?
This takes a varying amount of time depending on the scope of the plans, changes you make, and whether they are custom or stock. It takes anywhere from a few days to several weeks.
How are architect's fees calculated?
Every architect has their own fee schedule and calculation. There is no one set way to determine the cost and no overarching fee calculation schedule due to the Sherman Act, which prohibits this. They may charge by the hour, square footage, percentage, fixed fee, or a combination of any of these.
Can I hire a student architect?
An architect is licensed, so if you hire a student, you are hiring an architectural designer. In some areas, they are not able to pull a permit or oversee your project. Check your local ordinances before hiring a student architect.
Do I need an architect to draw plans?
For the ideal results when building or renovating a home, hiring an architect is a good idea. If you plan to build on an elevated site or have a vision for a complex building project, an architect can draw the most accurate plans. Some cities and counties require the signature of an architect or structural engineer before approving building plans. Other communities may not need architect approval, so just ask your local building department.
Should I use an architect or builder?
Architects and builders can help build your dream home. In some cases, you may want to hire a design/build firm that employs both because they have different areas of expertise. However, architects work best on designing custom homes and plans, while a builder may be more likely to use stock or modified stock plans.
Can I design my own house without an architect?
You can, particularly if you are working off stock plans. Architects can help customize a design or build the home to meet your particular needs, but stock plans can allow you to build without them.
The information provided by our cost guides comes from a great variety of sources. For more information, read our Methodology and sources.