Homeowners Associations (HOAs) are found in communities across the nation and are continuously growing in numbers. We have gathered data from the US Census to highlight the increase in the amount of new single-family homes that are part of an HOA over the last decade. Not everywhere has the same rules and fees, however. Every HOA adheres to its own regulations and depending where you live will determine what the cost of being part of one is. Therefore we have also created a map showing the US-metro areas which have the highest HOA fees, and we explore both the advantages and disadvantages of belonging to an HOA.
A Brief History of Homeowners Associations
As World War II came to an end in 1945, small suburban communities began popping up across the US with the intention of offering low-interest homes to veterans returning home while simultaneously putting rules and regulations into place to govern these new communities. These very early forms of Homeowners Associations were the precursor to the more formalized HOA model we know today. This more modern model began to take hold in the 1960s when suburban life became more popular and communities were built with offerings of shared common spaces and preservation of property value in mind.
Since those early days, HOA models have continuously adapted to the needs and wants of the residents living within their communities, and today a typical HOA establishes a set of rules (formally referred to as Covenants, Conditions, and Restrictions [CC&Rs] & Bylaws) along with a monthly fee to cover the cost of any amenities or offerings the association provides. An HOA's CC&Rs will vary depending on the community it governs and this in turn greatly affects the monthly fees that will be levied.
The Increasing Percentage of Homes in an HOA Neighborhood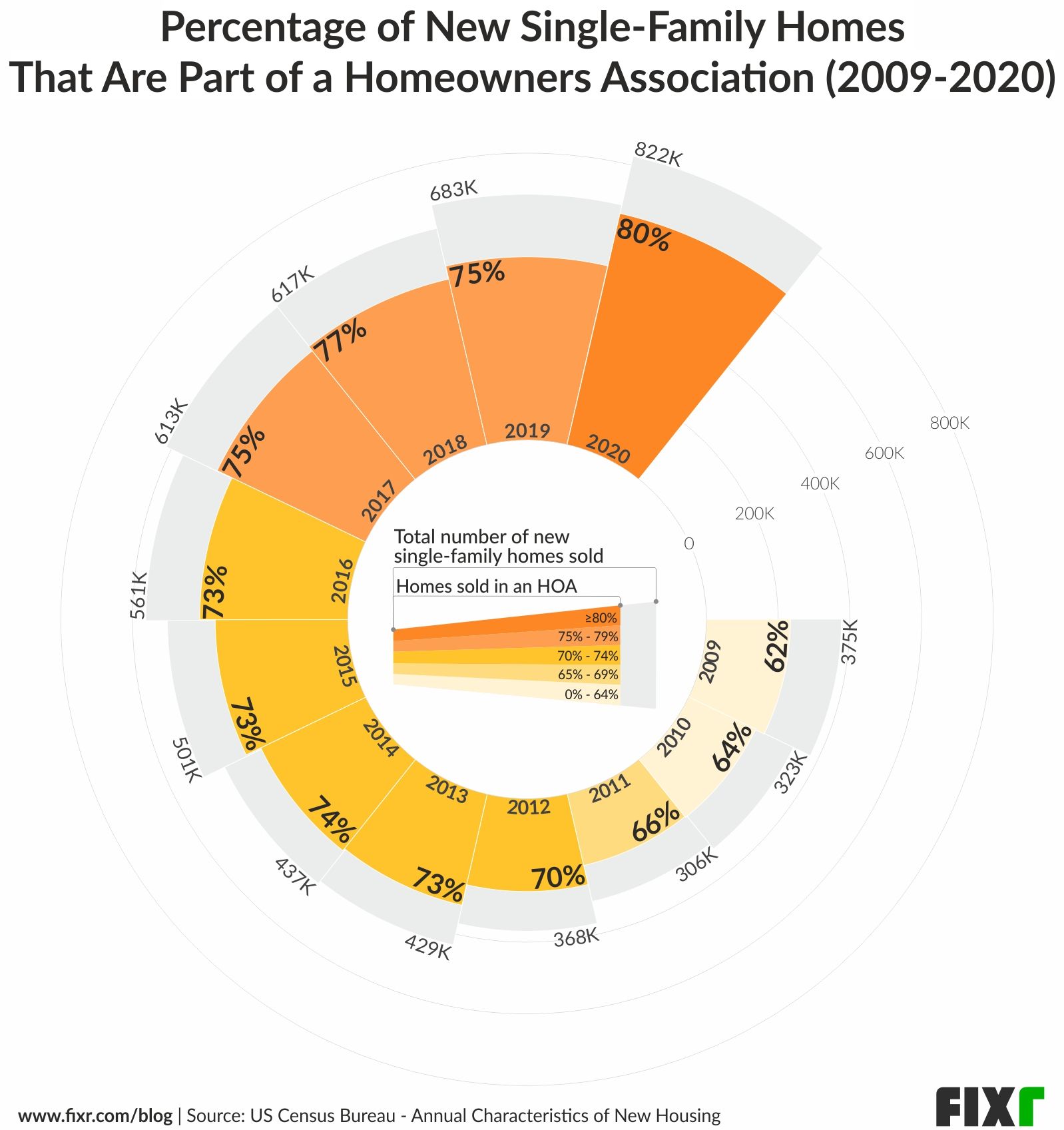 The above visualization details the percentage of new single family homes sold that are governed by an HOA between 2009 and 2020 based on US Census data. The blue coloring represents the percentage of homes belonging to an HOA and the value at the top of each year's segment represents the total number of new single family homes sold that year.
It is noteworthy that the growth of HOAs has been continuous and steady since 2009. As 2020 came to a close, 80% of new single family homes sold were part of a HOA, compared to only 62% 11 years prior. This begs the question as to why such a rise?
What is an HOA and Why Is Being a Part of One Popular?
Simply put, an HOA is a governing party that manages a residential community. It is run by an elected board of directors who manage the day-to-day operations of the community, establish and enforce rules and regulations and maintain shared areas like a pool, gym or playground. The main goal of the HOA is to improve property values and they do this by holding all homeowners to the same set of standards outlined in their CC&Rs.
Joining an HOA is automatic and required when purchasing a home within a community that has one in place. Being unable to opt-out of a pre-existing HOA is necessary in order to ensure the HOA works as expected; that is, holding all homeowners to the same set of standards. Because of this condition, it is prudent to familiarize yourself with any HOA's CC&Rs and Bylaws during your purchasing process to ensure that the HOA is the right fit for your lifestyle and budget.
Advantages of being part of an HOA:
Being part of an HOA is popular due to the many advantages that come along with membership including:
Maintaining a clean and cohesive aesthetic throughout the community
Providing access to shared-spaces and amenities like green spaces, pools and playgrounds, clubhouses and other items.
Many HOAs cover landscaping and exterior maintenance and repair on homes, repairing or replacing items like siding, roofing and fencing.
The ever-important consideration of property value. HOAs provide a great advantage here because the neighborhood is kept visually appealing to potential buyers as all homes are well-maintained and complementary to one another.
Depending on the type of HOA, there can be even more advantages which help to lighten the burden of homeownership.
Disadvantages of being part of an HOA:
Even the most popular HOAs have their disadvantages. The most common are:
Monthly fees are set and non-negotiable regardless of whether you partake in the amenities offered or not.
Some homeowners have complained about the lack of freedom in areas such as interior designs, exterior colors, fixtures and landscaping, pet restrictions, home occupancy limits, and even what type of vehicles may be parked at a residence.
For those that don't follow the rules set, there can be legal and financial consequences including the HOA's ability to place a lien on your home.
Which Metro Areas of the US Have the Highest Monthly HOA Fees?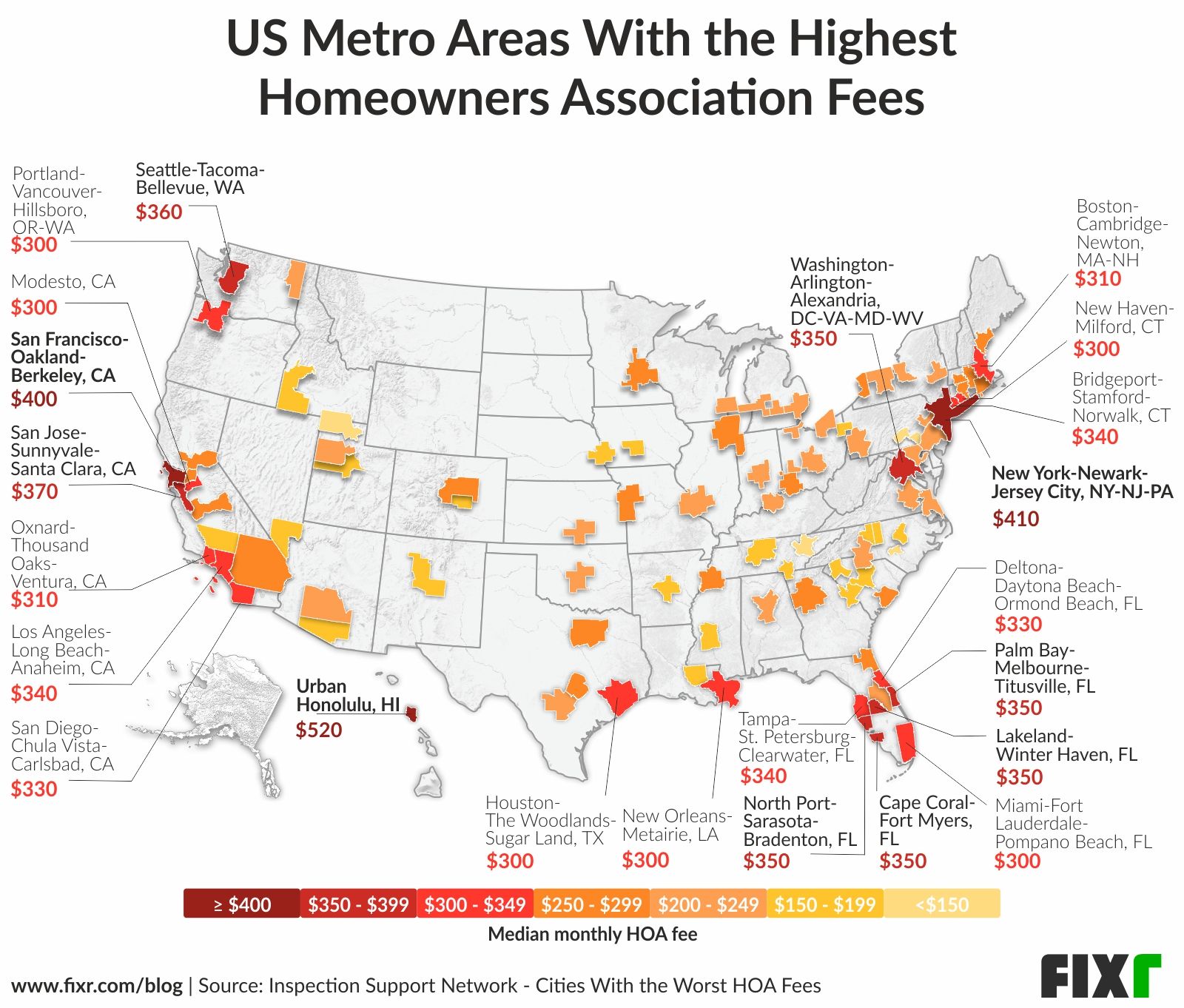 Using data that Inspection Support Network sourced from the US Census Bureau's American Community Survey (2019), the visualization above highlights the US metro areas with the highest median monthly fees. The range of HOA fees varies widely from around $100 per month to upwards of $500 per month. The lighter yellow areas show lower fees through to the darkest red color which represents metro areas whose homeowner association members pay most.
Urban Honolulu, HI and the New York-Newark-Jersey City, NY-NJ-PA metro areas claim the number one and two spots with average monthly rates of $520 and $410 respectively. Metro areas on the West Coast in California and Washington state with monthly median fees greater than $350. In Florida, there are four separate metro areas spread across the state (both inland and along the coasts) whose median fee is $350. Finally, in the Washington D.C. area, the metro areas of D.C Arlington, and Alexandria, like the cities in Florida, have a median fee of $350.
All of the mentioned metro areas, as well as the rest which are labelled in the graphic above, have higher than the average monthly fees, which are roughly between $200 and $300.
Which Projects Usually Need HOA Permission?
Keeping aligned with the goal of maintaining property value, HOAs need to ensure any home projects conform to the rules, are done in accordance with local code and permitting laws, and are completed in a timely and professional manner by licensed professionals. To safeguard these priorities, many projects require HOA review and permission before undertaking and it is recommended to always seek HOA approval prior to beginning any project!
Projects that often require HOA approval to move forward:
Electrical: Rewiring or new installation
Structural: Removing interior or exterior walls or adding rooms (home additions)
Plumbing: Moving plumbing or any major bathroom or kitchen renovation
Exterior: Roofs, fences, front door changes, paint, trim & gutters and some landscaping
Flooring: New installs and/or change of material
Which Projects Do Not Usually Need HOA Permission?

The HOA doesn't govern every change made to a property and there are some smaller, less intrusive projects that usually don't require HOA permission. Of course, because rules differ among all communities, it is prudent to refer to your specific HOA's rules (or check in with the board) before moving forward and incurring any penalties.
Projects that usually do not require HOA approval to move forward:
Electrical: Light fixtures, switches and outlets
Bath and Kitchen: Sinks, showers, bath fixtures, appliances and counters
Interior: Trim (baseboards and crown moulding), paint and wallpaper
Exterior: Landscaping that is within a fenced yard and cannot be seen above the fence line
Understanding Homeowners Associations
An HOA has a goal of improving property values as well as creating a sense of community, providing amenities for residents and reducing some of the obligations that come along with home ownership. These factors are likely the driving force for the continued growth of new home sales that take part in an HOA, with the current rate at 80%.
Even with this popularity; however, HOAs are not a right fit for everyone. Anyone considering purchasing a home under an HOA governance should carefully review the CC&Rs and Bylaws before finalizing any purchase. Because the costs, rules and regulations will vary widely between communities, finding the right mix of offerings and restrictions can be possible for some while others may always experience a sense of restriction due to the costs and/or rules imposed.