According to the US Census, millions of housing units across the US have problems with accessibility. This includes entering the home, getting from room to room, or entering and the use of various rooms. International Day of Persons with Disabilities is observed on December 3rd, with the aim to understand and give awareness to disability issues, such as that of home accessibility.
In light of this, we have taken data from the US Census' American Housing Survey to establish where lie the biggest problems of accessibility in American homes for people who have difficulty without assistance. This is in order to explore various possible solutions to these issues and combine them with their associated costs. The costs we have gathered from Fixr.com cost guides.
Identifying the Amount of Homes With Accessibility Problems
The below graphic shows the estimated amount of homes across the US with each of the main home accessibility problems. The illustrations represent these areas of homes, with featured blue and green circles highlighting where solutions can be implemented. The circles match the average costs to the side of the illustration, with a brief description of each. The color depends on the affordability of each solution, with dark green being the most expensive, transitioning to dark blue - the least expensive.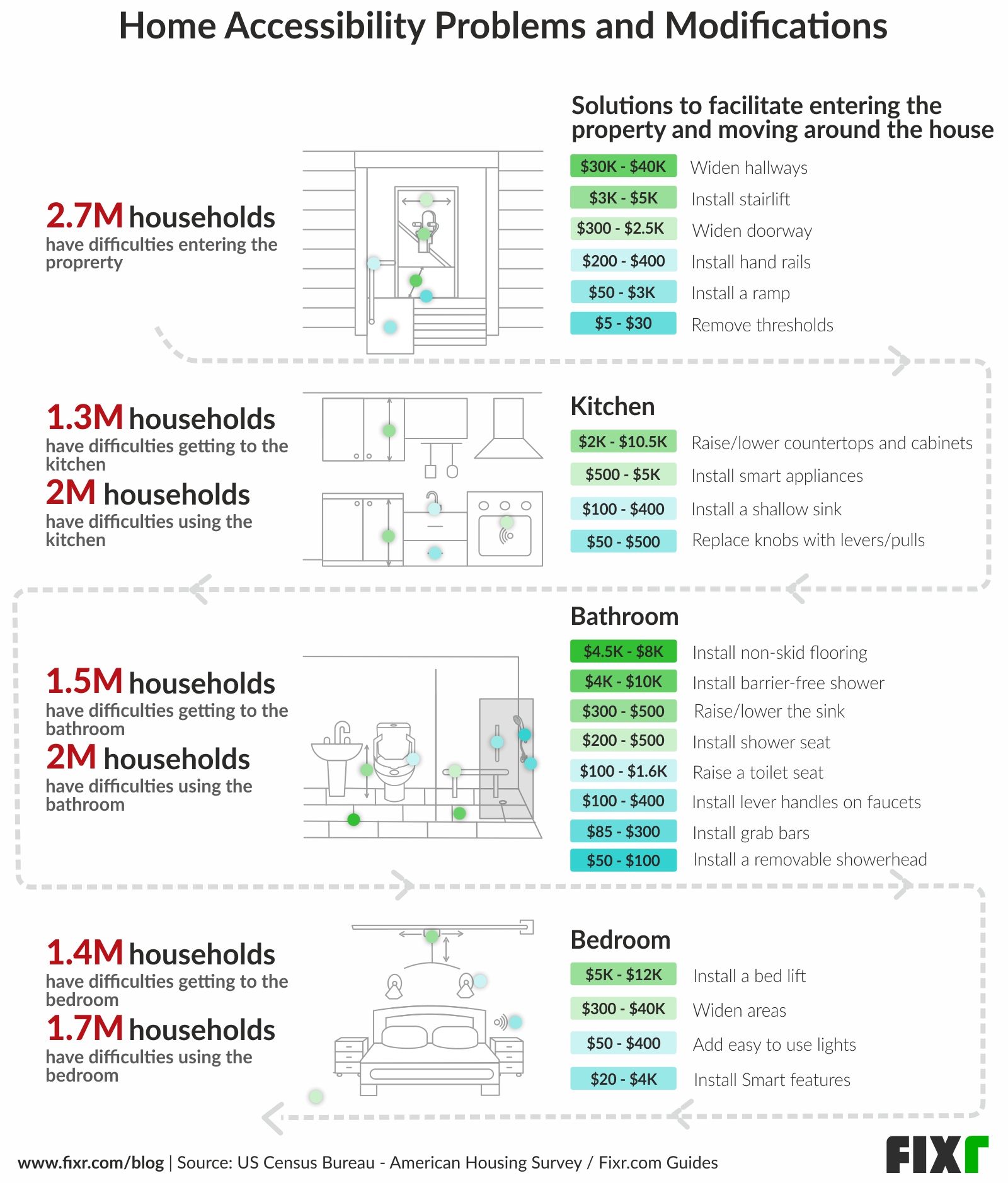 Of all of the listed areas, entering a home is the most common problem. 2.7 million homes feature difficulties for people in need of assistance to enter their property. Other aspects in which an estimated 2 million homes or more face problems are difficulty getting to the kitchen (2.3 million housing units) and difficulties using the bathroom (2 million housing units). Getting to the kitchen can be difficult due to a variety of reasons. This also applies to getting to the bathroom and bedroom (1.5 million and 1.4 million housing units, respectively). When it comes to using other rooms, 1.9 million properties are estimated to face problems in the kitchen, and 1.5 million in the bedroom.
Home Accessibility Solutions and Costs
Entering and Moving Around the Home
One of the first problems homeowners can encounter with their home is the entryway. Any steps or uneven sloped surface can be difficult for wheelchair users. This is why installing a ramp is the best solution to this issue. Wheelchair ramp installation cost varies, depending on the type. A small threshold ramp can cost as low as $50 on average. Whereas a longer, custom-made ramp averages as high as $3,000.
When arriving at the front door, or any door in the home, the obstacles can be twofold. One potential problem is the threshold. This can be removed for an average cost of $5-$30. The second possible issue is the width of the doorway itself. If the door is too narrow, it needs to be widened. This cost to widen a doorway depends on whether the adjacent walls are load bearing or not. If so, homeowners should expect to pay more. The average cost for this project is from $300 to $2,500.
Inside the home, especially older homes, it's possible that hallways are too narrow for wheelchair use. One of the most expensive home accessibility modifications therefore is to widen them. The hefty cost is due to the amount of structural changes that would be necessary to. The cost to widen a hallway is $30,000 to $40,000.
For people who have trouble moving without assistance, handrails can be extremely useful to climb stairs. Not only this, they also serve people with visual impairments to help guide them safely. The average cost to install handrails is between $200 to $400.
Stairlifts are another, more costly, option to assist people with stairs. For wheelchair users and anyone who needs mobility support, stairlifts are the best solution to get between floors. The cost of installing stairlifts will set homeowners back between $3,000 to $5,000.
Using the Kitchen
The kitchen can be modified in a number of ways to accommodate those who need it. One of these options is to lower the countertops and cabinets, making it easier and more comfortable for wheelchair users to use the surfaces. It costs on average around $2,000 to $10,500 to lower countertops and cabinets. To the same end it is also useful to have a shallow sink installed. This costs $100-$400 on average.
Smart home appliances are also very useful in the kitchen, especially for the visually impaired. This is because appliances can be used with voice activation. Depending on the needs of the homeowner will dictate how many smart appliances get installed, affecting the overall cost. But, on average, smart appliances cost anywhere between $500 and $5,000 to install.
One other useful home accessibility modification for the kitchen is the installation of levels and pulls. These make it easier to manage opening cupboards, especially those which are out of reach. Depending on how many are installed, the cost ranges from $50 to $500.
Using the Bathroom
The bathroom can pose many issues for those with mobility problems. Standard bathtub, shower and sink installations may not be accessible. In these cases there are a variety of solutions available. The most costly of these is to install non-skid floor tiles. In the bathroom it is usual for the floor to get wet, and therefore slippery. This can be dangerous and therefore recommended to avoid any slips. The tiles are available in a range of colors and patterns so homeowners don't have to compromise on their bathroom's design. They work with a special coating which enhances grip when wet. The average cost range for anti skid bathroom tiles is $4,500 to $8,000.
Other improvements for the bathroom include installing a barrier free shower ($4,000-$10,000), to allow for easier access, raise or lower the sink ($300-$500), depending on the needs of each person, and install a raised toilet seat ($100-$1,600) to lessen the need for much movement.
More affordable options to modify the bathroom include installing a shower seat, which costs between $200 and $500. Installing lever handles on faucets ($100-$400), grab bars ($85-$300) and a removable showerhead ($50-$100) can make using the facilities and moving around far easier.
Using the Bedroom
Depending on the extent of the mobility assistance needed in the bedroom will ultimately determine how much is needed to be spent on home accessibility modifications. For example, for those who need assistance getting into and out of bed, a good solution would be to install a ceiling lift for a cost of $5,000 to $12,000.
Due to large furniture such as beds, dressers and closets, space in bedrooms can be limited. As this can be difficult, especially for wheelchair users, the area can be widened. Depending on the extent of the project, this costs on average anywhere between $300 and $40,000.
Similarly to other areas of the home, easy to use lights and smart features can make using the bedroom a lot simpler. Without the need for those with mobility difficulties to get up to use certain features, or for people with visual impairments, these modifications can prove very worthwhile. The cost for easy to use lights averages $50-$400, whereas the cost range for smart features is greater, anywhere from $20 to $4,000.
Adapting to the Needs of Individuals
Millions of households across the country are declared as having problems with accessibility. However, not all the solutions mentioned are appropriate for everyone. There is a wide range in the necessity of solutions from one home to another and in this type of remodeling, there is not "one-size-fits-all". The information provided here aims not only to bring awareness to International Day of Persons with Disabilities, but also offer solutions and guidance when budgeting for home accessibility modifications.