How much does it cost to hire local movers?
Get free estimates from movers near you
Local Movers Cost Guide

If there is one area where people can agree, it's that moving can be a pain. Even local moves can be time-consuming, tedious, and require much effort, attention, and manpower that you just might not have to spare. Fortunately, instead of waking up on moving day to find that only one friend showed up and your truck rental fell through, you can hire local movers to handle everything from door to door. Local moving companies offer affordable labor and moving assistance for people moving within a specific city or region, including an array of solutions up to full-service moves so that you don't have to lift a finger and can focus on the rest of the moving process.
The national average cost to hire local movers ranges from $800 to $2,500. Most people spend $1,800 to move a three-bedroom house with a moving company that provides four laborers and requires five to eight hours of work when you pack your own belongings. On the low end, some people spend as little as $200 for a small studio apartment move that includes two laborers and two hours of work for moving labor only. At the high end, some local movers may charge as much as $5,500 for a full-service move of a four-bedroom home with packing and unpacking included that requires eight to ten hours of work with five laborers.
Local Movers Prices
Local Movers Cost
National average cost
$1,800
Average range
$800-$2,500
Low-end
$200
High-end
$5,500
Average Moving Cost per Hour
The average hourly rate for movers ranges from $60 to $80 per hour for a local move with two movers when you pack your own belongings or $90 to $120 for a full-service move that includes packing and unpacking services. Some movers charge as little as $50 per hour, while others may charge as much as $300 per hour, depending on the work being done, your location, and other factors. Typically, most movers have a minimum charge of two or three hours of work. So, even if the move is smaller and takes less time, they still charge the minimum amount. This covers their expenses and ensures they aren't losing money on jobs. Most local movers charge hourly because the distance isn't a factor. Some charge a flat rate by the house size or other factors.
Flat Rate Local Movers
Flat rate local movers typically charge $700 to $2,240 for their services, depending on the size of the house or the number of items being moved. Because of the nature of the work, flat rate pricing is usually reserved for long-distance and out-of-town moves where calculating mileage and hourly rates would be far less cost-effective for everyone. Some local movers charge a flat rate for their services, as will some local moving truck rental companies. However, it is far more likely that you will find hourly rates when pricing a local move.
Average Moving Costs Local by House Size
The average local moving costs range from $200 to $4,000, depending on the size of the house. The size of the house typically indicates how much furniture and how many boxes will be involved in the move, how many movers will be required for the job, and the cost per mover. Some moves only need two or three workers. If it is a straightforward situation, they may not need as much experience compared to a complex move with many breakable items. For example, while a four-bedroom house might take eight to ten hours with five movers, you may only need two movers and three to five hours to complete a one-bedroom move. In the table below, you'll see the average cost of local movers for various house sizes based on bedroom count, as well as how many movers the job would require and how long it takes to complete. Keep in mind prices often vary based on the amount of large furniture and belongings that need to be moved in houses of different sizes.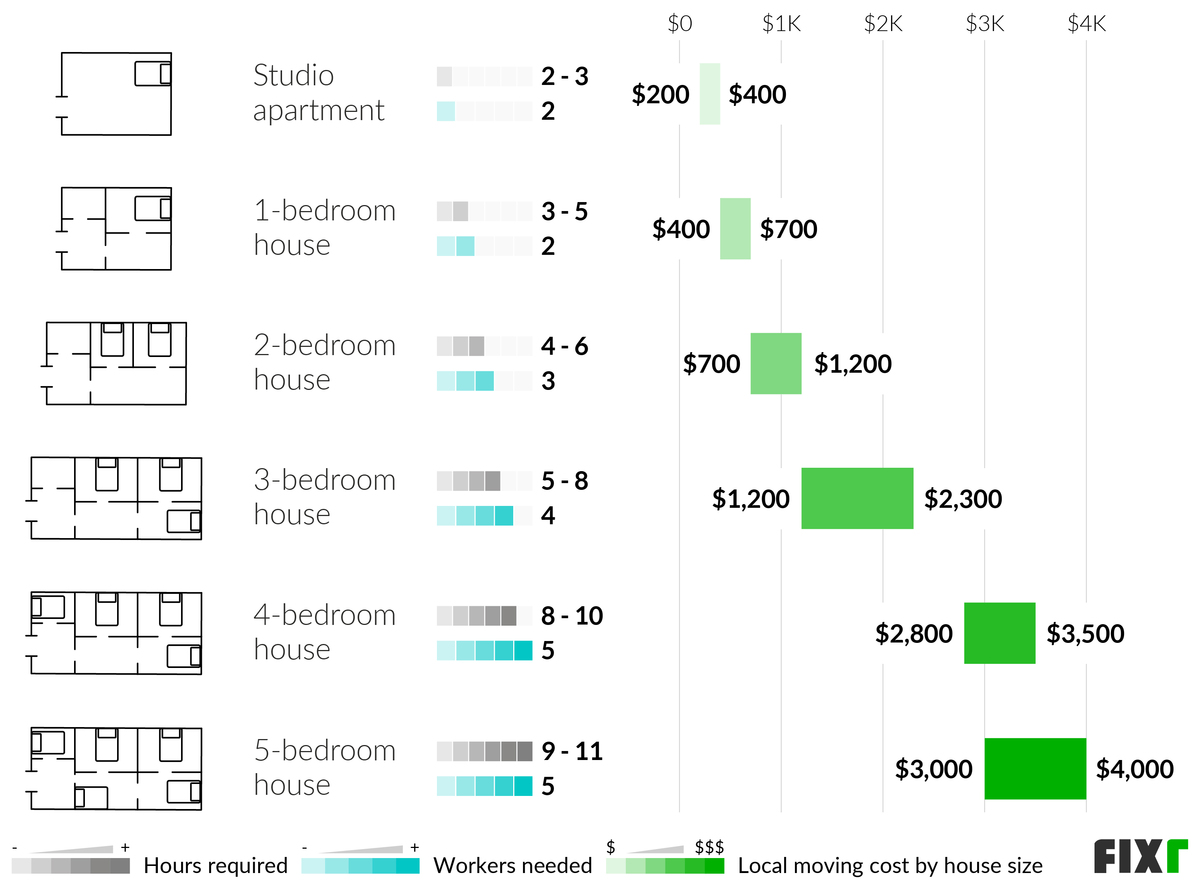 | | | | |
| --- | --- | --- | --- |
| House Size | Hours Required | Workers Required | Average Cost |
| Studio Apartment | 2 - 3 | 2 | $200 - $400 |
| 1 Bedroom | 3 - 5 | 2 | $400 - $700 |
| 2 Bedroom | 4 - 6 | 3 | $700 - $1,200 |
| 3 Bedroom | 5 - 8 | 4 | $1,200 - $2,300 |
| 4 Bedroom | 8 - 10 | 5 | $2,800 - $3,500 |
| 5 Bedroom | 9 - 11 | 5 | $3,000 - $4,000 |
In-City Moving Cost by Type
The average in-city moving cost ranges from $100 to $2,000, depending on the distance between the current house and the new home and any stops in between. Prices also vary depending on the type of service that you choose and what the movers provide. There are several options to choose from, but they typically fall into one of three categories. In the subsections and table below, we look at the cost differences between local full-service movers, movers for loading only, and self-packing moving services to help you get a better idea of what your move will cost with each service and what they entail. Bear in mind that in the cost ranges, the lower costs are reflective of what it would cost to move a smaller house, while the higher costs are closer to what you would spend on a larger house with more bedrooms and belongings to move.
| | |
| --- | --- |
| Service Type | Average Cost |
| Self-Pack Moving Services | $100 - $500 |
| Movers to Load Truck Only | $180 - $800 |
| Local Full-Service Movers | $300 - $2,000 |
Self-Pack Moving Services
Self-pack moving services typically cost between $100 and $500, depending on how much stuff needs to be moved. This service allows you to pack and prepare your own item by buying packing materials like boxes and bubble wrap. They provide the truck and transport your items, which you can then unload and unpack on your own, as well. These services are more affordable in most cases and are a good choice for people who don't want others packing or loading their belongings. This can cut costs significantly because the bulk of moving costs are in the labor charges.
Movers to Load Truck Only
If you prefer to transport your own items or just want a cheaper option, you can hire movers to load the truck only, for an average of $60 to $80 per hour, or $180 to $800 for three to ten hours of work. These movers charge by the hour and the number of laborers that are needed. Larger homes cost more because there will be more to load and unload. Heavy items, bulky items, and specialty pieces like pianos may also incur an additional cost, which will need to be considered. Some companies offer discounts for combining services, so it may only be slightly cheaper for you to pack and transport your own items, depending on the service you choose.
Local Full-Service Movers
Local full-service movers typically cost between $300 and $2,000. This depends on the size of the move, how much stuff you have, and how long the job takes. If you have delicate or specialty items that will incur an additional charge, that is something to consider. Typically, it is most effective to choose full-service companies if you want a hands-off experience for your move. They take care of everything from packing to loading and unloading, transporting your items, and then unpacking them in the new home. Dismantling and reassembling furniture is typically included with full-service movers, too.
Average Price for Local Movers
The average cost range of $800 to $2,500 for local movers is broken down into several factors. It is usually divided into the cost of labor, the cost of a truck, and any materials required for the job. For example, in the average cost provided above, approximately 60 to 75% of the cost is attributed to labor and man-hours. The other 25 to 40% goes toward the cost of the moving truck and any tools, materials, or equipment needed for the move. Some companies offer flat-rate services that combine these elements without providing a breakdown. But when you inquire, they should be in line with these numbers.
The process of moving locally when you hire local movers is a fairly painless one. The moving company should call a day or two ahead to confirm your move and ensure everything is in order. This is a good time to double-check the truck size and the number of laborers coming. On the day of the move, they arrive with a truck and prepare to work. First, someone will go over the estimate with you, explain the process, and advise on any concerns or questions you may have. Then, they will start packing and loading your items. Once the work is done, they transport the items to your new location, unload them, and have you sign off on the moving contract confirming that the job is complete.
There are also different types of estimates offered by moving companies: binding, non-binding, and non-binding with a price ceiling. The binding estimate means that the price is locked in, and all parties have agreed on the costs. If either party breaks their end of the deal, the contract is nullified. A non-binding estimate is truly an estimate. It is flexible and may go up or down upon completing the move. There is no limit on how high it could go. Some movers offer a non-binding estimate with a price cap, which means that the quote may change, but only within preset limits. This gives you peace of mind that you'll never pay more than you can afford.
Several different factors impact what it will cost for you to hire local movers for your move. The size of the house and how much personal property you have will be two of the biggest factors. Large pieces and unusual items like appliances, hot tubs, or pianos incur a premium cost. You also pay a premium charge for stairs or other obstacles, such as narrow hallways or dangerous passages of any kind. If the moving company has to park further away due to parking limitations, this may add to the cost. Be sure to address all charges before agreeing to an estimate so that you know what each charge means.
Local Moving Companies Prices
The average local moving companies' prices range from $90 to $2,500, depending on whether they are a local service or a bigger chain or multinational brand that offers local moving services. These companies typically charge based on an hourly rate for labor and may charge a flat rate for additional fees or services, such as a truck fee, fuel fee, or other charges. In the table and subsections below, we look at the most popular local moving brands and what they charge for their services, including labor, materials, and included services.
| | | |
| --- | --- | --- |
| Company | Hourly Rate | Average Cost |
| U-Haul | $40 - $60 | $90 - $400 |
| Two Men and a Truck | $80 - $100 | $240 - $1,000 |
| United Van Lines | $60 - $120 | $800 - $2,500 |
U-Haul Local Move
U-Haul local move costs with laborer help range from $120 to $600 for three to ten hours of work, with an average rate of $40 to $60 per hour for labor in addition to the cost of the truck rental. If you choose local movers to help with your U-Haul move, you must pay for the truck rental and the laborers' work. U-Haul allows people to search local companies and choose the labor they want to ensure reputable people are doing the job. Most people use U-Haul for self-moving and don't enlist the assistance of the labor services. However, they are an option that's relatively affordable when compared to other companies. U-Haul is available all over the country.
Two Men and a Truck Local
Two Men and a Truck local moves have an average cost of $240 to $1,000 for three to ten hours of work, with an average hourly rate of $80 to $100 per hour. This includes all labor and materials, as well as the truck and transportation. Some local discounts and specials are available from time to time, but the average rates are still fairly competitive. This company is a chain that has locations all over the country. They offer everything from simple labor assistance to full-service moves and more.
United Van Lines Moving
United Van Lines moving services typically cost around $800 to $2,500 for full-service moving with door-to-door service and all materials and labor included. This works out to be around $60 to $120 an hour. Although their prices are some of the highest on the list, they offer some of the most high-quality, comprehensive moving services for people who want a truly hands-off experience. This company is much more familiar with long-distance and out-of-state moves, but they have local services available for residents across the country who need them. United Van Lines is a national brand.
Local Move Truck Rental Cost
Those who want to save money can opt for a local move truck rental. The cost averages $40 to $600, depending on the size of the truck, where it is rented from, and how long the truck is needed. Those looking for a truck alone can find several companies providing this service with different rates for local moves, intrastate moves, and truck rentals without labor services. In the table and subsections below, we'll look at the most popular local move truck rental companies, what they charge, whether they charge a flat rate or by the hour, what mileage or fuel fees are involved, and more.
| | |
| --- | --- |
| Company | Average Cost (Rental Only) |
| Home Depot | $40 - $140 |
| Local U-Haul | $40 - $150 |
| Penske | $75 - $300 |
| Budget / Avis | $80 - $600 |
Home Depot Truck Rental
Home Depot moving truck rental costs $40 to $140 for short local moves. Home Depot has pick-ups, flat-bed trucks, and cargo vans to help with furniture moving and boxes, which works well for smaller moves. The moving box truck is recommended for studio apartment and townhome moves. The home improvement superstore partners with Penske for larger moving trucks. Home Depot asks for a $150 credit card deposit and a valid driver's license to secure moving truck rentals.
Local U Haul
Local U-Haul truck rental typically costs between $40 and $150, depending on the size of truck that you need and how long you need it. Local moves from U-Haul include unlimited mileage. You will only pay for the fuel to refill the truck in addition to the rental charges. While many people see the $19.95 rental specials for U-Haul, that's the base price for the smallest truck and doesn't include extras like taxes, fees, moving insurance, truck insurance, and other costs. These extra costs can easily almost double the cost of the advertised specials in the end. Still, it remains one of the most affordable moving truck rental options. U-Haul is available throughout the country.
Penske Truck Rental Rates Local
Penske is a little more expensive than U-Haul, with people spending about $75 to $300 on their truck rental from this company. Penske has newer equipment and provides a variety of truck sizes. They are better for their large truck pricing than most companies, but their smaller trucks may be comparatively more expensive. In some cases, you may be able to find specials or get discounts for booking a certain time frame or agreeing to a different return day or time, which is a helpful bonus. Penske rentals are available nationwide.
Budget Moving
Budget moving truck rental and Avis moving truck rental both operate through Budget, which costs about $80 to $600 for a local move rental, depending on the size of the truck and how long it is needed. Avis works directly through Budget Truck, so those interested in either company should go directly through Budget to save time and money and avoid variances in the cost of rentals. Budget and Avis offer moving trucks in all sizes and cargo vans for those who want something easier to maneuver. Budget and Avis offer services around the country.
Moving Truck Sizes
The other factor in choosing a truck, whether it is with moving labor or a rental alone, is the size of the truck that you need. The size of the house and the amount of contents affect the size of the truck needed and the cost that is incurred as a result. Most companies charge more for larger trucks. Some brands have size ranges where two or three sizes are the same price, or they offer a discount for upgrading to a larger rental. In the table below, you'll see a comparison of the average moving truck size and the size of the house or apartment it will accommodate to give you a better idea when planning your own move.
| | |
| --- | --- |
| Truck Size in Feet | Average House Size |
| 10 Feet | Studio apartment |
| 15 Feet | 1 bedroom home |
| 17 Feet | 2 bedroom home |
| 20 Feet | 3 bedroom home |
| 26 Feet | 4 bedroom home |
Moving Packing Service Cost
You can hire a moving packing service to assist with your local move at an average cost of $60 to $80 per hour. The average cost ranges from $170 to $2,200 to move a two-bedroom home. The exact cost that you pay varies depending on how much you have that needs to be packed and unpacked and other factors. Companies can come in and pack all of your belongings and follow your instructions or wishes to ensure that things are packed according to your preferences. Several companies provide this service, but if you allow the same company to handle the rest of your move, it may be cheaper than hiring another service.
Cost of Moving Boxes
The average cost of moving boxes and other packing supplies is $150 to $800, depending on how many boxes you need, what sizes, and whether you need specialty boxes like wardrobe boxes or odd shapes. The cost also depends on whether you need supplies like bubble wrap, packing paper, tape, or other supplies, adding to the cost. You can reduce this cost by getting free boxes wherever possible. However, there are no guarantees about the shapes, sizes, or durability of the boxes you find. Several different types and sizes of moving boxes are available to buy from local home improvement and big-box retail stores and the companies that provide moving services like U-Haul, Penske, and others. These companies often have estimating tools that estimate how many boxes you need to get an accurate cost.
Packing Materials
Sometimes homeowners may want to reduce costs by packing themselves, with moving supplies priced from $1 to $100 each, depending on the type of packing material. It is important to keep these prices in mind whether you decide to pack for yourself or hire a professional because some companies charge additional fees for the packing materials. The below table offers a guide on the cost of packing supplies, which you can confirm with your preferred mover.
| | |
| --- | --- |
| Packing Material | Cost Per Unit (Materials Only) |
| Small Boxes | $1 - $2 |
| Medium Boxes | $2 - $3 |
| Large Boxes | $3 - $4 |
| Extra Large Boxes | $4 - $5 |
| Wardrobe Boxes | $8 - $20 |
| Glass Packing Box | $10 - $20 |
| Furniture and Appliance Pads | $10 - $25 |
| Bubble Wrap | $10 - $50 |
| Protective Wrapping Paper | $10 - $50 |
| Hand Cart / Dolly Rental | $30 - $70 |
| Kitchen China and Glass Kit | $30 - $100 |
Average Cost of Local Movers by Special Item
Moving large items ranges from $70 to $1,000. Many moving companies factor in large items when setting their prices and charge more to move big furniture and expensive possessions that require extra caution. Some moving companies add this cost on top of standard moving services, while others incorporate these big items into their normal fees. The table below outlines the average cost to move the most common large items, although you should check with your local mover for the most accurate quote.
| | |
| --- | --- |
| Special Item | Average Cost |
| Mattress | $70 - $150 |
| Bedroom Set | $100 - $250 |
| Antiques | $100 - $1,000 |
| Artwork | $100 - $1,000 |
| Safe | $175 - $525 |
| Hot Tub | $175 - $625 |
| Sofa & Loveseat | $200 - $350 |
| Couch | $200 - $600 |
| Grandfather Clock | $250 - $600 |
| Pool Table | $250 - $800 |
| Piano | $350 - $1,000 |
Move a Mattress
Moving a mattress locally costs $70 to $150. The main factor in this cost is the size of the mattress because a twin size will be easier to lift and fit into the moving vehicle than a king. If movers need to navigate tight corners and multiple staircases, they might charge more to move a mattress than if both your current and new house are all on one level.
Bedroom Set Moving
Some local movers offer to move bedroom sets for $100 and $250. This generally includes the dresser, nightstand, headboard, bed frame, and mattress. The cost varies based on the size and weight of the furniture and the simplicity of the move. If the bedroom set only needs to go down a flight of stairs, there is not as much strain on movers compared to lifting the furniture upstairs, so that may factor into the price.
Move Delicate Antiques
Moving delicate antiques costs between $100 and $1,000, depending on the shape and size of the antiques and how close your new house is. If you have an antique lamp or clock, they may be a bit cheaper to move compared to antique furniture that takes up a lot of space and needs two people to lift. Wrapping paper and crate boxes are key for successful antique packing.
Move Artwork
Generally, moving artwork locally costs between $100 and $1,000. The same range applies to the cost of moving sculptures locally. Both painted and sculpted artwork need to be carefully covered in protective wrap to prevent damage. The bigger the artwork is and the more it is worth, the more expensive it will be to move due to liability. Also, fragile art pieces require extra protection in a custom crate or box compared to framed paintings, which impacts the cost.
Move a Safe
The average cost to move a safe is between $175 and $525. The size and weight of the safe play the biggest role in the overall cost, although the location is another cost factor. If you have a money or gun safe tucked away in the basement, movers may charge more to go up the stairs. The distance to your new house and the desired location for the safe also determine the total cost. Some movers may help you bolt the safe to the wall or floor for an additional fee.
Move a Hot Tub
Most moving companies charge between $175 and $625 to move a hot tub. Movers may set their prices based on the hot tub size and mileage. Some companies use specialized trailers for hot tubs and similarly sized items. Their services may include disconnecting the hot tub's original electrical wiring and connecting it at the new house. Additional wiring work beyond standard hot tub setups will add to the overall cost.
Move a Sofa & Loveseat
If you have a sofa and loveseat to move, it is best to budget $200 to $350. Many sofas are lighter than couches. However, they are still difficult to move due to their size and weight, especially if stairs or tight hallways are involved. If your sofa weighs around 220 pounds, the price should be at the low end. Sofas or loveseats weigh around 350 pounds and are at the high end. Make sure to ask your mover about their furniture protection and how to keep furniture clean while in the moving truck.
Move a Couch
Plan to pay between $200 and $600 to move a couch. The larger and heavier the couch, the more it will cost. If your couch has a built-in chaise or sofa bed, this will likely be more expensive to move. At least two or three movers are required to lift the couch and maneuver it down the hallway, out the door, and into the truck. If you have stairs or a steep driveway, getting your couch to the new house costs more. Furniture covers are recommended to protect the couch surface during the move. The moving company typically provides these pads.
Grandfather Clock Moving
Moving a grandfather clock ranges between $250 and $600. These tall, freestanding pendulum clocks need to be carefully lifted and packed with padding to avoid damage. Quilted moving blankets and custom crates work well. Overall, moving costs vary based on the size, age, and design of the clock. Some movers take out the weights and pendulum for safer moving, but not all do because of liability and insurance requirements. Remember that you should service the grandfather clock before moving.
Move a Pool Table
If you need to move a pool table, expect to pay between $250 and $800. Pool tables usually weigh between 700 and 1,500 pounds. Multiple movers are needed to lift, transport, and deliver these large items. The length of the table, the distance of the move, stairs, and the make/model influence the total cost. Tables with a ball return system or pockets may cost slightly more to move as these components will need to be removed and reassembled at the new house.
Move a Piano Locally
The average cost to move a piano locally is $350 to $1,000. Piano moving is generally charged as a premium service because of the delicate nature and size of these items. The national average cost of moving a piano varies from one state or region to the next. Other factors that could impact what you pay include the style of piano (upright vs grand/baby grand vs organ), whether it has to be moved up or down stairs, and if it is on wheels, such as in the case of an upright piano, where a separate dolly may not be needed to assist with the move. The more difficult the move and the larger the piano, the more expensive it will be.
Moving Insurance Cost
You can expect to pay $100 to $2,000 for the average moving insurance cost when added to your move, which gives you between $10,000 and $50,000 in protection for your belongings. In other words, moving insurance is usually 1% to 5% of the total value of items being moved. You may purchase moving insurance to protect your belongings and furnishings from damage during the move or liability protection against the moving company or truck rental provider. Several moving insurance products are available. Your belongings will typically be covered under your homeowner's or renters' insurance policy. However, this coverage may not extend to damage caused by movers, making moving insurance a good investment. You may also purchase extra insurance for a moving truck if you rent one to DIY your local move to prevent a huge bill if damage is caused to the truck while it is in your care. This costs $15 to $40 per day.
How to Save Money When Moving
Living costs for transition time. Don't forget to factor in any expenses you may incur during the transition between homes, such as costs for dining out, staying in a hotel if your new home isn't ready in time, and even boarding pets or hiring babysitters. These costs impact your moving budget, too.
Saving tips. Sell and give away as much as you can before you move so that you're not paying to move anything you don't want to keep. You should also look to get at least three estimates from moving companies.
Friends and family. These people can be an invaluable asset if you are trying to save money to move. However, you will want to make their work easier by labeling boxes so that they know where things should be placed or what should be packed in each. Also, provide snacks and drinks to keep them going throughout the day.
Seasonal rates. Moving is in high demand from May until October in most places throughout the country. You will pay a premium for moving during these months and if you move on the weekend or at the beginning or end of the month. The cheapest moves are done in the middle of the week, in the middle of the month, and in the fall or winter.
Obtain several quotes. Keep in mind that moving prices vary by company, so ideally, you should get at least three quotes before deciding. If you have several large items that need moving or other aspects that may make your move more complex, see which companies offer the best pricing while completing everything you need.
Book early and be flexible. Sometimes circumstances are out of the movers' control, such as weather and traffic. If you can be flexible with pickup and delivery, you may get a better deal. Also, if you book 30 to 60 days before you move, movers should have more availability and potentially lower prices.
Look for free moving supplies. You may be able to find free boxes from your local grocery store or office. Online marketplaces often have free boxes other residents are getting rid of after their own move.
Switch utility services. Make sure to cancel or transfer utilities like electricity, water, and cable immediately after moving. This prevents unnecessary payments.
Think of weight. The heavier things are, the more expensive they will be to move. Consider selling or donating heavy furniture and decor you do not need in your new house.
Local Moving Checklist
There is a lot to think about when moving house, which is why a local moving checklist comes in handy. This list helps you stay on top of everything you need to do, minimizing stress before, during, and after the move. While each move will be different, there are basic steps and tasks that everyone should have on their list.
Service type. Choose what type of service you need: full-service, partial service, or DIY truck rental. Consider how much free time you have to pack and move, your budget, and timelines.
Reputable movers. Look for local moving companies with a proven history of successful moves and great reviews. A qualified moving company can offer comprehensive support during the moving process.
Organization. Sort and organize your items before moving so that you do not take anything with you that you do not want or need. Go through each room and decide what to move and what to discard.
Inventory. Create an inventory list and ensure that you have all the custom packing supplies and materials you need for your belongings. You might want to save boxes from fragile items or sentimental pieces so they can be repacked safely for transit when you move. You can also purchase moving supplies from your local store or moving company.
Packing plan. Make sure that you optimize the space in your boxes and plan your packing to keep it organized. Start packing with storage areas and rooms you do not use that often.
Labeling. Label boxes with the room they go in and a few notes on what is inside so that you have an easy time unpacking when you arrive. Speaking of easy, make sure that you take pictures of all electronics and assembled items before you take them apart to move to have a diagram of how to reconnect or rebuild everything when you arrive.
Declutter. Pack along the way as much as possible if you are not hiring someone to do it for you. Try to get rid of as much stuff as possible, so you do not take it with you.
Moving day prep. Make a to-do list for moving day so that you can delegate tasks and keep everything organized. Make sure that you keep important documents in a safe place and with you at all times during the move. Never pack anything of value or anything with sensitive or important information.
Truck loading. If you have a truck, you will want to load it carefully and maximize space so that you are not making more trips if it is not necessary.
Moving service. If movers are doing the work, be available to answer questions but stay out of their way. Once they are done, make sure that you are satisfied with everything before you sign off and allow them to leave. After you move, you will be ready to settle in and enjoy your new life if you take the time to take care of things ahead of time.
Enhancement and Improvement Costs
Storage Unit
The average storage unit cost is between $50 and $300 per month, depending on the size of the storage unit, whether it is indoor or outdoor, climate controlled, offers security, and other features. You may need to rent a storage unit for your belongings if you are moving out of your old home before the new one is ready or if you have items that you don't want to move into your new home until certain things are done. Several sizes of storage units are available, ranging from as small as 5 x 5 feet to as large as 10 x 30 feet, with larger units costing more.
Professional Organizer
The average cost of a professional organizer is $300 to $800, with most people paying around $450 for a consultation and three hours of service. Hiring a professional organizer during a move could be a good way to declutter and downsize your old home and set up your new home in a functional way that makes it more enjoyable and comfortable from the start. These professionals generally charge hourly, although they may offer discounts on larger jobs or project rates for big decluttering and organizing tasks. In addition to helping you better organize your space, they can teach you tips to stay more organized and improve your own habits.
Pet Movers
Pet moving services cost from $200 to $2,000. Prices vary widely depending on the type of pet, how many pets there are, and if they have a lot of furniture and accessories. For example, moving a small fish tank or bird cage will not cost as much as moving horses or cows in a livestock trailer. Check with your moving company to see if they will help with pet moving or if you need to bring in a specialist.
Additional Considerations and Costs
Tipping the movers. When you hire movers, they are providing a service for you. Therefore, some people suggest that you tip your laborers for their work. Some companies do not permit this, so be sure to inquire before tipping to avoid causing problems. If you do tip, most sources recommend $4 to $5 per hour per mover or $20 per person for a half-day move and $40 per person for a full-day move.
Moving date. Consider moving in the middle of the week and the middle of the month, as these are usually less busy times and therefore cheaper to move. Also, move between October and April to avoid the spring and summer price hikes. If you want your belongings delivered earlier than expected, you can ask your local mover to expedite delivery for an additional cost.
Permits. Some cities throughout the U.S. require a moving permit. Most of these are major cities like Seattle, Portland, and Philadelphia. It will be important to check with your municipality regarding any required permits and considerations for parking and loading or unloading on moving day to avoid fines and tickets.
Travel fees. In addition to your other moving expenses, you will also have to factor in travel fees, such as fuel for your vehicles and fuel for the moving truck. Long carry fees, extra stops, and shuttles add to moving expenses. In a local move, the travel fees should be minimal, but they still need to be factored into your budget.
Obstacles for movers. If there are stairs, steep driveways, narrow walkways, elevators, or other things that make a move take longer, those add to the cost. When getting estimates, you must let the movers know about any potential obstacles so you can get an accurate estimate. Typically, movers will charge $50 to $100 for each flight of stairs or obstacle, depending on the difficulty.
Avoiding scams. Moving companies are scarcely well-regulated, and local fly-by-night companies are always a risk. Be sure to check movers for proper licensing, reviews from other customers, and other details. You should also check their ratings with the BBB or the AMSA (American Moving and Storage Association). If a company is lacking this information or unwilling to share it, it could be a red flag.
Regulations. The U.S. Department of Transportation regulates moving trucks as commercial vehicles and requires DOT registration for all interstate moving trucks. As of 2022, 38 states require DOT registration for in-state and local moving companies. This registration allows the federal and state governments to track moving companies and hold them accountable to DOT regulations and driving laws.
Local movers vs long-distance movers. Local movers are less expensive than long distance movers due to the amount of time and resources involved. A local moving company that only drives an hour or two will not need to charge nearly as much for time and gas as a moving truck driving across the country. Prices vary greatly depending on the moving destination, but generally, local movers cost $800 to $2,500, compared to $4,000 to $8,600 for long-distance movers.
FAQs
How much do movers cost for a local move?
The average cost of movers for a local move is $800 to $2,500, depending on the size of the house, how much needs to be moved, and other relevant factors.
What is the cheapest way to move locally?
The cheapest way to move locally is to do it yourself. You can obtain boxes from free places such as cardboard dumpsters and others who have moved recently. Recruit friends and family to help with the moving process. If you know people with trucks, you can even save the cost and hassle of renting a moving truck and make it even cheaper. At most, you'll pay for food, drinks, and maybe some gas money for those who are helping you out.
How much does it cost to have movers pack for you?
The average cost to hire movers just to pack your items is $60 to $80 per hour or $170 to $2,200 for a two-bedroom home. This is in addition to any moving services, although you may be able to get a discount when you hire movers for a full-service job that includes packing, moving, and unpacking your belongings.
Is it worth paying for movers?
Paying for movers is worth it for those who want to save time and hassle or don't have the means or desire to handle the labor. Plus, since there are so many options, you can pick and choose the moving services worth it to you.
What is a good hourly rate for movers?
Typically, you can expect a good hourly rate for local movers to be around $60 to $80 per hour for moving labor only, or $90 to $120 per hour for a full-service move where the company provides a moving truck, labor, and packing services.
How much does it typically cost to hire movers?
The average cost to hire movers is between $800 and $2,500 for local moves. Long-distance moves typically cost between $4,000 and $8,600, depending on the distance and size of the move.
How much should I pay someone to move furniture?
The average cost to move furniture ranges from $50 to $400, depending on where the furniture is being moved (within the building or to another location) and how much furniture is being moved.
Can you negotiate with moving companies?
In some cases, you may negotiate rates with moving companies. This is typically more feasible with small local companies than with chains or national/international moving companies. They may refuse, but it never hurts to ask.
The information provided by our cost guides comes from a great variety of sources. For more information, read our Methodology and sources.