How much does it cost to hire a locksmith?
Get free estimates from locksmiths near you
Locksmith Services Cost Guide
Most of us would agree that getting locked out of the car, home, or office is usually an emergency. Locksmiths help with all sorts of home and car lockout situations, as well as installing new deadbolts and locks to keep you, your loved ones, and your belongings safe. Many locksmiths most likely will charge by the hour with a minimum trip charge, although it depends on the project. Some locksmith visits require only a few minutes of work with the right tools, but locksmiths still charge for their time and overhead expenses such as insurance, expertise, and travel time.
The average cost of hiring a locksmith ranges from $100 to $200. The average homeowner spends around $150 to rekey a more complicated house lock like a profile cylinder or 3-point lock system and replace a set of keys. On the low end, homeowners pay $75 to repair a broken door lock. On the high end, having a locksmith replace a house lock and provide a set of keys costs $550.
Locksmith Cost
Locksmith Prices
National average cost
$150
Average range
$100-$200
Low-end
$75
High-end
$300
Locksmith Cost per Hour by Level of Expertise
The typical locksmith cost per hour by expertise ranges from $50 to $125, depending on the level of experience. You can have an entry-level apprentice, an experienced journeyman, or a master locksmith with the highest certification. Some local locksmiths offer different expertise levels. Your options also depend on what kind of services you need or the complexity of your lock and key issues. Below is the average cost per hour for each level of locksmith experience.
| | |
| --- | --- |
| Level of Expertise | Price per Hour |
| Apprentice | $50 - $75 |
| Journeyman | $75 - $100 |
| Master | $100 - $125 |
Apprentice Locksmith
The average apprentice locksmith hourly rate is $50 to $75 per hour. An apprentice locksmith works under a more qualified locksmith as they continue training and learning in the industry. Apprentices may have one to three years of experience, including training and licensing, as they work toward full certification. Some apprentices move up the ranks faster than others, but you can expect quality service from apprentice locksmiths nonetheless, especially for standard services like unlocking doors or replacing locks.
Journeyman Locksmith
A journeyman locksmith charges $75 to $100 per hour. A journeyman is a fully qualified locksmith who works under another locksmith. This is the next step after working as an apprentice. Journeymen have completed all official qualifications to work in the industry. You can expect a journeyman locksmith to have three to ten years of experience. They are considered competent and skilled for all major locksmith services. You can rely on a journeyman locksmith to provide a high level of service for unlocking homes and cars.
Master Locksmith
Hiring a master locksmith typically costs $100 to $125 per hour. A master locksmith is more expensive because they have earned the highest certification level through the Associated Locksmiths of America (ALOA). This means a master locksmith is highly experienced in all areas of locksmithing, with additional training ensuring they have specialist industry training for auto, commercial, and electronic security. Lower-level locksmiths work under a master locksmith. If you want the absolute best in professional locksmith services, someone with a master certification is the way to go.
Locksmith Prices for Homes by Type of Service
Locksmiths offer a wide range of services to help homeowners with all their lock and key problems. If you have trouble getting into your home or car or have security concerns, a reliable local locksmith should be your first call. Residential locksmith services prices range from $50 to $125 per hour based on the level of experience and required job. The below table highlights the average costs per project depending on the type of repair, running from $10 to $550. Keep in mind that each locksmith may charge differently, as some prefer per hour, and some prefer per project. It will likely depend on the complexity of the project and if you need multiple services or just something small, always check with your locksmith to be sure.
| | |
| --- | --- |
| Locksmith Home Services | Prices (Labor Included) |
| Key Duplication | $10 - $25 |
| Locked Out of House | $50 - $175 |
| Door Lock Repair | $50 - $200 |
| Key Extraction | $50 - $200 |
| Rekeying Locks | $70 - $160 |
| Key Replacement | $75 - $100 |
| Door Lock Installation | $100 - $300 |
| Open Safe | $140 - $450 |
| Changing Locks | $150 - $550 |
Key Duplication
The average locksmith duplicate key cost is $10 to $25. While you can get this done at a local hardware store, it's usually best to leave this job to professional locksmiths just to ensure everything works properly, especially with today's more sophisticated locking systems. Locksmiths can make two and four-sided keys, as well as master, skeleton, and dimpled keys. In addition, if your keys have been lost or stolen, it is best to have your lock rekeyed with a new key. Then, pay the locksmith to duplicate the new keys.
Locked Out of House Locksmith
The average cost for a locksmith to unlock a house is $50 to $175. This includes the locksmith cost to unlock a door if you misplaced your key or forgot to grab it on your way out the door. As one of the most common service requests, locksmiths are well-prepared to open any house door upon request. Just be prepared to pay extra if it's outside normal business hours, such as early in the morning, late at night, or on a holiday.
Door Lock Repair
If you need a door lock repaired, expect to pay from $50 to $200. There are several reasons why you may need a door lock repaired, such as if the latch is stuck, frozen, or no longer latching. Sometimes door locks may be damaged by accidents, storms, or break-ins. A trusted locksmith is the best option for fixing these locks. If the door lock is completely broken and unable to be repaired, it will need to be replaced.
Key Extraction
Key extraction for your home costs $50 to $200. This service is needed when a key breaks off in the lock and you can't get it out. If you put the key in the door and it won't budge or snaps off, it's best to call a locksmith right away rather than fiddling with the door yourself. Locksmiths use specialized tools to safely remove the key and ensure minimal damage to the lock. They need to inspect the locking mechanism after the key is removed to make sure it's all okay, and you can put the key in again without it getting stuck.
Cost for Locksmith to Rekey the House
The average cost to rekey a house is $70 to $160. Lost or stolen keys may leave you wondering how to rekey a house and if that's a possibility. You can get your keys replaced if you lose them, or you can have the lock rekeyed to fit a new key altogether, which is the more secure option in case someone finds your misplaced key. Luckily rekeying is pretty straightforward and just involves repositioning the pins in your old lock, so it requires a new key to open. Most professionals include the price of a new key in the locksmith charge to rekey locks but always check. Some may charge a small fee to cover the locksmith key replacement cost.
As with car rekeying, there are varying problems that can increase or decrease the cost to rekey locks on a house, such as damage to the lock and the type of lock. For example, safety deposit boxes, garage doors, and rear sliding doors become inoperable when keys are lost or stolen; therefore, the rekey locks cost may be slightly more expensive. Below is a breakdown of some of the most common costs associated with locksmith rekeying services, which typically add up to an overall final cost of $70 to $160 due to locksmith labor, travel time, and material expenses.
| | |
| --- | --- |
| Rekeying Services | Price (Labor Included) |
| Shim Open | $6 - $12 |
| Rim/Mortise Cylinder Lock Repin | $20 - $30 |
| Set of Keys to Master System | $25 - $35 |
| High Security Cylinder Repin | $25 - $35 |
| Best Type IC Cylinder Repin | $30 - $35 |
| Tubular Lock Repin | $30 - $40 |
| Safe Deposit Lock Repin | $30 - $40 |
House Key Replacement
Locksmith house key replacement cost is generally $75 to $100 with the minimum trip charge enforced. The house key cutting cost goes up depending on how many copies you need and what kind of keys you want. Many locksmiths offer replacement keys as part of other services like lockouts or rekeying, but you can also get new keys cut for a standalone fee. If you want to change your locks and keys after moving or due to security concerns, ask your locksmith for a custom quote on your desired amount of replacement key copies.
Door Lock Installation
The average door lock installation cost is $100 to $300. This applies not just to interior and exterior doors but also to garage door lock installation or replacement. You may be installing a new door or wanting to add an extra security lock for more peace of mind. Whatever the reason for a new door lock, it's best to have it professionally installed by an experienced locksmith. This process may involve drilling the door to install the lock. A professional locksmith can protect the door's integrity with a proper installation and confirm that the new lock and key works correctly.
Locksmith Open Safe
The average locksmith safe opening cost ranges from $140 to $450, depending on the type of safe and the opening method. Locksmiths help by opening a security safe, changing the safe key or lock combination, switching a mechanical lock to electronic, relocating a lock, or installing a lock.
Manual manipulation is a three-step method that involves finding the contact points, determining the number of wheels, and using a graph to note the results. Traditionally, drilling was done on the front of wood or metal safe doors, but now safe manufacturers install cobalt plates to slow the process of drilling for safecrackers. Drilling is used to open both fire and money safes, whether they are in the floor or the wall. Most of these safes have either an electronic keypad or manipulation-resistant locks. The locksmith cost to open a safe is based on which methods locksmiths use, which including manual manipulation or drilling for fire, in-floor, and money safes. The methods and their associated costs are outlined in the table below.
| | |
| --- | --- |
| Safe Opening Method | Cost (Labor Included) |
| Manual Manipulation | $140 - $200 |
| Fire Safe by Drilling | $200 - $250 |
| In-Floor Safe by Drilling | $300 - $450 |
| Money Safe by Drilling | $350 - $450 |
Change Locks on House
The cost of a locksmith to change house locks ranges from $150 to $550. If you want to start fresh with a new lock and key, then paying the locksmith to change locks is a smart investment for your family. This is the more expensive option compared to lock rekeying costs, but you get the choice of upgrading to a high-tech locking system. Many homeowners are happy to pay the cost to change locks on a new house to ensure ultimate security and that no one who may have an old key can get in.
Auto Locksmith Prices by Type of Service
Auto locksmith services are similar to home locksmith solutions, except they are used for secure access to cars, vans, SUVs, trucks, motorcycles, and all sorts of other vehicles. Auto locksmiths are experienced in everything from unlocking car doors to reprogramming transponder keys to ensure a high level of safety and security for your car. Most reputable locksmiths provide both home and auto services. However, it's always a good idea to check when you call to confirm service availability and automotive locksmith prices for lost car keys. On average, automotive locksmith costs range from $10 to $250, as shown in the table below.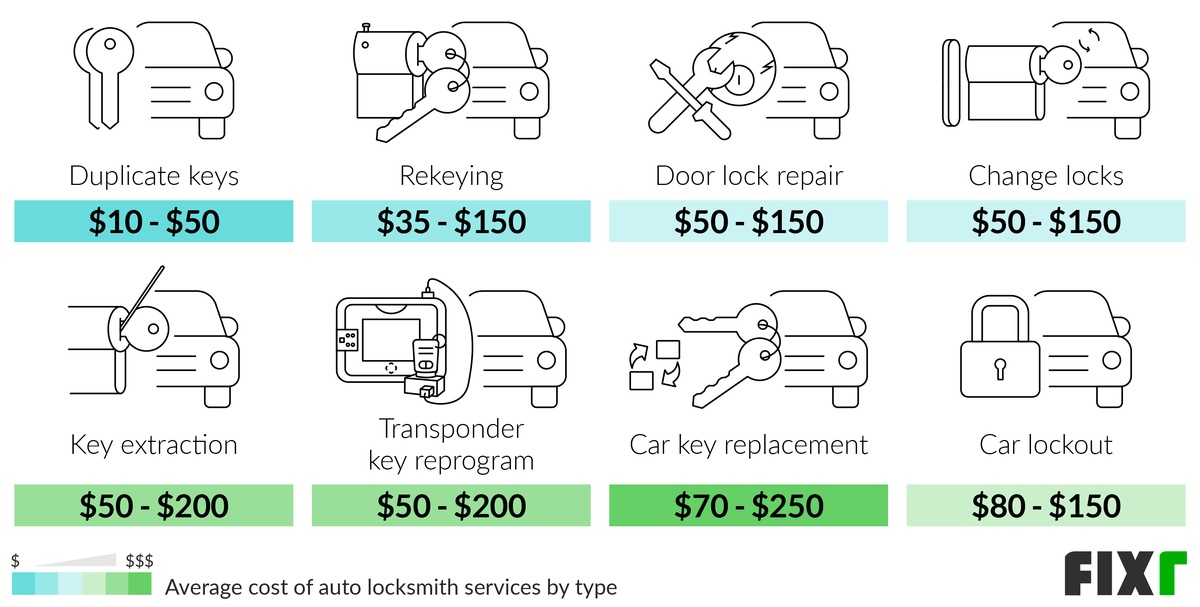 | | |
| --- | --- |
| Services | Prices (Labor Included) |
| Duplicate Keys | $10 - $50 |
| Rekeying | $35 - $150 |
| Door Lock Repair | $50 - $150 |
| Change Locks | $50 - $150 |
| Key Extraction | $50 - $200 |
| Transponder Key Reprogram | $50 - $200 |
| Car Key Replacement | $70 - $250 |
| Car Lockout | $80 - $150 |
Duplicate Car Key
The duplicate car key cutting cost ranges from $10 to $50. You can have a locksmith make duplicate car keys if you want to have another spare or if you share your car with another driver, such as a spouse, child, or sibling. If you have your current key, it's quite simple for a locksmith to make a copy, which is why the cost is lower than having to make a new key from scratch in the case of a lost car key.
Rekey a Car
Rekeying a car ranges from $35 to $150, depending on whether you need just the door locks or the ignition rekeyed. There are many situations where rekeying makes a difference, particularly if the key no longer works to open the door or turn on the ignition. You could have locked your keys in the car or lost them altogether, a key may have gotten broken, or your keys may have been stolen. With stolen keys, you will want to rekey both the lock and the ignition, so your car isn't taken at a later date. Below are the locksmith average costs of car rekeying services and more details on each option.
| | |
| --- | --- |
| Rekeying Services | Cost (Labor Included) |
| Rekey Locks | $35 - $55 |
| Rekey Car Ignition* | $60 - $150 |
*Push starts must be done by an auto mechanic or car dealership.
Rekey Car Locks Cost
You can choose to replace a car lock, but rekeying is usually less expensive, around $35 to $55. When you hire a professional to rekey a car lock, they will change the current lock to be opened by a different key. The rekeying process modifies car door lock tumblers, so they work with a new key and not the old one. This is ideal if your car keys are lost or stolen to ensure no one can get into your car.
Rekey a Car Ignition Cost
The average cost to rekey a car ignition is $60 to $150. This is higher than the average cost to rekey a lock because the process for ignitions is more complicated than simply changing the pins to rekey a car lock. An auto locksmith rearranges the internal components of ignition cylinders to suit a new key. If your keys are lost or stolen, you may need both your locks and ignition rekeyed to protect your vehicle in case someone else has gotten your keys. If your car is newer and has a push start button, you need to have the auto dealership repair it. Also, keep in mind that if the car ignition is fully broken, that involves more work than just rekeying.
Car Door Lock Repair
If you need to get your car door locks repaired or replaced, expect to pay $50 to $150 to cover the cost of a locksmith for the car. You may need to have an auto locksmith look at your car door if the latch is frozen, stuck, or not closing properly. It's also possible that door locks may be damaged in accidents, so it's good to have a locksmith check it out. If damage to the door lock is too significant, it may need to be replaced altogether.
Change Car Locks
The average cost to change car locks is $50 to $150. Replacing the locks on your car doors may be the only option you have for getting back into your car if your keys are lost or stolen. If the locks are damaged or older, it is better to replace them to protect your car properly in the long term. Covering the car door lock replacement cost also gives you greater reassurance that your car is protected against break-ins, especially if you've had troubles with car theft in the past.
Car Key Extraction
Car key extraction costs $50 to $200. If your car key suddenly snaps off in the lock or ignition or gets stuck and you can't get it out, it's important to call an auto locksmith as soon as possible. You may not be able to get in your car or drive it until the issue is fixed. Auto locksmiths have special tools to extract keys without damaging the rest of the lock or the ignition. They can also evaluate the lock and key and offer recommendations on avoiding similar problems in the future.
Program Key Fob
The average car key programming cost runs from $50 to $200. Many of the cars on the road today have key fobs or transponders. Auto locksmiths specialize in replacing or reprogramming these key fobs. It's worth paying the locksmith key programming price if the buttons on your key fob no longer work. If you can't lock or unlock your vehicle, the fob needs to be reprogrammed or replaced. Locksmiths can try to reprogram the fob or replace it if that doesn't work.
Locksmith Car Key Replacement
The average locksmith car key replacement price is $70 to $250. One possible problem when it comes to your car locks is the need for replacement keys. If you don't have a copy of the current key, a car locksmith can make a replacement key. Because this visit is short, a locksmith will likely charge a minimum service fee for the car key cutting cost. Keyless fobs replacement may cost more and require a trip to the dealership.
Cost for Locksmith to Unlock a Car
The average cost for a locksmith to unlock a car is from $80 to $150. In the event of car lockouts, such as leaving your keys inside the car, you should call an auto locksmith to come out and get the door open for you. Qualified locksmiths have the proper tools to get you back in your car, regardless of what make and model you drive. Also, expect the locksmith cost to open the door to vary by time and date. These service calls may come at a premium price, especially if it's after hours or on a holiday.
Cost of Locks by Type
Locksmiths will also sell and install locks on your property, in addition to helping you enter your home or vehicle if you've been locked out. Charges for this usually include labor costs of $50 to $75 per hour, along with the cost of the lock itself and possibly rekeying or producing additional keys. There are many types of locks you may want to consider for your home, including pocket door, knob, and privacy locks, which are the most common for inside the house. Cam locks and furniture locks are other options for use throughout a home's interior. You can get sliding door locks for back glass doors or keyed entry locksets for exterior doors, as well as a grip set, electronic, fingerprint, touchpad, mortise, deadbolts, keyless, and smart locks. Do not forget about padlocks for gates, sheds, and storage units too.
| | |
| --- | --- |
| Type of Lock | Prices (Materials Only) |
| Sliding Door | $20 - $300 |
| Knob | $25 - $55 |
| Privacy | $25 - $60 |
| Padlocks | $30 - $80 |
| Deadbolts | $40 - $75 |
| Lever | $65 - $85 |
| Smart | $100 - $450 |
| Pocket | $100 - $200 |
| Keyless | $150 - $300 |
| Touchpad | $175 - $250 |
| Electronic | $200 - $400 |
| Grip Set | $225 - $550 |
| Fingerprint | $250 - $425 |
| Mortise | $300 - $450 |
Smart Lock Prices by Type
Smart locks feature the latest in technology and range in cost from $50 to $350. Smart locks are more expensive, but these high-tech options are worth the price tag. You can get Wi-Fi locks for full control over who enters, plus automatic locking and unlocking when paired with Alexa, Siri, Google, and other Apple/Android products. Keypad deadbolts and keyless entry door locks require an entry code, while biometric smart locks need a fingerprint. Then, Bluetooth locks work when your smartphone is nearby, so you can track who is coming and going. The labor cost for a locksmith to install smart locks is around $50. The table below highlights the typical smart lock prices for each type of lock.
| | |
| --- | --- |
| Types | Cost (Materials Only) |
| Keypad | $100 - $250 |
| RFID | $100 - $300 |
| Wi-Fi | $200 - $300 |
| Bluetooth | $200 - $300 |
| Biometric | $250 - $450 |
| Z-Wave | $250 - $400 |
Emergency Locksmith Cost
Anyone might need an emergency locksmith at one time or another. Maybe you lose your keys and cannot get in the house after a late night visit to a friend, or you accidentally lock your keys in the car but don't realize it until you are trying to leave a restaurant at 8:00 at night. Twenty-four-hour locksmith prices are only different for after hours, holidays, or weekends. You should be prepared for the cost of a locksmith to open a car door or house door to be an additional $150 to $250 after hours. Emergency locksmith prices on public holidays or weekends may be more.
When to Call a Locksmith
If you are locked out of your house with no spare keys, or you have a broken lock or key, then calling a locksmith is a good idea. Many homeowners also choose to call locksmiths when they need a key replaced or locks repaired. Plus, if you're thinking about upgrading your home's security, then a locksmith is a great professional to contact. They can help you install smart locks with innovative technology so you can monitor the security of your home and lock doors remotely. Something else to think about is changing locks in a new house, which gives you peace of mind that anyone with an old key cannot access your property. Locksmiths can rekey or replace locks quickly, providing the ultimate security for both new and existing homes.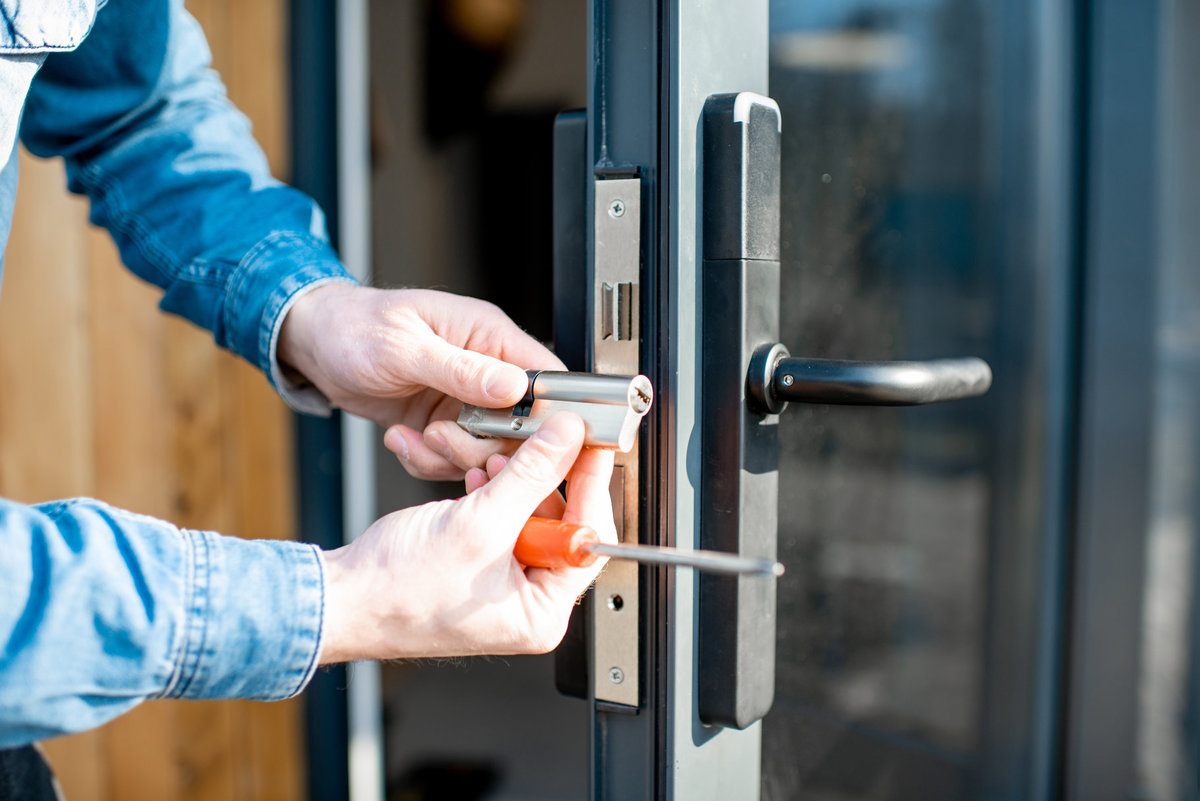 How to Hire a Locksmith
Many locksmiths and their services are available in most areas. The Federal Trade Commission has given guidelines for finding a quality locksmith, starting with choosing a local company and researching their physical address to make sure it matches the address listed online. You should do a quick internet search with the name of the locksmith and words like "complaint" or "review" to find out more about them. Reading what other homeowners say gives you a good indication of who the best locksmiths are near you.
It's also important to get an estimate of the cost upfront and confirm the services it covers so you and the locksmith are on the same page. If you have special requests like home security upgrades or smart locks, make sure you bring this up with the locksmith to ensure they can meet your expectations and give you a thorough expectation of price. One more thing to remember is that anyone who works at your house should have insurance in case they damage your property while on the job.
While these are some of the most common tips on hiring a locksmith, other important considerations include the contract, payment schedule, dispute resolution, and communication expectations. It's also important to know if a professional has covered the locksmith certification cost and is fully certified for expert locksmith services. Doing your research and communicating openly with your locksmith helps you navigate this process and ensure the best results.
Safety Considerations Before Hiring a Locksmith
It's understandably stressful to be locked out of your home or car, and it may even be dangerous depending on the circumstances. That is why it's always important to be aware of your surroundings and consider any possible safety concerns, especially if you're locked out of your car on the side of the highway or in a remote area. In that case, it's best to call your insurance or roadside assistance company first. They can give you a list of approved and fully certified locksmiths for the best service.
If you can't get into your house and are awaiting a locksmith, try to stay in a safe, well-lit area and let family or friends know what is happening. Don't forget to confirm your locksmith's identity and credentials when they arrive, and make sure they try to pick the lock first. Professional locksmiths should be able to pick virtually any lock with no drilling required. If a locksmith's first move is to drill, they probably aren't the right fit for the job, as there's no reason to damage the door and lock unless it's the only option.
Rekeying vs Changing Locks Cost
Before you make any decisions, you will want to compare the cost of rekeying with the cost of changing the locks. Rekeying is the less expensive option and ideal if the key is lost, as you can get as many new keys as you want. You can also keep your current lock style if you like the way they match your home. On the downside, rekeying locks does not come with a warranty, and eventually, the old lock may break or require replacement. Some situations exist where rekeying is not an option, such as after a break-in or if the lock has serious damage. If your home security is at risk after stolen keys or robberies, you want to change the locks to prevent anyone from getting in.
On the other hand, changing locks is more expensive, but it does mean you get a brand new lock, covered by a warranty and available in different styles and colors, as well as electronic options. Changing locks is more secure when someone moves out, although keep in mind it may require drilling. If the door needs to be altered to install the lock, the cost goes up. The table below shows the price differences between rekeying and changing locks.
| | | |
| --- | --- | --- |
| Option | Cost for Cars (Labor Included) | Cost for Houses (Labor Included) |
| Rekeying | $35 - $55 | $70 - $160 |
| Changing Locks | $50 - $150 | $150 - $550 |
Enhancement and Improvement Costs
Security System Installation
Some locksmiths also offer security system installation services, including high-security locks ($30 to $150) and security cameras ($50 to $300). If you have a locksmith visit after a break-in, this is a good time to discuss further security measures. Upgraded home security gives you greater peace of mind that your family and property are protected.
Bike Lock Change
A locksmith can help you remove a bike lock and make you a new key or rekey the lock so you can get back on your bike and safely store it. If the locksmith needs to come to you, you may have to pay the trip charge, usually about $60 to $100, although you can save this money by taking the bike to the locksmith. Changing the bike lock is about $70 to $160.
Motorcycle Key Replacement
Having a motorcycle key lost or stolen is frustrating. A locksmith can make you a new key, though, and it will cost you $85 to $100. If you need a motorcycle ignition key replacement when you're out on the road, you should watch your surroundings and call a locksmith quickly to ensure your safety. It's a good idea to phone your motorcycle insurance company or roadside assistance company too.
Luggage Key Replacement
Losing a luggage key isn't fun, especially if you have clothes or valuable personal possessions inside the luggage or you have a big trip coming up. A trained locksmith can open the luggage for you and create a new key, ensuring safe travels with your favorite suitcase. The price tag for this service runs from $50 to $75. The cost goes up if you have multiple suitcases that need new keys.
Filling Cabinet Lock Replacement
A filing cabinet lock is a great way to secure your important papers in a home office. However, if the key is lost or stolen, getting a new key made is vital. A locksmith can remove the old lock, install a new one, and/or make you a new key. Costs for these services are $60 to $80, depending on the type of lock and cabinet. If you have several filing cabinets with different locks, expect the price to increase.
Mailbox Key Replacement
Most mailbox keys are inexpensive to replace. However, if your mailbox key is electronic or is a key card, you may end up spending more to have it replaced. If you have a USPS box or live in an apartment complex, you need to get your key from the source, either the post office or the apartment office. However, if you have a locked mailbox that you own, it will cost you $60 to $90 to get a new key.
Mailbox Lock Replacement
If your personal mailbox lock needs to be replaced, you will pay $75 to $200, depending on the type of lock you need. This service is common when people move and want to make sure previous residents cannot access their old mailboxes. If you have issues with mail theft in your area or get a lot of sensitive mail, it's definitely a good idea to have a locksmith take a look and replace the lock.
Door Latch Guard Installation
Locksmiths can help with door latch guard installation, which costs $50 to $150 and involves a metal plate to cover the gap between the door lock and the frame. This is a weak point where burglars may break in, so a latch guard covers exposed latches to prevent tampering and forced access. This is most common for front or back security doors because they offer a commercial-style level of protection for your home.
Additional Considerations and Costs
Registered professional. It is a good idea to hire a locksmith who is registered with Associated Locksmiths of America (ALOA). This organization does proficiency testing and certifications. You can rest assured that if a locksmith is registered with ALOA,they have passed the requirements for certification as a professional locksmith.
Home security. If a break-in has occurred, you have purchased an existing home, or your keys have been lost or stolen, it is probably wise to change your door locks rather than rekeying. This is a safety issue that protects your family and belongings.
DIY. You can DIY some of these lock-related projects. However, depending on the complexity of the lock, it may be a difficult, time-consuming task. Rekeying is especially tedious, and a professional may better accomplish installing a new lock with bells and whistles.
Maintenance. You can clean your existing locks by using graphite powders or Teflon-containing sprays. These can be purchased at your local hardware store and are preferable over WD-40. WD-40 leads to more dirt and grime. Try to get as much of the spray or powder inside the lock itself. Wipe off any leftover product to avoid a mess.
Trip fee. Depending on where you live, a locksmith may charge a $25 to $100 trip fee for coming out to your home or work, on top of the actual service cost. You're more likely to pay a trip fee if you live outside the locksmith's standard service area, as they need to make up their travel costs. Always ask your locksmith if they charge a trip fee because some may include it in the cost of their service, and some may quote extra.
Service call. A locksmith service call is when you call a locksmith out to your property, and this price covers their standard services. A service call is generally $100 to $200. However, it may be slightly less if it's a straightforward lockout or higher if it's outside normal business hours or an emergency.
Peak hours. While locksmiths have standard business hours, it's usually before or after work that people notice an issue with house or car locks. With that in mind, locksmiths may charge slightly more per hour if it's early in the morning or late at night. Although the hourly locksmith rate is $50 to $125, generally, it's on the higher end during peak hours like 7 a.m. to 10 a.m. or 5 p.m. to 8 p.m.
New vs existing house/car. There is not much difference between the cost to change locks on a new house or an old house. Thanks to improvements in technology, locksmiths can fix most keys, locks, or doors regardless of how old a house or car is. It's best to get a detailed estimate of the cost of a locksmith to change locks based on your needs and how many locks or keys you need.
FAQs
Why is locksmith expensive?
Locksmiths are expensive because these professionals have extensive training and technical experience to fix keys and locks. Locksmiths also need complex equipment and tools to ensure expert service, contributing to the labor and material costs. Locksmith prices may seem high for cutting new keys, removing old locks, and putting in new locking mechanisms, but it takes time and attention to detail. Even so, average locksmith pricing is worth it to protect the security and integrity of your home or car.
Is it cheaper to rekey or replace locks?
Rekeying house locks is the more affordable option, costing $70 to $160 compared to $150 to $550 for replacing locks. Changing locks is the most secure option and offers a brand new look, especially if someone just moved out. Rekeying is the cheaper choice and ideal if keys are lost because you can get as many keys as you want.
How much should a locksmith cost?
The average cost to hire a locksmith is $100 to $200. Prices vary depending on whether you need a key replacement, rekeying, or new lock installation. The more locks or keys you need to be fixed; the more locksmith services will cost. The locksmith cost for opening a house is also higher after hours for emergency assistance.
Locksmiths use different techniques to unlock different items. They also adjust, repair, rekey, and install locks on houses, cars, motorcycles, buildings, mailboxes, bikes, filing cabinets, safes, and luggage. A house or car is usually a rekey situation where the locksmith rearranges the pins within the lock to accommodate a new key. Your local locksmith can also help if you get locked out almost anywhere and can help with installing security systems.
How much does a locksmith cost to unlock a house door?
If you do not need a rekey, unlocking your house door runs from $50 to $175. The cost to have a locksmith rekey locks is $70 to $160. This method replaces old lock pins with new ones so you can get back inside the house.
How do I find a good locksmith?
Researching the internet, looking for reviews, and getting referrals from friends are all good ways to find a good locksmith. You can also look for registration with the Associated Locksmiths of America (ALOA).
What is the average cost of a locksmith?
The average price for a locksmith is $100 to $200, depending on the project and how complex the lock and key problem is. For example, repairing a broken door lock costs around $75, while replacing a house lock and providing a new set of keys costs closer to $300.
How much does it cost to get your car unlocked by a locksmith?
If you need to have your car unlocked, it could be a case of lost or stolen keys, or maybe you locked them inside the car. A professional locksmith can help you get the car unlocked for $80 to $150.
Should my landlord pay for a locksmith?
It depends on the circumstances. If you lose your keys, most likely, your landlord will not do that. However, if the key they give you does not work or if a lock breaks or becomes disabled through no fault of your own, a landlord should pay for a locksmith.
How much does a locksmith charge to program a key fob?
The average cost to program a key fob is $50 to $200. You may use a key fob for safe and efficient home entry or to get in and out of your car. Locksmiths can program key fobs for setup/installation or reprogram fobs if they stop working.
How to get a key made for your car?
The average cost to get a key replacement for your car is $75 to $250. You can call an experienced auto locksmith to make a replacement key that matches your car door lock and ensures safe locking.
The information provided by our cost guides comes from a great variety of sources. For more information, read our Methodology and sources.