How much does it cost to paint a stairway?
Get free estimates from painters near you
Stairway Painting Cost Guide
Updated: October 10, 2022

How Much Does It Cost to Paint or Stain a Stairway?
Painting a stairway refreshes a room by providing an entirely new look. It can turn boring stairs into a focal point in any decor and create a more personalized space. Stairways may seem simple and even basic. However, they are complex, with numerous risers and treads. The intricate angles benefit from having a professional painter handle the project to ensure it looks ideal when complete.
The multi-angled nature of a stairway design and build can quickly create mounting costs when painting the structure. The average cost to paint a stairway with minimal prep ranges from $350 to $450. The average homeowner spends around $400 for a professional stairway painting project, including priming and painting a 63.5 sq.ft. stairway with handrails and balusters. Costs may be as low as $225 to add a single color paint to a 52 sq.ft. staircase with handrails, or as high as $700 to prime and paint one staircase and landing covering 74.5 sq.ft.
Paint a Stairway
Cost to Paint Stairs
National average cost
$400
Average range
$350-$450
Low-end
$225
High-end
$700
Painting vs Staining a Driveway
Both painting and staining are good options when it comes to giving your stairway a fresh look. Stain is undoubtedly more forgiving than paint and dries more quickly. A stairway in an older home could be given new life with a refinish and a combination of paint and stain. Give this particular consideration if the stairwell is a focal point of your foyer or entryway. Your decision depends on the staircase style and usage and how quickly you would like the job completed.
With painting, you can pick your own colors for a clean, contemporary appearance. Typically, you can expect to pay between $15 and $65 per gallon, although there are more expensive options on the market. The downside of painting a stairway is that paint is more prone to peeling or chipping, so maintenance is important. In comparison, staining costs around $25 to $100 per gallon. The results can be remarkable because they reveal the wood's natural beauty and inspire interior design. Staining is more effective on highly-trafficked areas, especially if you have pets because it is more durable and hides scratches and dirt better than paint. Whether you choose to paint or stain your stair, you can expect to pay anywhere from $90 to $450 to work on an average 12- to 13-step stairway.
| | |
| --- | --- |
| Project | Average Cost (Labor Included) |
| Staining | $90 - $160 |
| Painting | $350 - $450 |
Cost to Paint Stairs per Square Foot
The cost to paint stairs is often measured per square foot, similar to other residential painting projects like hallway painting or room painting. The staircase's size depends on the design of the house, whether the staircase is straight, rounded, or split, and its height. For example, a staircase connecting the first and second floors in a large two-story home with vaulted ceilings will have more square footage and therefore be more expensive to paint than a short staircase in a split-level home. That said, please note that costs below are calculated using a standard straight staircase and an average cost of $4 to $6 per sq.ft. painted.
To properly estimate the cost of painting a stairway, you must calculate the surface area. First, you or your painter need to measure the length and the width of the stairway treads and risers and multiply those figures to determine the surface area. Then, add the tread nosing, the run, and the rise to determine the tread length. Measure the width of the tread and multiply the total tread length and width to achieve the surface area. If the stringers are included in the paint job, add 2' to the tread width before multiplying. The stairway hand railing is measured by starting at the top of the landing and measuring to the floor, and adding 2' to determine the linear length of the handrail.
| | |
| --- | --- |
| Stair Sizes | Average Cost (Labor Included) |
| 55 sq.ft. | $220 - $330 |
| 60 sq.ft. | $240 - $360 |
| 65 sq.ft. | $260 - $390 |
| 70 sq.ft. | $280 - $420 |
| 75 sq.ft. | $300 - $450 |
Cost to Paint a Stairwell by Number of Steps
One of the most common ways painters calculate the cost of painting or repainting stairwells is by the number of steps on the staircase. While most staircases have 12 or 13 steps, some stairways may have just a few steps if it is a split-level property or up to 36 steps in a large multi-story home. Below are costs for painting a straight staircase based on the number of steps measuring 7 inches tall and 11 inches long.
| | |
| --- | --- |
| Number of Steps | Average Cost (Labor Included) |
| 8 Steps | $200 - $250 |
| 10 Steps | $250 - $350 |
| 12 Steps | $350 - $450 |
| 16 Steps | $450 - $550 |
| 20 Steps | $600 - $750 |
| 26 Steps | $700 - $800 |
| 30 Steps | $800 - $950 |
Cost of Painting a Staircase by Part
Many stairway parts can be painted, so this must be factored in when determining the final cost. Walls, treads, risers, posts, balusters, ceiling, spindles, and handrails may or may not be present on the stairway. Stair treads are not commonly painted because paint can lead to slips and falls when climbing the stairs. They are not commonly factored in the cost of painting stairs for this reason. Each item can be painted separately at a future date or factored in as one complete job. Generally, a painter will do the entire paint job at one time to make the stairway look its best when finished. Remember that most painters charge by the hour, so the more things that require painting, the longer the painter will need to complete the job. A professional painter can determine the size of the job and figure in all aspects such as the walls, treads, risers, posts, balusters, spindles, handrails, and ceilings that may or may not need to be painted to give an estimate of the job's cost. Painters typically charge between $40 and $60 per hour.
| | |
| --- | --- |
| Stairway Parts | Average Cost (Labor Included) |
| Ceiling | $1 - $2.50/sq.ft. |
| Wall | $2 - $6/sq.ft. |
| Posts | $3 - $17/linear foot |
| Railings | $4 - $12/linear foot |
| Spindles | $4 - $12/linear foot |
| Risers | $4 - $12/linear foot |
| Baluster | $4 - $15/linear foot |
| Handrails | $7 - $15/linear foot |
Paint Stairway Ceiling
Ceiling painting for a stairway costs on average $1 to $2.5 per sq.ft. Painters need a ladder and safe, stable equipment to reach the ceiling. They need to lay out tarps to cover the flooring as necessary. The final project cost depends on the size and height of the ceiling. Putting a touch-up coat on a narrow staircase down to the basement may require fewer materials and time than painting vaulted 14-foot ceilings with a textured finish. A professional painter needs between 30 minutes and two hours to complete the ceiling painting.
Paint Stairway Walls
Staircase painting projects may include the stair walls, which costs between $2 and $6 per square foot. This can be a relatively straightforward process, except for the edges near the stairs, where painters need to be more careful to ensure they do not spill on the stairs. Painters will either use painter's tape to line the edges of the walls and stairs or lay down a tarp on the stairs to prevent drips. If the stairs have recently been painted, the wall work will need to wait until they are dry so that the project may be split across two or three days.
Painting Stairway Posts
On average, you can expect to pay between $3 and $17 per linear foot for each stairway post. Most stairways have one or two posts at the bottom of the stairway, measuring between 36 inches and 42 inches tall. Posts are an important part of a safe, stylish stairway. Painting these posts is often included in stairway painting projects. Painters need to cover the surrounding area to ensure no paint drips on the rest of the stairway. A few coats are needed to get the nice, smooth color you want. Painters usually use a brush as posts are smaller than walls and stairs.
Paint Stair Railing
On average, homeowners pay around $4 to $12 per linear foot of stair railings painted by professionals. Most stair railings are between 5 and 10 feet long, spanning the length of the staircase. The painting project's cost could vary if a special type of paint is required, or the railing has an intricate design that requires small brushes and more time. For example, the cost to paint a wrought iron railing may be greater than painting a wooden railing. If the railing is being painted along with the balusters, spindles, and risers, it may be best to leave the railing until the end so the staircase can be completely assembled ahead of time. Primer and a finishing coat lock in the color for longer, especially when painting wood stair railings.
Paint Stair Spindles
Stair spindles are thinner than balusters and come in various styles and sizes, impacting the price. The average is between $4 and $12 per linear foot. They vary in height and thickness depending on the type of staircase you have. They can range from ¼" in thickness to an inch, depending on the style of stairwell and whether your stairway is more contemporary and modern. In addition, depending on the height of the stairway and how far apart they are spaced, you can have anywhere from eight to sixteen spindles. Painting railing spindles can be a timely task due to the unique design of these features. This job is best left to the professionals. Spindles may have antique tops or twists that can make them more challenging to paint, as painters need to use smaller brushes to cover these pieces and do several coats to get the desired look. Just like balusters, spindles may be removed from the staircase for painting. They can be painted in position if the painter takes the time to properly cover the spindles for a smooth, polished appearance.
Paint Stair Risers
Stair risers are the vertical stair surfaces that usually cost between $4 and $12 per linear foot. Risers are between 7 inches and 7 ¾ inches high. There is no set width for stair rises. Risers are the height of each step visible on the staircase. They may be covered in the same paint as the rest of the stairs or decorated in a different accent color with a touch of texture. White, black, or brown paint colors are especially popular for riser painting projects, which require at least a few hours to ensure the paint dries properly and does not get all over the rest of the stairway. Primer and semi-gloss paint are recommended for riser painting. The project's final cost varies based on which brand and paint type you use and the prices of local painting contractors. The risers are the most prominent part of the stairs. For a premium paint job, it is best to go with professionals who can achieve the ideal appearance while keeping the mess to a minimum.
Painting Stairway Balusters
Typically, homeowners spend $4 to $15 per linear foot on painting balusters. Stairway balusters are narrow spindles or rods supporting the stairway railing. They protect children and pets from falling off the stairs. Balusters can be kept in place for the painting project, although getting a very smooth paint job may be more difficult. Several coats and touch-ups may be necessary. Some painters prefer to dismantle the balusters for a clean, even coat of paint, but that takes more time to put them back in place.
Paint Handrails
Depending on the detail of the millwork and the amount of stripping and finishing materials required, an ornate handrail and spindle will cost between $7 and $15 per linear foot. First, your painter will scrub the banister down and sand it, too. They will have to use painter's tape near the base to protect the bottom of the staircase and wherever else the handrail connects. More complex handrails may require more time and energy than simple handrails or banisters. This painting project is best handled by professionals for a safe and stylish result. Handrails can be as simple as a 1.75" round painted in mere minutes to elaborately detailed millwork, requiring much more time and patience. More ornate banisters cost significantly more to have refinished. For example, the cost to paint metal handrails is cheaper than the cost of painting wrought-iron ones. The cost to paint a banister varies slightly depending on the demand for professional painters in your region and their regular rates for residential painting.
Labor Cost to Paint a Stairway
Stairway painting is between $350 and $450. Typically, when hiring a professional painter, the cost of materials such as primer, paint, stains, tape, brushes, rollers, drop cloths, and trays are factored into the painter's estimate and account for approximately 15 percent of the price.
A professional painter will generally complete the job from start to finish by doing all the necessary prep work, such as taping and sanding. The more simple and straight your staircase is, the less time this will take. A normal box staircase with 12 to 16 steps usually requires less prep than a split level or extended staircase with 25 to 35 steps. Plus, if you have a spiral staircase, several hours of prep work could be needed before painting begins. That is because spiral staircases often have more nooks and crannies with additional posts and balusters that may need to be removed before painting. Getting ready for a stairway painting project also takes longer if the painter needs to remove old carpet. Residential carpet removal averages $0.50 to $3.10 per sq.ft.
Many homes, especially older ones, have painted stairs with carpet runners or stairs completely covered in carpet. Professionals experienced in painting around carpeted stairs can work through these different materials to ensure the surface area is protected, primed, and organized for a clean painting job. When done right, professionally painting stairs after removing carpet can produce high-quality results and a new look. The cost to paint a stairwell is well worth it with professionals involved.
Every element of your stairway will be priced separately. A professional painter will look at the amount of labor and materials required before giving you a quote. For instance, if your spindles are elaborately milled and have multiple layers of paint, it will cost a significant amount to have them stripped, cleaned, stained, and finished.
The painter will then paint and clean up when complete. Professional painters typically charge around $50 per hour. An average 12 ft. high, straight stairway of 63.5 sq.ft. with minimal prep, including priming and painting, would cost about $400.
Stairway Paint Cost by Type of Paint
The type of paint for stairs impacts the overall project costs, with some paint varieties costing more than others. Anti-slip and acrylic latex are some of the most popular and long-lasting, although they are more expensive. Anti-slip paint may use a clear, water or urethane-based sealer to offer better protection against slips and falls. This is a good choice for hardwood floors that may be slippery and senior residences where stairs can be harder to navigate. Acrylic paint is popular for stairway projects and other interior painting work, thanks to its combination of an acrylic resin and polymer solution. It does not take long to dry and is easy to maintain with soap and water to remove scuffs and stains.
Water-based paint dries quickly but may be less durable than some other stairway painting options. This eco-friendly paint is often used for bright colors with solid color retention and less strong odors. Others choose urethane-based paints made from a crystalline compound to create a strong coating, sealant, or adhesive material. Urethane is durable and resistant to ultraviolet rays, so it is a good choice for settings with a lot of natural sunlight, such as patios, sunrooms, and other spaces with outdoor access. The other option is oil-based paints, which are extremely adhesive with fewer roller and brush marks for a sleek, smooth finish that works with other paint types.
Finally, there are water-based and oil-based paints, which are usually more affordable than acrylic or anti-slip. An oil-based paint offers excellent adhesion. A water-based paint dries quickly. Paint typically runs anywhere from $15 to $65 per gallon, depending on the finish and brand. One gallon is normally sufficient to cover a 12 ft. tall stairway when used in combination with primer.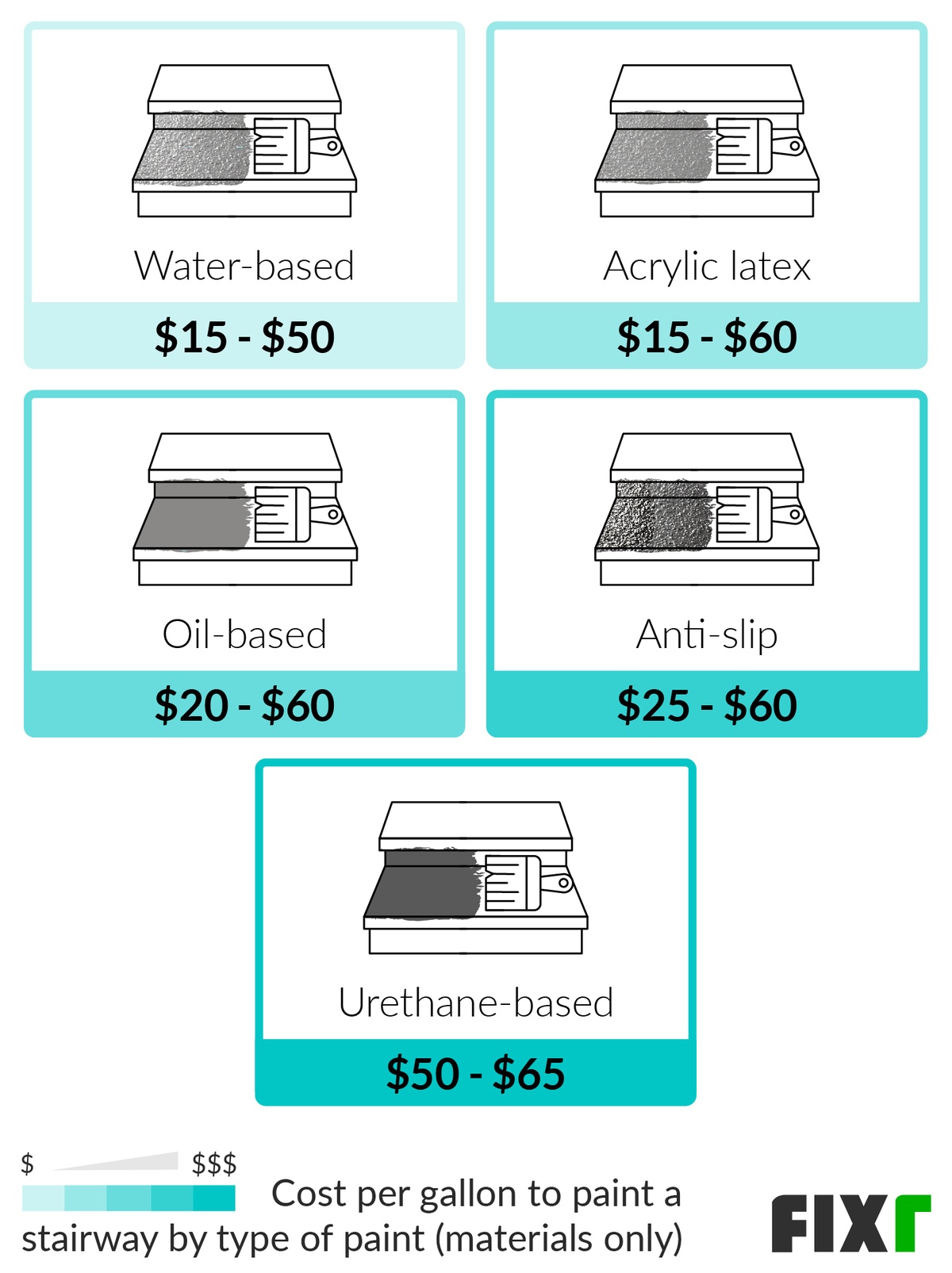 | | |
| --- | --- |
| Paint Type | Average Cost per Gallon (Materials Only) |
| Water-Based | $15 - $50 |
| Acrylic Latex | $15 - $60 |
| Oil-Based | $20 - $60 |
| Anti-Slip | $25 - $60 |
| Urethane-Based | $50 - $65 |
Stairs Stain Cost by Stain Type
On interior staircases, especially those in heavily-trafficked areas such as the stairs leading to a second floor, staining is a more popular option for homeowners. Stained staircases last longer and are more durable than painted staircases. Depending on what type of stain you choose, you can expect to pay between $25 to $100 per gallon. That said, oil paints are more common for interior staircases, so you can expect to pay between $25 and $50. Wood stain can be used in place of primer and paint. It brings out the wood's natural beauty while protecting the surface. Oil-based stains tend to be less expensive than gel stains. If you put oil-based gel stain on stairs, you can expect the paint to penetrate the surface well and remain durable enough to cover blemishes for years to come. The lower cost to stain a stair railing with oil-based stain is worth it for many homeowners who accept that oil fades over time and gives off an odor. In comparison, gel stains can be applied using a spray mechanism, and no rubbing is needed for the gel to penetrate wood stairs. Gel does not adhere well to busy spots like staircases. You need to allow at least 48 hours for the paint to dry.

| | |
| --- | --- |
| Stain Type | Average Cost per Gallon (Materials Only) |
| Oil-Based | $25 - $50 |
| Gel-Based | $50 - $100 |
Stairway Primer Cost by Type
Before painting, a surface must have a coat of primer applied. A primer helps ensure superior paint coverage and durability. Primer types fall into three categories. There are oil-based, shellac-based, and latex-based. One gallon normally covers a 12 ft. stairway. Primer costs $15 to $80 per gallon, depending on brand and type. Latex-based primer remains flexible even once it's dried, while oil-based primer hides damage by deeply penetrating the stairs' wood surface. Shellac-based primer is a slightly more expensive option that offers odor and mildew control while preparing the surface for painting. An adhesive primer can be used on rough surfaces that may be tough to paint, such as textured wood stairs or antique staircases.
| | |
| --- | --- |
| Primer Type | Average Cost per Gallon (Materials Only) |
| Latex-Based | $15 - $60 |
| Oil-Based | $25 - $70 |
| Shellac-Based | $30- $80 |
Stairway Paint Cost by Type of Finish
The most thorough and detailed stairway painting projects are not complete without the application of a quality finish. Once the primer and initial coats of paint are applied, adding a high-level finish protects the paint work and ensures the steps stay safe and stylish for years to come.
Flat paint finishes are good for color and make imperfections less noticeable, but it's not as durable as other options. An eggshell finish is stain-resistant and slightly more lustrous than a flat finish. A satin finish almost looks velvety and reflective with a durable and delicate design. A semi-gloss finish is more durable and long-lasting, although the sheen makes imperfections more visible. The durability of a high-gloss finish is tough to beat. However, you need a fully prepped surface before application because even the slightest imperfections are visible.
| | |
| --- | --- |
| Finish Type | Average Cost per Gallon (Materials Only) |
| Flat | $10 - $70 |
| Eggshell | $11 - $60 |
| Satin | $12 - $60 |
| Semi-Gloss | $12 - $70 |
| High-Gloss | $17 - $80 |
Cost to Paint Exterior Stairs
An outdoor step paint job costs $400 to $600. Exterior stairs may lead from the front door to the front sidewalk or the deck down to the backyard. The costs of interior and exterior stairway painting are similar. However, an outside job may require specialized paints to ensure the paint lasts for a long time, even with constant exposure to the elements. Water-resistant paints on exterior stairs may take several hours to apply. Multiple coats are recommended for high-quality results. Most painters set aside one workday for the exterior stair painting.
Preparation Before Painting a Stairway
A professional painter usually includes the cost of prep work materials in his job cost estimate. However, a homeowner can discuss providing the prep work materials for the painter to receive a possible discount. When budgeting to repaint your stairway, you will want to factor in the cost to sand and prep the stairs. Whether staining or painting, the surface of most stairways requires sanding prep work to remove old paint or soften the surface of any blemishes, ranging in cost from $4 to $9 per sq.ft. You can expect to pay between $3 to $11 per pack for general purpose sandpaper.
Painting can be messy work. The area must be prepared before priming and painting all surfaces. The edges of the stairs, walls, and other surfaces need to be lined with painter's tape to prevent smudges. The cost of painter's tape runs from $3 to $7 per 60 yards. Nail holes or blemishes may need to be repaired with spackle. A quart of spackle costs between $5 to $10. Lightly sand the spackle after it dries to create a smooth surface.
The entire area must be dusted and vacuumed to remove any cobwebs or dirt particles before painting.
Stairway Paint Color Ideas
When choosing the best paint color for your stairway, consider a few factors. The first is the amount of light the staircase receives. Equally important is the amount of foot traffic the stairs see on a daily basis.
If your stairway receives a lot of light, you can opt for a darker paint color such as a dark red or green to create more warmth. However, if your staircase is in a darker area of the house with little or no light, you may choose to paint it a lighter color. This way, you can brighten up an otherwise dark space. You also want to consider how many people will be using your stairs every day. If you climb your stairs multiple times a day, you may want to choose a darker color to hide any dirt and grime tracked through the space. Lighter paints are a good option if you do not mind cleaning your stairs or do not use them often.
You can also choose to create a two-tone look by painting the risers one color and the balusters a different color. This adds dimension to your space and makes it a focal point of your space's aesthetic. It can also make your staircase appear longer and more elegant.
​​
Enhancement and Improvement Costs
Stair Repairs
Before having the stairway painted, any carpentry repairs should be performed to make the stairway safe and structurally sound. Loose boards or broken spindles need to be repaired or replaced. The railing should be secure and not wobble. The average cost of a carpenter to repair a stairway is $70 per hour.
Polyurethane
Polyurethane comes in water-based ($10 to $50 per gallon) and oil-based ($25 to $35per gallon). If you use a natural wood stain on your stairs, you must apply multiple coats of poly to protect them from constant foot traffic. Whether you poly coat over painted stairs is a personal choice. While the poly adds life to your painted stairs, it also adds significant labor hours and drying time.
Grit
Various grit products can be added to the final coat of paint to make stairs slip-resistant. However, a polymeric grit ($5 to $15 per gallon of paint) is one of the best options since it is opaque and will not appear as dark spots in your finish. Painted stairs can be slippery. Adding a layer of polymeric grit to your final coat of paint helps prevent accidental falls by creating an anti-slip surface.
Decorative Features
Not all painters offer decorative painting services. This extra service usually runs between $50 and $150 per hour or a set price for a project. Instead of looking at a stairway as just a stairway, it can be a focal point. The rise of your stairway can be the canvas for an artist. Each rise can be a panel of a continuous painting, home to a line of an ascending poem, or even replicas of the spine of your favorite books. Whatever your imagination can conjure, a talented painter can deliver.
Corking
Corking stair treads is costly ($40 to $60 per tread), but it creates a beautiful look and dampens the sound of footfalls on the stairs. Corking the stairs is something a flooring pro should do. Cork flooring materials come in tiles and planks ($3 to $11 per sq.ft. for materials only). Both types must be cut to fit your stair treads.
Refinish Staircase
The average homeowner can expect to pay between $90 and $160 when budgeting for refinishing their stairs, including the cost to refinish your stair railing. Refinishing your current stairway is a decent option if you are a fan of the color and texture, but you want to make a change. Freshen up your staircase through refinishing by stripping it down to the bones and filling any gaps or damaged spots before sanding, repainting, and finishing with a new layer of stain. This should hide blemishes and produce a more consistent color. It is important to choose a stain that suits the stairway surface and will not damage the surroundings.
Additional Considerations and Costs
Repainting a stairway. The average cost for repainting a residential staircase is between $375 and $550. If it has been a long time since your interior steps were last painted, you can improve the room's overall impact, safety, and convenience with a repainting project.
DIY project. Painting a stairway can be a DIY project. However, it takes much longer than having a professional undertake the job. Also, the quality is not the same. The average homeowner does not have the skills, patience, or expertise to execute a high-level painting project that matches the interior design. If you want your staircase to look its best, professional assistance is key.
Project warranties. A professional painter generally offers a warranty on their work that averages from one to three years.
Cost of supplies. Purchasing the supplies separately and having them on hand for the painter may reduce the overall job cost. Reusable rollers, brushes, and trays cost $15 to $50 for a complete set. However, high-end, reusable brushes may cost as much as $25 to $75 each.
Permit requirements. If you are simply having your stairway painted or otherwise refinished, you will not need a permit. To make changes or redesign the stairwell in a way that would affect a load-bearing structure, you will need a permit.
Insurance. You should ask for proof of liability insurance before hiring any professional.
Home value. Updating the interior and exterior stairways in your home by applying a fresh coat of paint is an excellent way to increase the value of your home without paying for an expensive remodel.
Paint quality. The quality of the paint you use matters. The more expensive and higher-quality the paint or primer, the more durable it is. Higher-quality paints and primers should last longer, saving you money in the long run because you will not have to repaint your stairways every few years.
Staining. The process of staining stairs may or may not require a primer. If the surface of the wood is unmarked, then no primer is generally required. However, if there are scuff marks, discolorations, or stains that cannot be sanded out, applying an oil-based primer prevents the imperfections from marring the stained surface of the wood.
Carpet removal. Stairs that require carpet removal, have been neglected, or are worn or rotted also require more labor. These and other damage repairs increase the cost. Carpet removal runs $0.50 to $3.10 per sq.ft.
FAQs
How do you paint a stairwell?
Fill in any nail holes or blemishes with spackle or caulk to create a smooth surface. Prime the wall using a primer and apply latex or oil-based paint with a brush or roller.
How long does it take to paint a staircase?
It can take a while to paint a staircase. Between painting each tread, riser, handrail, spindle, and baseboard, it may end up being an all day project. The simpler the staircase, the less time it takes. However, after painting your stairs, you will want to wait at least eight hours, but preferably 24, before walking on them.
How much does it cost to paint a staircase?
On average, it costs between $225 and $700. However, the average cost with minimal prep work on your part is around $550 to prime and paint 63.5 sq.ft. of stairway with handrails and balusters.
Yes, painted stairs should last. As long as you choose durable paint designed for high-traffic areas, your stairs should stay beautiful for years.
What kind of paint to use on stairs?
You should use durable oil-based paint on stairs to keep your stairs looking beautiful for years. If you cannot afford oil-based paints, you can also use a water-based paint.
How much does it cost to refinish wood steps?
A painter typically charges $50 per hour. The overall cost needs to be determined by figuring out the surface size of the wood steps that require refinishing. The cost of staining/refinishing wood steps averages $6 per sq.ft. for materials and labor.
The information provided by our cost guides comes from a great variety of sources. For more information, read our Methodology and sources.