How much does it cost to hire a painter?
Get free estimates from painters near you
Painter Cost Guide
A fresh coat of paint does not just give your home a brand new look. It also provides protection against pest damage and harsh weather, helps siding last longer, maintains structural integrity, and increases the resale value of your home. That said, painting is still a significant investment and requires a lot of careful consideration and planning in order to get the best results. From choosing the right color and finish for a room to buying painting supplies, there are a number of things you need to keep in mind before hiring a painter.
The average cost to hire a professional painter ranges from $40 to $60 per hour, with the average homeowner paying around $50 an hour for a journeyman painter to prime and paint a home with a few drywall repairs needed. However, costs can be as low as $38 for an apprentice painter to prime and paint a home with no repairs needed or as high as $84 an hour for a master painter to prime and paint a home with drywall and siding repairs needed.
Price to Hire a Painter
Painter Hiring Costs
National average cost
$50
Average range
$40-$60
Low-end
$38
High-end
$84
Existing Home vs New Construction Painting Prices
Generally speaking, new construction painting prices are lower than the cost of repainting a house that is already built and decorated. New construction paint jobs include less prep work and cleanup for both interior and exterior jobs. Painters on new construction start their work after any drywall, plumbing, or electrical work, but before anything else is in the home. This means you will not have to worry about any carpet or flooring. Plus, there won't be any cabinetry, furniture, or lighting fixtures in the way either.
When painting your existing home, your painter will have to come early to prep the area so that your personal belongings are protected. This includes taping the edges of walls, windows, and doors, laying a sheet down on the floor, clearing furniture and valuables out of the way, and more. Plus, the cleanup process is a bit more meticulous as your belongings will all have to be moved back into place, and there shouldn't be any mess left behind.
On average, the cost to paint a new construction interior of a 2,500 sq.ft. home ranges from $7,000 to $9,500. The exterior new construction painting rates for a house of the same size range from $5,000 to $11,000. Conversely, paint jobs on an existing 2,500 sq.ft. home cost between $7,500 and $10,000 for an interior job and $5,800 and $11,700 for an exterior job.
| | | |
| --- | --- | --- |
| Type of Paint Job | Interior Cost (Labor Included) | Exterior Cost (Labor Included) |
| New Construction | $7,000 - $9,500 | $5,000 - $11,000 |
| Existing Home | $7,500 - $10,000 | $5,800 - $11,700 |
Painter Rates
It's important to do your research and get multiple quotes before choosing your painting professionals. That way, you can better understand what to look for in terms of your painter's experience level and overall rates for your specific project. Generally, painting contractors charge in four ways: per sq.ft. of space painted, per hour, per day, and per room. These rates tend to stay fairly consistent whether you are painting your home's interior or exterior. Let's take a closer look at each of these methods and how much the average cost for a professional painter will be for your project.
| | |
| --- | --- |
| Types of Rates | Average Cost |
| Per Square Foot | $1.50 - $4 |
| Per Hour | $25 - $100 |
| Per Day | $200 - $800 |
| Per Room | $990 - $1,320 |
Painter Cost per Sq.Ft.
If you are only painting the walls throughout your home, you can expect to pay $1.50 to $3.50 per sq.ft. However, the average painter cost per sq.ft. will be $3 to $4 if you also paint baseboards, trim, and other details. The painting rate per sq.ft. for exterior projects specifically ranges from $1.50 to $4 due to the difficulty with properly painting siding, so it stays in top shape in the face of the elements. If your painting contractor is working on your home's exterior or a single room in your home, they will most likely charge by the sq.ft. for labor and materials because this is one of the most accurate ways to measure how much work is being done.
Painter Cost per Hour
Interior painting cost per hour and exterior painter cost per hour are usually the same, ranging from $25 to $100 per hour and per painter. Therefore, two painters for a single hour would cost you $50 to $200 overall. Three painters would be $75 to $300 and so on. Painter rates per hour vary widely, depending on region, season, type of painting project, and experience level. Painters often charge by the hour if there are multiple painters on the job and various projects need to be done.
Painter Cost per Day
For the average eight-hour work day, painter prices per day range from $200 to $800. This pricing option is best used for smaller paint jobs that only take one to two days to complete. A painter's day rate varies depending on how far they have to travel to get to your home and your location. It's important to note that most painters usually don't like to charge by the day because there is room for error when estimating how long a project will take. For example, they may be done much quicker than anticipated, or the job may take far longer than anyone thought. Either way, you're left overpaying for services, making the estimate less accurate.
Cost for Painter to Paint a Room
The average cost to paint a room ranges from $990 to $1,320. These costs vary depending on the size and shape of the room and the amount of furniture and items in the space, how complex the baseboards and trim are, and more. If you need multiple rooms painted, charging per room is a more efficient payment option because different rooms have different dimensions and surfaces, impacting the amount of time and materials needed to paint each.
Cost to Hire a Painter by Level of Expertise
When hiring a painting contractor, it's important to know how much experience they have in the field. That way, you know exactly who to hire depending on how large or complex the project is. There are generally three experience levels for painting contractors: apprentice, journeyman, and master. Depending on which one you choose, you can expect the material and labor rate for painting to range between $25 and $100.
| | |
| --- | --- |
| Experience Level | Average Rate per Hour |
| Apprentice | $25 - $40 |
| Journeyman | $45 - $70 |
| Master | $60 - $100 |
Apprentice Painter
An apprentice painter generally charges between $25 and $40 per hour for their services. Painters at this level of expertise are usually newer and best hired for simple interior and exterior paint jobs. Many of these professionals are still learning the ins and outs of the industry, so you should consider that when deciding how much detail and time your painting project will entail. Though the cost of a professional painter at this level will be lower per hour, you may not get the best possible quality.
Journeyman Painter
If you want to hire a journeyman painter, you can expect to pay between $45 and $70 per hour. Journeyman painters know how to complete most residential, commercial, and industrial paint jobs with a variety of tools and equipment. They can use brushes, rollers, sprayers, and power equipment to prep and paint any surface. This level of expertise will be useful for many jobs. You can expect the job to be completed correctly. The cost of professional painters at this level will be middle of the road, and you can still expect quality service.
Master Painter
A master painter is the best at their job, which is why they charge the most. Labor for painting with a master painter costs between $60 and $100 per hour. When completing a job on their own, master painters know exactly how to complete the job no matter the complexity. If you have multiple painters on the job, a master painter will supervise and manage the project, so you don't have to worry about anything.
Home Interior Painter Cost per Project
When it comes to painting your home's interior, it's important to consider all the side projects included with the overall job. Some common side projects include painting interior doors, ceilings, and various rooms such as kitchens, bathrooms, bedrooms, living rooms, and more. Though kitchens and bathrooms are often smaller in size, they need extra care because those rooms have a lot of moisture. On the other hand, common rooms, dining rooms, and basements are much larger, costing more overall. Depending on the size and type of room or project, you can expect the cost to hire painters for interior paint jobs to vary. Depending on the project, the cost of a house painter ranges from $60 to $10,000.
| | | |
| --- | --- | --- |
| Project | Average Project | Cost |
| Bathroom | 40 - 60 sq.ft. | $60 - $400 |
| Interior Doors | 32" x 80" door with trim | $70 - $200 |
| Ceilings | 10 x 12 room with 10-foot ceiling | $120 - $300 |
| Stairway | 62.5 sq.ft. | $350 - $450 |
| Hallway | 12-foot hall with 12-foot ceiling | $400 - $600 |
| Dining room | 270 sq.ft. of wall | $600 - $1,200 |
| Bedroom | 200 - 310 sq.ft. | $600 - $1,240 |
| Kitchen | 200 sq.ft. | $600 - $1,320 |
| Living room | 300 - 400 sq.ft. | $900 - $1,320 |
| Interior Trim | 500 linear feet | $1,000 - $3,000 |
| Kitchen Cabinets | 10 x 10 kitchen | $1,300 - $2,500 |
| Basement | 850 - 1,500 sq.ft. | $2,550 - $6,000 |
| Wall Decorative Finish | 400 sq.ft. wall | $2,000 - $4,000 |
| Wall Mural | 200 sq.ft. | $4,000 - $6,000 |
| House Interior | 2,500 sq.ft. home | $7,500 - $10,000 |
Home Exterior Painter Costs per Project
An exterior paint job, whether just a touch-up or a whole house makeover, improves your home's appearance and value. Several variables affect the cost, including size, location, paint choice, and siding materials. Some side projects include painting the soffits and fascia, eaves, gutters and downspouts, porch, shutters, and doors. Larger projects include staining a deck, painting a garage, painting stucco, and more. The following table offers national professional painter costs for a variety of exterior components.
| | | |
| --- | --- | --- |
| Project | Average Project | Cost |
| Shutters | Louvered vinyl or wood | $40 - $70/per shutter |
| Soffits and Fascia | 140 linear feet | $140 - $420 |
| Eaves | 140 linear feet | $140 - $420 |
| Gutters and Downspout | 140 linear feet | $140 - $560 |
| Exterior Door | 8'0" x 3'6" vinyl exterior door | $150 - $350/per door |
| Porch | 10 - 20 ft. long x 12 - 14 ft. deep | $240 - $840 |
| Deck Staining | 14' x 18' | $550 - $850 |
| Garage | Detached two-car, 360 sq.ft. | $1,000 - $2,000 |
| Fence | 1,000 sq.ft. | $1,000 - $2,500 |
| Exterior Trim | 500 linear feet | $1,000 - $3,000 |
| Siding | 1,500 sq.ft. | $2,500 - $7,000 |
| Roof | 1,700 sq.ft. | $2,550 - $4,250 |
| Stucco | Two-stories, 2,000 sq.ft. | $3,000 - $5,000 |
| House Exterior | 1,500 sq.ft. | $3,750 - $9,750 |
Paint Costs by Type
Most of the paints that you use around a home can be classified as oil-based, water-based, or acrylic latex. The type of material you are painting determines what type you should use. Acrylic paint is great for vinyl and other glossy surfaces. It is low-maintenance and eco-friendly, but it is likely to chip over time. Water-based paints dry very quickly, but they are less durable overall. However, they are still an eco-friendly option that is ideal for wood siding or trim. Oil-based paints provide excellent adhesion, but they are a bit more difficult to clean up. You'll need to use mineral spirits to get the job done. Chalk paints are not as common as the other options, but they add depth and texture to your space. However, it isn't ideal for exterior surfaces unless you live in a temperate area. Depending on what type of paint you choose, you can expect to pay between $15 and $160 per gallon.
| | | |
| --- | --- | --- |
| Type of Paint | Interior Paint Price per Gallon | Exterior Paint Price per Gallon |
| Acrylic/Latex | $15 - $50 | $20 - $50 |
| Water-Based | $15 - $50 | $20 - $50 |
| Oil-Based | $20 - $60 | $20 - $70 |
| Chalk | $80 - $160 | $80 - $160 |
Primer Paint Cost by Type
A primer is essentially a protective layer that you apply before the first coat of paint. If you are painting over an already painted surface, you may be able to avoid a primer altogether by using a 2-in-1 paint and primer product. However, if you are painting a surface that has never been painted before or changing the paint or finish type, it would be a good idea to prepare the surface using a traditional primer. Primers should also be used when painting over hard, smooth surfaces like glass or tile. All three types of primers, oil-based, latex-based, and shellac-based, can be used under latex paint.
Adhesive primers are a type of latex primer used on difficult exterior surfaces such as metal and glazed brick. This is mainly used as an exterior primer because those materials are most often found outside. Regular latex-based primers are rather flexible even once dry, making them a great choice for drywall, fiber cement, and softwood. Oil-based primers, on the other hand, are best for covering damages because it penetrates deep into the surface to which it is applied. It is best used on hardwood because it acts as a natural sealant. Shellac primers prevent odors and mildew growth, so they are preferred for smoke- or water-damaged walls.
The type of primer you choose impacts both the exterior primer price and interior wall primer price. Depending on which one you choose, you can expect to pay between $15 and $80 per gallon.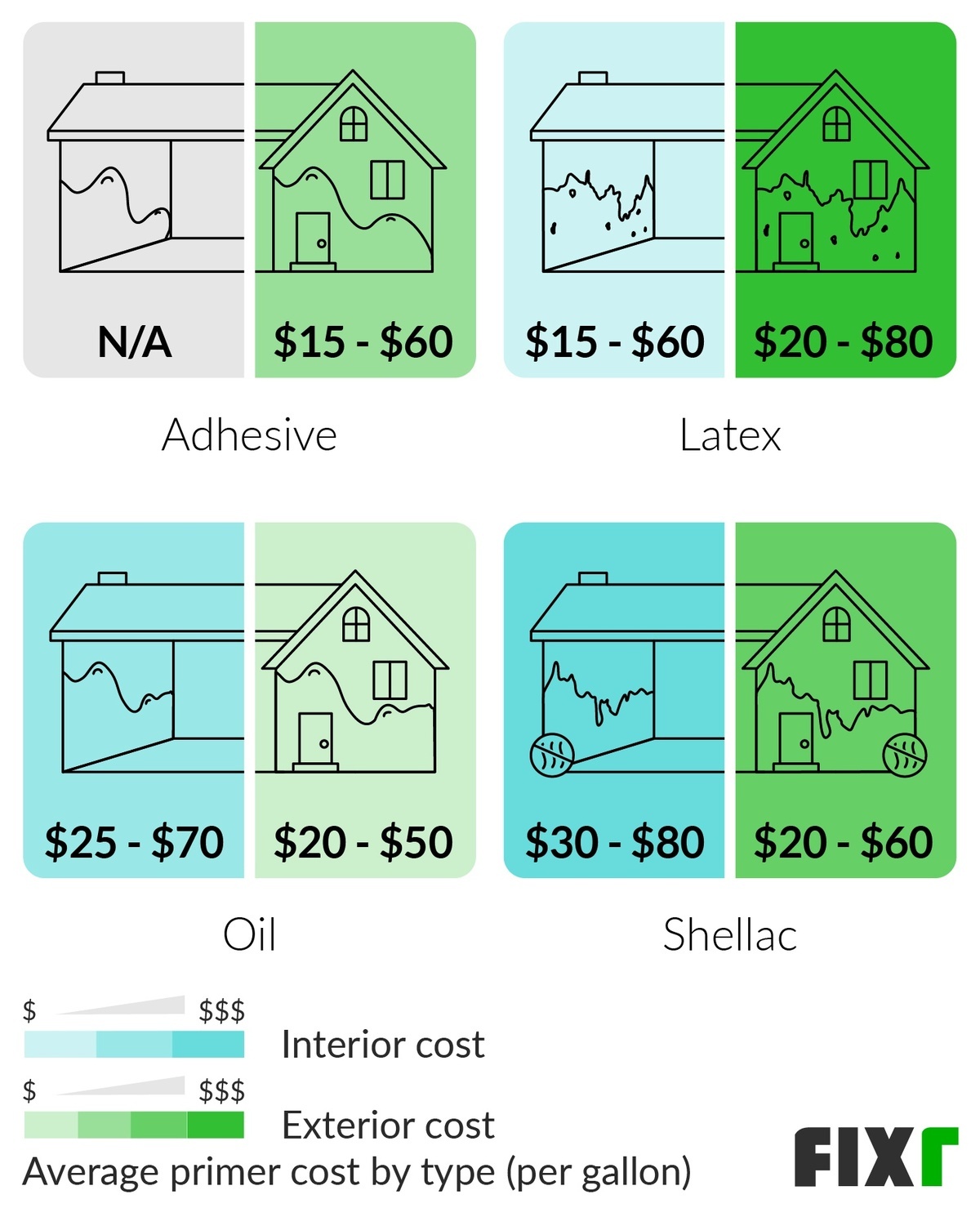 | | | |
| --- | --- | --- |
| Type of Primer | Interior Primer Price per Gallon | Exterior Primer Price per Gallon |
| Adhesive | N/A | $15 - $60 |
| Latex | $15 - $60 | $20 - $80 |
| Oil | $25 - $70 | $20 - $50 |
| Shellac | $30 - $80 | $20 - $60 |
Types of Finishes and Costs
Paints come in several finishes that determine how the final product appears and wears. Do not forget that choosing the right paint finish is just as important as choosing the right color. Flat or matte paints absorb light, which makes the paint look darker. This type of paint covers imperfections well and is best used for ceilings and accent walls. Flat finishes are not as durable as other options, so you should not use them on high-contact areas. Eggshell paints are a step above in terms of pigment and strength. These almost look like matte finishes, but they have a subtle sheen when viewed at an angle. The same can be said for satin paints, except they are a bit shinier. Both are best used in living rooms, bedrooms, and dining rooms.
Semi-gloss paints are more durable, shiny, and easy to clean. However, they draw attention to any flaws on the surface. High-gloss paints also reflect light very well, which makes the paint seem brighter. Depending on what type of paint you choose, you can expect to pay between $10 and $70 for a gallon of interior paint or between $15 and $70 for a gallon of exterior paint.
| | | |
| --- | --- | --- |
| Types | Interior Paint Price per Gallon | Exterior Paint Price per Gallon |
| Flat / Matte | $10 - $70 | $15 - $40 |
| Eggshell | $11 - $60 | $30 - $50 |
| Satin | $12 - $60 | $30 - $50 |
| Semi-Gloss | $12 - $70 | $40 - $60 |
| High-Gloss | $17 - $80 | $50 - $70 |
Design Painter Cost
If you want custom painting services, you can expect to pay a bit extra than a normal paint job. For example, by using a trompe l'oeil technique, a trick of the eye, custom painters and muralists transform small, dark, boring, or otherwise challenging interior spaces with creative paint applications. Transforming a blank wall into a 3D vision requires talent and years of experience, which is why this type of paint job is more expensive.
There are other types of custom paint jobs that professionals can complete, including painting textured walls to add dimension to a space, using faux painting techniques to replicate the look of other materials, painting accent walls for a pop of color, and painting two-tone walls to make your space seem more interesting. Some of these techniques are usually only contained to interior paint jobs, such as painting accent walls or two-tone walls. Both these techniques have the biggest impact in a room where all the walls are visible from one spot.
However, some can be utilized both inside and out, such as using texture or stippling painting, faux paint techniques, and wall murals. These painting options can be helpful both inside and out to add dimension to your space and enhance your home's overall value.
| | |
| --- | --- |
| Specialty Paint Jobs | Average Cost per Sq.Ft. (Labor Included) |
| Accent Walls | $1.50 - $3.50 |
| Two-Tone Walls | $3 - $6 |
| Texture Paint | $4 - $7 |
| Stippling Paint | $4.50 - $6 |
| Faux Paint | $6 - $12 |
| Wall Murals | $10 - $40 |
Color Consultant Cost
Choosing the right color for a room can be tricky because it impacts your entire interior aesthetic. No one wants to make a costly mistake and then have to live with it for the next couple of years. This is why many professional painting companies have an in-house paint color consultant on their team to help clients make the best color choices that are in line with their tastes, lifestyle, the purpose of the room, and lighting. They help you find the best look for every room based on its size and shape and the mood you are trying to invoke based on color psychology and color theory. This saves time and money on your painting project. While some companies offer free virtual color consultation for clients, others charge anywhere between $50 to $400 for this service.
Paint Materials Cost
Typically, materials account for 15% of painting services prices. Buying the painting supplies yourself may save a lot of money down the road. Be prepared to buy 2 to 3 gallons for painting the interior walls of an average-sized room. In addition to paints and primers, you need paint brushes, rollers, face masks, rubber gloves, painter's tape, drop cloths, sandpaper, etc.
While you can pick up disposable painting brushes for under a dollar from home improvement stores, reusable higher-end brushes cost as much as $20 to $75. It is usually preferred to use higher end brushes or rollers versus cheaper ones. The specific ones you choose will depend on the type of surface you're painting and the size of the area. You should always do your research beforehand to see what the best fit will be for your project. You can also chat with a contractor to get their opinion. A standard roll of 1-inch painter's tape (60 yards) costs from $3 to $7. Equipment such as ladders or scaffolding can be rented for a small cost. An interior scaffold with adjustable platform heights from 2' to 12' in 2" increments can be rented for around $15 to $50 per hour or $40 to $150 per week.
Most painters give you the option to buy your own paint supplies. However, they will also offer their rate, including supplies, if you'd rather them get them. The biggest advantage of buying your own paint is controlling the brand and price point you want. However, when painters get it for you, they often apply their contractor discount, which can benefit you. Plus, it takes all the load off your shoulders.
How Do Painters Estimate a Job?
If you plan to hire a painter to paint the interior or exterior of your home, you should factor in the house's size, style, location, and type of material to get a general idea of what you will be paying. Painters often include prep work and cleanup costs in their overall rate.
Preparations for a paint job generally include completing any repairs, pressure washing, sanding, and more. Cleanup costs will usually include the cost of clearing away any extra paint and garbage and properly disposing of everything at the landfill.
For example, a standard two-story house with 1,500 sq.ft. area and wood siding will have professional painters' rates from $2,250 to $6,000 for the exterior. An interior job for a 1,000 sq.ft. room costs between $1,500 and $4,000 to paint the entire room, ceiling included.
Textured walls and decorative finishes tend to require more labor and are hence more expensive. You can expect to pay $4 to $7 per sq.ft. for a basic textured wall, with labor and material costs included. Be sure to consider all these things when planning your own painting project.
Painting Prep-Work
Surface preparation is extremely important if you want your painting project to have the best possible results. If done correctly, the new paint will not chip, crack, or peel before time. Painters usually find it hard to estimate the cost of prep work accurately. This is because the amount of work required varies greatly from job to job. The more the damage, the greater the prep work required and the greater the cost. Dirty walls covered with grease have to be thoroughly cleaned for the new paint to adhere properly. For instance, there are various solvent cleaners that pros use for aluminum, copper, Hardie board, or steel. If you are painting stucco, especially if it is exterior, it requires 10 to 30 days after cleaning to dry thoroughly before applying paint. Depending on the level of build-up, bricks, mortar, and concrete may require power washing to get them clean enough for the paint to adhere and stay put. Any damages should also be taken care of before any painting begins. Otherwise, it can ruin the job. On average, prep work makes up between 5% to 10% of the entire project.
How to Choose a House Painter
When choosing your painting contractor, it is important to do your research. First, you should always ask for references and reviews from previous clients to get a better idea of the work they do. Though you may be tempted to go with the first painter you find, it is important to get multiple quotes, so you can get a better idea of the market and the extent of the work involved.
Your painter can be a freelancer, a painting contractor, or an employee with a painting company. Whatever the case, you should always look for a licensed painter who has experience working on projects like yours and is willing to give you a written estimate. Ideally, that estimate should include labor and material costs, price for prep work, selection of primer and paint brands, inspection fees, and cleanup costs.
If you are hiring a painter through a company, be sure to find out if they are an employee or an independent contractor. According to the Bureau of Statistics, nearly 45% of painters in the United States are self-employed. Lastly, you should always ask about general liability insurance and workman's compensation for the painter.
​
Painter Add-On Costs
When planning a painting project, there are many additional costs to consider beyond the basic interior or exterior job. There are many tasks that painters complete while they do the job. If you need any of them done, it's important to know the costs so that you can factor any additional projects into your overall painting project.
Some services still revolve around painting, such as taking care of the ceiling, windows, cabinets, and baseboards. Other services become a bit more complex. These include removing wallpaper, popcorn ceiling, existing paint, mold, and mildew. Furthermore, repairs to your walls and windows may be needed. Finally, you should always think about debris removal and cleanup costs. Here are the average costs of some common services painting professionals provide.
Additional Considerations and Costs
Final touch-ups. During the final walkthrough, keep an eye out for areas where the paint is sparse or has dripped into places where it shouldn't go. Most painters will agree to do a quick touch-up for zero added cost.
Time of year. While warmer weather is usually preferred for exterior painting projects, winter can be a good time for painting the interior of your house. This is because winter is traditionally an off-season for painting contractors, and you may end up getting a good rate when you hire someone during this period.
Types of rates. If given an option between a fixed price and a daily rate, choose the former. In case of the latter, your budget can take a big hit if the project takes longer to complete than initially estimated.
Home value. Painting your home's interior and exterior can increase your home's value, which can be useful if you are planning to sell. Be sure to use neutral colors if this is the case.
Intense color changes. Be cautious when painting with more intense colors because they are harder to paint over. Reds increase energy levels, greens exude positivity, and blues elicit a feeling of calm. Purples make a space seem fancier, and yellows open up a space.
Travel fees. Depending on where you live, you may have to pay additional travel fees for your painter if they have to travel a far distance. Generally, this costs around $50.
Lead paint. If your home was constructed more than 30 years ago, there are chances that the existing paint contains lead. If that is the case, you may have to hire a professional lead testing and removal contractor to come and inspect the house for traces of lead. This will cost you $8,000 to $15,000 for a 1,500 sq.ft. home.
Landfill usage. Standard landfill fees range from $20 to $50 per ton. This accounts for the proper disposal of all paint and other products.
FAQs
How much does it cost to hire a wall painter?
Painters generally charge for their services in three ways, per square foot, per room, and per hour. On average, they charge between $1.50 and $3.50 per sq.ft., $25 and $100 per hour, and $990 and $1,320 per room.
Is it worth it to hire a painter?
Yes, hiring a professional painter is generally the preferred method, especially if you have to paint multiple rooms or multiple stories. Painters will know the best practices to follow to ensure the best results.
How much is a can of paint?
A gallon can of paint generally costs between $20 and $70 per gallon, depending on the type of paint you choose and if it is interior or exterior paint. When calculating how much paint you need for your project, you must consider how many layers each surface needs.
How much do painters charge to paint a room?
On average, a professional painter charges between $990 and $1,320 per room, depending on how large the room is and how many complex features are in the space. If a room has higher ceilings, complicated trim, baseboards, or many windows, this makes the project more expensive.
How much paint for a painting project?
To estimate the quantity of paint required, you will need to know the room wall sizes (length, height, and width), the number and size of the windows, and the number and size of doors. A standard living room (12' x 8') requires 2 to 3 gallons of paint using the industry average of 350 sq.ft. per gallon. If you plan to have a different color on the ceiling, trim, or accent wall, that will have to be calculated separately.
How much does a house painter charge per hour?
If your contractor is charging by the hour for your interior or exterior paint job, you can expect to pay from $25 to $100 per hour.
How much do painters charge per square foot?
Painters typically charge $2 to $6 per sq. ft. for an interior paint job. However, the complexity of the paint project may increase the price.
How much should I pay a painter?
How much you pay your painter is dependent on the skill level of your hired painting team and the scope of work needed to be done. An Apprentice painter typically charges between $25 and $40, and Journeyman painter will charge between $45 and $70, and a Master painter will charge between $60 and $100. While it is not expected or required, you should also consider tipping your painters after a job well done.
The information provided by our cost guides comes from a great variety of sources. For more information, read our Methodology and sources.