Your bedroom is your sanctuary, the place you retreat to in order to relax and unwind at the end of a stressful day. And when you want to freshen up the appearance of your bedroom, the fastest and most effective way of doing so is with a new wall color.
To help determine what the hottest colors will be for bedrooms in 2022, we asked industry experts to weigh in on our Paint and Color Trends 2022 report. In this article we break down the most popular colors for bedrooms in 2022, with the percentage of experts surveyed who feel that color will be the most popular in the coming year. We hope that these colors will help inspire you to give your bedroom a fresh new look this year!
Sage Green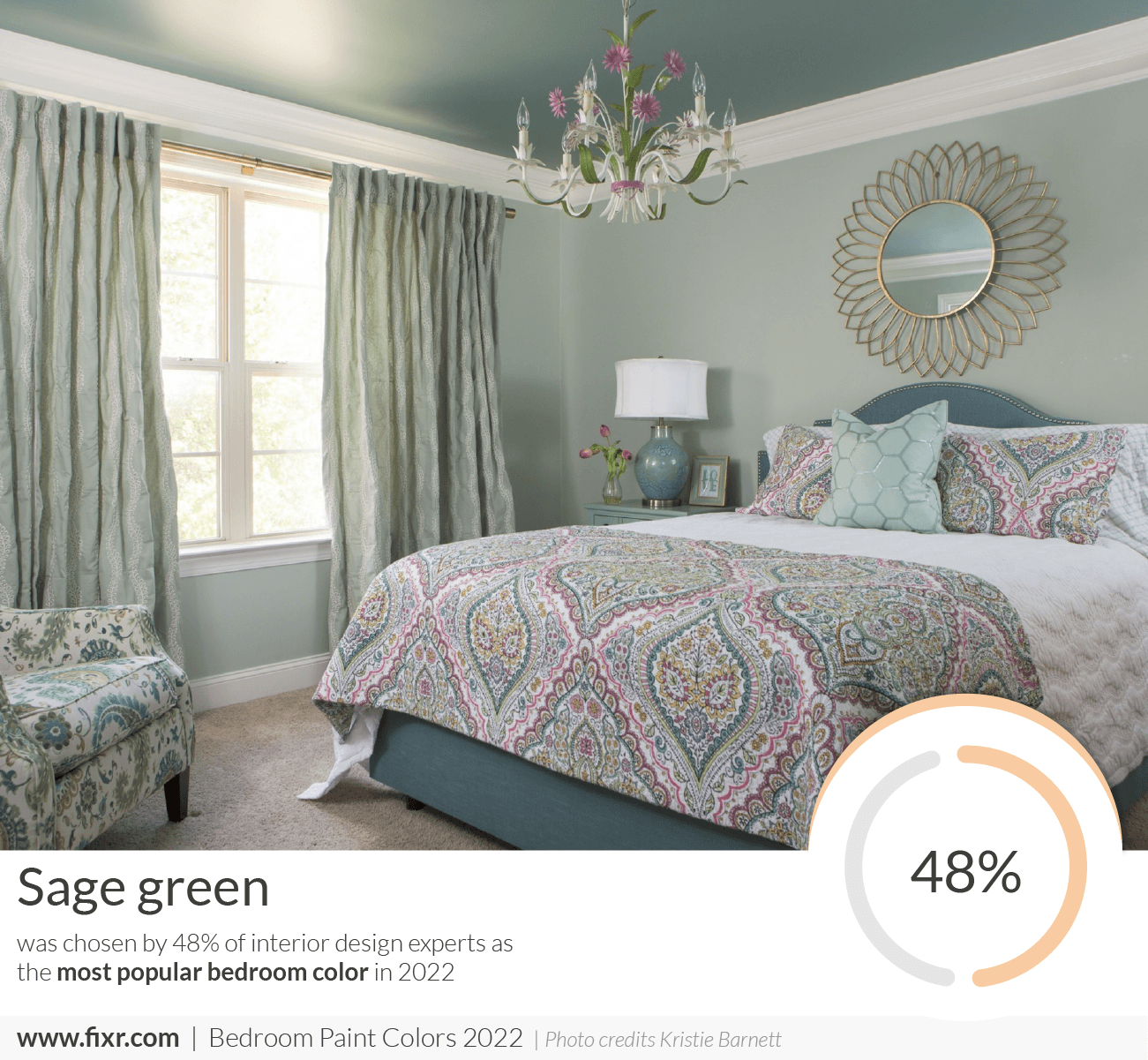 48% of experts feel that sage green will be the most popular bedroom paint color this year. Many shades of green have been predicted to be popular in homes in 2022, with several brands naming various shades of green as their color of the year. Sage green in particular makes a beautiful color for bedrooms. The green tones in sage are soft rather than vibrant or deep. This makes it a nice backdrop color for accents and furnishings. The soft color can also be considered soothing which makes it a good choice for bedrooms where people come to relax.
Cream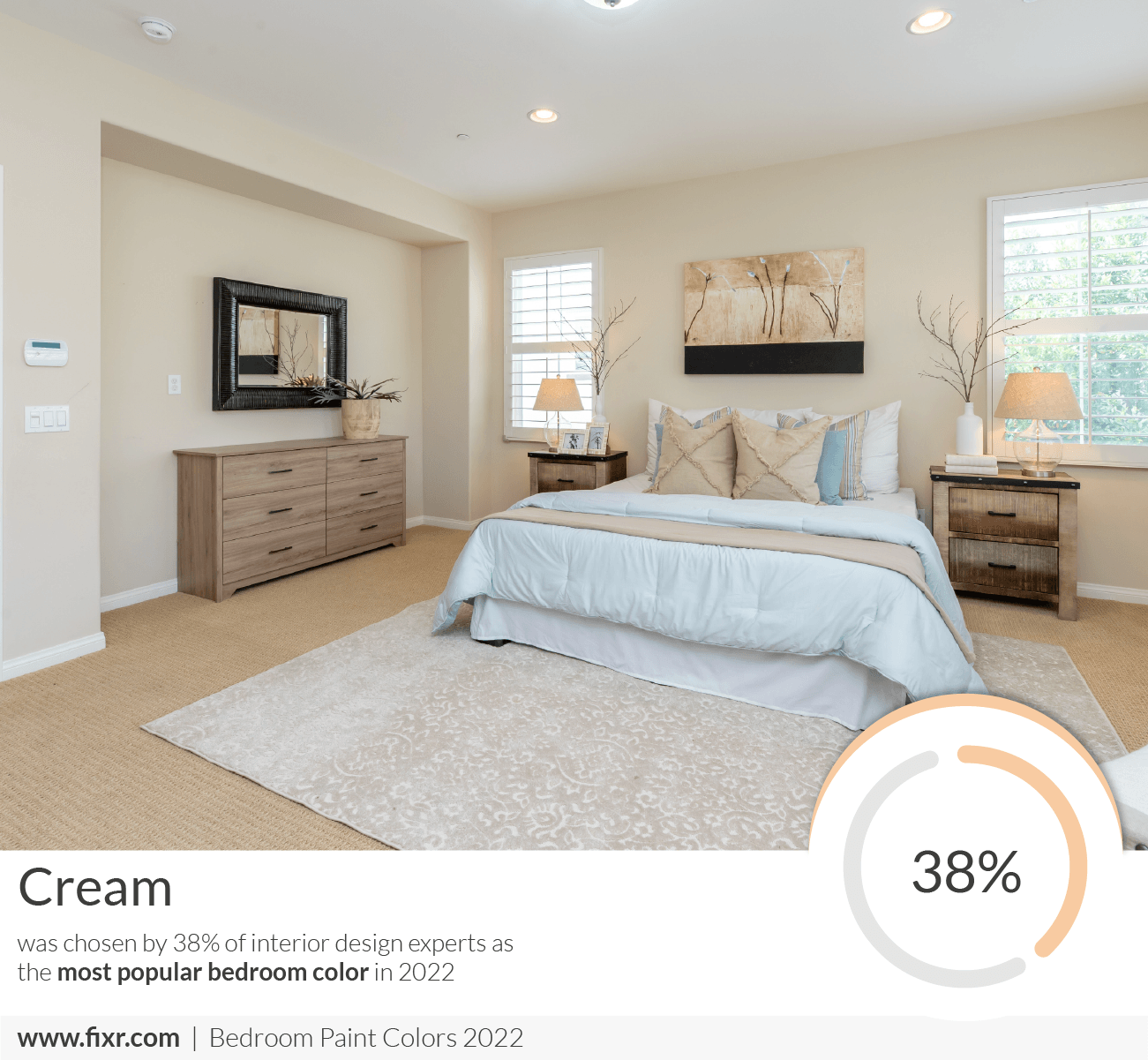 Cream will be the most popular shade for bedrooms this year according to 38% of experts. Cream is a soft, neutral color that is a little warmer than white. Neutrals are often considered a good choice for interiors as they can go with anything; you can easily swap out your bedding, curtain, and accent colors multiple times with cream walls and they will nearly always work.
Neutrals are also a good choice for resale, so if you are thinking of selling your home in 2022, cream can be a nice choice for a bedroom, as it gives it a soft, fresh feeling. Many people also like soft neutrals like cream when they don't want to commit to a bolder color.
Taupe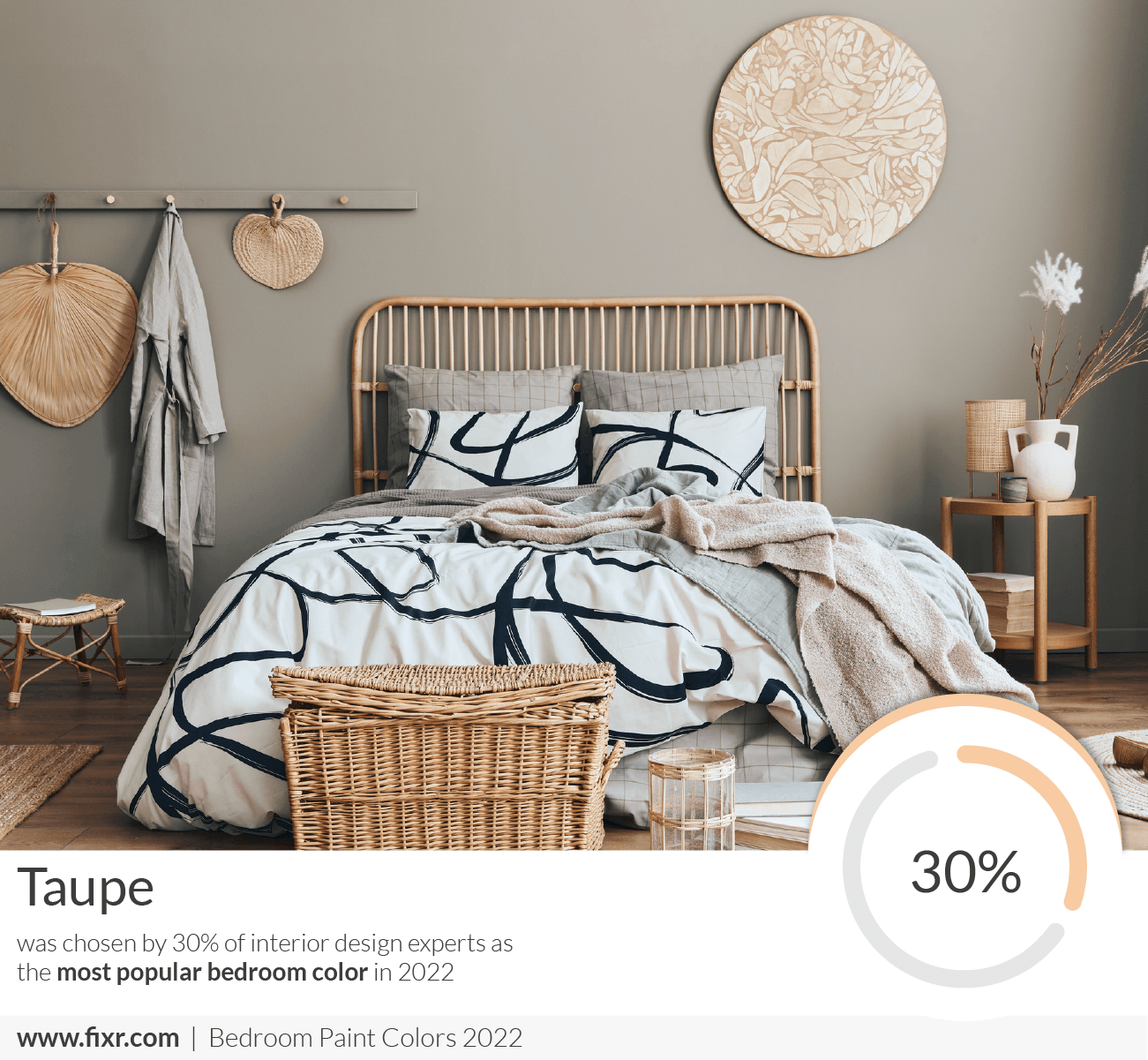 Taupe is another neutral shade that will be the most sought after bedroom paint color in 2022 according to 30% of experts surveyed.
Taupe is a good choice for small bedrooms. The light color of it can help keep the space from appearing too dark or closed in. At the same time, the cool tones recede from the eye, making the space appear larger than it is. If you want a neutral shade that's a little cooler in color, taupe makes an ideal choice for many homes. It gives you all the same benefits of colors like cream, but sets the tone for a more quiet and formal background.
Navy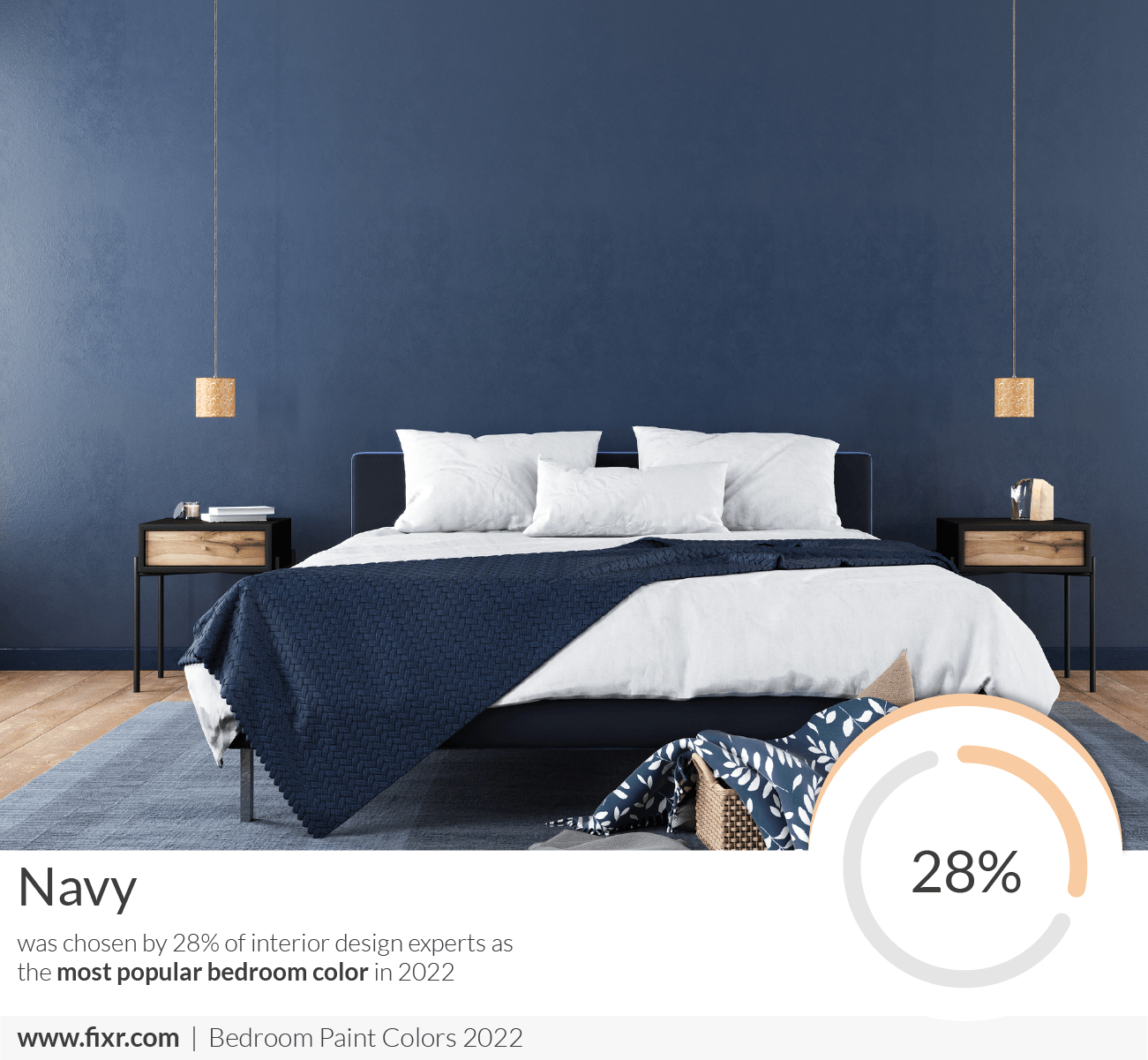 28% of experts think that navy will be the bedroom paint color most homeowners will want this year as well. Navy is a rich, deep blue with a full saturation of color. This is another cool color that can work well in smaller spaces because it recedes from the eye. For those that want their bedroom to be dark and soothing in tone, navy makes a great choice.
This color blends well with crisp white as an accent. It also works well with shades of gold for a more dramatic appearance, or many other shades of blue and green can also be used for a more subtle accent. If you're moving to navy from a lighter shade, be sure to use a primer first to help capture the true color of the paint.
Cool Off-White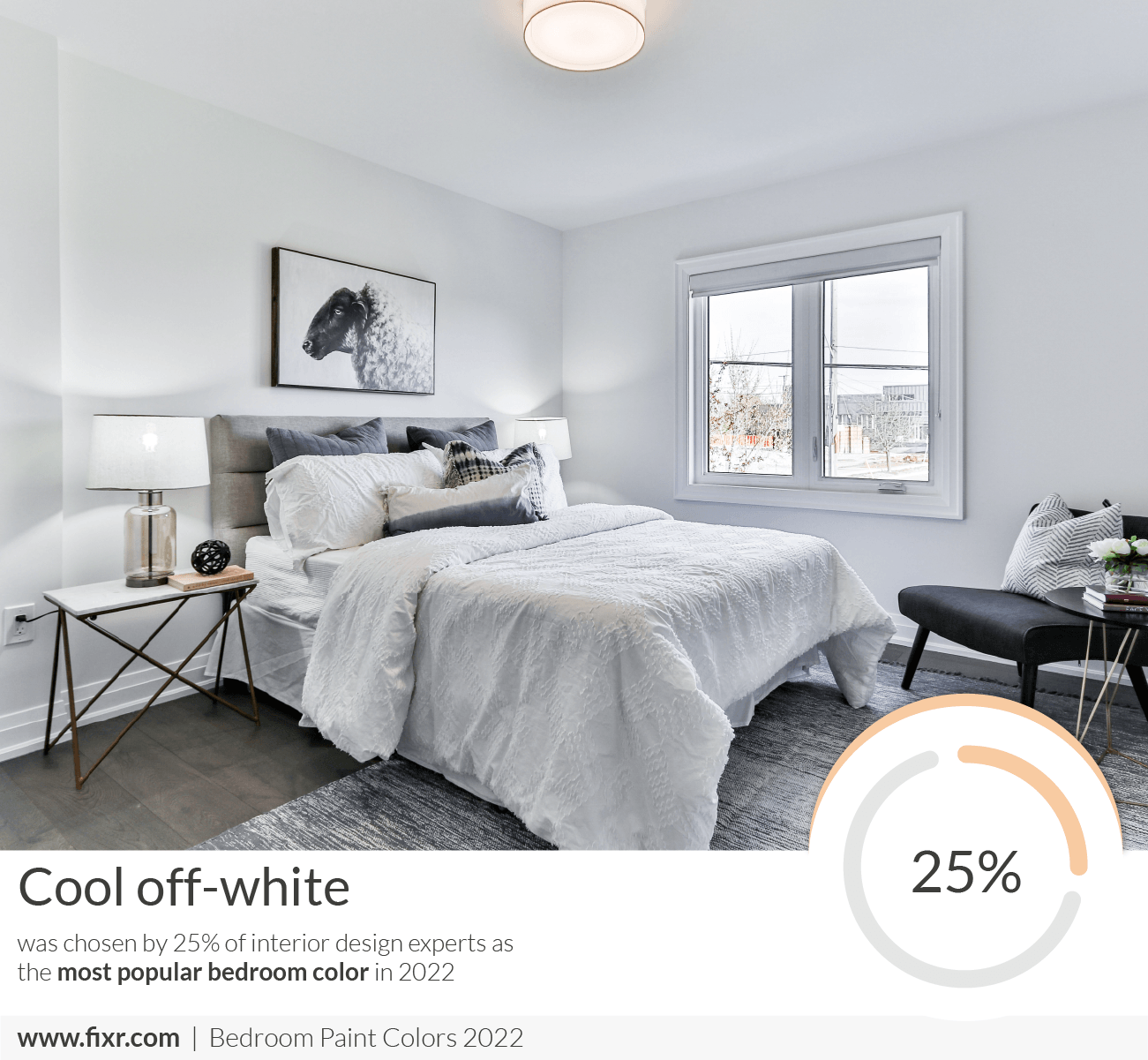 Cool off-white is another of the top choices for bedroom colors in 2022 according to 25% of experts. Cool-off white is a brighter neutral shade than cream or taupe. It's a good choice for small and dark bedrooms, like taupe, but it's an even brighter color. This color can look very crisp on your walls when paired with darker bedding and accent colors.
This is another good shade for resale as well. The key with cool off-white is to make sure that it isn't too stark. There are many different shades of off-white that can range from lighter to darker and warmer to cooler. Choose a shade that isn't going to make your bedroom feel institutional, but that has a hint of blue, gray, or another cool undertone to it to help give it more personality.
Lilac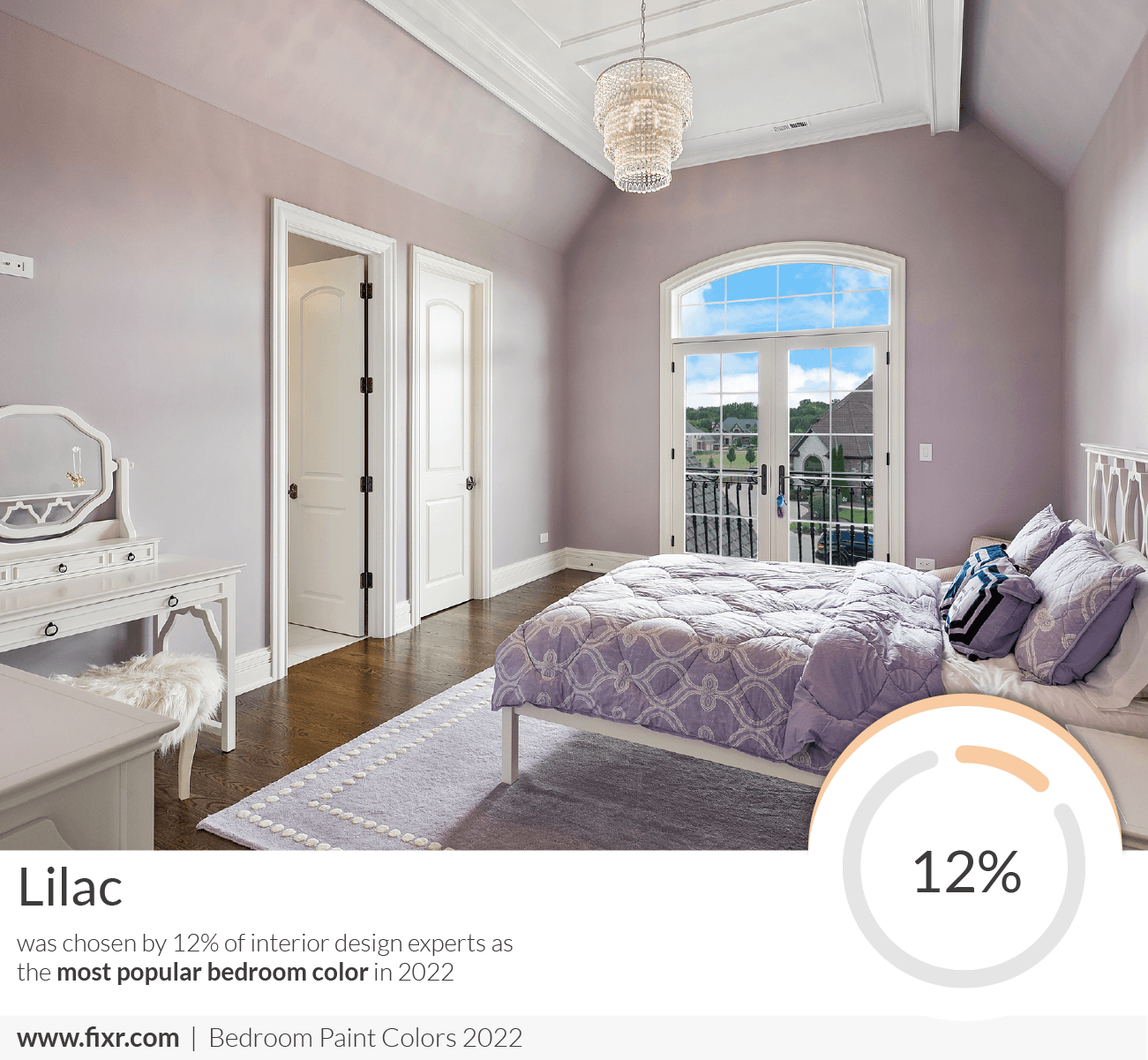 Lilac will also be a popular color this year according to 12% of experts. It can be warm or cool in tone depending on the exact color and the accents that you pair it with. This makes it a fairly versatile color for bedrooms; you can accent it with numerous shades and colors, and it makes a nice backdrop.
Lilac can be energizing or soothing in tone depending on how deep the color saturation is. For bedrooms, choosing a softer, lighter shade can help make it a calming color good for relaxing.
Terracotta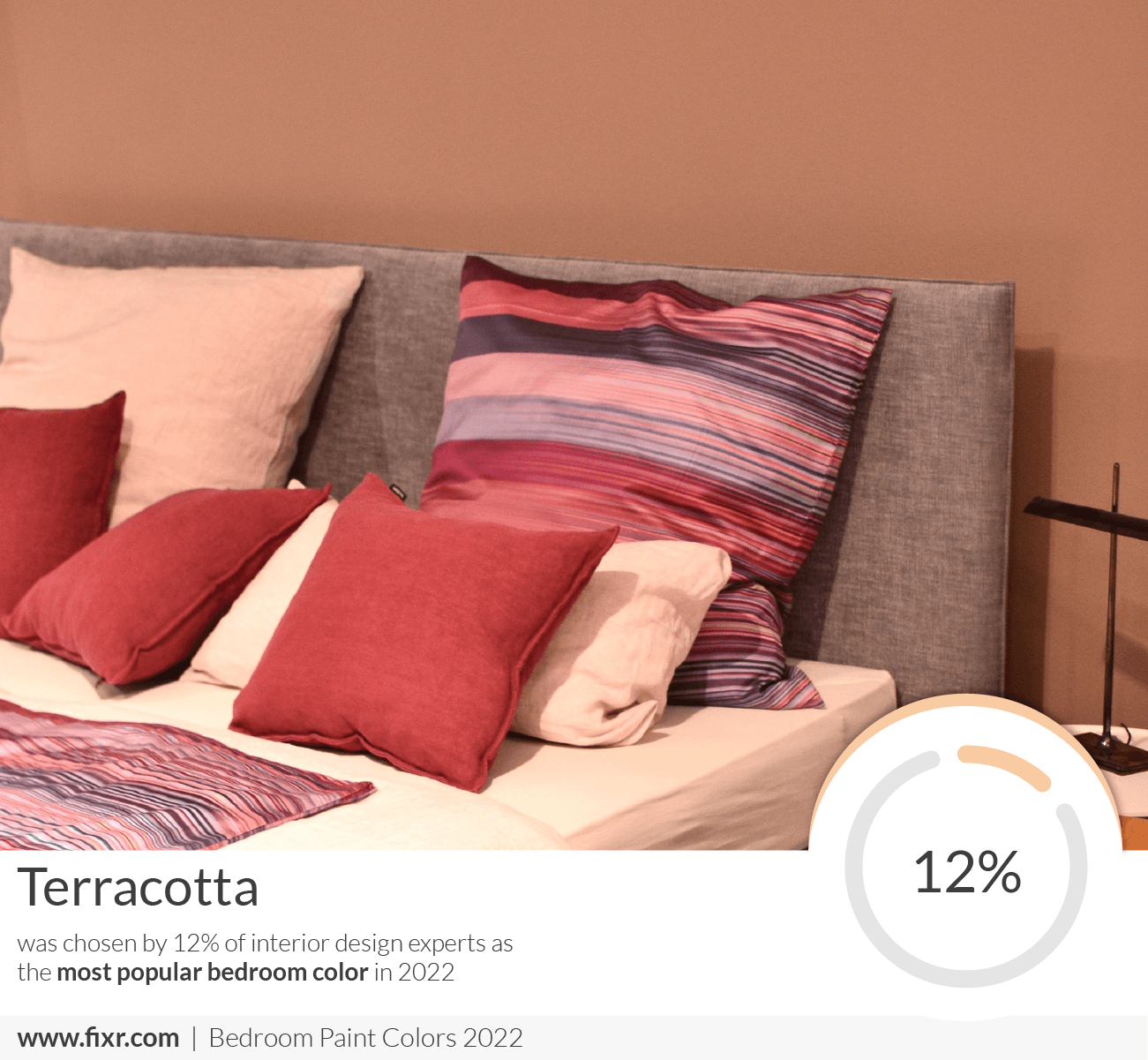 12% of experts also feel that terracotta will be a popular choice for bedrooms. The color will help make the room feel cozier and warmer, which can be relaxing. True terracotta gets its color from the iron found in the clay that it's made from. This color has a rich, reddish-brown undertone that can be very bright in certain lights. This is a good color for large bedrooms with a lot of good natural light.
Terracotta works well with many natural colors and shades, including hardwoods, sky blue, and rich green. You can incorporate any of these colors in furnishings and as accents to help create a rich and beautiful bedroom design.
Soft Blue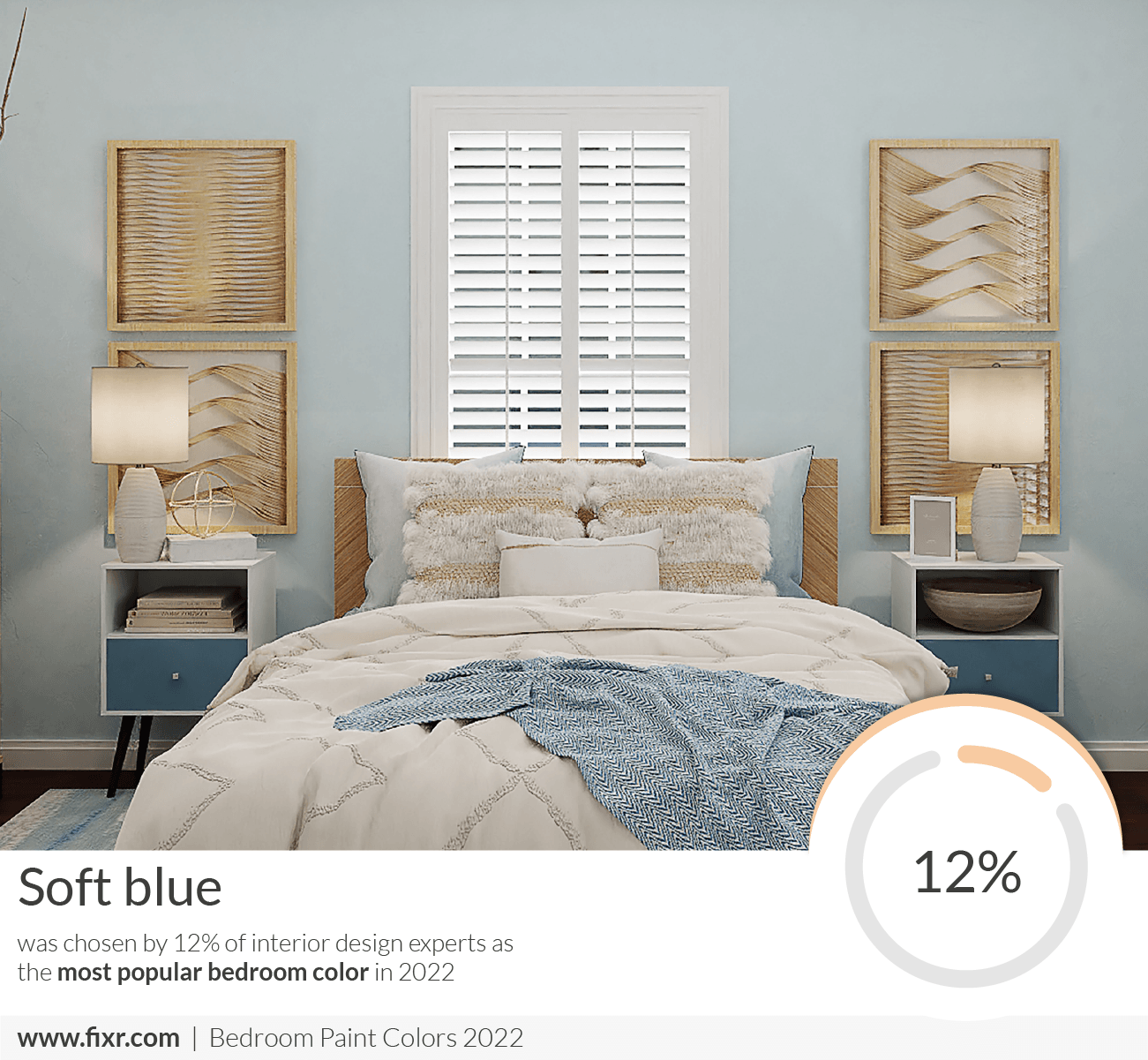 Soft blue will also be appealing to many people in 2022 according to 12% of experts. Soft blue can come in many different hues and shades.
Soft blue is considered to be a very calming and soothing color. Depending on the shade you choose, it can be used in both dark and light bedrooms. The color will likely work best in smaller spaces, because cool tones like blue recede from the eye, making the space look larger.
Soft blues work well with crisp whites as accents. They can also work well with soft creams for a more subtle look, and many shades of green and rich, dark brown wood tones will also pair well with this color.