On This Page

Harvey windows cost between $350 and $1500 each for materials and installation on average.
To hone in on a more definite price range, you should consider the Harvey product line, window style, and accessories.
Read on to learn more about these cost factors, as well as Harvey's window offerings.
About Harvey

Harvey specializes in replacement windows made of vinyl – the material of choice for shoppers looking to keep costs down and savor minimal maintenance. However, that's not to say they don't cater to high-end window shoppers. Harvey offers a range of elegant wood windows through their Majesty line.
As a wholesale manufacturer, Harvey does not sell windows and doors directly to consumers. This means you will need to shop via their distribution network, which should pose little issue as long as you live in a Northeast or Mid-Atlantic state.
Harvey Window Lines
Harvey offers four distinct window lines: Slimline, Classic, Tribute, and Majesty.
Respectively, Slimline, Classic, and Tribute are the good, better, and best of their vinyl window products. Slimline comes in single and double-hung styles, while you can only find Classic and Tribute in double-hung.
Harvey Windows Summary
| | | |
| --- | --- | --- |
| Harvey window line | Styles | Why buy? |
| Slimline | Single-hung, double-hung | Affordable, thin frames allow more light in and maximize views |
| Classic | Double-hung | More aesthetic and efficiency options than Slimline |
| Tribute | Double-hung | Best-looking vinyl window, more hardware, and energy-efficient options |
| Majesty | Double-hung, casement, awning, gliding, picture, bay, bow, custom shapes | Traditional wood windows |
For vinyl windows in alternative styles, such as casement, Harvey forgoes the gaudy naming trend in favor of simply calling them what they are – a vinyl casement window. Harvey named all of their non-single and double-hung vinyl windows in this way: vinyl awning window, vinyl bay window, vinyl garden window, and so on.
To exclusively shop their wooden windows, stick to their Majesty line.
Harvey Slimline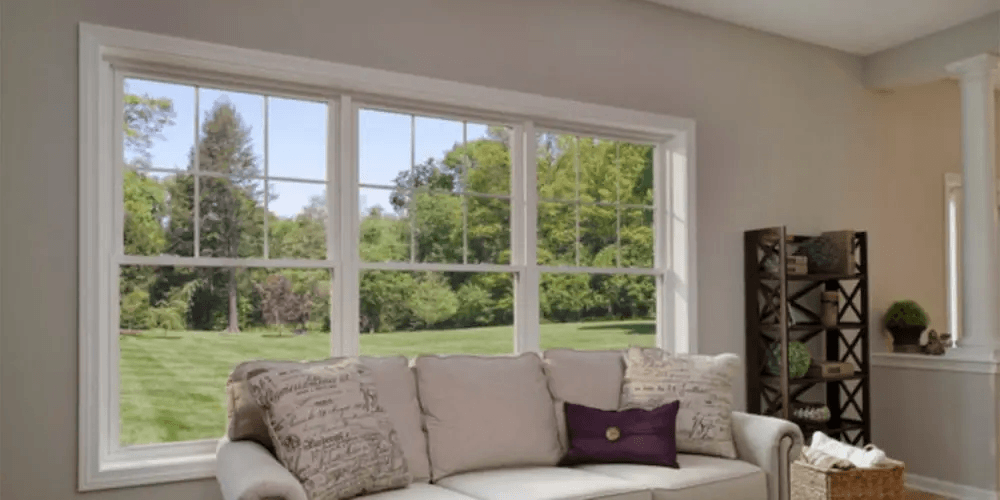 Image source: Harvey Windows
Price range: $350 - $685
Window types: Single-hung, double-hung
Key features: Affordability, thin profile
Harvey window shoppers looking to spend as little as possible should shop their Slimline collection.
As its name suggests, Harvey's Slimline vinyl windows feature a skinny sash and frame that allows more light in and maximizes your views.
On the downside, Slimline windows only come in a white finish. They perhaps make up for the lack of color choices with other customizable options, namely Energy Star glass.
Classic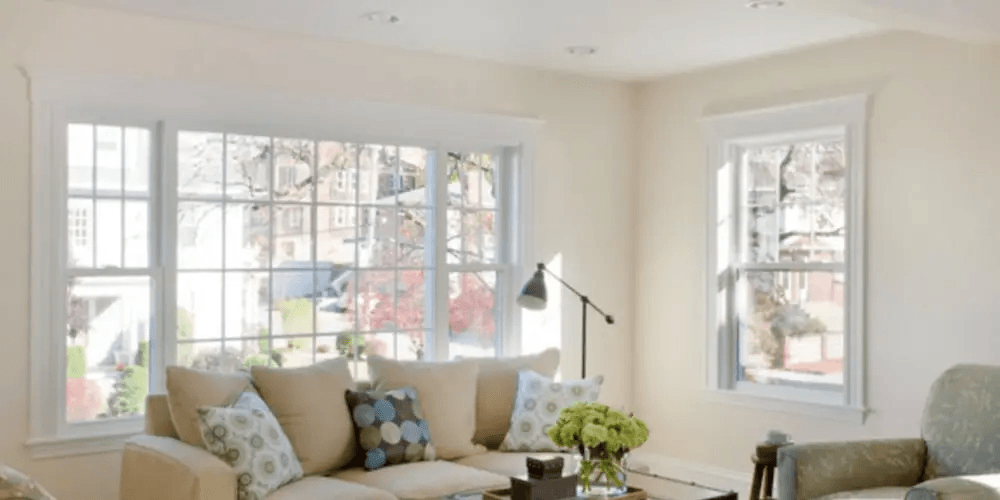 Image source: Harvey Windows
Price range: $450 - $750
Window types: Double-hung
Key features: Standard Energy Star glazing, more efficiency and aesthetic options, tilt-in sashes
According to Harvey, the Classic double-hung is their most popular window.
We can see why. Classic vinyl windows come standard with their ThermaLock glazing for not much more than Slimline, which meets Energy Star criteria in Northern and North-Central climate zones.
The Classic line also opens the door to most of their window customization options. These include two interior and eight exterior finishes, grid configurations, hardware colors, and sash trims.
Last but not least, Classic double-hung windows come with tilt-in sashes, which makes cleaning the exterior glass a cinch.
Tribute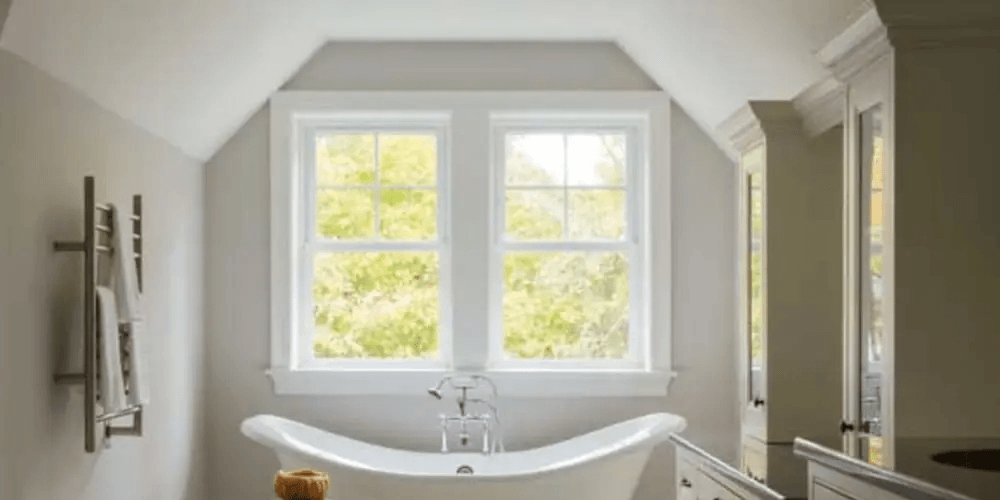 Image source: Harvey Windows
Price range: $565 - $850
Window styles: Double-hung
Key features: Wood-like detailing, standard double low-profile locks, more efficiency options
Harvey Tribute windows improve on their Classic line in three ways: fashion, hardware, and performance.
You can quickly spot a Tribute window among their lineup, thanks to its contoured sashes and beveled edges to contend with the ornate craftsmanship of wood windows.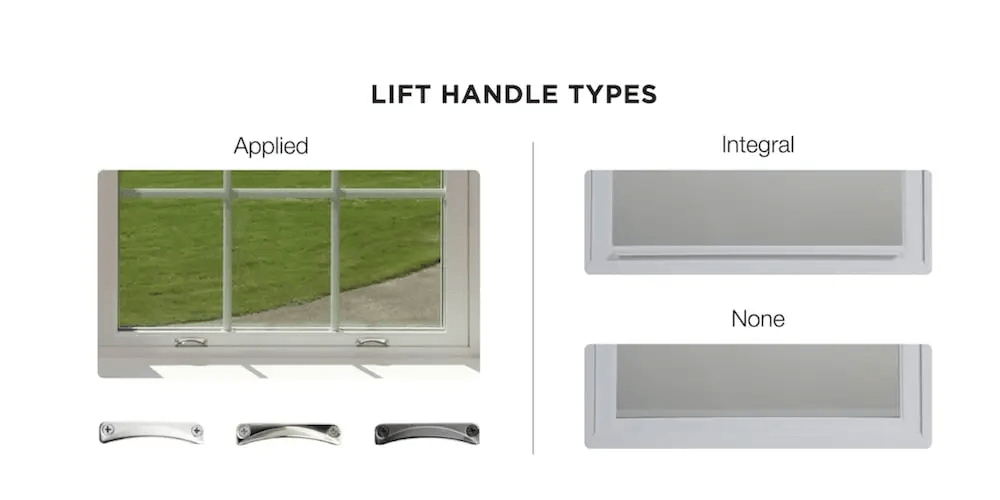 Image source: Harvey Windows
As for hardware, Harvey offers three lift rail options – no lift rail, integrated lift rail, and applied lift rail – as well as dual low-profile sash locks to maintain a sleek form.
Harvey steps it up in the performance department with their top-of-the-line, triple-glazed, Krypton-filled, ThemaLock Low-E glass. Out of all of their double-hung windows, the ThermaLock-glazed Tribute delivers the best energy efficiency numbers.
Vinyl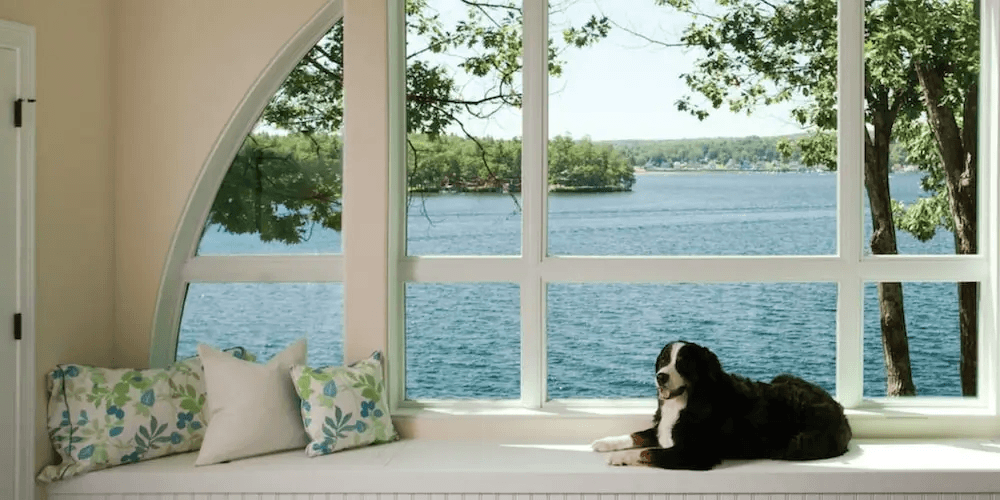 Image source: Harvey Windows
Price range: Varies by style
Window types: Casement, awning, hopper, rolling, picture, fixed, bay, bow, garden, custom shape
Key features: Most style and performance options of Tribute line
Harvey's undubbed Vinyl line refers to all of their vinyl windows specifically not single or double-hung.
Most of these styles offer the same options as Harvey Tribute windows, including finishes and energy efficiency. In turn, you can easily match your vinyl awning, hopper, and custom shape windows with the look and quality of your single or double-hung windows.
Majesty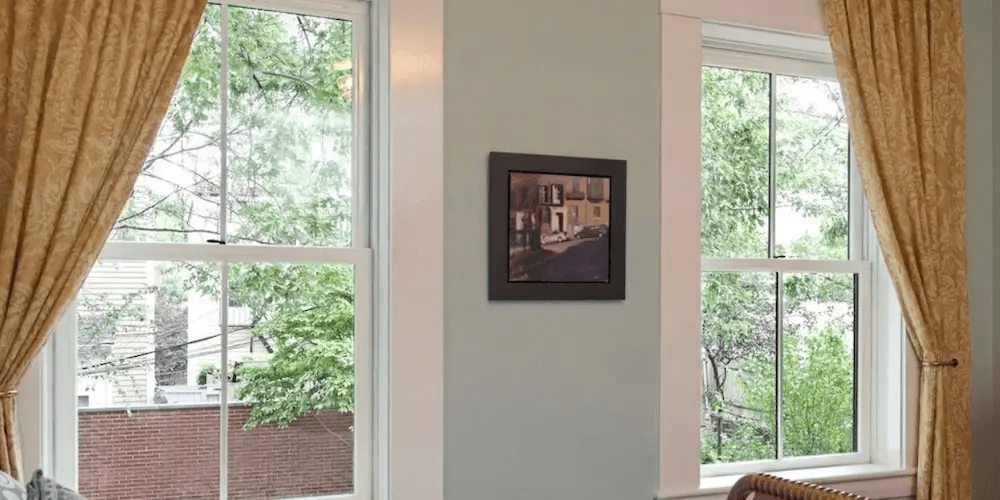 Image source: Harvey Windows
Price range: Varies by style
Window types: Double-hung, casement, awning, gliding, picture, bay, bow, custom shapes
Key features: Wooden construction, aluminum cladding; style and performance options
Harvey sells all of their wood windows via the aptly named Majesty line.
Harvey uses treated Ponderosa Pine to resist rot, degradation, splitting, warping, and mildew. To protect the exterior without detracting from the charming wood character, Harvey clads the exterior with beveled aluminum.
Harvey offers interior finishes in unfinished pine or white, and six exterior paint options. You can also choose from six hardware finishes, ranging from standard white to premium brasstone.
To cultivate your ideal window down to the finest accents, Harvey provides four grid configurations, three sash orientations, and a range of screen options.
The list of benefits only goes on as you continue towards energy efficiency capabilities. All Majesty windows can meet Energy Star Northern and North-Central climate zone requirements.
Harvey Window Types
Whether you call them styles, types, or shapes, Harvey offers 12 of them.
These include:
Double-hung
Single-hung
Gliding
Casement
Picture
Rolling
Awning
Hopper
Custom
Bay
Bow
Garden
Although Harvey emphasizes their vertical slider products with three out of four lines solely dedicated to single and double-hung windows, they provide most of the alternative styles you could want.
As for how style plays into costs, single and double-hung windows are typically among the most affordable to purchase and install across most window brands. Typically smaller fixtures, such as hopper windows, also generally cost less. Custom shapes and larger fixtures like bay and bow windows tend to be the most expensive out of the bunch.
Does Harvey Have Energy Star Windows?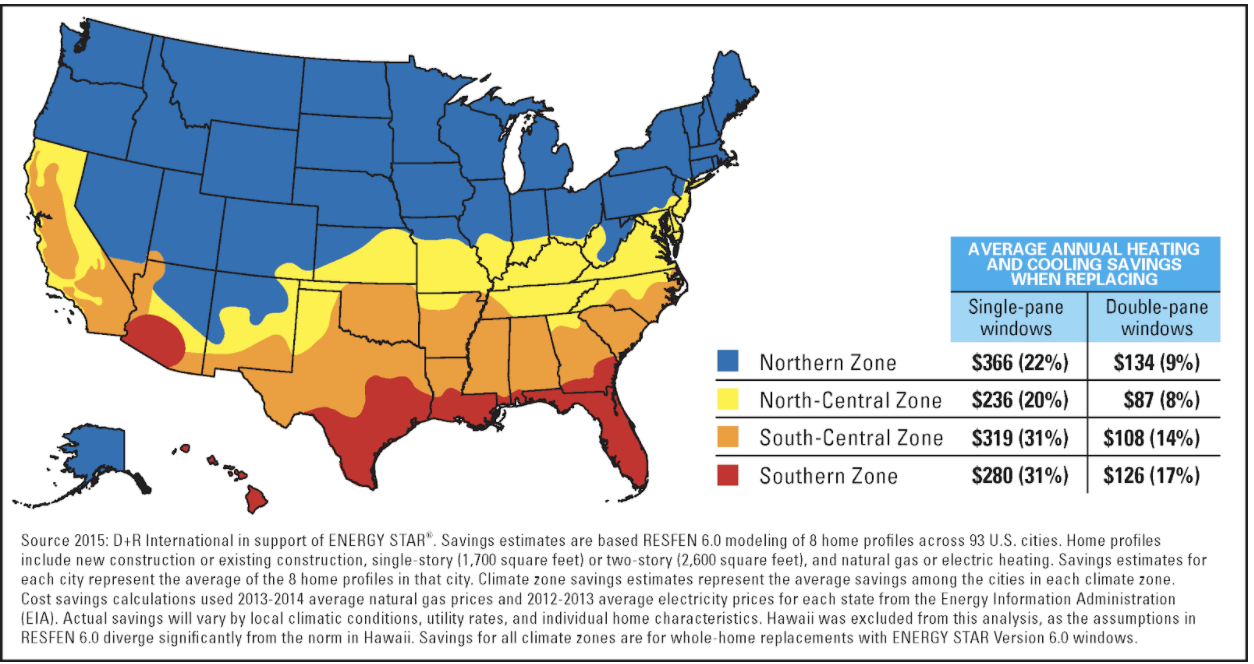 Image source: Energy Star
Yes, Harvey offers energy-efficient window options that comply with all climate zones.
Energy Star-rated windows can save you as much as $366 per year in annual heating and cooling costs. On top of lower utility costs, you can save come tax season on your Energy Star windows with tax credits.
Harvey's energy-efficient options include Low-E, or low emissivity coatings, argon gas fills, and up to three panes of glass per window.
For Northern climate zones, they also provide their "SunGain" High Solar Heat Gain package. This upgrade allows more heat to pass through the glass, which reduces the demand for heating during cold months.
However, none of these innovations are particularly revolutionary. Most window brands offer a similar blend of these energy-efficient options.
It is worth noting that while many competitor brands offer a similar selection of energy-efficient options, Energy Star recognized the Harvey Tribute Double-Hung as one of the most efficient windows available.
Harvey Warranty
Do Harvey Windows Have a Lifetime Warranty?
Harvey's vinyl windows come with a one-time transferable lifetime warranty covering replacement parts for manufacturing defects on non-glass components.
By "lifetime", Harvey means as long as you reside in the home where you installed the windows.
As for their Majesty windows, Harvey provides 10 years of warranty coverage against defects in material and workmanship for aluminum and wood structural components. Keep in mind that the 10-year period starts as soon as the window leaves the factory, not the day you purchase or install it.
In turn, you may want to ask your distributor the exact date Harvey manufactured your windows.
Harvey provides a unique 10-year warranty for their garden windows and the warranty period begins on the day of installation rather than the date of manufacture.
For most windows, the insulating glass comes with a 20-year warranty. Harvey reduces their glass warranty coverage for Majesty windows according to the following formula
Years 0-10 = 100%
Years 11-15 = 50%
Years 16-20 = 25
These warranties only cover the replacement parts themselves, not the labor to replace them. This is where a warranty-backed installer comes into play.
Harvey Windows Expert Review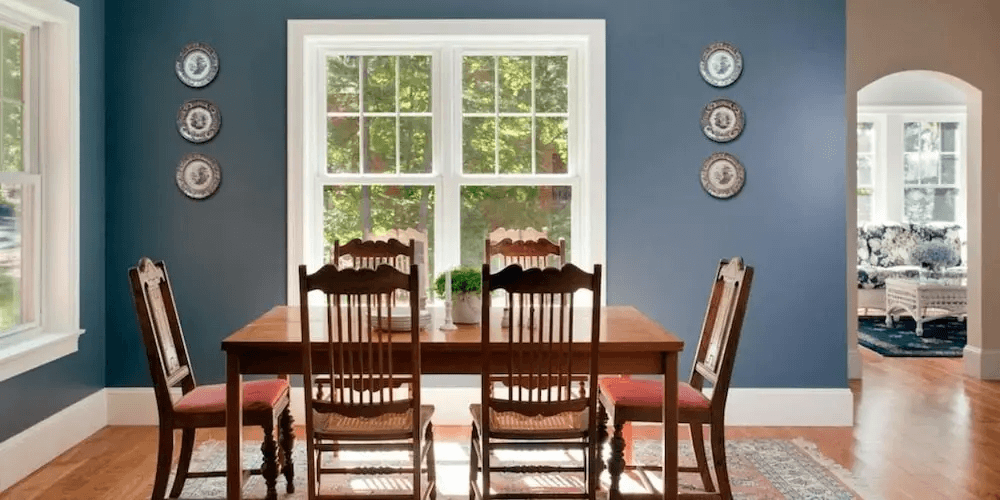 Image source: Harvey Windows
What We Like About Harvey Windows
For Northeastern and Mid-Atlantic homeowners, Harvey offers a solid selection of affordable vinyl windows.
Vinyl is insulative on its own, but their suite of energy-efficiency upgrades helps seal the deal for homeowners on the hunt for Energy Star windows.
Beyond their barebones Slimline windows, you also have a fair bit of customization from performance to appearance.
Harvey Majesty wood windows are up to scratch, too, with their range of styling options.
While complicated in some respects, their warranty is arguably par for the course, as far as window brands go.
Where Harvey Falls Short
Although Harvey suits plenty of homeowners, we can't deny that their selection isn't as comprehensive as the likes of big-name players like Pella and Andersen.
Marvin, for instance, offers 13 configurations of casement windows. Harvey only offers two.
To cater more to more niches, many of these national brands also offer fiberglass and aluminum windows, as well as more styles like corner, jalousie, and pass-through.
Especially at the top-end, Harvey cannot compete with the luxury lines of Pella, Andersen, and Marvin.
Harvey Windows: The Bottom Line
If you want a supremely custom, lavishly appointed, and high-tech window, Harvey might not be your guy.
However, Harvey excels in providing reasonably priced vinyl and wood windows that meet Energy Star requirements.
For many homeowners, affordable and efficient is all a window needs to be.