The front door is a major design feature of your home. It sets the tone for your home's style as homeowners seek a cohesive design flow from the exterior to interior, and plays a key role in curb appeal. There are many aspects to front door design, but one of the stand out elements is the color. Choosing the color for your front door requires a few considerations: Does it fit in with the overall look and architecture of the house? Does the color match and compliment the siding and exterior? Is the color on-trend?
To help you make a decision and find out which are the top front door colors in 2022, we asked 64 top industry professionals to share what they believe are going to be the most popular as part of Fixr.com's Paint and Color Trends Report. They were asked to choose from multiple front door color options, and we have compiled their answers to discover the top 5.
1. Black Front Door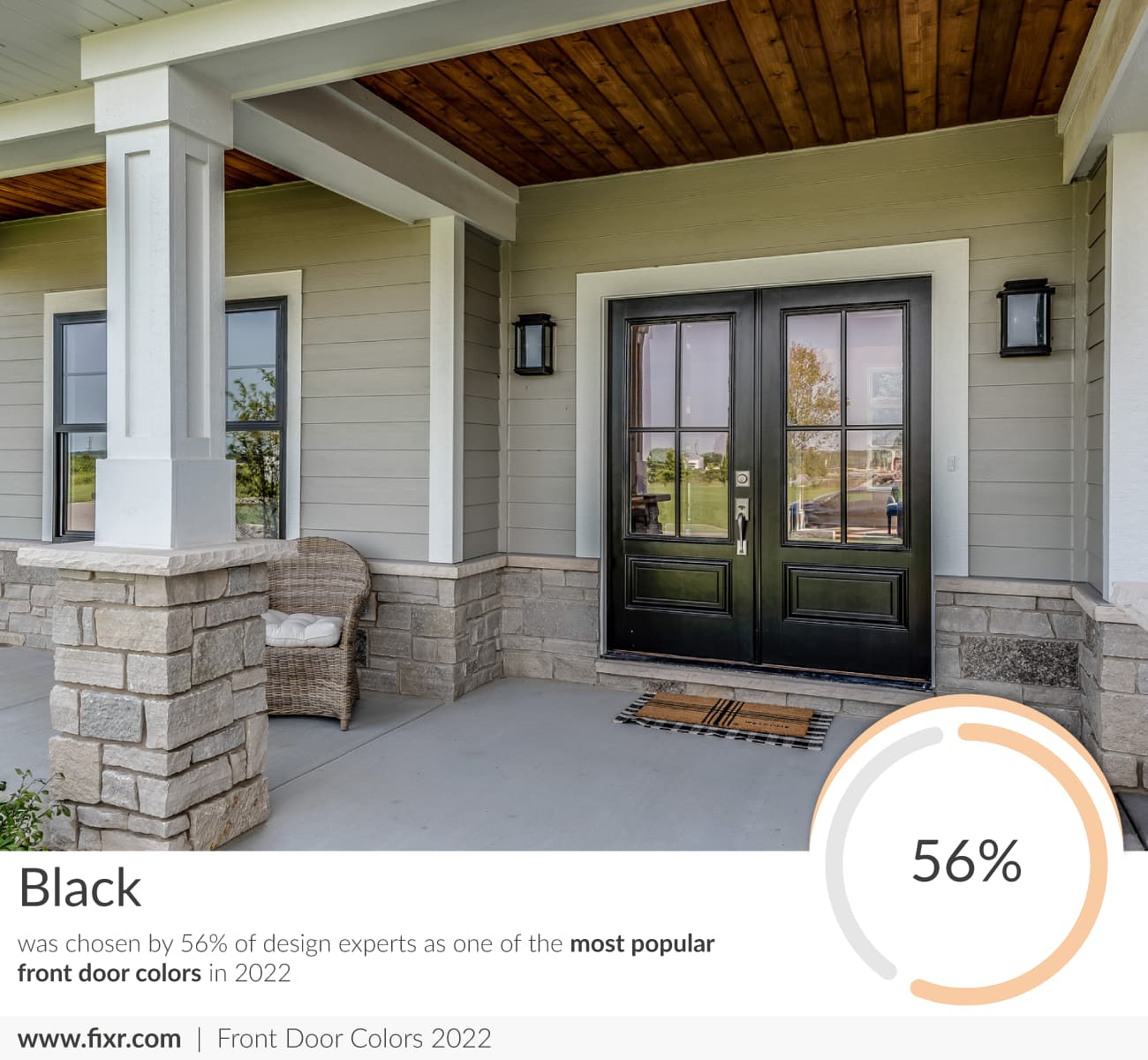 The number one most on-trend front door color is black, according to 56% of experts. One of the reasons for this is due to black being compatible with almost all other colors. This means that no matter your siding color, black is sure to combine well. While black by itself might not sound exciting, it can serve as an aid to make the rest of your home design really stand out. Nothing contrasts more starkly with black, than white. White is one of the most popular siding color choices, while 58% of experts also say white is the best exterior shade to help sell a house. A black front door will help add a bold and sophisticated focal point to your entrance, balancing perfectly well with a crisp white exterior.
2. Wood Toned Front Door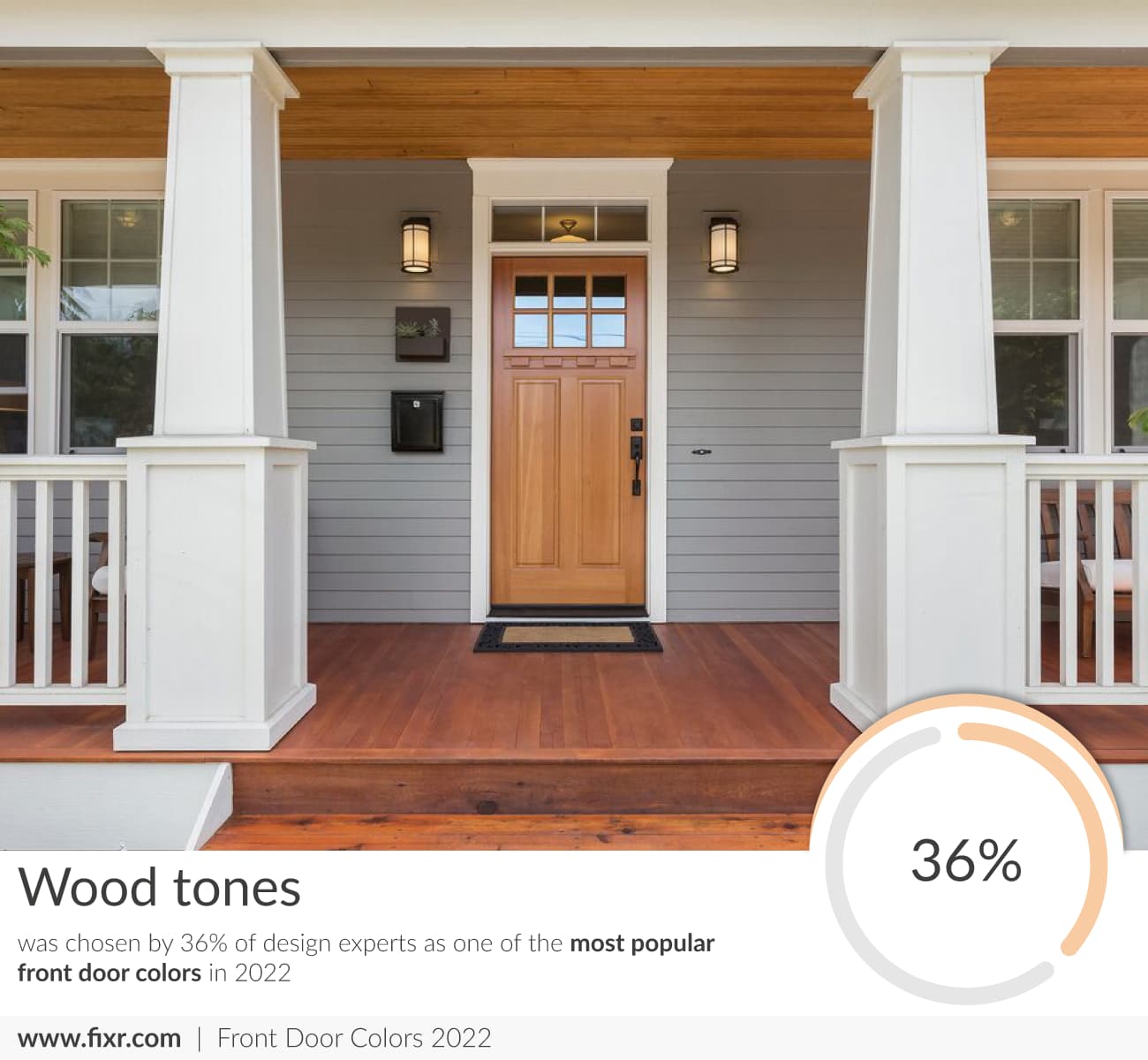 Incorporating natural elements is also one of the most sought-after home design features of 2022. Natural materials, such as wood, add to the sense of calm that incorporating nature-inspired elements can bring to a home. So it is no wonder that 36% of experts believe that wood tones will be the most popular front door color in 2022. Wood tones work particularly well with certain home styles, such as Farmhouse and Craftsman designs. They also match with greens, blues and different color wood tones, however they do not go perfectly with all siding colors.
3. Royal Blue Front Door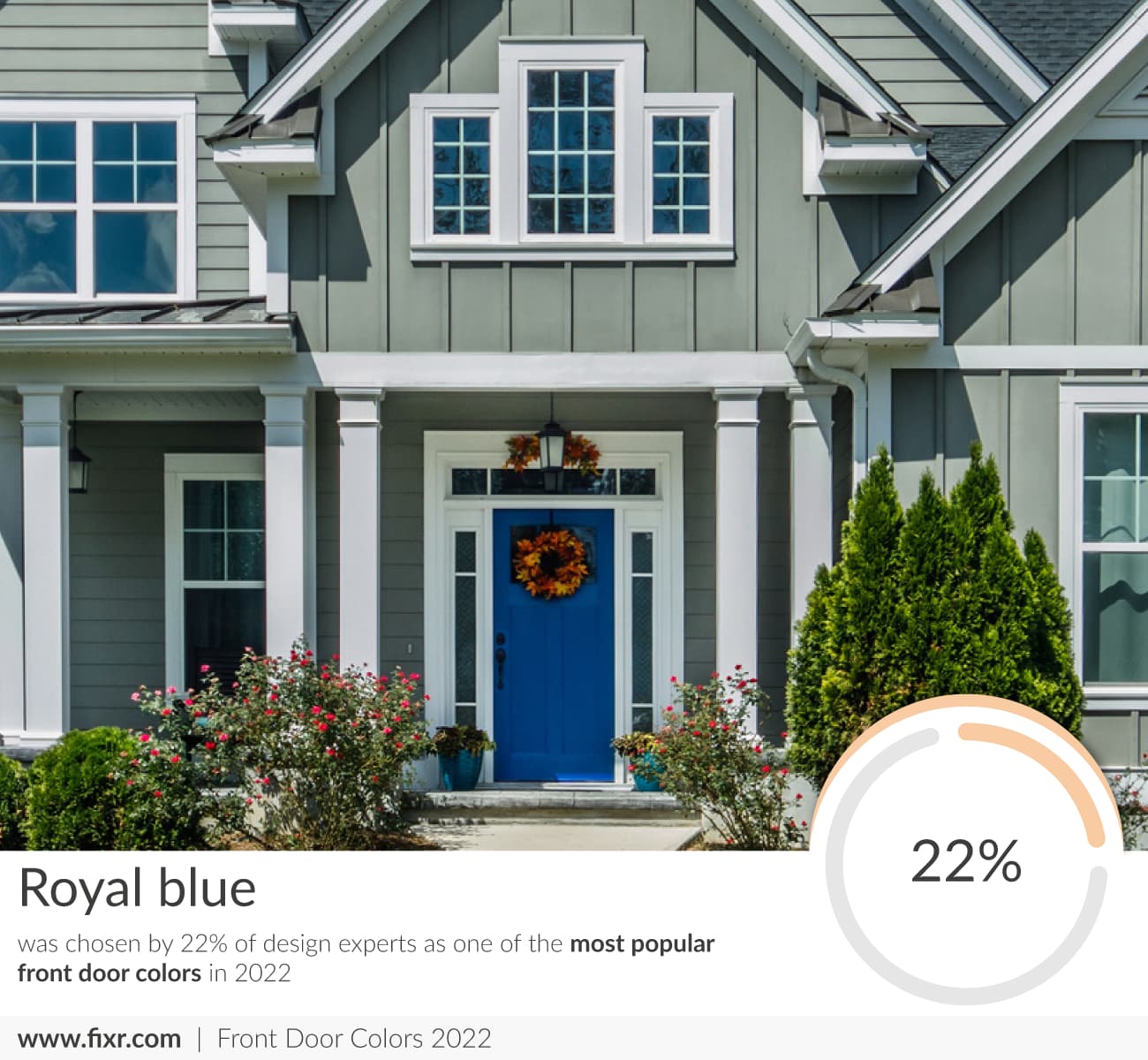 22% of experts believe that a royal blue front door will prove most popular among homeowners in 2022. Whereas it is somewhat limited in terms of compatibility with other exterior colors, it looks great alongside white as well as some other siding materials such as red brick and natural stone. This shade will add personality to your entrance and transform your door into a striking, eye-catching feature of your home's exterior.
4. Hunter Green Front Door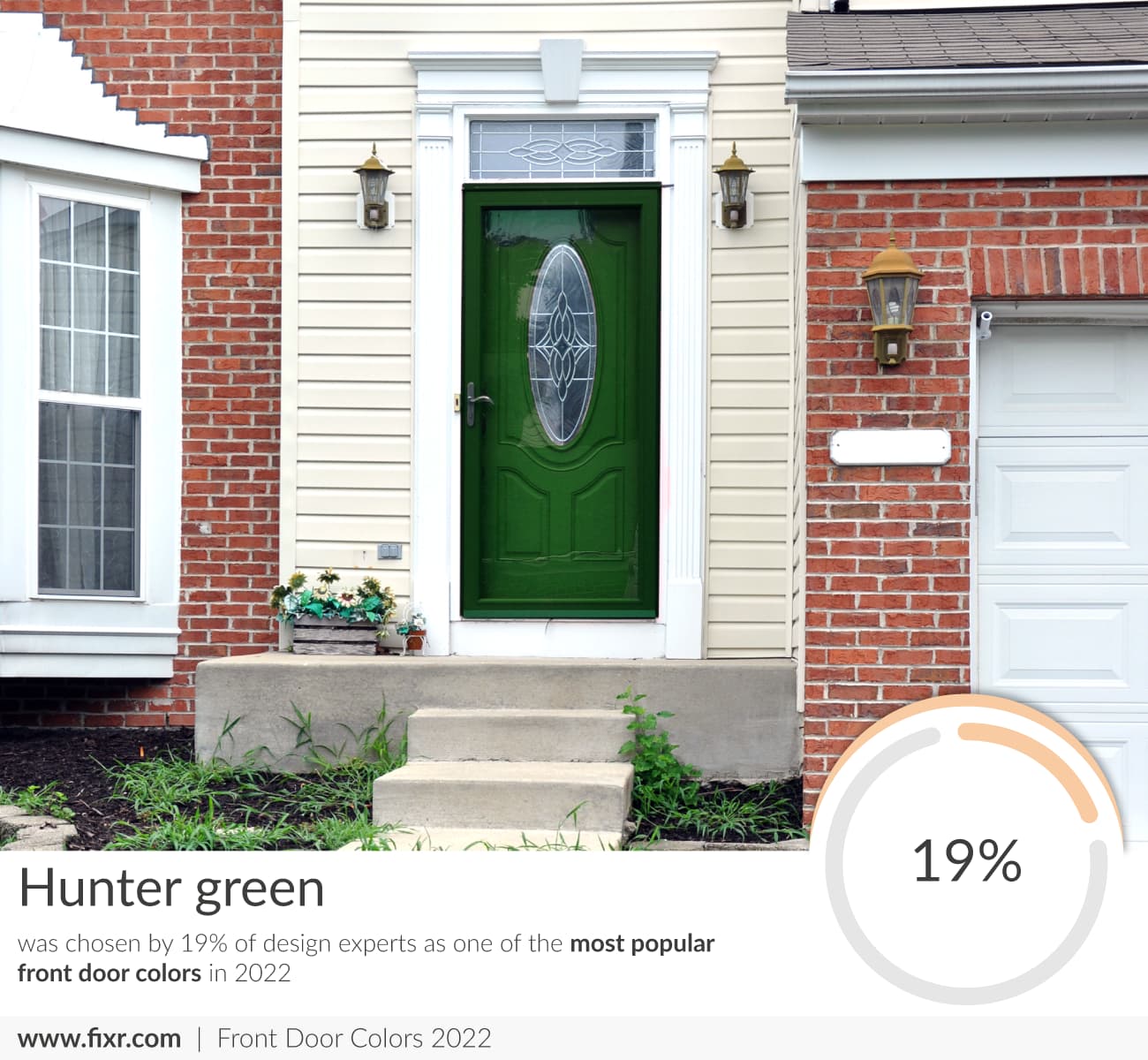 In general, green is a popular color for homeowners in 2022. We have seen green proving to be sought after in many areas of the home, and the front door is no exception. Hunter green is thought to be the most wanted color for front doors this year, according to 19% of experts surveyed. It works well alongside brick sidings, warm neutral colors, wood tones, and even with other shades of green such as sage green which is a warm neutral green color itself.
5. Sage Green Front Door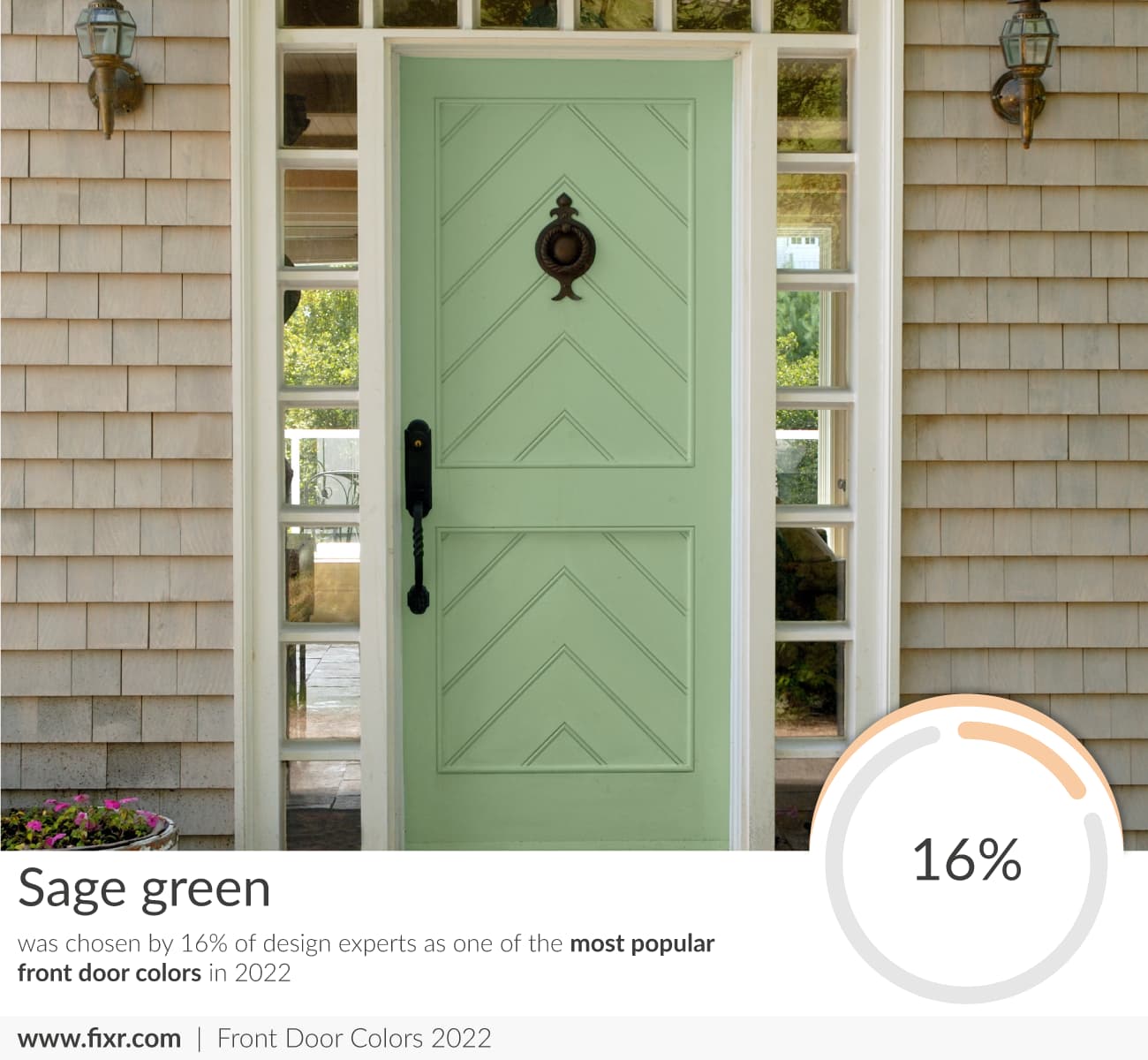 As mentioned, green is a very popular color among homeowners this year. This goes some way to explaining why green appears twice in this list. 16% of experts believe sage green will be one of the most popular front door colors in 2022. Sage green is a calming, muted shade of green. It might not stand out as much as some of the other, more bolder colors in this list, but when put against the backdrop of a white home exterior, it combines very well. That can also be said for gray or stone sidings.
Key Considerations
Whichever front door color option you decide to go with, remember to always consider the shade and type of existing siding your home currently has. Both exterior shades should complement one another. Just keep in mind whether you want to make it a statement, bring in some color, or keep a natural look.
Methodology:
We surveyed 64 top interior design experts and asked them to choose what they believed to be the most popular front door colors in 2022 among homeowners. We compiled their answers and shared the colors which received the most votes to make the top 5.
Author:
Cristina Miguelez has more than 4 years of experience in the remodeling and home design sector. She works constantly with industry experts to bring the most accurate and reliable information regarding news, trends, and advice to homeowners and other industry pros. Her work has appeared in major industry publications, like Forbes, Realtor.com and the official publication of the National Kitchen & Bathroom Association.