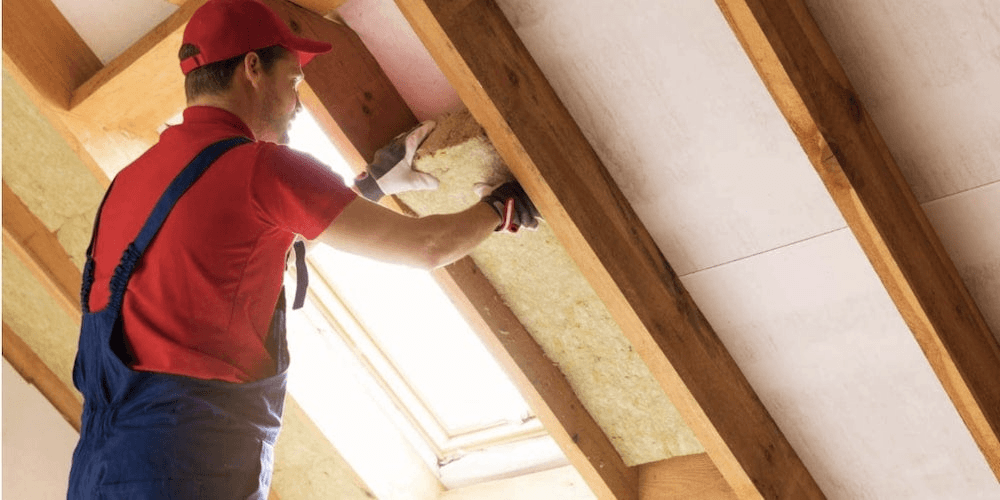 As temperatures continue to drop outside, insulating your roof is one of the most important ways to keep your home warm during the winter. Insulation also prevents excess heat from entering your home and helps keep it at a moderate temperature during the summer. In this article, we'll give you the rundown on the best insulation options for your home and the pros and cons of each one. But first, let's discuss why you should insulate your home and explore which option is right for you.
On this page
Why you should insulate your roof
The biggest advantage of installing roof insulation on your home is the amount of money and energy you'll save. According to the U.S. Department of Energy, properly insulating your current or new construction home should be able to save between 10-20% of energy consumption while also reducing your monthly heating bill and the amount of CO2 emissions. Without any insulation, moisture from rain or melting snow can lead to permanent damage and mold growth. While some installations can be done yourself, some may require a professional insulation contractor. Here are some key points to consider before tackling the job.
What to look for in roof insulation
Image source: Element Roofing
Before deciding whether to perform the installation yourself or hire an insulation contractor, remember to carefully examine the condition of your roof. If the space is easily accessible and doesn't show any signs of moisture, it may be possible to do the job yourself. But if there are any kind of leaks or mold, it's probably best to hire a professional.
If you decide to do it yourself, make sure the space is free of any obstructions and that all gaps and air leaks are sealed off. If there's any space for heat to escape or cold air to come in, your insulation will no longer be effective.
When you do commit to installing insulation in your home, be sure to read up on your state's building codes to ensure you meet or exceed code requirements. You'll be able to determine your R-value climate zone and the required measurements for all your insulation needs.
Insulation and R-value: what it means for your home
Image source: Energy Star
Before you begin your insulation installation, it's important to determine which R-value climate zone your home is in. R-value is a measurement system that grades types of insulation based on how well they keep heat from entering or leaving your home. Based on Energy Star's R-value region map, hot climates that have lower R-value levels require different types of insulation as opposed to cooler climates. A higher R-value rating shows a better-performing insulation type.
Six best insulation options
Spray foam insulation
Image source: Fine Home Building
One of the most common and effective ways to insulate your roof is with polyurethane spray foam. This spray-applied plastic is known to be highly effective for sealing any cracks as well as resisting wind and heat. The foam is applied to the underside of your roof deck and directly onto the slates and tiles. The spray foam insulation then bonds the slates and tiles together to prevent unwanted moisture, wind, heat, and cool air from seeping in.
It's also important to differentiate between low-density open-cell spray foam and high-density closed-cell insulation foam. With open-cell foam, the cells are intentionally left open, making the foam softer and more flexible. It's best suited for indoor applications, like soundproofing. With closed-cell foam, the cells are completely closed and pressed together, making them more rigid and stable. Closed-cell foam is best suited for larger areas and will keep moisture out of your home.
Pros of spray foam
Seals off all gaps - When spray foam is applied to the cracks and gaps, it expands and hardens, restricting the amount of airflow. Spray foam acts as a barrier and is also water-resistant, which will prevent any moisture or outside air from entering your home.
Reduces utility bill - Because insulation works to keep your home at a moderate temperature, you won't have to rely heavily on heaters and air-conditioners.
Eco-friendly - In 2020, the EPA reported that 79 percent of all greenhouse gasses are made up of carbon dioxide from burning fossil fuels. Since spray foam insulation improves energy efficiency in the home, the number of carbon emissions could be significantly reduced.
Long-lasting - Other forms of insulation like fiberglass can deteriorate over time and need to be replaced. Spray foam is made of polyurethane and isocyanate, which hardens and never loses shape when applied.
Cons of spray foam
Requires a contractor - While the installation seems easy enough to do yourself, spray foam insulation is made up of strong chemicals that can cause respiratory, eye, and skin issues without proper protection. The vapors themselves are also highly flammable.
Expensive - Despite energy savings of at least 20% when it comes to your monthly utility bills, the upfront cost of installing spray foam insulation can range between $10,000 to nearly $30,000.
R-value
Open-cell foam - R-3.8-3.6 per inch
Closed-cell foam - R-4.9-7 per inch
Rigid insulation boards
Image source: Roofers Coffee Shop
These durable foam boards are made from dense sheets of closed-cell foam, which include polyurethane, polystyrene, or polyiso. Rigid insulation boards can be used virtually anywhere in the home, including roofs, basements, living spaces, and attic spaces.
The three main types of rigid foam insulation boards include polyisocyanurate or polyiso, extruded polystyrene (XPS), and expanded polystyrene (EPS).
Foam made from polyiso typically comes with a foil facing that serves as a radiant barrier. It's the most expensive of the three, but also has the highest R-value.
XPS foam is usually blue or pink in color and has a plastic surface. Like polyiso, it is also water-resistant. However, its main insulating material of polystyrene is flammable and can deteriorate over time with exposure to sunlight.
EPS is very similar to XPS but has a lower R-value due to surrounding voids, or missing insulation. However, it remains a good inexpensive option for homeowners on a tight budget.
Pros of rigid insulation boards
Environmentally friendly - Some insulation boards are available in eco-friendly materials such as cork, wood, and straw.
DIY Capability - Because they're sold in large, solid sheets, insulation boards are easy to attach to your walls and rafters.
High R-value - Due to their high density and water resistance, insulation boards tend to have a high R-value rating. Buying foil and plastic facings for the boards can increase its R-value even more.
Cons of rigid insulation boards
Comes with a fire retardant - Most foam insulation boards are made with a chemical flame retardant. Despite its fire resistance, The National Institute of Environmental Health Sciences says these retardants can cause serious health effects like cancer and reproductive toxicity.
Easily damaged - When exposed to sunlight for long periods of time, UV rays can cause damage to the rigid foam.
R-value:
Polyiso - R-6.5-6.8 per inch
XPS - R-5 per inch
EPS - R-3.6 per inch
Batt insulation
Image source: Buildipedia
Perhaps the most common type of roof and attic insulation is fiberglass batt blanket insulation. Though mineral wool insulation batts are making a comeback, these rolls are typically made of fiberglass and are one of the least expensive insulation materials. Available in many different sizes and easy to transport, batt insulation is also DIY-friendly.
Pros of batt insulation
Easy to install - These rolls are manufactured and pre-cut in various sizes to fit most ceiling joists and rafters. They're readily available from any big box home improvement store and easy to transport.
Moisture resistant - Fiberglass batts typically resist moisture and are often recommended for homes in more humid climates.
Cons of batt insulation
Low energy efficiency - Producing batt insulation requires a lot of energy, contributing to more air pollution than other processes. Due to its low R-value, batt insulation does not perform well in colder temperatures and may require several layers of insulation.
Safety - Glass fibers from these insulation rolls can irritate the skin and eyes as well as cause potential lung damage. Make sure you wear protective clothing before you perform the installation.
R-value
Batt insulation - R-2.2-4.5 per inch
Loose-fill or blown-in insulation
Image source: My Green Shield
Available in either fiberglass or cellulose, this type of insulation is often blown into hard-to-reach places like a roof or unfinished attic through a long flexible tube. While both options are made from loose fibers of recycled waste materials, cellulose has a higher R-value.
Pros of fiberglass loose-fill insulation
Non-flammable - Though fiberglass insulation contains tiny shards of glass and can catch fire or melt, blown-in fiberglass is completely fire resistant. Because cellulose is made from paper, it is more likely to catch fire.
Cons of fiberglass loose-fill insulation
Health concerns - The small fibers of glass in the insulation can irritate your skin and can cause lung cancer over time if inhaled. It is recommended that you wear masks and other protective gear.
Not good for cold climates - The U.S. Department of Energy states that when temperatures reach below freezing, fiberglass loses up to 50% of its R-value because of the extreme difference in temperatures between the interior and exterior of the house.
Pros of cellulose loose-fill insulation:
No health concerns - Made up of paper and sometimes recycled newspaper, cellulose insulation is environmentally friendly and does not pose any health concerns.
More durable - Unlike fiberglass, cellulose does not degrade or lose its R-value over time in extreme temperatures, making it a better option for colder climates.
Cons of cellulose loose-fill insulation
Flammable - While cellulose is treated with fire retardants, it is also non-combustible and difficult to extinguish.
R-value
Fiberglass - R-2.5-3.5
Cellulose - R-3.2-3.7
Structural insulated panels
Image source: Nohara
Made up of prefabricated boards with foam in between, structural insulated panels' popularity among insulation products is growing. Because they are available in different sizes and shapes, these panels can be used in a variety of ways.
Pros of structural insulated panels
Durable and stable - SIPs are often used as a replacement for wood frames and can handle dead loads up to 10 pounds per square foot and live loads up to 70 pounds per square foot.
Energy-efficient - The oriented strand boards holding the foam together are made from underutilized and less expensive trees. And thanks to its air sealing qualities and high thermal resistance, SIPs control heat flow well, preventing the need to overuse energy.
Cons of structural insulated panels
Vulnerable to moisture - Although SIPs are durable, they are not designed to get wet. They require some sort of vapor barrier or exterior sheathing that will protect them from moisture.
Requires a professional - SIPs are available in different sizes, but some that are larger in size require a crane with a professional installer.
Which type of roof insulation is right for you?
Now it's time to determine which type of roof insulation is best for your home. Once you've located what R-value climate zone your home is in, you'll have a better understanding of which types of insulation are right for you. Whether you're planning on installing it yourself or hiring a trusted roof insulation contractor, insulating your home will lower your energy bills, reduce carbon emissions, and keep your home warm in the winter and cool in the summer.