Image source: Asher Lasting Exteriors
Created on-site by a gutter expert using a truck-mounted machine to match your home's exact dimensions, seamless gutters offer better protection from water damage, less maintenance, and arguably more curb appeal than standard, sectional gutters.
But do these benefits merit their cost?
To answer that question, we'll begin by exploring the price ranges, benefits, and drawbacks of popular seamless gutters materials. From there, we can boil down how seamless gutter systems as a whole compare to standard gutter systems in terms of cost, installation, performance, maintenance, and appearance.
With your soon-to-come grasp on the difference between seamless and sectional gutters, our final answer (SPOILER ALERT: seamless gutters are worth it more often than not) will hold water.
Don't worry, that's our last gutter pun. Onward to learning whether seamless gutters are worth it!
On this page
How much do seamless gutters cost?
A full seamless gutter job can run anywhere from $1,145 to $7,520 for an average home.
Cost factors
Apart from gutter material and how many feet of gutter you will need, there are other factors to consider in determining your project costs.
The company
On top of labor and materials, you may need to pay a delivery fee. Some gutter companies may only service a limited area and charge extra per mile.
Gutter style
Gutter machines can only make one style of gutter. K-style is the most common gutter shape in North America and most residential gutter companies carry the necessary machine. In turn, you can expect to pay the going rate for K-style gutters.
For commercial gutter projects, the box shape often proves the most cost-effective as it provides more volume to drain water than other style gutters of the same size.
Less common styles like fascia and half-round gutters can run up your bill as you will need to find an installer who carries the respective machine and, if necessary, pay for delivery.
Gutter size
In terms of size, most gutters only need to measure 5 or 6 inches in diameter to drain sufficiently. Regions that see regular heavy rain or steep roofs may warrant costlier 7 or 8-inch gutters.
Gutter thickness
The thickness, or gauge, of the material will determine the structural strength of the gutter system. For instance, aluminum gutters typically come in .025, .027, and .032 gauges, where the numbers indicate inches of thickness. Thicker materials cost more.
Professional vs. DIY seamless gutter installation
While you will always need a professional to visit your project site to cut the necessary length of seamless gutters, you can save money by doing the installation yourself.
Image source: rainbowguttersinc
Some gutter companies specialize in "cut and drop" or "chop and drop" services, which means they simply cut the lengths of gutters you need for your project and may provide the necessary accessories like miters, elbows, and downspouts. By forgoing professional installation, you pay strictly for material costs.
If you end up going the professional installation route as most homeowners do, the removal of old gutters and whether your home has multiple stories and steep pitches will lengthen the project timeline and accordingly increase costs.
Which is the best material to use for gutters?
Although copper gutters are the most durable, most homeowners stick with aluminum for its far superior affordability and ease of installation.
That said, there is no one size fits all answer when it comes to seamless gutters. To see which gutter material best suits your home, you should consult each of their pros and cons, which we break down below.
Pros and cons of seamless aluminum gutters
Pros
Aluminum gutters are the most popular guttering material for their budget-friendly cost, 20-year lifespan, and wide range of colors and styles. The light weight of aluminum allows for easier installation and lower labor costs. Additionally, aluminum is a particularly rust-resistant metal.
Cons
Image source: Higher Ground Rainwater Systems of Asheville
Despite the formidable performance and low cost of aluminum, it lacks the structural strength of steel. Extreme water runoff and snow can buckle an aluminum gutter system. Upon impact from severe hail or falling branches, punctures can form. Further contributing to its reputation as a "weak" material, aluminum gutters tend to bend when bearing the weight of a ladder.
Some drawbacks to aluminum only deserve concern in specific conditions.
For example, aluminum expands and contracts to a significantly greater degree than steel and copper in response to temperature changes. As a result, aluminum gutters are more likely to warp and crack in climates that see frequent and rapid temperature fluctuations.
When in contact with copper, which is commonly used for flashing and algae-resistant shingles, aluminum corrodes. Even when they do not physically touch, rainwater acts as a conductive electrolyte, which "connects" the copper or algae-resistant compound and results in corrosion.
Pros and cons of seamless galvanized steel gutters
Image source: A Plus Gutter Systems Inc.
Pros
If cracked or buckled gutters haunt your dreams, steel might be for you. Its pricing rivals that of aluminum yet it better withstands heavy loads and harsh beatings and possesses superior resistance to extreme temperature change. To resist rust, steel gutters are typically galvanized or coated in a more expensive, more durable zinc-aluminum alloy called galvalume.
Cons
While you will not have to worry about your gutters giving way, galvanized steel lasts no longer than aluminum, according to the National Association of Home Builders. As the galvanized coating weathers away, the underlying steel rapidly rusts and corrodes. Galvanized steel is also a relatively heavy gutter material, which makes it more difficult to install and more demanding on your fascia boards, especially when bearing the added weight of debris and snow. Add the fact that steel costs more than aluminum, and it makes sense why most homeowners prefer the latter.
Pros and cons of seamless copper gutters
Pros
At the top of the guttering material hierarchy, copper reigns supreme. It does not rust and boasts exceptional durability. As a result, copper gutters last an average of 60 years with proper installation and maintenance.
Many also adore the instantly recognizable, lustrous appearance of copper, especially when paired with traditionally styled homes. If left untreated for several years, copper takes on a blue-green patina – an enhancement or an eyesore, depending on who you ask.
Cons
Before you can enjoy any of the unique perks of copper gutters, you will need to fork over a considerable sum as the material can cost more than five times that of aluminum.
Even more unlike aluminum, copper gutter installation calls for soldering at the joints as opposed to caulk or sealant. You need someone with specialized know-how and diligence to install a long-lasting copper gutter system.
Copper gutters take on a blue-green patina over several years.
From a design perspective, painting copper is not advised. In turn, the color of copper gutters effectively ranges from glossy brown to blue-green, so make sure you can live with the look before investing. Even if you love the trademark sheen of copper, the limited color scheme just might not look right on your home.
Seamless gutters vs. standard gutters
As opposed to seamless gutters, standard gutters come in uniform sections. Installation involves connecting sections at the seams to create a watertight drainage path. As for materials, standard gutters come in aluminum, galvanized steel, and copper as well as vinyl – the least expensive and least durable guttering material available.
Which is cheaper: seamless or standard gutters?
| | | |
| --- | --- | --- |
| Gutter material | Cost per foot (sectional) | Cost per foot (seamless) |
| Galvanized steel | $5–$20 | $12–$20 |
| Vinyl | $3–$11 | $6–$11 |
| Aluminum | $6–$20 | $14–$20 |
| Copper | $25–$40 | $29–$40 |
The average costs of a seamless gutter system typically come out higher than a standard gutter system of the same material.
With standard gutters, you need not pay a professional gutter contractor to haul out their seamless gutter machine to the worksite. Instead, you can purchase gutter sections at home improvement stores.
Standard gutters also come in vinyl, which comes out to an affordable $3 to $6 per linear foot to install – making it the most affordable gutter system available. Pricing only gets more attractive if you're willing to get your hands dirty and install them yourself.
Should you wish to keep project costs as low as possible above all else, sectional vinyl gutters are for you.
Are seamless or standard gutters easier to install?
Image source: Colorado Seamless Gutters
Although standard gutters are the more DIY-friendly of the two because you don't need an expensive gutter machine, seamless gutters are easier to install.
The installation processes between seamless and standard gutters differ primarily by how many individual components require connections. Fewer components translate to fewer areas to seal or solder.
Seamless gutters need sealant or solder at corners, downspouts, and end caps.
Standard gutters need connections at all of the above as well as in-between each section of gutter, which makes installation more time-consuming.
Seamless or not, it's always worth considering the services of an experienced, warranty-backed contractor to ensure a job done right.
Do standard gutters or seamless gutters perform better?
Image source: Weatherguard Gutters
In terms of reliability, seamless gutters fare better.
Unlike seamless gutters, standard gutters have regions where leaks or separations can form all along the perimeter. Seamless gutters minimize opportunities for leaks with seams solely at corners, downspouts, and end caps.
Additionally, the overlapping seams are more likely to tack debris and mold compared to the smooth, even surface of seamless gutters.
Maintaining standard vs. seamless gutters
Image source: Loctite
Although you can expect to encounter fewer leaks with seamless gutters, damage can cost you more.
Seamless gutters pose a challenge because you can't swap out isolated sections like you can with standard gutters. The full length of the seamless gutter or entire system needs replacing if you can't patch up the damage, which requires the assistance of a professional with a gutter rolling machine. On the contrary, standard gutters allow homeowners to make more DIY, piecemeal gutter repairs.
Regardless of how many seams your gutter system has, you should perform gutter cleaning at least once a year. You can also explore gutter guards for even more protection and easier clean-up with both options.
Unless you firmly desire to take care of gutter maintenance yourself, seamless gutters are still the way to go. You may want to consider a maintenance plan from a gutter services or roofing maintenance company so you can avoid hefty repair costs.
Which looks better?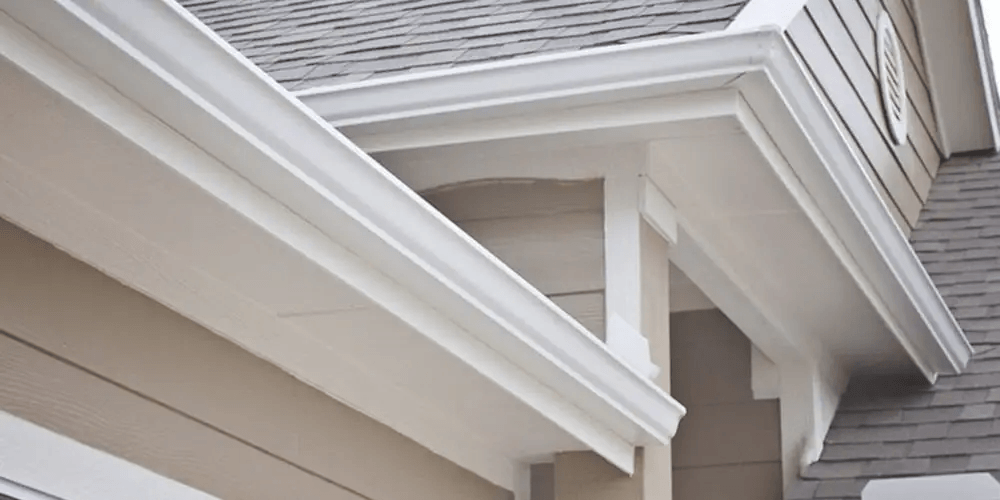 While you certainly can't judge a home by its gutters alone, many prefer the sleek, smooth profile of seamless gutters as opposed to the perpendicular lines endemic of standard gutter systems. While standard gutters can certainly look good, you'd likely be hard-pressed to find someone who passionately prefers their look over seamless.
Are seamless gutters worth it?
Image source: BCI Exteriors
Yes. All things considered, the more dependable performance, quicker installation, and cleaner appearance of seamless gutters outweigh their marginally greater costs, especially if you plan on hiring a professional for installation.
However, if you need to keep costs to a minimum or you want to take your new gutter project into your own hands, standard gutters, particularly when made of vinyl, are easier to work with and don't call for the services of a gutter company to measure out gutters on-site.
Whichever way you lean, don't leave your existing gutter system out of service for too long! Get in touch with a professional gutter specialist to make sure you pick the right type of gutter for your needs. This way, you can sleep at night knowing inclement weather poses no threat to your home or landscaping.