Image source: Saddleback Window Replacements
Whether you're in the market for replacement windows for your home or choosing between window brands for a new home build, Pella and Andersen will both likely be near the top of a very short list of window manufacturers.
These two popular brands exemplify everything that's great about American craftsmanship and ingenuity, with high-quality windows at many different price points, and both offer just about every type of window you could want. But which one is best for you?
There are plenty of differences between Pella and Andersen, and the brand that's right for you will be the one that matches your values when it comes to cost, materials, energy efficiency, and reputation. In this article, we'll cover each of these factors and help you decide which window brand is right for you.
On this page
About each brand
Pella Windows
Pella has been around since 1925, when Peter and Lucille Kuyper bought the Rolscreen Company and moved it to Pella, Iowa, a community of Dutch immigrants located southeast of Des Moines. The Rolscreen Company quickly pivoted to a line of Venetian blinds and began making Pella windows in 1937.
Since then, Pella has been a brand known for its high-quality innovative products, from the original roll-up screens that gave the company its first name to its breakthroughs in blinds tucked between layers of glass windows, fold-away casement window handles, and more.
These days, Pella offers many different window lines using a variety of materials, from vinyl to fiberglass to wood frames with aluminum cladding. The company's windows are sold to customers through Pella-certified contractors and in Pella's own showrooms, as well as Lowe's stores around the country.
Some of Pella's most popular windows are its Lifestyle Series products. These aluminum-clad, wood windows are available in awning, casement, and double-hung styles.
Andersen Windows
The Andersen Corporation began its life in 1903 as a lumber company in Hudson, Wisconsin, where it turned logs floated down the St. Croix river into lumber products. In 1913, the company built a window frame factory on the other side of the river in Minnesota, in what is now the city of Bayport.
Andersen's early innovations included a process to streamline the assembly of windows on early 20th-century job sites, and the industry's first completely assembled window unit that quickly became famous.
Today, Andersen employs more than 12,000 people around the world and is one of the top 200 privately-held companies in the world by revenue. Andersen windows can be purchased through certified contractors and at lumberyards and Home Depot stores around the country.
Andersen's most popular line is its 400 Series vinyl-clad wood windows, which come in a wide variety of products, including awning, bay, casement, double-hung, gliding, and picture windows, as well as gliding and patio doors. Andersen doesn't offer a vinyl window product at the low-end, but it does offer windows with frames made of its proprietary Fibrex wood-fiber/polymer composite material.
Cost
One of the most important factors for any home improvement project is cost. If you're not careful, replacement windows can end up costing you five figures. That's not to say it isn't worth it to choose the best windows regardless of cost. New windows can increase your home's resale value by around 70% of the cost to do the work, which means the relative differences between the price tags of each project look smaller after you reduce them by the value they provide.
The cost figures below assume that you'll be replacing old windows with new ones. Costs for new construction would be a little less, and would also be folded into the total budget for the build.
Pella Windows
In general, Pella comes in with the most budget-conscious offerings compared to Andersen. For the budget-conscious, the brand offers its "Encompass by Pella" products for sale off-the-shelf at very low prices in Lowe's stores.
Prices for genuine Pella windows range from as low as $200 each for Pella 150 windows at the low end, to $2,000 or more for the top-end Architect Series. Those prices do not include installation, which runs an average of $200 to $350 for each window.
The average cost to replace 15 windows with Pella's most popular Lifestyle Series products would be between $9,000 and $19,000. Prices for Pella 350 and 250 vinyl windows will be a little lower.
Andersen Windows
As for Andersen, window prices start around $200 for its 100-series Fibrex offerings, and go up to $1,400 or more for its Architectural A- and E-Series wood windows, again before installers add the cost of their labor.
To replace 15 windows with Andersen's mid-range 200-series vinyl-clad wood windows would run between $10,700 and $34,000, while an upgrade to the popular 400 Series vinyl-clad wood windows would result in a price of $13,000 to $40,500 for 15 windows.
Window materials and style
The window industry uses many different materials to make frames, including vinyl, composite, wood, and metal. All of those materials are represented in products offered by these two window companies, but the way they mix and match materials differ.
Similarly, if you're looking for a certain style of window, both brands will likely have something to suit you. Pella and Andersen make sliding windows, single- and double-hung windows, and casement windows as well as awning, bay, and bow windows, though not all styles are available at all price levels.
Pella Windows materials and style
As previously mentioned, Pella's basic windows in the 250 and 350 Series use vinyl frames that come on most entry-level windows. Pella's vinyl is a bit different in that it offers reinforcement that increases durability and high-quality vinyl materials that come in dual-color styles. These styles are made to match your home's interior and exterior appearance and are designed to never need repainting.
Taking a step up from the base level, Pella offers its Lifestyle line of aluminum-clad wood-framed windows. The addition of wood allows great customizability of color with paint or stain to match your home's interior, and the aluminum exterior has baked-on color designed to last a lifetime.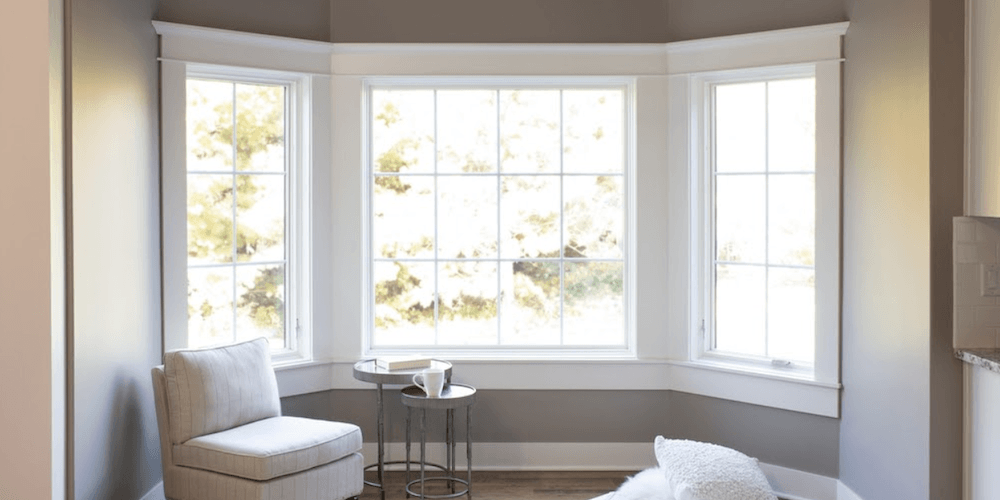 These Pella Lifestyle series windows have wood grilles between layers of glass. Source: Pella
At the high end, Pella's Architect series offers single- and double-hung windows as well as casement and awning windows. At this level, Pella offers Douglas fir, pine, and mahogany frame materials with various stains or paint finishes, exterior finishes, and exclusive wood protections.
Andersen Windows materials and style
Like fellow Pella competitor Marvin windows, Andersen does not make a window frame entirely out of vinyl. Instead, Andersen meets the basic needs of the marketplace with 100-Series products made with its proprietary Fibrex wood fiber and polymer composite. Andersen claims Fibrex is twice as strong as vinyl, never needs painting, and can withstand extreme temperatures.
It's interesting to note that after the 100 Series, Andersen shifts to vinyl-clad wood for its 200 and 400 Series products, despite its assertion that Fibrex is better than vinyl. What's more, Andersen brings back Fibrex in its high/mid-tier Renewal by Andersen products and high-end A-series architectural windows, as a protectant for the fine wood used to make the frames in those product lines.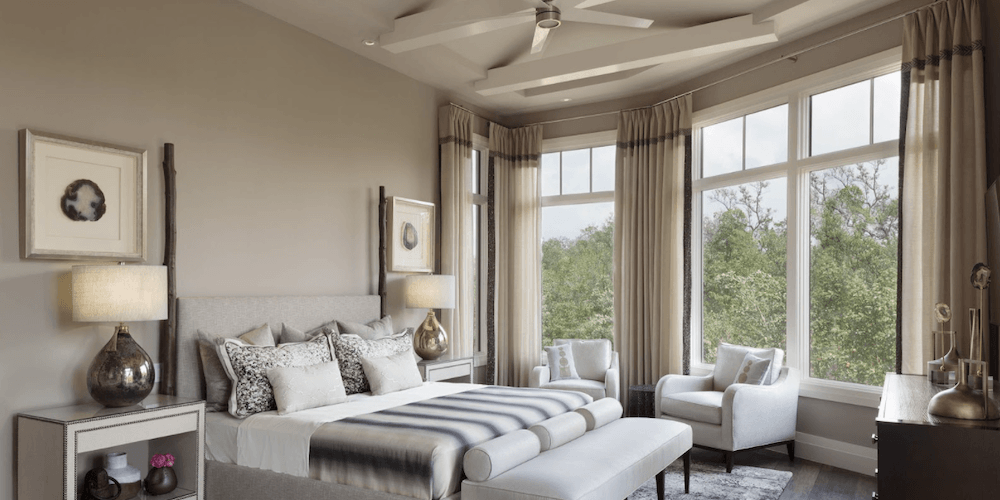 The Andersen 400 series windows in this coastal home are fitted with Stormwatch® glass for impact resistance. Source: Andersen
Andersen Window color options
At the low end, Andersen 100 Series windows come in four interior and five exterior paint colors over the Fibrex frames. The popular 400 series line comes with three interior and seven exterior color choices. Taking a step up to the high-end A-Series opens up seven interior wood options (finished or unfinished) and 11 exterior finishes.
Energy-efficiency
From a practical perspective, there are two reasons to choose energy-efficient windows:
Reducing energy usage lowers carbon emissions
Reducing energy usage saves you money on energy bills
According to Energy Star, windows it certifies can reduce your energy bills by an average of 12% compared to non-certified single- and double-pane windows. That's a pretty serious amount of cash, and over the 20 to 25-year lifespan of the windows, will save thousands of dollars.
Source: Energy Star
When talking about performance for the price, it's Pella that comes out ahead in terms of energy efficiency. The Iowa company's vinyl 250 and 350 series regularly outperform all but the most expensive Andersen offerings in the Energy Star Most Efficient Windows ratings, and at prices far below what Andersen charges.
On top of that, all of Pella's windows from the 250 Series to the top-of-the-line Architect Series can be customized with additional energy-saving ways, from Low-E argon gas-filled panes to triple-pane construction. The company's Lifestyle series actually features four custom "Performance Packages," one of which Pella claims is 83% more efficient than a single-pane wood or vinyl window.
That's not to say that Andersen windows aren't energy efficient — just that Pella outperforms its price bracket. Andersen's high-end A-Series windows also appear on Energy Star's Most Efficient ratings, and actually outperform Pella's offerings when it comes to Solar Heat Gain Coefficient, an important factor in keeping houses cool during the summer.
Warranties
When it comes to warranties, our two competitors take a pretty different approach from one another. Andersen comes in with some pretty straightforward 10- and 20-year warranties for glass and non-glass components, with additional coverage for exterior coatings on its high-end A-Series products. All of its warranties are transferable to a new owner during the warranty period.
Pella on the other hand offers lifetime warranties for all non-glass components in any of its lines, but doesn't allow those warranties to transfer to a new owner. Its glass warranties are transferable, and it offers transferable materials and workmanship warranties for its wood-framed windows that protect new owners in the event of a defect. Warranties are subject to change.
Which one is better for you?
Here's the bottom line: either of these brands is a solid choice, and you should base your decision on different factors for each.
When Pella is better
Choose Pella windows if energy efficiency is your most important factor. Especially choose Pella if you're planning on spending a lifetime living in your home, or risk losing the transferability of the lifetime non-glass warranty.
Finally, expect to spend a little less on high-quality windows when you go with Pella, or use the extra budget to upgrade to triple-pane, noise-abating, and energy-saving options.
When Andersen is better
Other window options
As mentioned above, other well-loved brands of windows include Marvin, which makes wood and metal windows, Jeld-Wen, which offers vinyl and wood windows, and Milgard, which makes vinyl and fiberglass windows for more budget-conscious shoppers.
Again, choosing the right one for you depends on the most important factors for you, so make sure to read up and ask questions! Find a trusted roofing contractor near you and ask about their favorite choices today.