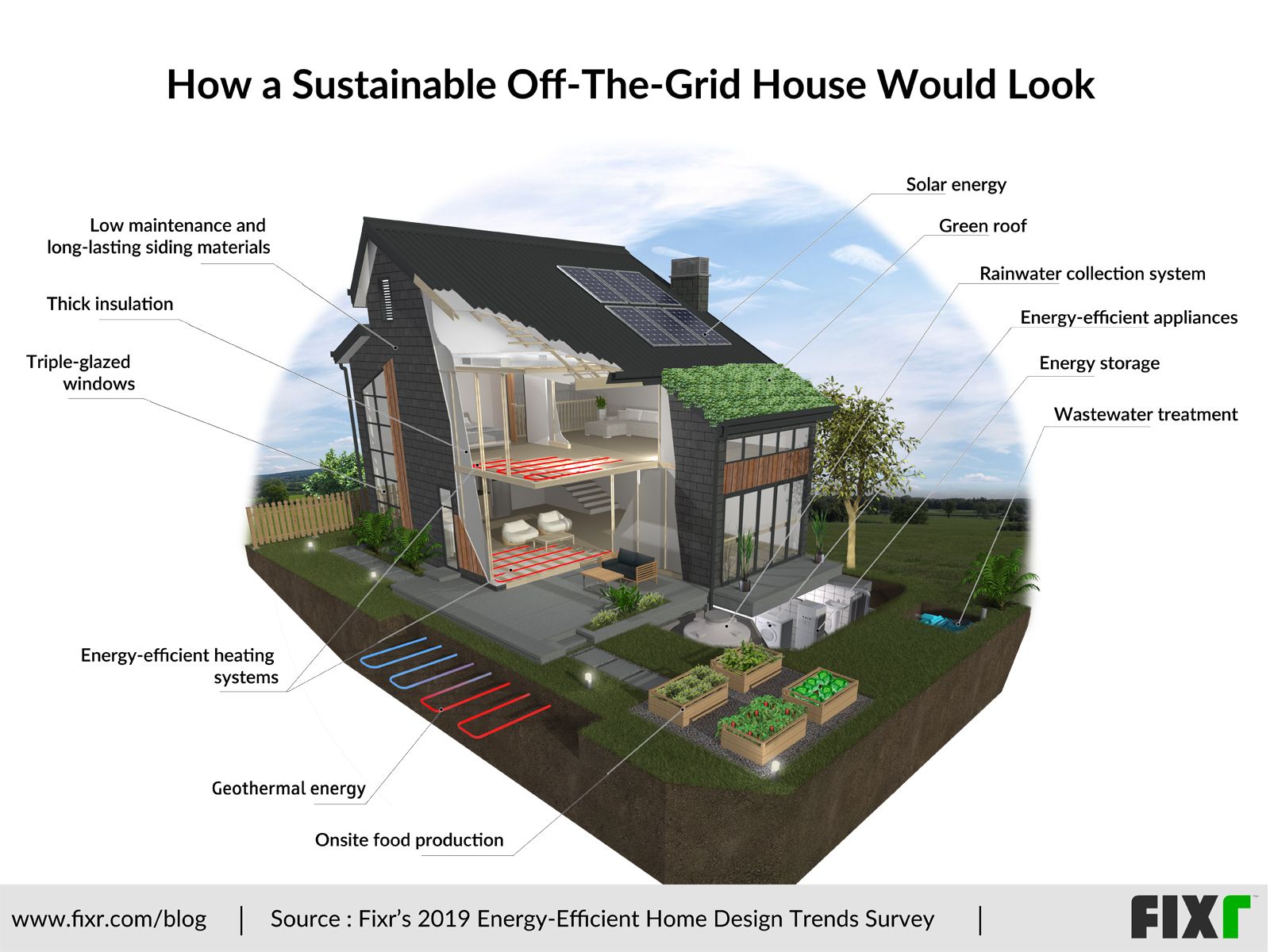 Many homeowners are already aware of things like climate change and the rising cost of energy within the U.S. But not nearly as many are aware of the ways that sustainable design and a sustainable house may not only lessen the impact on the environment and the impact on your wallet but can also create a more comfortable, healthier home as well.
Sustainable design is defined as being a dwelling that will have less of an impact on the environment, at no significant cost to the owner. And while it's easiest to build a sustainable home right from the start, there are many things that can be done to existing homes as well, some of which cost little to nothing to do. Others can often be part of a larger renovation, which can lead to a more comfortable home and lower energy costs. In fact, some sustainable homes can even function off the grid, using little to no energy.
Fixr recently asked respondents as part of their yearly energy-efficient design trends survey what they believed a sustainable, off-the-grid home should look like. We've compiled their suggestions into a single, ultimate sustainable home that could function reasonably well off the grid, allowing the owner to rely on very little outside energy.
The Building Exterior
Starting with the exterior of the building, Lee Calisti of CALISTI Architecture and Design believes that, "A tight, energy-efficient envelope is the best first investment." This is a trend that more builders and homeowners are indeed moving toward. When paired with other features, which include, "Superinsulated, airtight, durable building envelope with triple-glazed windows." according to Karan Gupta from Build SMART and "products that require very little maintenance and are long-lasting," according to Scott Bergford, the owner of Scott Homes, Inc, a tight building envelope can definitely help stop energy loss and make a home sustainable. Simply by using this one change alone, it's possible to reduce energy usage by 30% to 60% in the average home.
Adding a green roof can also help by both extending the life of the roof itself, helping to filter any rainwater, and assisting in energy retention. Green roofs can further reduce the energy consumption of the building.
Heating and Energy
When it comes to how to heat and power a sustainable home, Lonnie Zboril from Z Energy Efficient Building Design admits, "This question has too many answers, but solar systems and wind systems are definitely a head start." Geothermal energy - taking heat from the ground - is considered one of the most efficient ways to heat and cool a home.
Karan Gupta believes that the home would also be more sustainable in terms of energy if, "it would utilize passive solar techniques and would use a suitable foundation type for the local water regime. It would be net-zero or net-positive, with energy storage." Most experts agreed that having a net-zero design along with energy storage is a big key component to any type of sustainable energy, while Larry Zarker from the Building Performance Institute adds that a "Passive house with PV and solar DHW systems and energy storage" would be another option.
Solar and wind systems are beneficial, but some energy must be stored for times when sun or wind are unavailable. Because electricity must be consistent, storage can help ensure there are no gaps.
To further reduce the load, energy efficient appliances would be a necessity for this home, as well as energy efficient heating systems like radiant heating that can use geothermal energy to provide that heat.
Food and Water
If you truly want to get off the grid, then your sustainable home also needs to be a source of food and water. Green roofs can not only help with roof longevity and energy conservation, they also help filter and direct rainwater, which you can store.
Including a wastewater treatment area can help grey water filter safely back into the environment as well, disconnecting your need for sewer systems.
Finally, an area to grow food such as vegetables can assist homeowners looking to be truly sustainable in their own homes.
Build Your Own Sustainable Home
The home the experts built from their suggestions may be the ideal, but it's possible to incorporate many of these practices into existing homes. Making any move toward sustainability can help homeowners reduce their energy bills while improving their comfort and experience within their own homes. To see more about what experts feel are the latest trends in energy efficiency, be sure to follow up with Fixr's Energy Efficiency Trends report.