Christmas. It's the most wonderful time of the year. A time to catch up with loved ones and spread cheer. It truly is a magical time. But Christmas wouldn't be Christmas without the extravagant light displays and Clark Griswold competitive nature between neighbors.
As lovely as the twinkling lights are as you drive down the street, the extra energy bill that accompanies these displays is an unwelcome gift. With all the energy saving options available, we've taken it upon ourselves to find out how you can save your holiday joy by keeping cash in your pocket.
When you start shopping for Christmas lights you have two main options - incandescent and LED bulbs. We compared the purchase and electrical usage costs between your two options. We also considered the cost of installation to determine the best way to still get the festive charm of holiday lights with the least cost possible.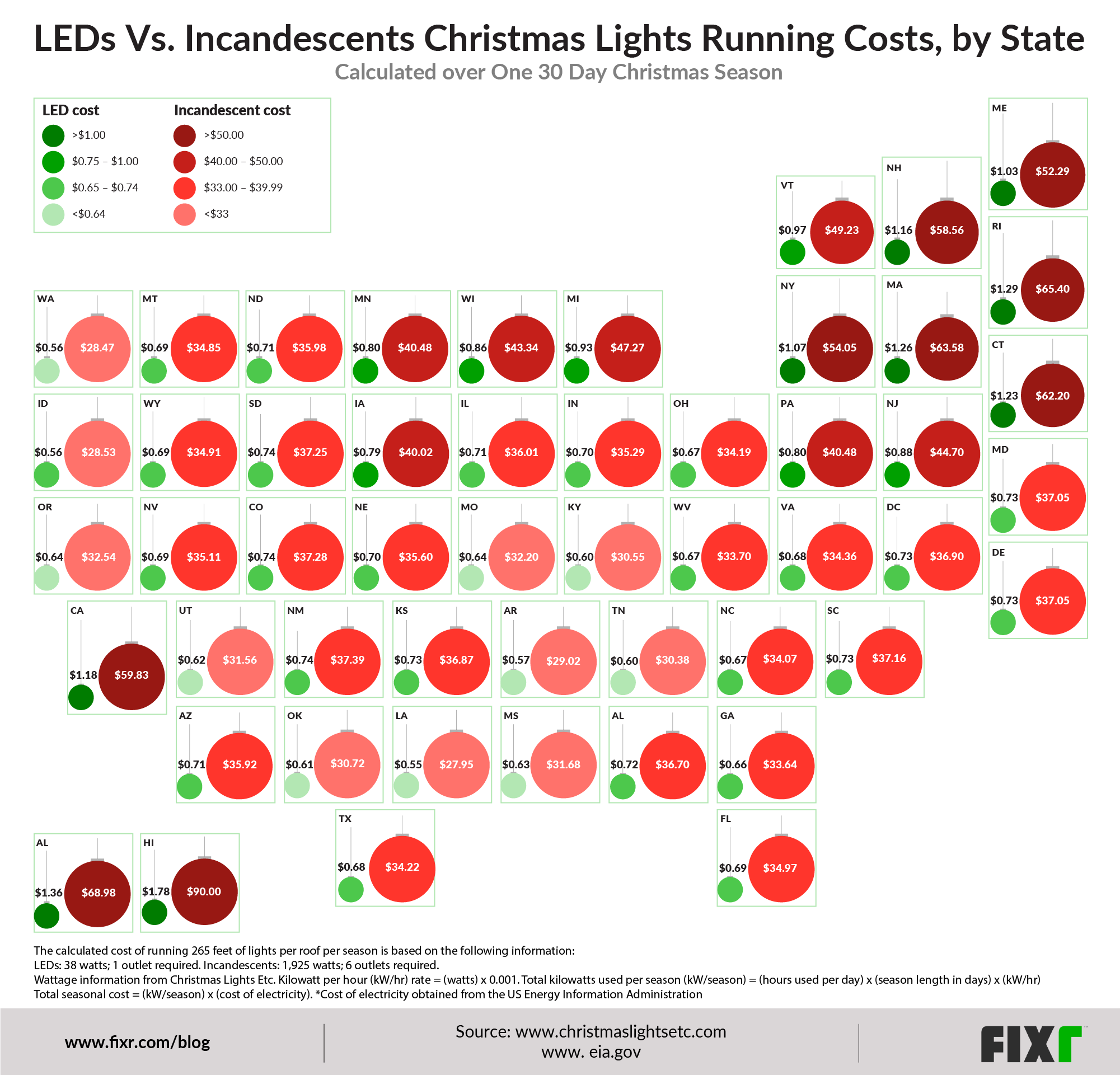 Running LED vs. Incandescent Lights this Holiday Season
To help you figure out the best option for your holiday lights this season, we have created the above graphic to look at the cost of each type of holiday lights for each state. One of the key differences between LED and incandescent lights is the amount of energy each kind consumes. LED lights use 38 watts and only require 1 outlet. On the other hand, incandescent lights use 1925 watts and require 6 outlets. Keeping this in mind, we assumed each home will use 265ft of lights per season. It was also assumed that each home will run their lights for 5 hours a day throughout the 30-day holiday season. Once the total electrical usage was calculated, it was multiplied by the cost of energy for each state according to the US Energy Information Administration.
LED Christmas Lights are the Clear Winner
The higher the cost of electricity, the higher the cost of running Christmas lights, whether they are LEDs or incandescent. Hawaii and Alaska have some of the highest electricity costs in the country. Therefore, running Christmas lights are more expensive in these states coming in at $1.78 and $1.36 for LEDs and $90 and $60.98 for incandescents for Hawaii and Alaska respectively. In the continental US, New England is home to some of the highest costs for running Christmas lights, whereas the South Central region of the US has some of the lowest running costs.
Looking at the graphic as a whole we see that the highest cost of running incandescent lights is $90 for the season. This is not terribly high, but over time this can quickly add up. Assume no price change in the cost of electricity. If these same lights are run for 10 years, you'll end up spending $900 just to run your Christmas lights. Additionally, each season it's estimated you'll run your lights 150 hours. Over a 10 year period this means you'll run your lights for 1,500 hours. Since incandescent lights only last for 1,000 hours, according to Fixr's LED vs Regular Christmas Lights comparison guide, you'll also have to factor in the cost of replacing your lights during the 10 year period.
On the other hand, if you opt for LED lights you'll only be spending $1.78 per season. So if you assume the same 10 year period, you'll only spend $17.80 to run your Christmas lights. This is a cost savings of over $880. You also won't have to replace the lights since Led lights are known to last for 50,000 hours.
Even if you consider the same scenario with the cheapest running cost of $27.95 for incandescents, over a 10 year period this is nearly $280 just to turn on your Christmas lights plus the cost of replacing your lights during this period. However, with LEDs this cost would only be $5.50, at $0.55 per season. Again, switching to LEDs saves you substantially (nearly $275!).
Purchasing Your Christmas Lights
When it's time to buy new Christmas lights for your home it can be easy to be confused as to whether LEDs or incandescent lights are more cost effective. Here are some key things to keep in mind when purchasing your Christmas lights:
Incandescent lights are more cost efficient upfront only costing $3-$12 per strand vs $10-$30 per strand for LEDs.
Fewer strands of incandescent lights are needed, requiring 8-10 strands per home versus the needed 10-15 strands of LEDs.
LEDs offer bright white light whereas incandescents are only available in yellowish white.
Incandescents get hot to the touch after being lit for several hours while LEDs remain cool to the touch despite being on for several hours.
Installing Christmas Lights at Home
No matter how beautiful your home may look with its twinkling lights, installing Christmas lights for the holiday season can be a total pain. Rather than suffering through this task by yourself, you can simply hire someone else to install your Christmas lights.
Depending on the company you choose to go with, many times the cost of renting lights is incorporated into the cost of installing Christmas lights. This would save you the cost of purchasing the lights yourself and would save you the hassle of needing to store lights until next season.
If you're just tired of standing in the cold hanging up lights. Then it may just be time to find a professional in your area to help you out.
Professionally installing your Christmas lights typically takes half a day. Additionally, you'll have to pay for labor, as well as take-down fees at the end of the season. It's also important to keep in mind that the holidays are an extremely busy season to get lights hung professionally. Therefore, you'll want to book with your installer early (around September) so that you can be sure to get scheduled during the holiday season.
Other Important Things to Consider
The decision to use LEDs over incandescent lights has other benefits besides cost savings.
Longevity. LEDs last, on average, 50 times longer than incandescent lights, meaning they don't need replaced as often. LEDs last approximately 50,000 hours versus 1,000 hours for incandescent lights.
Safety. We've mentioned previously that LEDs remain cool to the touch. While this is with handling, it's equally important in preventing fires, especially in dry Christmas trees.
Sturdy. LEDs use a semiconductor material rather than a filament, which is used in incandescent lights. This makes them a more sturdy alternative for your Christmas lights.
Environmentally Friendly. Led lights use less energy than incandescent lights, and are made of nontoxic materials. Additionally, LED lights are recyclable.
While LEDs certainly have quite a few benefits, there's still a time and place to use incandescent Christmas lights. For instance, when you want to achieve a certain look , when you are using them for a very brief time, and when cost and efficiency are non-factors.
Hopefully this information helps shed some light on the options you have available for Christmas lights and you can save a bit of cash while making your home glow this holiday season.