How much does it cost to install an electric boiler?
Get free estimates from air-conditioning and heating contractors near you
Electric Fired Boiler System Cost Guide

Boilers are one of the most common methods for heating homes in the U.S. A boiler heats water and circulates that water through a closed system of radiators or tubing, or it converts the water to steam and sends the steam through a radiator system. They come in many types, sizes, and fuel sources. Electric boilers are less common for heating entire homes because of the high cost of energy. However, they are a common choice for additions, small houses in warm or moderate climates, or when you want to heat a single room of your home.
The average cost to install an electric boiler is $1,500 to $9,000. Most people pay around $4,800 for a 150,000-BTU hot water electric boiler for hydronic heating in a 2,000 sq.ft. Zone 3 - 4 home. A 10,000-BTU hot water electric boiler for 500 sq.ft. addition using radiant heating in Zone 4 - 5 home costs about $1,100, while a 205,000-BTU hot water electric boiler with an insulating case for hydronic heating in a 4,000 sq.ft. Zone 6 home costs about $15,000.
Electric Boiler Costs
Electric Fired Boiler System Installation Costs
National average cost
$4,800
Average range
$1,500-$9,000
Low-end
$1,100
High-end
$15,000
How Does an Electric Boiler Work?
All boilers work in one of two ways, generating either steam or hot water, but with electric models, steam is less common. However, both of them can heat a home. Many of these units are designed for small spaces or can be used with other heating options.
In an electric hot water boiler, the water is heated to high temperatures. It is circulated to either baseboard radiators or in-floor radiant heating before returning to the unit. The water that returns is about 5 degrees cooler than when it went out. This water is reheated, and the process repeats.
Electric steam boilers are filled about halfway with water, leaving room to generate steam. They use more energy for this purpose, and the steam is then run through pipes to upright radiators. The steam returns to the boiler, condenses into water, and is reheated to return to the radiator.
Both system types provide consistent heat, although radiant in-floor heating is considered the most efficient because it warms the entire room. Upright radiators often warp over time and release some of their heat to the exterior of the home. Baseboard radiators are also fairly efficient at producing heat, but they limit furniture placement.
Electric Boiler Cost by Type
When choosing an electric boiler, you have distinct options. They work in one of two ways: heating water or generating steam. Electricity powers both of these, but how they make heat differs. Both options have great energy efficiency and can be used in modern homes. The table below provides information about the cost differences associated with the two types of units.
| | |
| --- | --- |
| Type | Average Cost (Only Unit) |
| Hot Water | $800 - $6,000 |
| Steam | $1,500 - $7,000 |
Hot Water Electric Boiler
Hot water boilers, also known as hydronic boilers, are the most common type, especially in new installations, and range from $800 to $6,000 per unit. They heat water, which is circulated to radiators or radiant flooring and back to the unit again in a closed system. They are more efficient, require less maintenance, and cost less. They are also more readily available, with a wider range of options for sizing and installation types. Hot water models are more commonly used in homes and have smaller applications. However, they often have a lower heating temperature than steam models.
Electric Steam Boiler
Electric steam boilers cost between $1,500 and $7,000 for the unit alone. They produce steam that is circulated to radiators. Steam boilers are uncommon when used with electricity, but they exist. They are most commonly used for upright radiator systems in existing homes rather than with newer systems. This is partly due to the higher costs and lower efficiency of the system. Most people choose hot water when heating with electricity. These units have hotter boiling than hot water models and use the natural expansion of steam to fill pipes with hot water. They are less common for use in homes and are more frequently seen in commercial buildings.
Electric Boiler Price by Brand
When choosing the ideal electric boiler for a home, there are several options. Many companies create other types of appliances, but some focus solely on boilers or specifically electric ones. There are excellent brands that only create these types of units and outstanding options among brands that make boilers of all kinds. Many brands will be well-known, but those less known to customers also provide excellent units for heating homes. Below is a list of some of the top companies known for making popular home boilers to choose from and the prices for the unit without installation costs:
| | |
| --- | --- |
| Brand | Cost Range (Only Unit) |
| Electro Industries | $800 - $4,000 |
| Navien | $800 - $4,000 |
| Bosch | $1,000 - $4,000 |
| Thermaflow | $1,000 - $4,000 |
| Thermolec | $1,000 - $4,000 |
| Slant/Fin | $1,200 - $7,000 |
| Argo | $1,200 - $7,000 |
| Rheem | $1,600 - $2,000 |
| Lochinvar | $2,000 - $4,500 |
| Weil McLean | $3,750 - $7,500 |
Electro Industries
The average electric water boiler price for a unit from Electro Industries is $800 to $4,000. These units can be used with radiators, baseboards, radiant floors, or a combination of systems to create a warm and comfortable home. Options range from small, miniature units to mid-size and larger models so you can get the optimal amount of heat needed for your home. All products from this brand come with a four-year warranty.
Navien
Electric boilers from Navien cost $800 to $4,000 for each unit. Most of these are combi units that provide hot water and heating simultaneously. For features, you can expect additions like a wide range of BTU options, an LCD panel with controls for navigation, and upgraded hot water modules. The warranty for these boilers is 15 years for the heat exchanger, 5 years for parts, and 1 year for defects in workmanship or materials.
Bosch
Bosch offers a line of electric boilers that cost between $1,000 and $4,000. The brand offers both combi and heat-only boilers made with technologies to be environmentally friendly. These units are some of the most efficient on the market and come in various sizes to meet the needs of any home. They are designed to be small, easy to install, and long-lasting. A standard five-year warranty is provided on Bosch electric boilers.
Thermaflow
Thermaflow electric boilers cost from $1,000 to $4,000 for a unit. Each is made for instant hot water and heating with high pressure water for showers. It works with underfloor heating or standard radiators and is compatible with smart thermostats from Hive, Nest, and other brands. These are quiet and have a simple installation with labeled connections. The warranty for these boilers lasts two years.
Thermolec
For units from Thermolec, an electric boiler cost can range from $1,000 to $4,000. For example, the B-3TMB electric boiler costs about $1,250 and provides 10,236 BTUs. The products from this brand are compact and offer high performance for small spaces. They can be used with any kind of hot water system. This brand has an impressive warranty of 10 years to offer peace of mind to homeowners.
Slant/Fin
Electric boiler prices vary when purchasing a unit from Slant/Fin and range from $1,200 to $7,000 for the unit itself. Many units come in several sizes and prices so that homeowners can choose the right fit for their space. These are compatible with hot water radiation systems, are easy to install, and come in a small size. Slant/Fin units come with a 25-year limited lifetime warranty.
Argo
The cost of an electric central heating boiler from Argo is between $1,200 and $7,000, depending on the chosen model. These boilers come in various sizes to match any home and create no emissions. The boilers are made to work well with radiant systems, even those requiring specific temperature settings. They can also be used as a backup for solar heating. The boilers are made with a cast iron heat exchanger and come with a 20-year warranty.
Rheem
An electric hot water boiler heating system from Rheem costs $1,600 to $2,000. All of the boilers are high-efficiency combi units that range from 180,000 to 200,000 BTUs. They have a modern look and take up less space than other similar models. They come with temperature sensors, vent screens, pressure relief valves, and all needed mounting hardware. The warranty on different models ranges from six years to a full lifetime warranty.
Lochinvar
Lochinvar electric combi boiler prices go from about $2,000 to $4,500 for the unit. Many are made for commercial use but can be installed in a residential home. Because of the commercial aspect of the models, they can put out a large number of BTUs to heat large spaces. For example, the Knight XL model is in the middle of the price range and provides 400,000 to 1,000,000 BTUs per hour. These have a 10-year warranty included.
Weil McLain
Weil McLain electric boilers cost $3,750 to $7,500 per unit. This brand largely makes commercial units, but these can be used in a home if more heat is required. However, the price is higher than you might expect for the average home electric boiler. These units can often be purchased as heat only or combi boilers, depending on need. The warranty on these models will be for 20 years.
What Size Electric Boiler Do I Need?
Electric boilers come in a range of different sizes, based on how much heat or energy they produce. This energy is displayed in BTUs or British Thermal Units. The more BTUs a unit has, the more heat it produces.
It is important when using any boiler to get one properly sized for the space you are heating. They that are too small struggle to heat the room, while those that are too large use more energy, costing you more each month.
BTUs for boilers are determined by multiplying the number of BTUs you need to heat one square foot of your home based on your climate zone, and the square feet of the space you are heating.
Because these units are so expensive to run, they are not usually used in colder climates, unless it is for a very small home or an addition to an existing home. For example, if your home is heated by forced hot air and you add a sunroom addition, you may want to heat this area with radiant heating rather than extending your existing ductwork. In this scenario, an electric boiler makes sense.
If you have a larger home, even in a warmer climate, heating with an electric boiler is still expensive. It is usually recommended to install a heat pump instead if you want to use electricity because they cost less to run.
To find the size boiler you need, locate your climate zone by consulting the U.S. Department of Energy's climate zone map. For boilers, the country is broken into 7 zones, with zone 1 being the lowest part of Florida (the Miami area) and zone 7 the very northernmost parts of Maine and Minnesota.
| | |
| --- | --- |
| Zone | BTUs per Sq.Ft. |
| Zones 1 & 2 | 18 - 30 |
| Zone 3 | 25 - 35 |
| Zone 4 | 28 - 40 |
| Zone 5 | 40 - 50 |
| Zones 6 & 7 | 50 - 60 |
To find your boiler size, calculate the square footage by measuring the length and width of the area you are heating, and multiply it by the BTUs for your zone. Below is the average boiler size to heat a space in zone 4 based on square footage: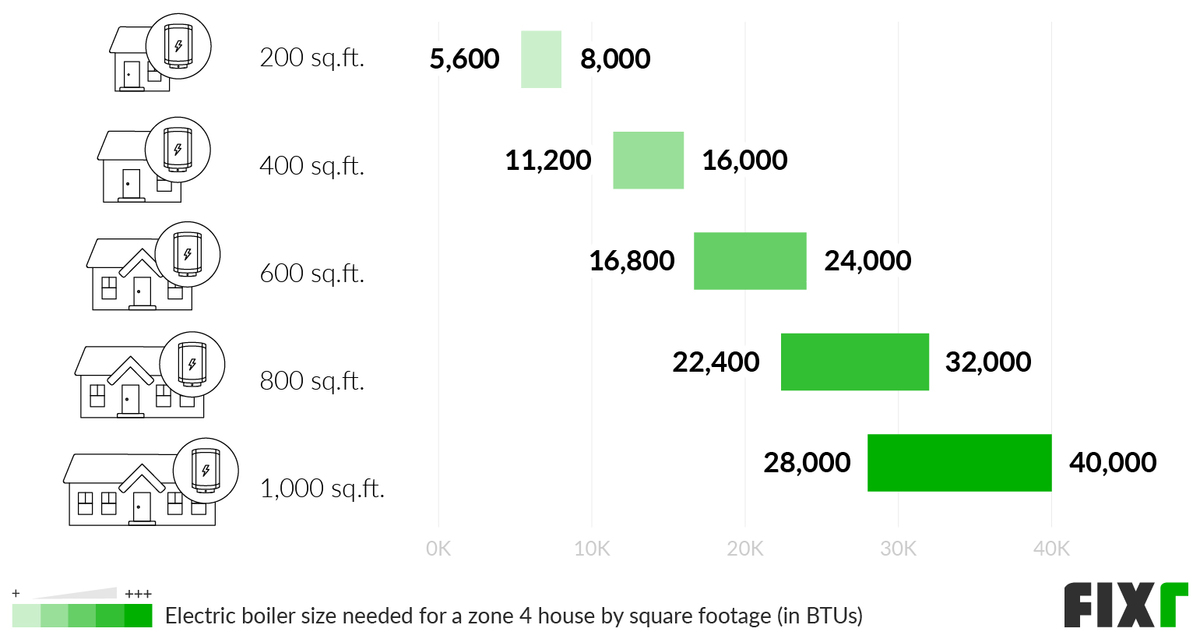 | | |
| --- | --- |
| Square Footage | BTUs Needed (Zone 4) |
| 200 sq.ft. | 5,600 - 8,000 |
| 400 sq.ft. | 11,200 - 16,000 |
| 600 sq.ft. | 16,800 - 24,000 |
| 800 sq.ft. | 22,400 - 32,000 |
| 1,000 sq.ft. | 28,000 - 40,000 |
Try to stay within 10% to 20% of your project BTUs. If you are between sizes, round up. Try not to go more than 20% higher as this yields an oversized boiler for the space.
Electric Boiler Installation Cost
Electric boilers are lightweight and easy to install for professionals. They do not combust, so venting is not needed. They also do not condense, so a drain is not required. They take up much less space and do not require a full boiler room to operate. Before installation, homeowners should know whether they have a single- or three-phase energy supply, what size the fuse is, and the output required for the home's hot water and heating needs. The professional who installs the unit can provide this information. This is typically a heating specialist who installs all kinds of heating systems in homes.
The average labor cost to install an electric boiler is $700 to $2,000. The process typically takes about two to three hours at $100 an hour, but there are often additional costs. For instance, labor costs also take into account any plumbing or tubing that needs to be installed. This can take eight hours or more to complete. For a three-hour installation with plumbing work, the price works out to about $1,100 but varies based on the amount of work needed. Most HVAC companies remove your old unit at no charge. However, some may have a $50 to $200 disposal fee that factors into the process. Always ask your technician if this applies.
The materials and installation costs range from $1,500 to $9,000. There are several reasons a professional should install your unit. The job is challenging for the average person, and you could run into safety issues. A professional will have the knowledge and tools needed for the process. In some cases, a permit will be needed, which the professional can procure on your behalf to install the new unit. It is also important to understand wiring to install these appliances.
Electric Boiler Replacement Cost
The lifespan of an electric boiler varies based on how well it is maintained and how often it is used. If it is being used around the clock, it will not last as long as it would with only occasional use. The time to replace it also depends on the quality of its parts. However, these units will last anywhere from 8 to 25 years. When deciding between repairing and replacing a boiler, consider which would give the best price.
Replacing a boiler is similar to installing one. All the same parts are needed, and there may be disposal fees to remove the old unit. The typical replacement process takes about two to three hours. Because of this, a replacement electric boiler price ranges from $1,500 to $9,000.
Cost to Replace a Gas Boiler With Electric
While it is possible to replace a gas boiler with an electric model, you cannot do so if you have been heating your entire house with gas. Electric models are not made in sizes for large residential settings but can heat smaller space for about $1,500 to $9,000 for the unit and installation. This cost is similar to installing a new boiler since new models need to have updates or new parts added. Replacement units have a disposal cost and may require new pipes. In addition, the cost of heating the house is roughly four times what it is with gas.
If you are heating a very small area with gas and do not mind the higher bills, it costs around $4,000 to install the unit , seal off the vent, cap off the gas line, and wire in the new one. For many people, the benefits outweigh the disadvantages of an electric boiler versus a gas one.
Replace Oil Boiler With Electric
Some homeowners prefer to replace their oil boiler with an electric one for various reasons. The cost of installation is $1,500 to $9,000. Electric models tend to be more environmentally friendly and energy-efficient than oil boilers. On the other hand, the costs of running these units can be higher since electricity is more costly than oil. For smaller homes, electric models are an excellent choice. However, they may not be robust enough for large homes.
Electric models are quieter, have no risk of carbon monoxide leaks, and need less maintenance due to fewer moving parts. They also create no emissions while heating and have flexible installation options due to no need for a flue pipe.
Cost of Running an Electric Boiler
To determine the cost of running your electric boiler, you first need to know a few things. Find out how many kilowatts your unit uses, the hours a day it runs, and your kilowatt per hour cost from your electric company, which is found on your bill. According to the U.S. Energy Information Administration, the average cost in the U.S. as of January 2020 is 13.23¢ per hour.
A 27,000-BTU unit has an average kilowatt per hour usage of 7.9 kWh. On the coldest days of the year, your boiler runs 90% to 100% of the time, consistently heating the water it needs to circulate. On warmer days, it may run for as few as two hours a day.
This means that a 27,000-BTU model costs anywhere from $2.10 to $25.10 a day to run. To know your exact cost, determine the average run time for your area, the cost of electricity, and the average size of your boiler.
Electric Combi Boiler Cost
Electric combi boiler prices range from $2,000 to $6,000 for the unit and installation. These units connect to the electrical supply and provide both heat and hot water through the same process. While installation costs are minimal, the running costs are more expensive than gas or oil systems. It is different from a traditional unit if the traditional model is only used to heat the home and not to heat water. They have a range of associated costs because the biggest impact on the price is the size.
Some homeowners prefer a combi boiler since it requires little space and supplies hot water and heat. The main advantage is that hot water is provided on demand, so there is only a need to pay for what is used. This makes it energy efficient and a good choice financially. Conventional units are more complicated and require extra components to provide heat and hot water. They can also be larger than a combi boiler.
High-Efficiency Electric Boiler
The average high-efficiency electric boiler costs about $3,000 to $8,000. By definition, all of these units are technically high-efficiency, converting close to 100% of the energy used into heat. However, this efficiency is misleading because while they are good at converting energy to heat, the cost of electricity is often considerably higher than the price of gas or oil. These units are much more efficient because they do not need an exhaust flue. In gas models, waste gas is created and needs to be eliminated from the home.
Outdoor Electric Boiler
Electric boilers can be installed both indoors and outside. When choosing between the two options, there are several things to consider. However, in most cases, an indoor model is the ideal choice. It will be more efficient since it does not experience extreme cold or wind. It also does not need to travel through the wall where heat might be lost. This means an indoor unit can save money and avoid wear and tear on the unit. The installation cost may also be elevated due to the need for additional installation of wires to connect to the indoors.
However, if an indoor unit is not a good fit for a home, outdoor models can do the job. This is most likely the case if there is no room inside to install the boiler. The cost of installing an outdoor unit may be more expensive due to a need for additional pipes and insulation, especially in cold climates. The cost of the installation process may range from 10% to 20% more for the process.
Electric Boiler With Solar Panels
Installing a single solar panel to power electric boilers is another option and averages $250 to $600. However, the number of panels needed depends on location and the weather in your area. Most of them are already compatible with solar power for water heating. However, combination boilers may not be compatible without installing a hot water tank. The main benefit of this choice is that solar panels decrease the cost to power an electric unit for in-floor heat or other heating needs. This means that you will pay less in utilities each year than you would if all power was supplied via electricity.
Electric Boiler Pros and Cons
Electric boilers offer many advantages, but there are some disadvantages. Most people already have electricity running to their homes, which means installation is simple. This might not be the case for gas or oil models that require special lines to operate. This also means that installing the actual unit is often less expensive. Having one of these installed also eliminates any chance of a gas leak, which can make the home dangerous. They also are more energy-efficient than other choices.
While electric models have many benefits, there are also downsides. Running one is often more expensive since gas is cheaper than electricity in the United States. In addition, electric heaters have a lower heating capacity and may not offer enough heat for a large space. You also need to have a plan for power outages as the unit will not be operational. This could mean adding a generator to ensure continuous heat.
Electric Boiler Service Cost
On average, serving an electric boiler costs about $50 to $200. They have very few moving parts and do not combust, condense, or exude carbon monoxide. They are clean and need almost no maintenance. Since the system is closed, new water is only introduced periodically. Occasionally, the old water should be flushed to remove any debris that may have built up in the system, but otherwise, the unit does not require any annual maintenance or care.
Manual J Calculation
To determine the exact size of heating or cooling system your home needs, your HVAC contractor performs a Manual J calculation. This considers the size and age of your home, climate, home insulation, and system type. While you may calculate a general idea of boiler size your home needs, always have your HVAC contractor perform the Manual J calculation before purchasing to ensure you get the proper size for your needs.
Cost of Electric Boiler vs Gas
When installing a new boiler for your entire home, you may want to consider a gas or an electric model. Gas boilers need a gas line run to your home, which means that they are not available in all areas. Electric units connect to your electrical system, making them an option for nearly any location.
If you have access to gas, heating with gas costs roughly ¼ of the costs of heating with electricity. Gas models are up to 98% efficient. While they require more maintenance and a vent to release their combustion, the savings are significant enough to warrant the higher installation cost.
Gas boilers cost between $5,000 and $10,000 to install on average for a unit large enough to heat a 1,500 sq.ft. home. Electric models are typically only used for smaller areas because the cost of the electricity is too high to make them a viable option. They cost $1,500 to $9,000. For larger homes, several electric units can heat the entire space.
| | |
| --- | --- |
| Type of Heating Unit | Cost (Installed) |
| Electric Boiler | $1,500 - $9,000 |
| Gas Boiler | $3,800 - $12,000 |
Electric Boiler vs Water Heater
Both electric boilers and water heaters heat water, but they do so in different ways and for various purposes. A water heater is a water storage tank meant to heat your water for bathing and laundry. It stores and heats the water until needed, and then fresh water enters the tank to be heated.
A boiler heats water that is then circulated through pipes or tubing to heat a room. The water returns to the unit again to be reheated, creating a closed-circuit system. Water heaters are open, meaning water goes one way through the heater and out, and fresh water comes in.
Even if you have a water heater and plan to heat your home with hot water, you need a boiler. The water heater is only used to heat water for showers and appliances. The hot water does not heat the air throughout the home.
Electric Boiler vs Electric Radiators
Electric boilers work much differently from radiators. Radiators heat the air and then move that through the ducts of the home using a blower. This creates a high temperature in homes, but the air can be dry and uncomfortable. Boilers will move running water over a heating element powered by electricity. Once heated, the water moves through the home to make the space more comfortable.
Each of these units has different maintenance needs. Boilers need little maintenance beyond a yearly inspection or tune-up. Radiators often need to have air filters changed every one to three months. Radiators tend to cost less and are easier to install. However, the need for ducts can create drafts and spread dander and dust.
An electric boiler is often more energy-efficient, less noisy, and capable of creating better air quality than a radiator. There is no need for ductwork, and depending on the way it is installed, the heated water may be used for showers, dishwashers, or laundry. The main downside is that a radiator is more expensive at $1,500 to $9,000. An electric radiator installation averages $400 to $1,900.
| | |
| --- | --- |
| Type of Heating Unit | Cost (Installed) |
| Electric Radiator | $1,000 - $3,500 |
| Electric Boiler | $1,500 - $9,000 |
Enhancement and Improvement Costs
Boiler Insulation
If you want to lower your energy costs, insulate your boiler so that it loses less energy. This has a price of $75 to $150. The top and sides should be insulated, but the heating blanket should not touch any heating panels. If these components are covered, it can cause it to overheat.
Wall-Mounted Boiler
In some cases, a wall-mounted boiler can save space and avoid cluttering a room. This kind of electric boiler will typically be more energy-efficient than other models and costs about $4,000 to $5,000.
Programmable Thermostat
When installing a new heating system or upgrading an old one, upgrading the thermostat is a common project. Choosing a programmable thermostat helps you save energy and money by choosing when the boiler should be on or off. The average price for a programmable thermostat is around $30 to $150 without installation costs.
Generator
Since these units cannot operate without power, a portable generator is an excellent investment if you live somewhere with frequent power outages. It will ensure the boiler can run under any circumstances. The average portable generator costs about $600 to $2,500.
Additional Considerations and Costs
Power outages. While gas and oil boilers continue providing heat even if the power goes out, an electric model stops working in the event of a power outage.
Ease of installation. You may install them nearly anywhere. They do not require a flue or boiler room like gas or oil boilers, so you can find a good fit for your needs.
Permits. In most areas, a permit and inspection are required to install a new boiler. Check with your town or city hall for more information.
Location. Boilers work well in cold climates. Heat pumps are better in warmer climates because they also work as air conditioners.
Efficiency. Improve the energy efficiency of your home before buying a new boiler to reduce your heating load. This enables purchasing a smaller system and using less energy.
Cooling. Boilers are used to heat the home but do not cool it. If you also need a cooling system, install a separate air conditioner.
FAQs
How much electricity does an electric boiler use?
Based on information from the U.S. Energy Information Administration, the cost is about 13.23 cents per hour. A boiler rated at 27,000-BTU will have an average kilowatt hour used of about 7.9 kWh.
Are electric boilers cheaper than gas?
The boiler itself is less expensive, but the cost to run it is higher. It is important to consider the initial price and the cost to run it. Electricity tends to be more expensive in the United States than gas for use with a boiler.
How much do electric boilers cost?
Boilers cost between $800 and $7,000, depending on the size. For the boiler and installation, a new unit cost ranges from $1,500 to $9,000. This is less expensive than other boiler types.
Can I replace my gas boiler with an electric boiler?
If you heat a small area, you can replace it. These are too expensive to heat large areas. However, they are compact, lightweight, and highly efficient.
How long do electric boilers last?
These units can last about 15 years on average. Depending on the brand and model, a specific unit could last as little as 8 years or as long as 25 years.
Do electric boilers need a water tank?
They do not store water but push it through the system instead. Rather than using a bulky water tank, this boiler has a heating element.
The information provided by our cost guides comes from a great variety of sources. For more information, read our Methodology and sources.