How much does it cost to paint shutters?
Get free estimates from painters near you
Shutters Painting Cost Guide
Updated: September 14, 2022

If you're looking for an easy way to enhance your home's appearance, consider giving your shutters a makeover. Painting interior and exterior shutters is a great way to improve curb appeal, interior design, and the overall performance of your home without dealing with the hassle of a full-scale remodel. Before you start painting your shutters, it's important to have a good idea of your vision for your home.
Many factors impact the cost of your painting job, including the shutter style, size, type, and condition. The national average cost per shutter is between $45 and $85, with most homeowners paying approximately $70 to clean, prime, and paint a louvered vinyl or wood shutter. This project's low cost is $35 per shutter to prime and paint an average-sized shaker composite shutter. The high cost is $115 to sand, clean, prime, and repaint a large board and batten wood shutter.
Cost to Paint Shutters
Average Cost to Paint Shutters
National average cost
$70
Average range
$45-$85
Low-end
$35
High-end
$115
Cost to Have Shutters Painted by Size
The shutter size depends on the window size. To calculate this, measure the window opening alone - not including the frame or trim around it. As a general rule, your shutter width will be about half the total width of your window. The standard widths for shutters are 12" and 15", but you can also choose custom sizes that are smaller or much larger. Depending on the width, expect to pay between $35 and $115 per shutter.
| | |
| --- | --- |
| Size (Width) | Cost to Paint per Shutter |
| Small (7" - 10") | $30 - $50 |
| Medium (12" - 15") | $35 - $95 |
| Large (16" - 17.75") | $55 - $115 |
Paint Exterior vs Interior Shutters Price
Whether you have shutters inside or outside your home, you can easily enhance their appearance with a custom paint job. Regardless of the shutter location, you must decide which color looks best given the surrounding area. Also, consider what your shutters will come into contact with daily.
Your exterior shutters deal with the diverse conditions of every season, whereas your interior shutters are impacted by dust, dirt, moisture, and grease. Generally, cleaning your exterior shutters will be more difficult since they typically sustain more stubborn stains, including dirt and dead bugs. This can increase the overall cost of painting them compared to interior shutters, which most likely need a light dusting. There are also various styles and different materials, impacting the overall cost.
| | |
| --- | --- |
| Type | Cost to Paint per Shutter |
| Interior | $35 - $90 |
| Exterior | $35 - $95 |
Cost to Paint Interior Shutters by Type
Like on the outside of your home, the interior shutter type you select impacts the inside look. You can choose from many options to bring your home's aesthetic to life. Your choice affects how you move forward with the paint job. You can either paint your interior shutters with a brush or a sprayer. The table below lists the most popular styles, costing $35 to $90 per shutter to paint. This is the average between both methods of painting for the average-sized shutter.
| | |
| --- | --- |
| Type | Cost to Paint per Shutter |
| Shaker | $35 - $60 |
| Café | $40 - $65 |
| Plantation | $45 - $70 |
| Tracked | $50 - $80 |
| Tier-On-Tier | $65 - $90 |
Paint Shaker Shutters
On average, it costs between $35 and $60 per shutter to paint shaker-style shutters. Shaker shutters feature a wide raised border surrounding a solid base. They are much easier to paint since they do not have any slats, making them more affordable. Depending on the rest of your room, these shutters can be an eye-catching centerpiece or a subtle background piece that makes the rest of your aesthetic flow.
Paint Café Shutters
The cost to paint interior café shutters, or half shutters, ranges from $40 to $65. These shutters only cover part of the window, so you can enjoy privacy while still letting natural light filter in even when they are closed. Since these shutters are smaller than most other options, they are typically more cost-effective to paint. However, they still feature louvers, which are more challenging to paint than a completely flat surface.
Paint Plantation Shutters
The cost to paint interior plantation shutters ranges from $45 to $70. When painting plantation shutters, first remove any hardware. Since the slats on these shutters are easily moveable, it is simple to access every part of the shutter to paint. However, they move more freely, so your painter must paint carefully. Plantation shutters feature tilted louvers fitted to the window frame, allowing you to open them like a door rather than with a pull string.
Paint Tracked Shutters
Expect to pay between $50 and $80 per shutter to paint tracked shutters, which are a great option for larger windows or openings. These shutters can either block windows or act as partitions between rooms in your home. They feature similar openings to plantation shutters but are generally larger, which is why they are more expensive to paint. They are hung from the top and have a bottom track, facilitating opening and closing.
Paint Tier-On-Tier Shutters
It costs between $65 and $90 per shutter to paint tier-on-tier shutters, or double-hung shutters. These shutters provide a unique look for any home and cover the entire height of the window with independent panels on the top and bottom of the window. This allows you to open the top half of the shutter panels while leaving the bottom half closed and vice versa. When painting, explore all your color options to decide if you want everything the same color or to go with a two-toned approach.
Cost to Paint Interior Shutters by Material
When painting your interior shutters, the process does not differ much. However, you have to consider different expectations for your paint. Rather than protecting your shutters from the elements, you will mostly have to deal with other factors, such as moisture in your bathroom or grease in your kitchen. The material type impacts the overall cost of the paint job because different types of paint and method should be used. For example, for composite shutters is good to use latex paints to protect them from moisture to avoid sagging. Vinyl shutters benefit from acrylic latex paints that will adhere better to the material, while wood shutters benefit from oil-based paints because they soak and adhere better to the wood. Depending on which type you paint, expect to pay from $30 to $150 per shutter.
| | |
| --- | --- |
| Material | Cost to Paint per Shutter |
| Composite | $30 - $60 |
| Vinyl | $40 - $70 |
| Wood | $100 - $150 |
Cost to Paint Exterior Shutters by Type
Countless shutter styles can add personality to any home. The type you have can have a big impact on your paint job. Knowing the type of shutters, you have will help you determine the overall cost and what color you would like to choose for your new paint. Depending on which you choose, expect to pay between $35 and $95 per shutter for the typical shutter size. Here are a handful of the most popular options.
| | |
| --- | --- |
| Type | Cost to Paint per Shutter |
| Roller | $35 - $60 |
| Colonial | $40 - $65 |
| Bermuda/Bahama | $45 - $70 |
| Flat Panel | $55 - $75 |
| Accordion | $60 - $75 |
| Louvered | $60 - $80 |
| Raised Panel | $65 - $90 |
| Board and Batten | $75 - $95 |
Paint Roller Shutters
Roller, or roll down shutters, cost between $35 and $60 per shutter to paint. These shutters offer many benefits, including weather protection, insulation, and security from intruders. Roller shutters are typically easy to paint because they are one solid surface that opens and closes. This means you do not need to maneuver around louvers or other moving parts. Depending on how you paint these shutters, you can either keep them on the window or remove them. Clean the surface thoroughly before starting.
Paint Colonial Shutters
The cost to paint Colonial shutters ranges from $40 to $65 per shutter on average. These shutters are often known as the traditional shutter and are very similar to plantation shutters. The main difference is that the louvers on Colonial shutters are smaller and narrower. When painting it should be done as it would be with plantation shutters. Louvers move freely, but it will be easy to paint every surface.
Paint Bahama Shutters
When painting Bahama shutters, or Bermuda shutters, expect to pay between $45 and $70 per shutter. Bermuda shutters offer superior protection during hurricanes and other rough storms and provide a unique look to any home. These shutters are hinged at the top and swing up to open. Painting them is fairly simple for any painting professional, meaning the project is faster and less expensive.
Paint Flat-Panel Exterior Shutters
Flat-panel shutters cost between $55 and $75 per shutter to paint. They feature clean lines and a traditional aesthetic that is great for Craftsman homes. Whether you use traditional wood or a synthetic alternative, expect a fairly easy paint job. These shutters come in many different designs, and they lie flat against the wall on either side of your windows and feature a center shutter that is recessed from the stiles. You can choose from several colors to make your home stand out or blend in with these classic shutters.
Paint Accordion Shutters
Accordion shutters are metal storm shutters that cost between $60 and $75 per shutter to paint. These shutters are very popular in coastal areas prone to hurricane-force winds. These shutters are straightforward to paint, but your painters will need to use paints that are specifically used for aluminum to ensure the paint does not wear away over time. You must remove any hardware, but you can either leave the shutters installed or remove them.
Paint Louvered Shutters
On average, louvered shutters cost between $60 and $80 per shutter to paint. These shutters are among the most popular options because of their classic look. They feature horizontal slats that let in light and fresh air while blocking rain and direct sunlight. This style was originally used with wood, although it has been replicated using synthetic materials. To evenly cover the entire surface, your painter must pay close attention to the individual slats, the edges, and the face, painting each as if they were completely different projects.
Paint Raised Panel Shutters
Raised panel shutters cost between $65 and $90 per shutter to paint. These shutters are popular because they blend style and function into one. They feature a solid shutter and a center portion of the shutter panel that protrudes outward from the bevel. They can improve security and insulation against unruly weather. Since raised panel shutters stand out on their own, many people choose to use bright, vibrant colors to showcase them.
Paint Board and Batten Shutters
Board and batten shutters can be more complicated to paint and cost between $75 and $95 per shutter on average. They feature alternating wide boards and narrow battens that make a unique pattern when paired. This shutter style was originally created by overlapping pieces of wood. This overlapping style makes painting these shutters more difficult than other styles.
Price to Paint Exterior Shutters by Material
Painting your exterior shutters is a great way to protect your home and enhance your curb appeal, too. There are plenty of factors to consider before starting your paint job, but one of the first things you should think about is the material of your shutters. Different types of shutters will call for different types of paints, which can impact the overall cost of your project. For example, oil-based paint will work for composite, synthetic, and wood exterior shutters. While acrylic or latex-based paints will work better for composite, vinyl, and aluminum shutters. The average cost to paint per shutter ranges from $40 to $95 based on the material.
| | |
| --- | --- |
| Material | Cost to Paint per Shutter |
| Composite | $40 - $60 |
| Vinyl | $45 - $70 |
| Synthetic Foam | $50 - $80 |
| Aluminum | $60 - $90 |
| Wood | $70 - $95 |
Shutter Primer Price by Type
While using acrylic latex paints for exterior jobs is best, you may need different primers based on the shutter material. If yours are made of vinyl, use a latex-based primer because it will better adhere to the surface and remain durable through any season. Wooden shutters respond better to oil-based primers because the oil seeps into the wood, allowing the primer to fully protect the entire surface. Adhesive primers can be used for many different materials and are formulated specifically for tough-to-paint surfaces. Shellac primers are better for interior paint jobs, specifically for sealing wood. Different primers vary in cost, so know which one you need before starting your paint job. Between oil-based, latex-based, adhesive, and shellac primers, expect to pay between $15 and $80 per gallon for interior and exterior primers.
| | | |
| --- | --- | --- |
| Type | Cost per Gallon of Interior Primer | Cost per Gallon of Exterior Primer |
| Adhesive | N/A | $15 - $60 |
| Latex-Based | $15 - $60 | $20 - $80 |
| Oil-Based | $25 - $70 | $20 - $50 |
| Shellac | $30 - $80 | $20 - $60 |
Shutter Paint Price by Type
When choosing exterior paints, remember they must withstand the elements of every season. Hired painters typically choose between oil-based, acrylic latex-based, and chalk paints, depending on the shutter material type. Oil-based paints are the best choice for shutters made out of wood, composite, and synthetic foam because they adhere to these surfaces better.
Acrylic latex-based paints are better for vinyl and aluminum shutters. These paints will not easily peel or crack as the surface expands or shrinks. This keeps your shutters in peak condition throughout the year. As a general rule, always pair oil-based paints with oil-based primers and acrylic latex-based paints with latex-based primers.
Chalk paints are not as commonly used as other paint types because they are newer and much more expensive. These paints add texture to the shutter surface but involve more upkeep and are not ideal for exterior applications unless you live in an area with mild temperatures. Depending on the paint type, expect to pay between $15 and $160 per gallon.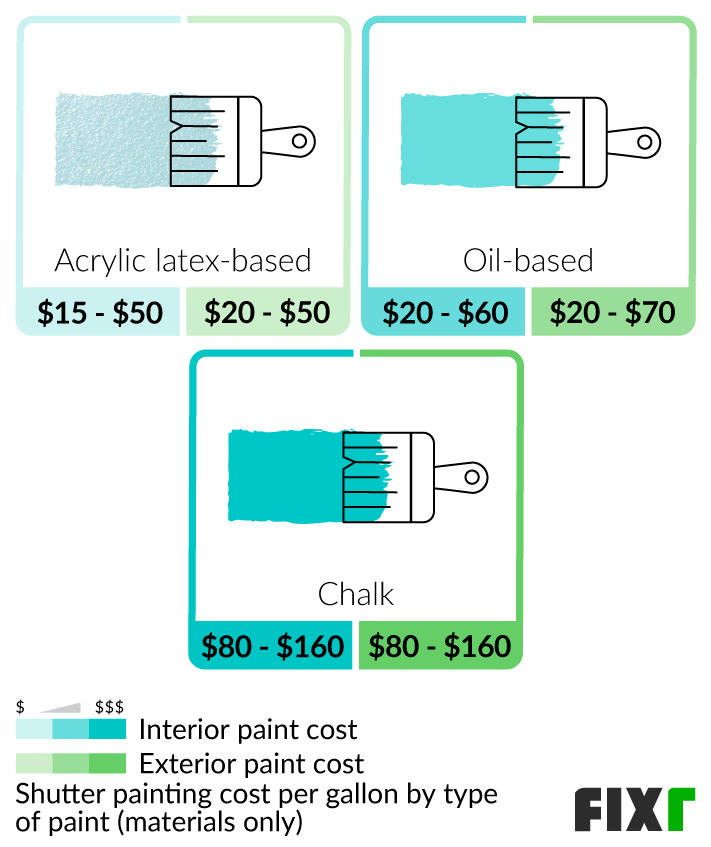 | | | |
| --- | --- | --- |
| Type | Cost per Gallon of Interior Paint | Cost per Gallon of Exterior Paint |
| Acrylic Latex-Based | $15 - $50 | $20 - $50 |
| Oil-Based | $20 - $60 | $20 - $70 |
| Chalk | $80 - $160 | $80 - $160 |
Shutter Paint Price by Type of Finish
When choosing a finish, you have different options, including flat, eggshell, satin, semi-gloss, and high-gloss. Regarding accents like shutters, semi-gloss paint finishes are the best option. On top of enhancing aesthetics, this glossier finish is durable and easy to clean. They also resist diverse weather phenomena, including harmful UV rays, high winds, and heavy rains. With all these advantages, semi-gloss is the best paint finish for shutters.
While other finishes are not necessarily bad, you may find they do not hold up as long as a semi-gloss finish. High-gloss finishes are a good choice when you want your shutters to stand out, but higher gloss levels 7 often show imperfections more clearly. Flat, or matte, finishes are not reflective at all. For this reason, using a darker color can be dangerous because it can quickly cause your shutters to warp. These are harder to clean and also show dirt easily. Satin and eggshell finishes lie in the middle and are still acceptable options for shutters, but they will not be as glossy as a semi-gloss finish. The average project cost depends on the finish, and expect to pay from $10 to $80, not including labor.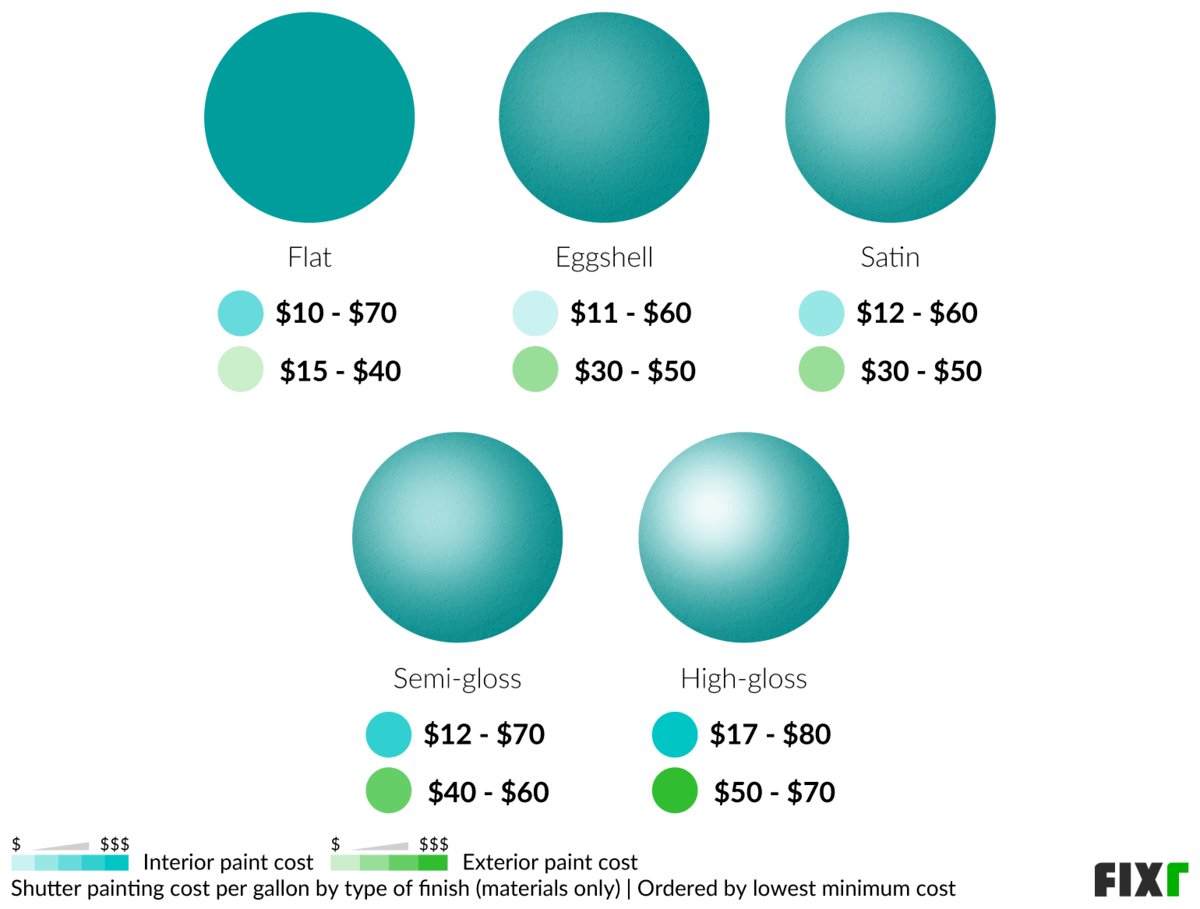 | | | |
| --- | --- | --- |
| Type | Cost per Gallon of Interior Paint | Cost per Gallon of Exterior Paint |
| Flat | $10 - $70 | $15 - $40 |
| Eggshell | $11 - $60 | $30 - $50 |
| Satin | $12 - $60 | $30 - $50 |
| Semi-Gloss | $12 - $70 | $40 - $60 |
| High-Gloss | $17 - $80 | $50 - $70 |
Shutter Paint Price by Brand
There is a wide range of different paint brands available, so do your research before starting any painting project. Some of the top brands include Benjamin Moore, Glidden, Behr, Valspar, PPG, and Sherwin Williams. These brands offer a wide range of quality interior and exterior paints that meet the needs of various jobs, including painting shutters. The correct choice depends on your budget and personal preferences. Expect to pay between $10 and $115 per gallon on average.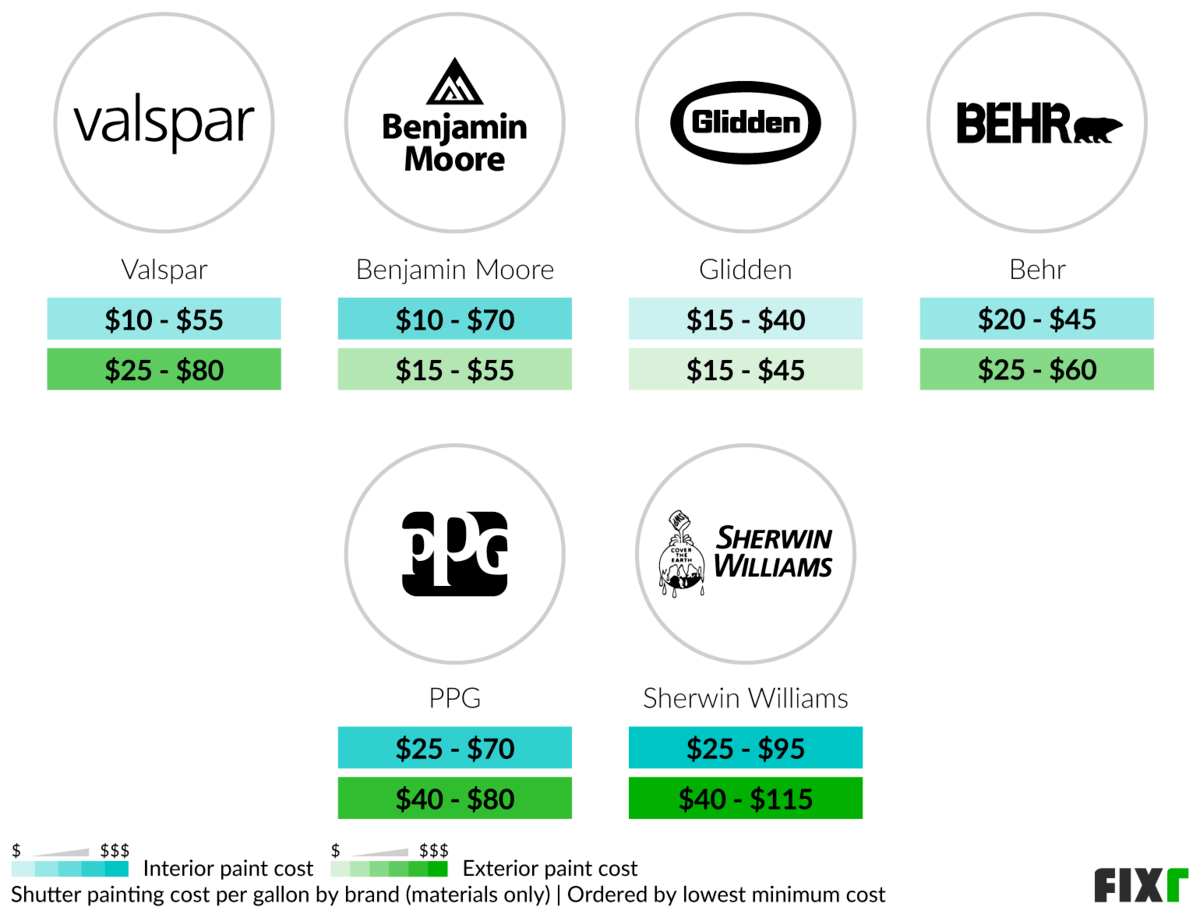 | | | |
| --- | --- | --- |
| Brand | Cost per Gallon of Interior Paint | Cost per Gallon of Exterior Paint |
| Valspar | $10 - $55 | $25 - $80 |
| Benjamin Moore | $10 - $70 | $15 - $55 |
| Glidden | $15 - $40 | $15 - $45 |
| Behr | $20 - $45 | $25 - $60 |
| PPG | $25 - $70 | $40 - $80 |
| Sherwin Williams | $25 - $95 | $40 - $115 |
Labor Cost to Paint Shutters
Most painting teams consist of 2 to 3 contractors, although you may only need 1 if you have a smaller house with few windows. On average, a painter charges between $25 and $100 per hour. However, some painters charge per shutter, costing $45 to $85 per shutter. The cleaning, preparing, and priming process takes from 30 minutes to 2 hours, depending on the condition of your shutters, and is factored into the total cost of your painting project.
Expect the actual paint job to take about 1 hour per shutter because you usually want to apply at least 2 layers of paint. The contractor must wait for each layer to dry completely before applying the next. The overall job takes longer if you have a home with multiple stories because the painters must use a ladder to remove the exterior shutters. They must move up and down the stairs for interior shutters. This is true unless they paint with a brush and keep the shutters up, increasing overall labor costs. How much it impacts the cost depends on the number of shutters and home layout. Painters typically charge the same for interior and exterior jobs.
| | |
| --- | --- |
| Billing Method | Labor Cost |
| Per Hour | $25 - $100 |
| Per Shutter | $45 - $85 |
Cost to Paint Hurricane Shutters
It costs between $35 and $75 per shutter to paint hurricane shutters, depending on the type. There are different hurricane shutters, including Colonial, Bahama, accordion, and roller. If you live in a coastal area or hurricane zone, install these shutters to protect your home from storms. Hurricane shutters are special-grade shutters designed to protect homes from hurricanes and other bad storms.
Cost to Repaint Shutters
If you are considering repainting your shutters, keep a few things in mind to get the job done correctly. Take a look at the color of your shutters. Always avoid painting shutters a darker color because the surface absorbs more heat than it was designed for, causing them to warp.
When your shutter paint is already peeling or cracking, your painters must remove the old paint and then clean and prime the surface before applying the new color. On average, it costs between $60 and $115 per shutter to remove the old paint, clean, sand, prime, and repaint.
Is it Better to Paint or Replace Shutters?
As a homeowner, you have options for improving the look of your shutters. The main question you have to ask is if you should paint or replace them. To decide, look at your shutters to assess the level 7 of damage. Are your shutters not functioning anymore, or is the paint simply peeling and cracking?
If the paint on your shutters is bubbling or flaking off, you can get away with sanding 1 and repainting them, which costs between $45 and $85 per shutter. Repainting is a great option because it allows you to improve the look of your home without the hassle of a complete remodel. However, you will be more limited with color options, depending on the current color of your shutters.
If the shutters have cracks, it may be time for a replacement. This costs between $100 and $250 per shutter. Opting for a replacement allows you to have new and improved shutters that function at peak condition. However, it is more expensive than a simple paint job.
| | |
| --- | --- |
| Project | Cost per Shutter |
| Painting | $45 - $85 |
| Replacing | $250 - $400 |
What Color Should I Paint My Shutters?
When painting your shutters, the color choice depends on how the rest of your home looks and the shutter materials. The section below discusses the best color combinations for your siding and shutters. This section addresses the logistics of choosing a color for your shutters depending on the material.
When painting vinyl, composite, or synthetic foam shutters, do not paint them too dark because they could absorb more heat and warp over time. Wood shutters can be painted in light and dark colors, but watch out for tannin bleed, which causes the color to seep into surrounding surfaces. So, pay attention to the colors of your siding surrounding the shutters.
House and Shutter Color Combinations
When painting your shutters, the color options are endless. As a home accent, your shutters should stand out while complementing the rest of your property. There is a general rule for door and exterior shutter colors that work best. It is recommended to incorporate 2 or 3 colors into your home exterior, including a base color and an accent.
When choosing shutter colors for a tan house, it is best to stick with natural tones so that your siding and accents complement each other. Earthy greens and browns are a great place to start. You can always fall back on white shutters for a more simplistic look. Shutter colors for a cream house range from simple light tones to dramatic dark ones.
Depending on your preference, you can go with either light or dark shutter colors for a white house. Darker colors make your shutters stand out, creating a dramatic and attractive contrast. Lighter shades portray a seamless, classic look for traditional homes.
Gray homes can go light or dark, and you can typically play with cool and warm tones, depending on if you want a more neutral or contemporary aesthetic. If your house is a different color, such as blue, green, or red, you have fewer options but still plenty to give your space a unique look.
| | |
| --- | --- |
| Siding Color | Complementary Shutter Colors |
| Tan | Neutral tones, earthy greens and browns, white |
| Cream | Simple light tones, dramatic dark tones |
| Brick | Dramatic dark tones |
| White | Both light and dark colors |
| Gray | Both cool and warm tones |
| Blue | Blues, grays, yellows |
| Green | Grays, natural wood |
| Red | White, black, dark grays, dark greens |
Spray vs Paint Exterior Shutters
When it comes to painting your shutters, you can either use a brush or a sprayer. Spray painting is the easier way to paint shutters and is preferred by most painting contractors. The shutters need to be removed from the home to avoid getting paint on the surrounding areas. While removing and remounting the shutters takes more time, it is much faster overall since spray painting is so quick. It is also safer for your painters if you have a 2 or 3-story home because they will not spend long periods on scaffolds or ladders like they would with brush painting. With spray painting, you usually only need 1 or 2 coats.
Your other option is painting shutters with a brush. Brush painting can be done with the shutters still on your home. This process generally involves applying 3 thin layers, ensuring each is fully dry before starting the next. This results in your paint being applied evenly, and no excess paint collects and pools near the shutter frames. Even though many painters prefer spray painting, brush painting has benefits, including great adhesion and more control over where the paint goes.
When dealing with wood shutters, brush painting or staining are typically the best choices because wood has a more textured surface that needs extra care. For any other surface, you can use either method. Spray painting takes less time, but you use 2 to 3 times more paint than with a brush. With brush painting, the actual painting process takes much longer, but you have more control over how much paint you use.
What to Do Before Painting Shutters?
Before you begin painting your shutters, clean and prepare the surface of your shutters. If the old paint on your shutters is in bad shape, remove those layers with a chemical stripper or paint scraper. It is in your best interest to hire painting professionals to complete this job, especially if you have an older home with lead 3 paint on the shutters. Lead paint is toxic and needs to be handled with care. Typically, it costs between $4.50 and $11 per sq.ft. to remove regular paint from your window shutters. Lead paint removal usually costs between $8 and $17 per sq.ft. since it is hazardous and requires special care.
Clean your shutters, take care of any mold remediation, sand them, and spray or brush on a primer. Paint cannot kill mold spores, so it is important not to paint over any spots. Most painters take care of this and include it in their overall rate of $25 to $100 per hour or $45 to $85 for an average-sized shutter. Most professional painters tell you that the prep work is the most important part of any paint job. By properly preparing for your shutter painting job, you get the most value out of your shutters every season.
Non-Paintable Shutters
Some shutters come with do-not-paint instructions. This can either be because the paint will not adhere to the surface or can bubble or even warm the shutters. These are typically polypropylene shutters or certain types of vinyl shutters, and in some cases, you can still paint them with the right materials.
For example, non-paintable vinyl shutters can be painted with a VinylSafe additive that ensures the paint adheres to the surface. In other cases, manufacturers provide a styrofoam vinyl hatch that can be painted and added to the shutters. For polypropylene shutters, there are special products that bond to difficult surfaces without needing to sand or prime them.
Enhancement and Improvement Costs
Paint Shutters and a Door
The cost to paint an exterior door typically costs between $150 and $350, and the cost to paint shutters ranges from $45 to $85 per shutter. So, if you have 10 shutters around your home and an exterior door, expect to pay between $600 to $1,200 for both projects. When considering painting your front door and your shutters, some painters offer a discount. Completing both jobs is usually a good idea because you will not need two separate projects. It is even more beneficial to paint the door and shutters the same color because you will save money on materials.
Additional Considerations and Costs
Permits. Before beginning an exterior paint job, ensure you do not need any permits. Not all areas require a permit to paint, but your local building department may have certain stipulations in place.
DIY. While hiring a professional to paint your shutters is recommended, the project can be done on your own. Use vinyl-safe paint and apply it with an angled sash brush to reach between the slats easily. Also, tape off surrounding areas to keep messes to a minimum. You need simple materials: a drill, step ladder, paintbrush, scrub pad, dish soap, sanding sponges, vacuum, primer, and paint.
Weather. If you are painting outside, paint on a temperate day that is not too hot or cold. Otherwise, you risk messing up the paint before it dries. Humid weather can cause wet paint to run and streak, while cold temperatures can make the paint dry too quickly.
HOA. If you are a part of a Homeowners Association, check their guidelines before doing any exterior projects, including painting your shutters. Depending on their level of involvement in your neighborhood, they may limit you to certain colors.
Home value. Exterior paint jobs, including painting the shutters, will increase your home's value, which can be extremely helpful if you are planning to sell. On average, homeowners see approximately a 55% increase in their return on investment.
Gallons needed. Typically, you can paint 2 coats on 8 sets of shutters with 1 gallon of paint. However, the actual amount varies depending on the shutter size.
Mold remediation. If you have mold or mildew growing on your shutters, that must be taken care of before painting begins. The average cost to remove mold from your shutters ranges from $10 to $25 per sq.ft.
Staining. If you have wood shutters that you do not want to paint, staining is a great way to keep their natural appearance, and it has similar costs to painting. However, stained shutters require more maintenance and upkeep over time
FAQs
Do you need to prime vinyl shutters before painting?
While it is not required, you should prime your shutters before painting them for the best results. This improves adhesion and allows better coverage overall, which means you don't have to deal with repainting after every change of the season.
What is the best way to paint shutters?
Spray painting is the most common way to paint shutters because it is the fastest. The shutters will have to be removed when spray painting. Painters can also use brush paints to paint shutters. You can control the amount of paint you use with brush paints and keep the shutters up. Before painting, clean and prime them and remove old paint if it is in bad shape.
What kind of paint do you use on vinyl shutters?
Latex paint is the best option for vinyl shutters. It bonds well to the surface and provides a weather-resistant barrier. Oiled-based paints can easily crack or peel on vinyl as the seasons change, which means you will have a lot more maintenance to handle.
How to remove paint from vinyl shutters?
The best way to remove chipped paint from your vinyl shutters is with a scraper. Afterward, lightly sand the surface down with a fine-grit sanding sponge. Be sure to thoroughly wipe the area down to ensure you have a clean surface for painting.
Is it cheaper to paint or replace shutters?
Painting shutters is less expensive than replacing them completely because you either remove the shutter, spray paint it, and reinstall them or use a brush and paint them while they are still attached to your home. Both options are more cost-effective than paying for new shutters.
The information provided by our cost guides comes from a great variety of sources. For more information, read our Methodology and sources.