How much does it cost to install a privacy fence?
Get free estimates from fence contractors near you
Privacy Fence Installation Cost Guide
Updated: October 20, 2022
To provide you with the most accurate and up-to-date cost figures, we gather information from a variety of pricing databases, licensed contractors, and industry experts.
If you spend time in your yard and have neighbors close by, you may want to think about installing a privacy fence. Privacy fences are tall, solid fences that make your yard more secure and friendly for children and pets and create a sense of solitude and privacy because your neighbors cannot easily see into your yard. Privacy fences can be found in many materials, from wood to metal and faux-stone, meaning they can also give your yard many appearances.
The national average cost to install a privacy fence is $3,150 to $7,500, with most people paying $5,000 for 150 linear feet of 6' tall vinyl and aluminum hybrid fencing fully installed. This project's low cost is $2,250 for 150 linear feet of 6' simple cedar privacy fencing installed. The high cost is $12,750 for 150 linear feet of 8' premium simulated stone fencing with decorative metal accents.
Price to Install a Privacy Fence
Privacy Fence Installation Cost
National average cost
$5,000
Average range
$3,150-$7,500
Low-end
$2,250
High-end
$12,750
What Is a Privacy Fence?
A privacy fence is a solid fence measuring between 6' and 8' in height. A privacy fence can double as a security fence, decorative fence, or a fence to keep children and pets in your yard. However, its main appeal is that the fence cannot be seen through and is also tall enough that it cannot be easily seen over.
Semi-privacy fences are also something that can be used in some areas. A semi-privacy fence is solid to between 4' and 6' in height. On top of the solid portion is decorative fencing that may be seen through, such as lattice or metal fencing. Semi-privacy fences can be used around patios and seating areas and offer moderate privacy with additional height that can be used for decoration or to create a dog fence, deer fence, or another purpose that a taller fence may be needed for.
Privacy Fence Cost per Foot
Like all fences, privacy fences are typically sold and installed by the linear foot. Typical costs range from $21 to $50 a linear foot installed, but you can find basic fences starting at $15 a linear foot and premium privacy fences that cost as much as $85 a linear foot installed. The average length of a privacy fence is around 150 linear feet, which encompasses the average backyard. However, you can install a privacy fence in any length, from a short run extending down one side to much larger spans encompassing your entire property. The longer the fence you install, the higher your total costs. Below are the average costs to install privacy fences in various lengths.
| | |
| --- | --- |
| Fence Lenght | Cost (Installed) |
| 25 Linear Feet | $375 - $2,125 |
| 50 Linear Feet | $750 - $4,250 |
| 75 Linear Feet | $1,125 - $6,375 |
| 100 Linear Feet | $1,500 - $8,500 |
| 150 Linear Feet | $2,250 - $12,750 |
| 200 Linear Feet | $3,000 - $17,000 |
| 300 Linear Feet | $4,500 - $25,500 |
| 400 Linear Feet | $6,000 - $34,000 |
Privacy Fence Cost per Acre
Privacy fences are not commonly installed by the acre, but you can if you choose. Privacy fences can double as deer or dog fences because they are tall enough to keep deer out of your property or keep your family dog in. Some privacy fences can also act as security fences due to their height. So, if you have a large property you want to fence, and you need a solid or tall fence, a privacy fence could be used in these cases. There are 836 linear feet in one acre, making the total range per acre between $12,540 and $71,060. Below are the average costs for installing privacy fencing based on the total acreage.
| | |
| --- | --- |
| Acres | Cost (Installed) |
| 1 Acre | $12,540 - $71,060 |
| 2 Acres | $25,080 - $142,120 |
| 3 Acres | $37,620 - $213,180 |
| 4 Acres | $50,160 - $284,240 |
| 5 Acres | $62,700 - $355,300 |
Cost to Install a Privacy Fence by Height
Privacy fences vary between 6' and 8' tall. Your fence's height can impact the project's cost because taller fences require more material, taller posts, and additional hardware. This means a 6' privacy fence costs less than an 8' privacy fence if you use the same materials and length of fencing. In addition, the cost of your fence can be impacted by whether the fence is solid the entire height or if you increase the height with a decorative area. For example, if your fence is solid to 6' and topped with decorative lattice to 8', the cost may be different from an 8' fence that is solid to the top, depending on the materials. Below are the average costs to install 150 linear feet of fencing based on the fence height.
| | |
| --- | --- |
| Height | Cost (Installed) |
| 6 Feet | $2,250 - $6,000 |
| 7 Feet | $3,150 - $9,750 |
| 8 Feet | $4,500 - $12,750 |
Cost to Install a Privacy Fence by Style
All privacy fences are solid, meaning there are no gaps between the boards or materials. For this reason, the fencing styles you can find in privacy fences may be more limited. Not all styles can be found in all materials. Some materials may be more limited than others, with vinyl, aluminum-vinyl hybrid, and simulated stone having the fewest options and wood and composite having the most. The more intricate the style, the higher its average costs.
Stockade fences, made of individual panels that come to a point, are generally the least expensive privacy fence. Dog ears, which are made of wider boards with a slightly rounded top, and panel fences can also be more affordable. Panel fences, however, can also be made of materials like simulated stone or hybrid materials, increasing costs. Board-on-board fences can create a shadow-box effect and are popular as a more decorative style. Concave fences are also popular for their appearance. The tops of these fences curve in a wave-like pattern, so the fence changes height. Lockboard fences can be found in horizontal and vertical patterns and are made of tightly locked tongue-and-groove boards. Below are the most common styles of privacy fences and the cost to install 150 linear feet.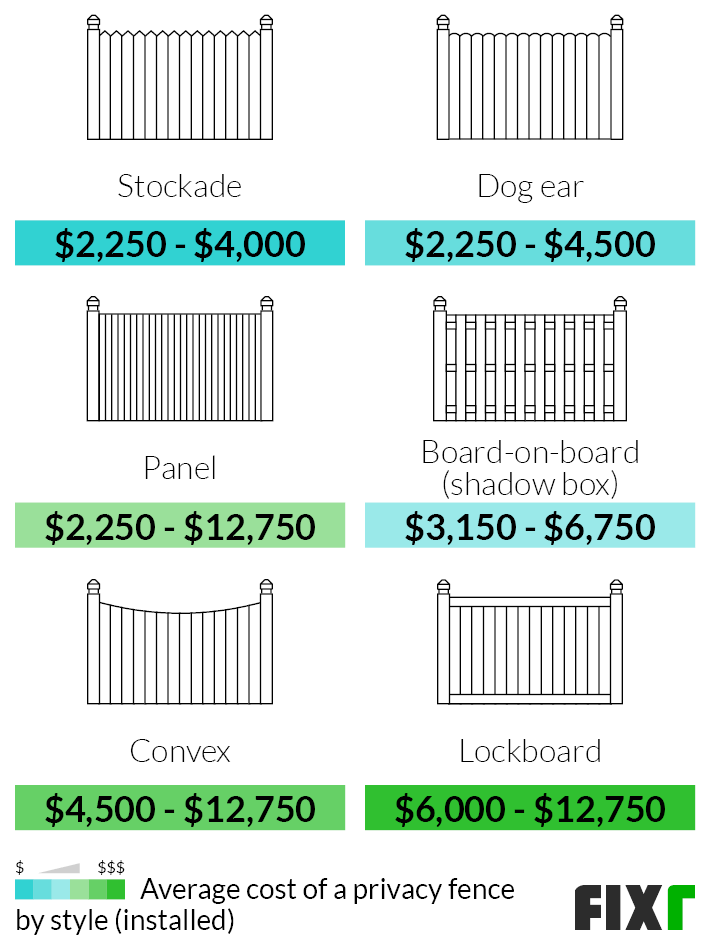 | | |
| --- | --- |
| Fence Style | Costs (Installed) |
| Stockade | $2,250 - $4,000 |
| Dog Ear | $2,250 - $4,500 |
| Panel | $2,250 - $12,750 |
| Board-on-Board (Shadow Box) | $3,150 - $6,750 |
| Convex | $4,500 - $12,750 |
| Lockboard | $6,000 - $12,750 |
Average Cost of a Privacy Fence by Material
Privacy fences can be found in many materials, including wood, composites, vinyl, vinyl-aluminum hybrids, bamboo, and simulated stone. Each material has many attributes that may make one better for your home than another. Of the various materials, wood is among the most common and least expensive. It comes in most styles and several wood species. However, wood can rot and does not last very long. It also requires heavy upkeep, so many people choose other materials like composite or vinyl that last longer without the maintenance. Bamboo fencing is another inexpensive and low-maintenance choice that is popular in some areas but uncommon in others. It is eco-friendly but not as strong as some materials, so it is not as common in harsh climates and areas with a lot of wind or snow.
Vinyl-aluminum hybrids are made of vinyl panels with aluminum posts. This creates a stronger fence than vinyl while providing privacy, which most solid metal fences cannot. Simulated stone fences can give you the look of a masonry or stone fence while being made of a lightweight material that is easier to install. Below are the average costs per linear foot for the various fence materials.
| | |
| --- | --- |
| Fence Material | Cost (Material Only) |
| Wood | $5 - $25 |
| Bamboo | $10 - $15 |
| Composite | $30 - $35 |
| Vinyl | $30 - $50 |
| Vinyl-Aluminum Hybrid | $35 - $65 |
| Simulated Stone | $55 - $65 |
Labor Cost to Install a Privacy Fence
The labor cost to install a privacy fence ranges from $5 to $20 a linear foot, depending on several factors, including the type and material, height, post type, and the landscape or area you install it on. Vinyl is among the easiest to install, with labor costs starting at $5 to $10 a linear foot. Wood and simulated stone can have the highest installation costs, at $20 a linear foot. Heavier fences cost more to install than lighter fences, which is why vinyl and bamboo have lower installation costs than composites, wood, or simulated stone. Vinyl-aluminum hybrids tend to have installation costs that are slightly higher than standard vinyl because of the aluminum posts but are generally still easier to install than wood or other heavy materials.
Privacy fences are generally larger and heavier than other fences. Professional installation by a fence installer is recommended. A professional can ensure the panels are secured properly, and the fence is level, regardless of how uneven your yard is.
The area where the fence is installed must be cleared and leveled for most fences. Your installer digs holes for the posts, which may be sunk alone or with concrete, depending on the material. The fence panels are attached to the posts and leveled at their tops to complete the fence. Below are the average labor costs for this process based on the material.
| | | |
| --- | --- | --- |
| Material | Labor Costs per Linear Foot | Total Cost per Linear Foot (Installed) |
| Bamboo | $5 - $10 | $15 - $25 |
| Vinyl | $5 - $10 | $35 - $60 |
| Vinyl-Aluminum Hybrid | $7 - $15 | $42 - $80 |
| Wood | $10 - $20 | $15 - $45 |
| Composite | $13 - $20 | $43 - $55 |
| Simulated Stone | $15 - $20 | $70 - $85 |
Privacy Fence Replacement Cost
The cost to replace a privacy fence is around $1 to $3 a linear foot more than the cost to install a new one. The added cost is for the removal and disposal of the old fence. Costs vary depending on the older fence's material. Wood fences are generally easy to remove and dispose of. Vinyl fences are difficult to dispose of because many recycling and disposal companies do not accept the material and those that do often charge a premium. Materials that can be easily recycled or are biodegradable have lower disposal costs. This makes the total cost range to replace a privacy fence between $16 and $88 a linear foot or between $2,400 and $13,200 for 150 linear feet of fencing.
Privacy Fence Gate Cost
Privacy fences are tall and solid, so you must include a gate to access the yard or area through them. Most fence installers carry gates of the same material in the same style as the fence. Like fences, the gate's material, style, width, and height impact the total cost of the gate and installation. Heavier gates require larger hinges for support and potentially larger support posts.
Gates typically range from $50 to $200 each, with labor costs adding $15 to $25 each. The heavier the gate and the more premium the material and style, the higher the total costs. Double gates are uncommon with privacy fences but cost slightly more at $75 to $250 for a set.
Privacy Fence Posts Cost
All fences require posts for installation. The posts are installed in the ground, some with concrete, others through depth, and they give support to the fence panels installed with them. Posts are generally spaced between 6' and 8' and may be made of the same or a different material. The frame and posts are aluminum in a vinyl-aluminum hybrid fence, while the interior panel is vinyl. With stone-simulated fences, you may use composite, aluminum, or wood posts with the panels. The posts cost $10 to $50 each, while the cost to install them ranges from $40 to $150, depending on the weight and installation method. Below are the average costs to install privacy fence posts of varying materials.
| | |
| --- | --- |
| Post Material | Costs (Installed) |
| Wood | $50 - $200 |
| Vinyl | $50 - $200 |
| Composite | $50 - $200 |
| Aluminum | $60 - $210 |
Maintenance
The maintenance of your privacy fence varies depending on the location and material. Wood fences should be inspected regularly for wood rot. If you paint or stain your fence, you need to repeat this every few years as the paint or stain begins to peel.
Vinyl fences need periodic visual inspections and cleaning as needed. Because vinyl fence panels can come loose, check the fence yearly for loose sections, and call your installer for repairs as needed. Composite and faux stone fences have little maintenance needs beyond keeping them clean and periodically checking for damage.
Shadow Box Fence vs Privacy Fence Cost
Privacy fences come in many styles. One of the most popular styles is the shadow box, sometimes called a board-on-board fence. This fence is most commonly made of wood but may come in composite. It is made of panels that are offset from one another so that there is a row of boards in the front and back. The offset boards create a shadow effect, giving your fence more visual depth. Some shadow box designs offer more light to pass through the fence than others. For this reason, some people prefer other styles of privacy fences that are more solid. Shadow box fences are moderately priced There are privacy fences that can cost more or less than the shadow box, and many privacy fences that can be made of different materials that may require less maintenance than wood. Below is the average cost of 150 linear feet of shadow box fence, compared to the total cost range of 150 linear feet of privacy fence.
| | |
| --- | --- |
| Fence Type | Costs (Installed) |
| Privacy | $2,250 - $12,750 |
| Shadow Box | $3,150 - $6,750 |
Enhancement and Improvement Costs
Electric Privacy Gate
Like all fences, you can install an electric or motorized gate on your privacy fence. Because privacy fences are so large and heavy, many gates used with them are equally large and heavy. Having a motorized gate can help make the fence more usable and accessible. The average cost of an electric gate for a privacy fence is $750 to $2,000, depending on the material and gate mechanism.
Stain a Privacy Fence
If you have a wood privacy fence, you may want to stain it to protect the wood or give the fence a new look. Painting or staining a fence can help protect it from moisture and help it last longer. It can also enhance your property and home's curb appeal. Costs for painting or staining a fence are generally charged by the linear foot. The average cost of staining a privacy fence ranges from $7 to $13.50 a linear foot, depending on the material and height.
Additional Considerations and Costs
Permits. Permits are required in most areas to install privacy fences. Fence heights and distances from properties are strictly regulated in most areas. Speak to your local municipality for more information.
Licenses. Most contractors do not require licenses to install fencing. However, they should have a driver's license and insurance in your state.
Home value. Privacy fences can improve your home's value, particularly if you live in a crowded area. The amount varies by material.
Land clearing. Your costs are higher if you need to clear land to install the fence. Land clearing costs $1 to $2 a sq.ft., depending on the terrain.
DIY. It is not recommended to install privacy fences DIY unless you have experience with fence installation. These fences are large and heavy and require precise installation.
Fence decor. If you live in an area that allows it, you may be able to decorate your fence by growing vines or installing lights. Decorative fence toppers are also available for semi-privacy fences.
Warranties. Some fence installers may have warranties available for the fence or the installation, depending on the material. Speak to your installer for more information.
HOA. Some privacy fences are restricted by HOAs in height and material. Speak to your local HOA representative for more information.
FAQs
What is the cheapest privacy fence?
Generally, the least expensive privacy fences are stockade cedar fences that are 6' tall. Some bamboo fences may also be inexpensive, depending on where you live.
What privacy fence lasts the longest?
Aluminum, vinyl hybrid, and composite fences are the longest-lasting privacy fences. These materials have low maintenance and do not warp, rot, or loosen.
How hard is it to build a privacy fence?
Many factors influence this. The material, terrain, and how far down you need to sink the posts influence how hard the fence is to install. Vinyl fences are the easiest to build.
Do you need a privacy fence around the pool?
Privacy fences are not necessary around pools, but security fences are. A security fence can also be a privacy fence if you want to keep people from seeing into the area, but they do not have to be.
How do you install a privacy fence on a slope?
This varies depending on the material and how steep the slope is. You may need to level the area or brace the fence.
What do you put on top of a fence for privacy?
If you are trying to extend your fence's height, some tight lattices can be attached to existing fences. If you have a fence that can be seen through, you may consider a fabric fence topper to increase privacy.
How long does a privacy fence last?
This depends on the material. The fence may last 20 to 50 years, with simulated stone and composite lasting the longest and wood having the shortest lifespan.